I've been collecting manga for years, and over those years, I have learned a lot. I started with Naruto, and since then, have added over 2,000 volumes to my manga collection. Needless to say I've picked up and read a lot of manga, but with manga being such a vast and diverse medium, there's still so much I have yet, and want, to explore.
I've created this site as well as a YouTube channel called Anime Collective, because I am passionate about manga. I also love connecting with others and hearing about their manga collecting journeys, whether they are just getting started or have been collecting for a long time. With that in mind, I made this post in hopes that everybody, no matter where they are at, will learn something new about manga collecting.
In order to be as comprehensive and as helpful as possible, I included everything from where to buy manga to the different manga editions you can buy on this list. That all being said, here's everything you need to know about manga collecting! All of the images I included in this post are of my own collection, so you can see the manga or examples I talk about in this post firsthand.
Why is so much manga out of stock lately?
Due to the current state of the world, manga has been out of stock lately and some series have been out of stock for quite some time. But why are they going out of stock? It really comes down to the current state of the world, but supply and demand also comes into play.
Manga has seen a huge boom in 2021 with sales more than tripling in the last year or so and because of that, demand has outgrown supply. On top of that, due to restrictions, production hiccups, like printer shortages, paper shortages, the shipping crisis with ports being overrun and what not, it became even harder for publishers to keep up with demand.
It was already a challenge for manga publishers to keep up due to an increase in demand, but this was all made worse in 2020 and beyond due to the unforeseen economic and production issues that would come due to the current state of events. For these reasons, manga is out of stock more often than usual and it has become harder and harder to fully complete series.
I do want to stress though that recently serialized series, like Jujutsu Kaisen and Chainsaw Man, are not of concern and will be back in stock eventually. Please do not pay more than the cover price for these volumes as they will return as soon as publishers catch up on production. Chainsaw Man, Volume 1 in particular is one that was out of stock for a bit, but has recently started hitting shelves at Barnes and Nobles again, so it looks like printing has resumed again for some of these harder to find, out of stock volumes.
We aren't out of the woods yet, but as publishers navigate and overcome these new challenges, these issues should gradually get better over time and eventually be fixed.
A Tip to Knowing When Manga May Be Coming Back in Stock
Barnes and Noble put estimated ship dates on some manga listings when they are temporarily out of stock online. This has become increasingly helpful for me because it gives me an idea as to when something is expected to come back in stock. This is something I really love about their site, because as far as I know, they are the only ones who put this information up on their listings.
I've noticed that physical stores get out of stock manga back in quicker than online only stores a lot of times, so if you are looking for something, I'd definitely check out Barnes and Noble or Books-A-Million. They have been restocking stuff like Chainsaw Man, Jujutsu Kaisen, Zom 100 and more at my local stores.
I also wrote up a list of the manga that are restocking in 2023 so far if you'd like to check it out!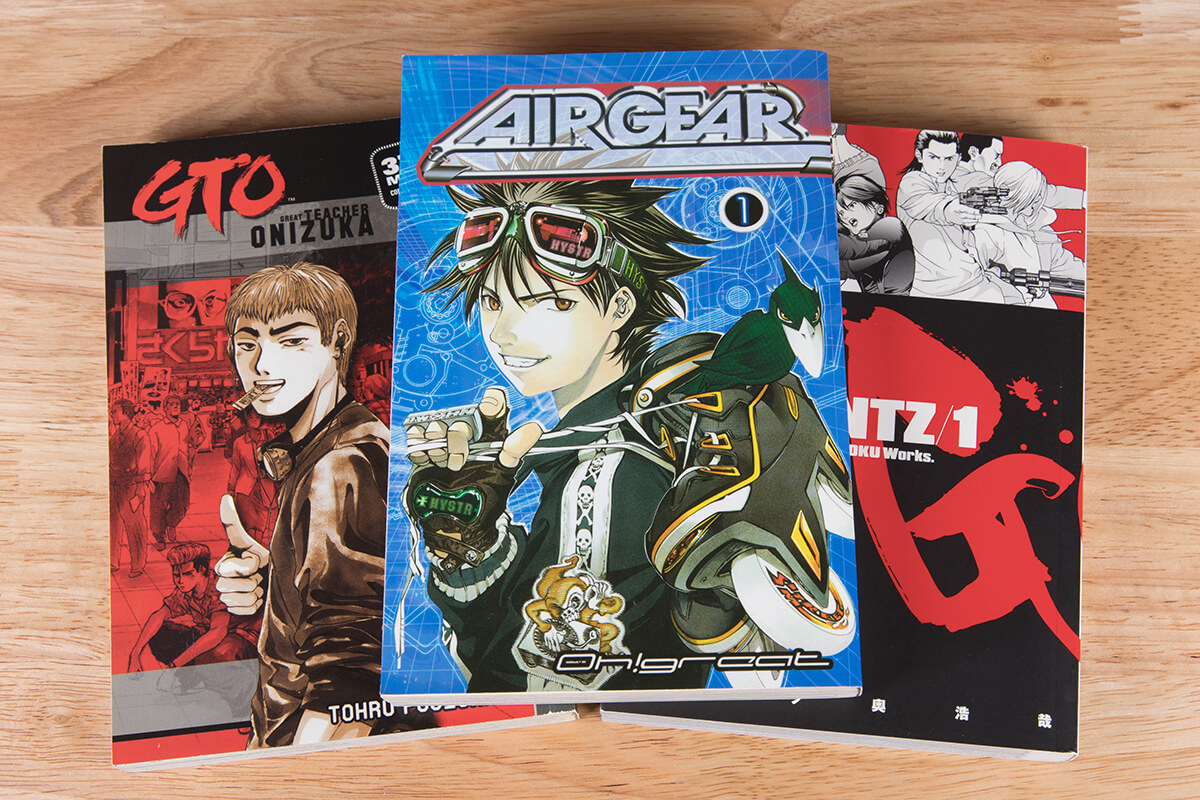 Out of Stock vs Out of Print Manga
When a manga is listed as out of print it means that it is no longer going to be printed by a publisher; However, this doesn't mean that it will never be re-released as seen with series like NOiSE, which Kodansha are releasing in Fall 2022.
That being said, the Tokyopop release of NOiSE is still out of print. Another example is Gantz. The individuals are out of print, but the omnibuses are currently releasing. If you are wanting to collect an out of print series, but don't want to pay up for them, make sure there isn't another printing or a new format release of that series before you jump into collecting it.
Out of stock, on the other hand, just means that suppliers are awaiting more stock. This is something that has been prevalent more so now than ever before with supply chain issues, printer shortages, increase in demand, etc.
What if a manga is out of print?
Out of print manga collecting is an entirely different ball game, so I did a post on out of print manga collecting, where to buy it, how to make sure you are getting a good price, defining out of stock versus out of print, what series are out of print and more. Definitely check that out if you are wanting to learn more about out of print manga collecting!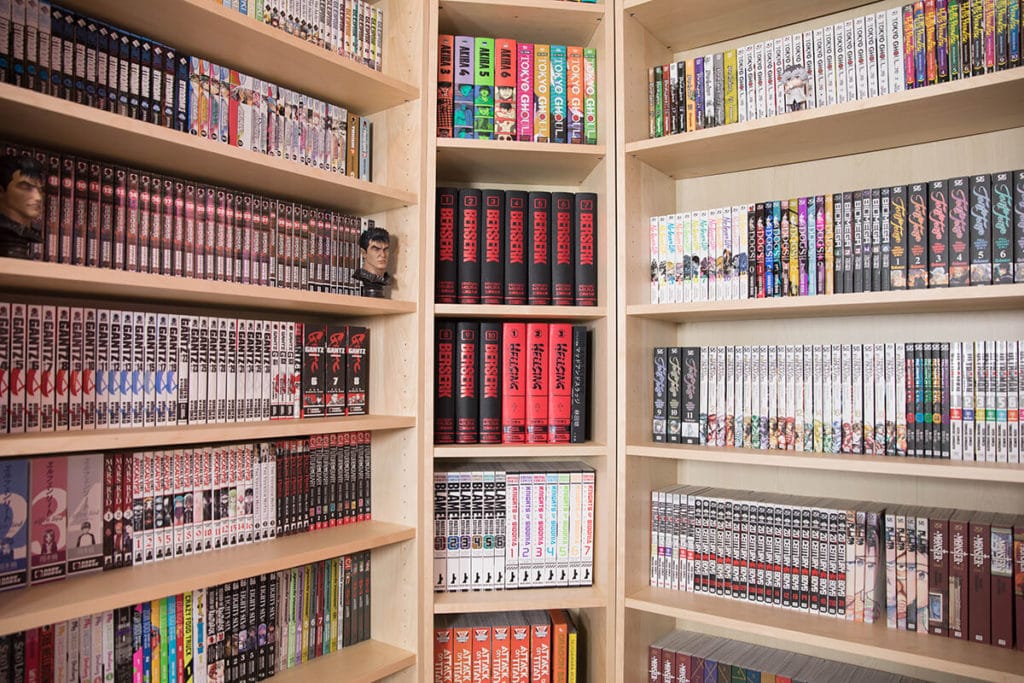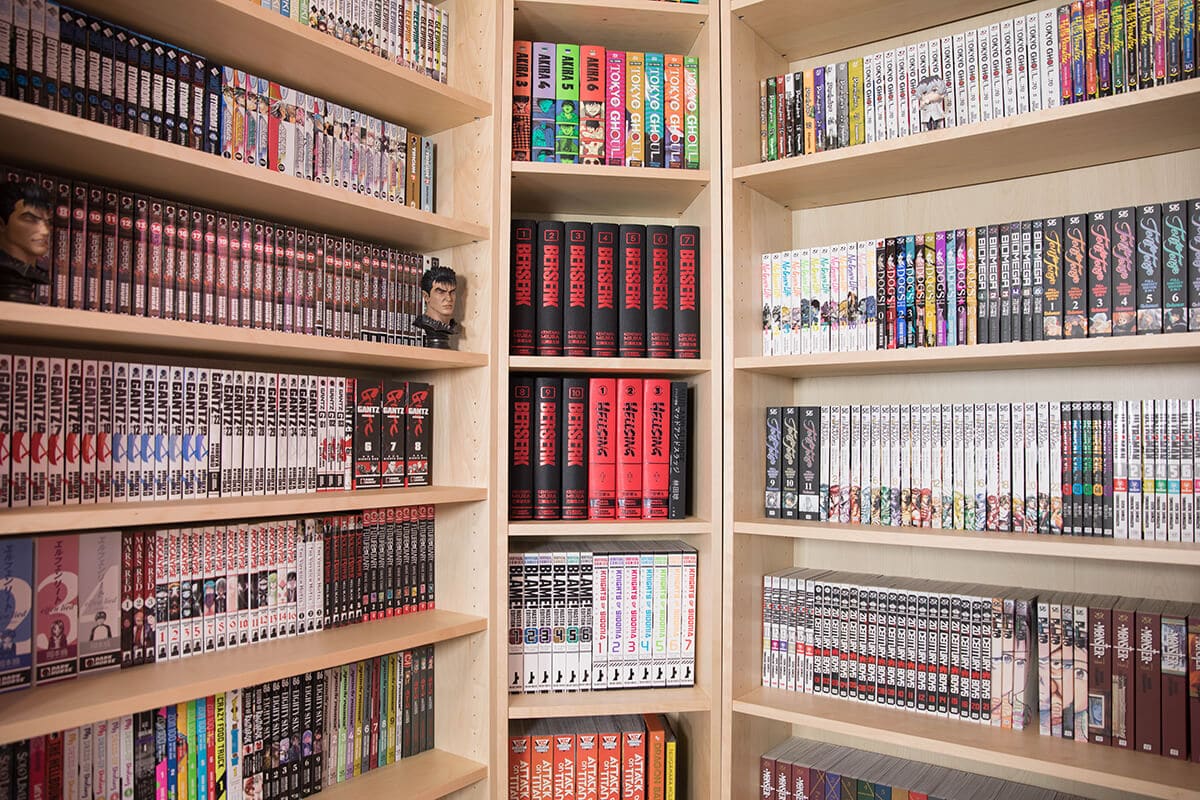 English Manga Publishers
The English manga publishers you most likely already know about are Viz, Kodansha, Yen Press, Seven Seas, Dark Horse, and Vertical, but there are so many more out there. There's Square Enix Manga, who are publishing the Soul Eater Perfect Editions and more, One Peace Books, who publish manga like The Rising of the Shield Hero and Hinamatsuri.
You also have Sublime, who publish BL manga like Given, Udon, who are publishing Steins;Gate as well as Summertime Rendering, DENPA who are publishing Kaiji, Under Ninja and more, and J-Novel Club who are publishing The Faraway Paladin omnibuses and Marginal Operation to name a few.
In addition to publishing manga, publishers like J-Novel Club and Yen Press also publish light novels. New publishers are popping up as a of late too, including ABLAZE, Titan Comics, Star Fruit Books, Rocketship, Kuma, Kaiten Books, and more.
Another manga publisher you may have already heard of is Tokyopop, who are still releasing manga to this day. A lot of the manga they've released though is currently out of print (To learn more about out of print manga, check out my out of print manga guide), but they've released a lot of series in the past, including GTO, Initial D, Battle Royale, and more. A lot of their licenses have since been picked up by other manga publishers for re-release or reprint, like NOiSE by Tsutomu Nihei, or digital release, like GTO and Initial D, who's sequel MF Ghost is also releasing digitally by Kodansha.
Another familiar name is Del Rey, who's manga is all out of print right now, but they published a lot of manga when they were still a company. You may notice that a lot of Del Rey's manga, like Air Gear, Genshiken, and more, were later picked up by Kodansha. Some volumes will feature the Del Rey logo, while others will feature the Kodansha logo, because they took over printing select series.
Some English manga publishers have different imprints too, like Seven Seas and their Ghost Ship imprint, which is home to their more mature titles, and Yen Press' IZE Press imprint, which is the new home to their manhwa titles, and Viz's Shojo Beat, which is home to their shojo manga series.
Sometimes manga are self-published and the biggest example I probably have of this is Onani Master Kurosawa, which is one of my all-time favorites. In Japan, self-published series are called Doujinshi.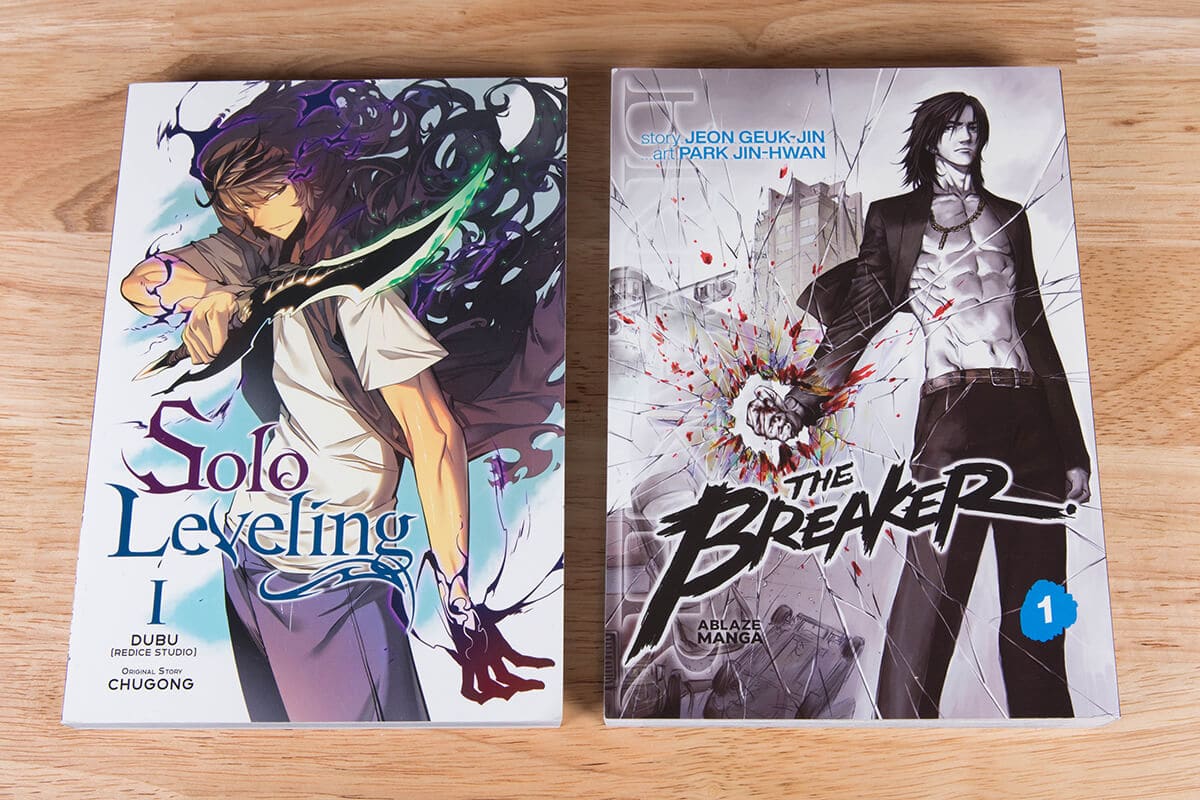 What about English manhwa publishers?
Manhwa is also getting more and more print releases as of late, so I want to talk about the publishers that are printing manhwa with English translation as well.
Viz have released some manhwa in the past, including March Story and The Kingdom of the Gods. Back then, though, they were marketed as manga instead of manhwa. Yen Press is publishing Solo Leveling and they've also published titles like Jack Frost.
They are getting more and more into manhwa with the announcement of their IZE Press imprint, which is dedicated to manhwa. They are coming out with The Beginning After The End, The Boxer, and more. ABLAZE is another that publishes some manhwa with English translation, most notably The Breaker.
Seven Seas has also published some manhwa, including Jack the Ripper: Hell Blade and the upcoming Deluxe Edition of Killing Stalking that's coming in 2022. Webtoon also announced a new imprint titled Webtoon Unscrolled. The first series they are releasing physically is Tower of God. With manhwa growing immensely in popularity, I can only hope that more titles are going to get print releases.
If you'd like to check out any of these manhwa before their release, here are some of favorite manhwa readers and apps!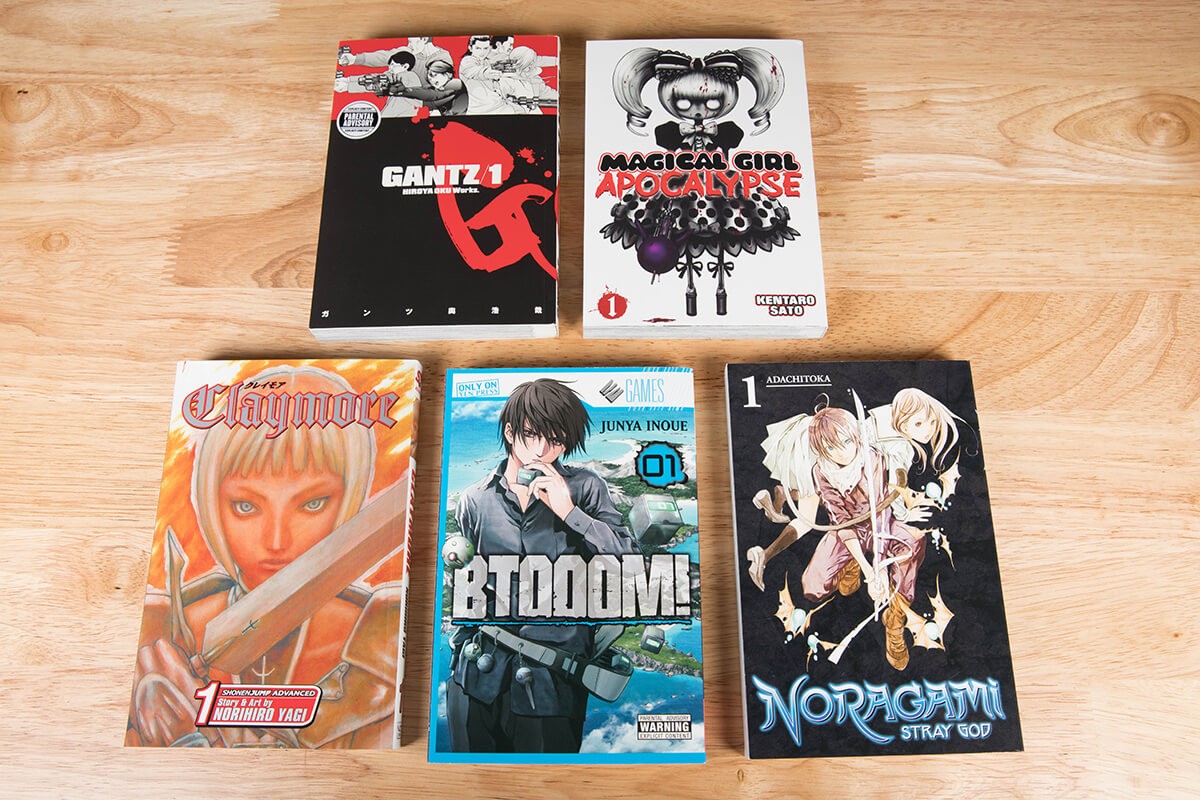 Different Manga Editions and Sizes
There are a lot of different ways to collect manga. The most common way you can collect a series is through the individual volumes. But with some series, there are others ways to collect as well. For instance, I just recently compared all of the Attack on Titan manga editions that have released so far. At the time of this post, you can collect Attack on Titan's manga via the individual paperbacks, manga box sets, Attack on Titan Colossal Editions, and omnibuses.
That being said, definitely check to see if a manga has different editions before collecting. This is especially helpful if one format of a series is out of print. For example, the individual paperbacks of Blame! are out of print, but Vertical later released the Blame! Master Editions.
That all being said, here are all of the different manga editions that you can collect. Most series you can only collect via the individual volumes, but select series have been printed in other formats as well, like omnibuses, deluxe editions, full color editions, and more. Before I get into that, though, I want to go over all of the different sizes of manga that are out there, because manga sizes may vary depending on the publisher or imprint.
Different Sizes of Manga
How do standard manga releases differ in size? Individual volumes of manga series come in a variety of different sizes. Seven Seas and Dark Horses' standard volumes are the smallest in terms of height, while Vertical are the deepest. Vertical's volumes stick out more on the shelf than other publishers. Yen Press, Kodansha, and Viz's individual volumes are the same size all-around.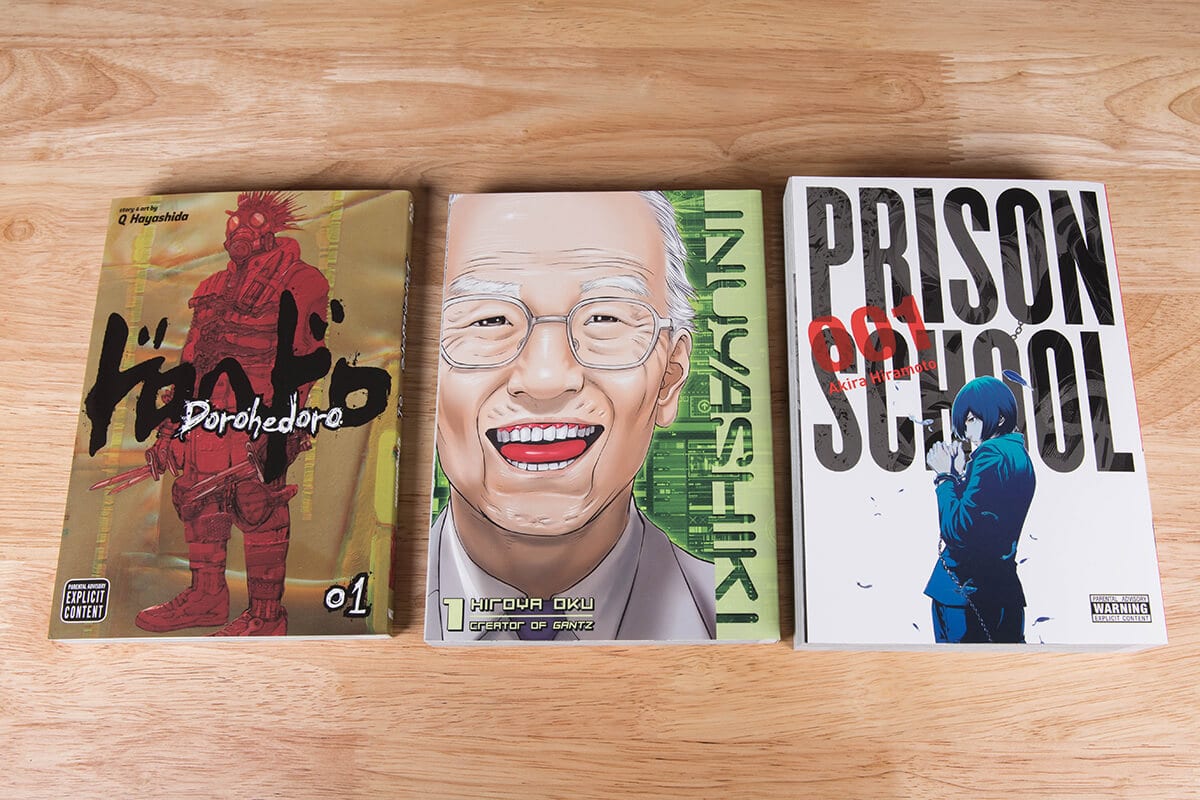 Some manga publishers print select series in a larger format, though. For instance, Kodansha, Yen Press, and Viz (Printed under their Sig imprint) release some of their manga in a larger paperback format. Kodansha did this with Inuyashiki, Gleipnir, and more, Viz with Dorohedoro, 20th Century Boys, Terra Formars, and more. These aren't special editions or anything, but are just individual volumes that they choose to release in a larger size than their other standard manga releases.
Yen Press' series, such as Prison School and Übel Blatt, are also released in this larger paperback format, but these are technically omnibuses even though they aren't marketed as such.
You also have manhwa coming out with print releases now. They tend to be the same size as the larger-sized individual volumes that I mentioned above.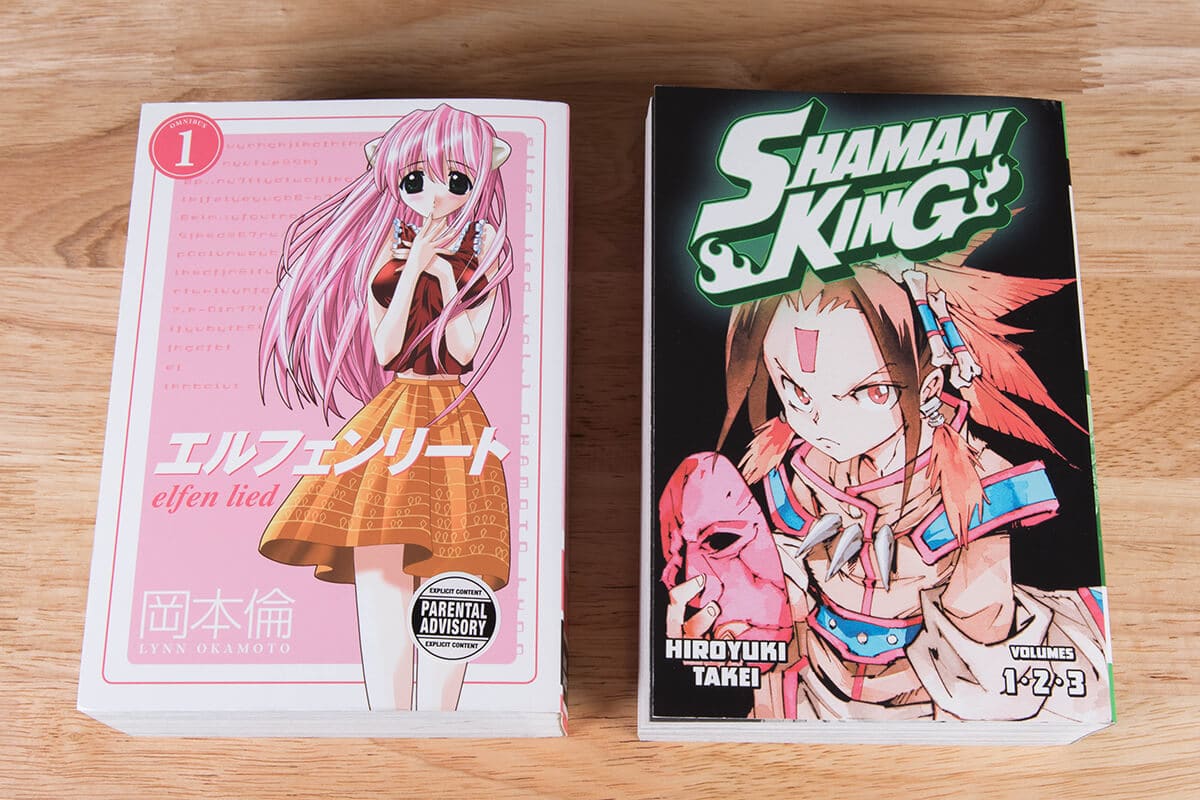 Manga Omnibuses
Some series are only available to collect in English via omnibuses, like Darling in the Franxx, while others have been reprinted in a new omnibus format. That being said, in addition to individual paperbacks, there may be omnibuses, which collect runs of a series in one volume, like the Shaman King omnibuses which collect three volumes per omnibus.
A lot of publishers release omnibuses for series, including Dark Horse who have released omnibuses for Elfen Lied and Gantz. You also have other 3-in-1 type editions, most notably from Viz. You have the Vizbigs, which collect 3 volumes per edition, and you have 3-in-1's for series like Neon Genesis Evangelion and Naruto. Some series aren't called omnibuses, but technically are, like the 20th Century Boys or Monster Perfect Editions, which are 2-in-1's.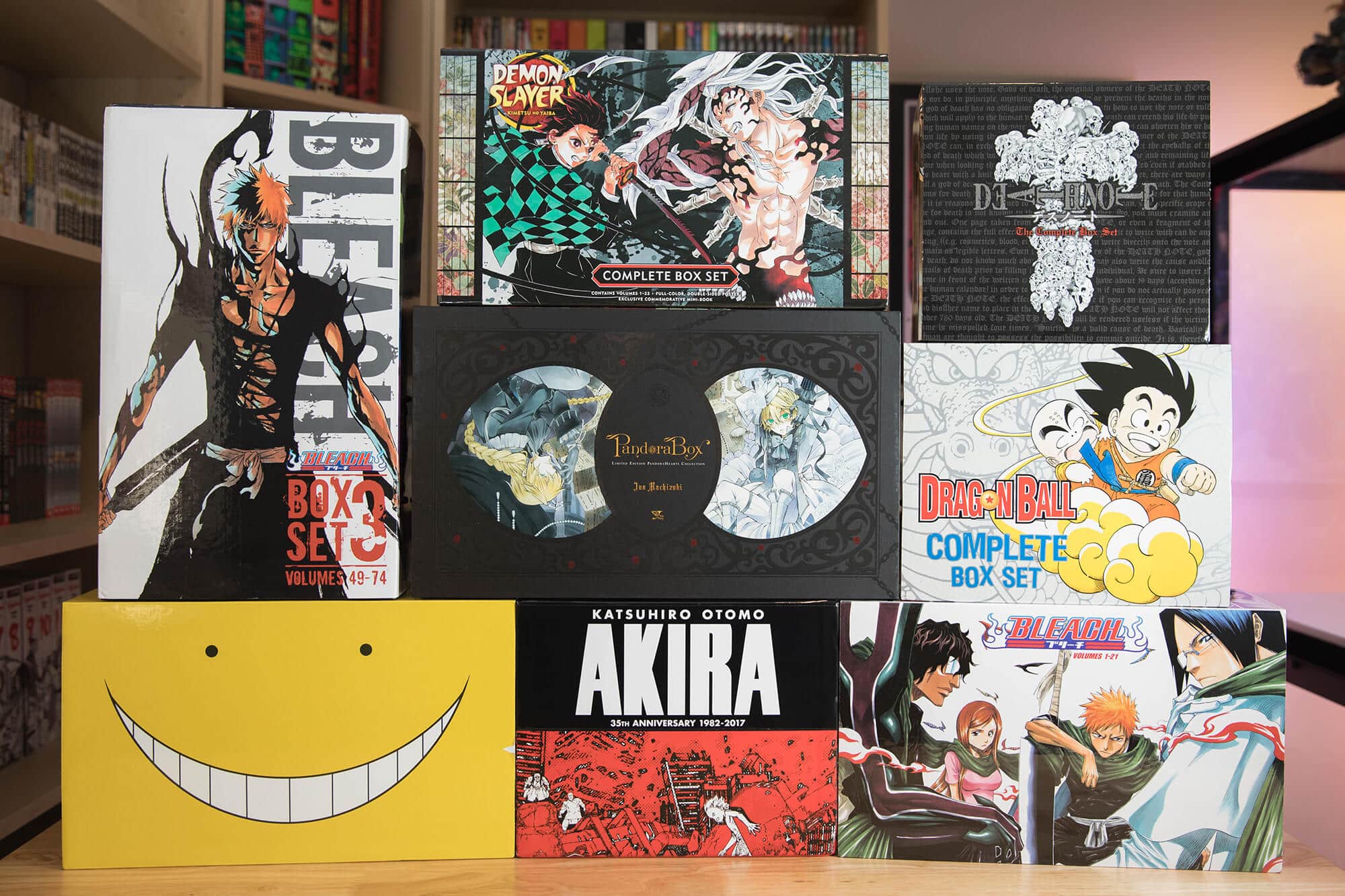 Manga Box Sets
There may also be manga box sets for a series, which either collect runs of the series, like the Bleach box sets, or fully collect the series in a single box set like the Death Note Manga Box Set or the Assassination Classroom Manga Box Set. Most of the time with box sets, you get the volumes at a cheaper price, but you also usually get extras inside of them as well, like booklets and posters. There are also Collector's Edition manga box sets, like the Akira 35th Anniversary Box Set, that has hardcover volumes and really cool extras, including the Akira Club Art Book.
Kondansha also release box sets, but they aren't fully enclosed like the ones I mentioned above. They have an open front that shows off the spines of the volumes they collect, which some may or may not like. They've released these for series like Fairy Tail, Attack on Titan, and The Seven Deadly Sins.
Another thing to keep in mind is that some manga box sets have been out of stock for quite some time. That being said, please don't pay ridiculous prices for them. Manga box sets, like Tokyo Ghoul and One Piece, won't be going out of print anytime soon and they will eventually restock.
You can sign-up for notifications on select sites to be notified when certain items come back into stock, but these alerts sometimes don't work. You can keep an eye out for restock dates on my manga restocks post as well.
Looking to buy some manga box sets? Check out my favorite manga box sets that have released so far.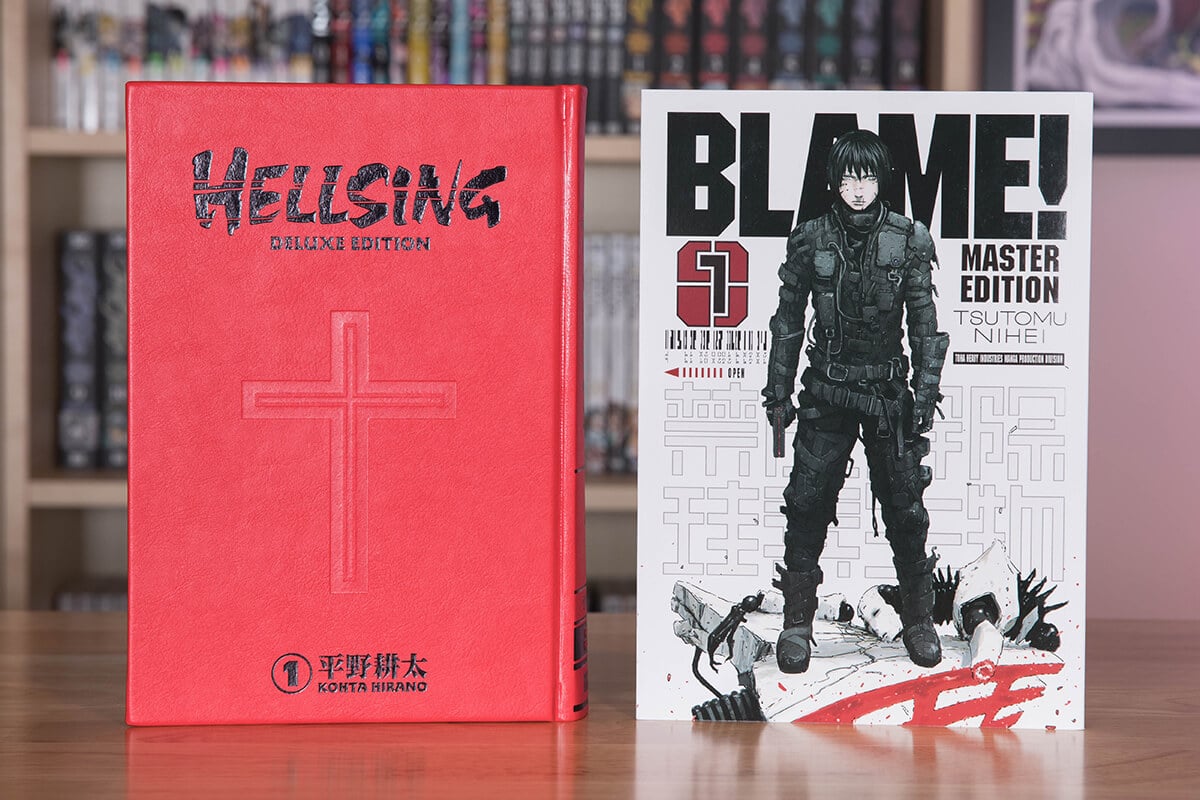 Special Edition and Large Format Manga Releases
You also have to be on the lookout for special releases or Collector's Editions of manga that are usually oversized, large format releases. A Silent Voice, for example, is getting a Collector's Edition hardcover release. There are also editions, like the Dark Horse Deluxe Editions for Berserk, Blade of the Immortal, and Hellsing, which are hardcover and are in a larger format.
And then you have larger format paperback releases, like the Tokyo Ghoul Monster Editions or the Blame! and Knights of Sidonia Master Editions. Some special editions will be paperback like the three I just mentioned, but there are a lot of hardcover Collector's Editions out there to shop as well.
Full Color Manga Editions
There are also some full color manga releases, albeit only a handful, like the Highschool of the Dead Full Color Editions and the Dragon Ball full color volumes that have been released. Others are on the way in the future, like the Parastye Full Color Collection.
Manhwa are oftentimes, but not all of the time, printed in full color, so if you enjoy full color series, you may want to look into these as well.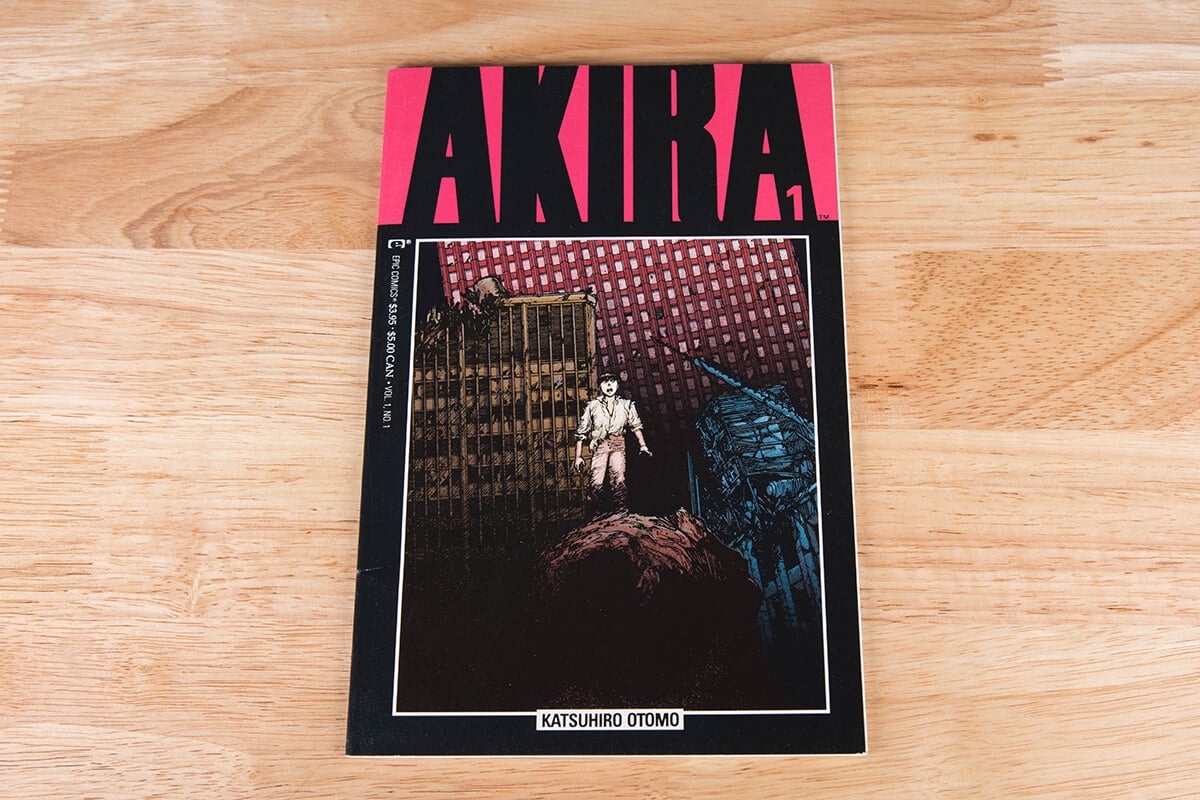 Comic Book Format
Some comics have also been released for certain series, like Blade of the Immortal, Dragon Ball, and Akira, so these are something to keep an eye out for as well if you are interested in comic books too. The Akira comic book issues are in full color, which is cool.
The only negative to collecting the comic books is that they oftentimes don't fully collect a series as seen with the Blade of the Immortal and Dragon Ball comics.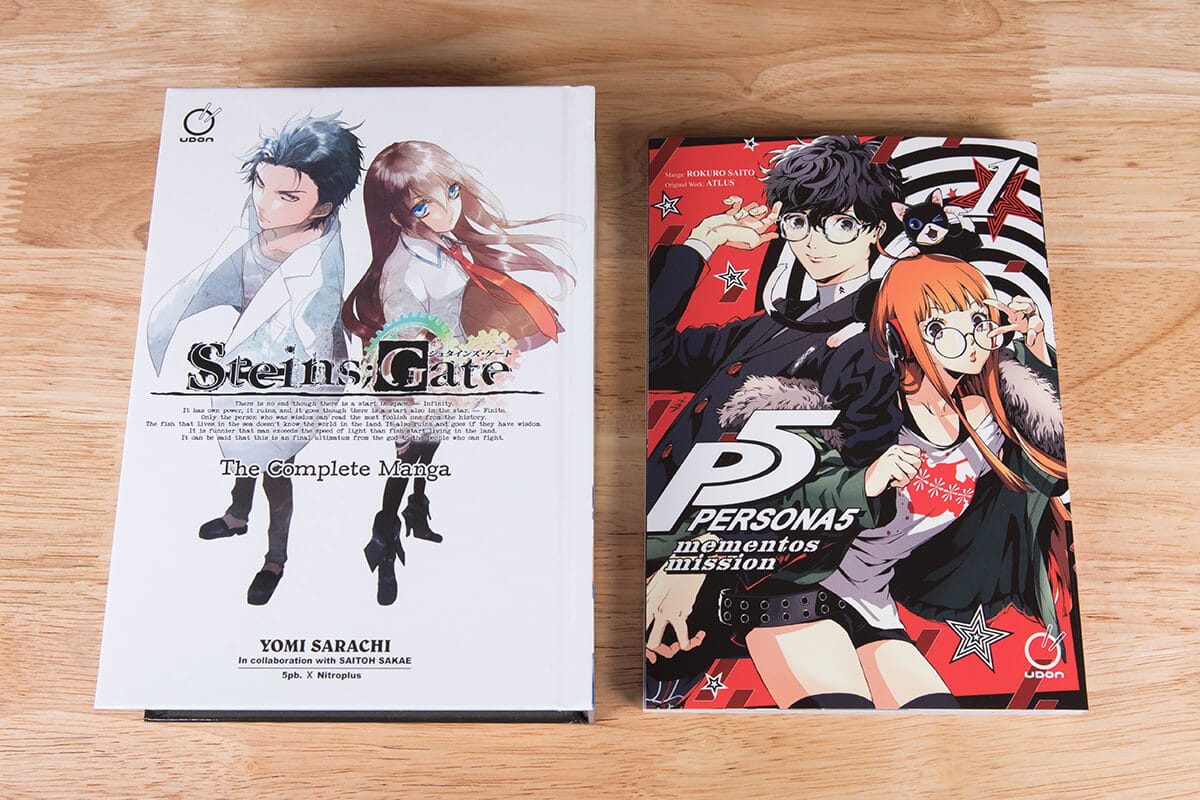 Retailer Exclusive Manga
You even have retailer exclusive releases for certain series, like the Barnes and Noble hardcover release of the Steins;Gate manga and the Barnes & Noble Tokyo Ghoul Monster Editions. They also release variant covers or individual volumes that are exclusive to retailers, like Barnes & Noble, Books-A-Million, and Kinokuniya. For example, an exclusive version of Attack on Titan, Volume 34 released at all three retailers.
Here are all of the retailer exclusive manga I know about so far!
How to Stay Up to Date on Manga Releases
Staying up to date on manga releases can be difficult, because new series are going up for preorder or are being announced every week. To stay up to date on manga releases, I follow the release schedules that are up on the publisher's websites, but even those can be behind at times. I've found that sometimes Amazon puts up listings before publishers do, so I'll sort manga by their release date to see what's new on their site.
For licenses announcements, I follow the manga publishers official Twitter accounts as well as their blogs.
It can be hard to keep up with all of the new manga that's coming out in a year, so I did a post on the site listing all of the continuing manga volumes that have been confirmed for 2022 so far as well as the new manga releasing in 2022. Each year, I'll make new posts so you can stay up to date on monthly manga releases!
Print Issues to Keep an Eye Out For
There are some issues that you definitely need to look out for when you receive your manga or if you are shopping in store. One thing to look out for is spine issues. Right Stuf actually did a video on what type of damage publishers deem acceptable and those they view as not acceptable.
One thing that is deemed acceptable are those little chips you commonly see at the bottom or top of the spines. These little defects happen when the blades that cut the books aren't sharp enough. Apparently, with the presses running more and more frequently as of late, they aren't sharpening the blades as often, so these little chips have become more common. That being said, chips are deemed as acceptable by publishers, and therefore, places commonly don't accept returns for these types of issues.
What they don't think is acceptable is warped or crinkled spines, which occur when there's too much glue on the spine. When cut, the blades press down and the glue, when too thick in certain areas, can warp and crinkle the spine. Another thing is cut covers, which probably occurred in a warehouse somewhere when they were opening a box, and printing defects (pages in wrong areas, pages printed upside down, etc.).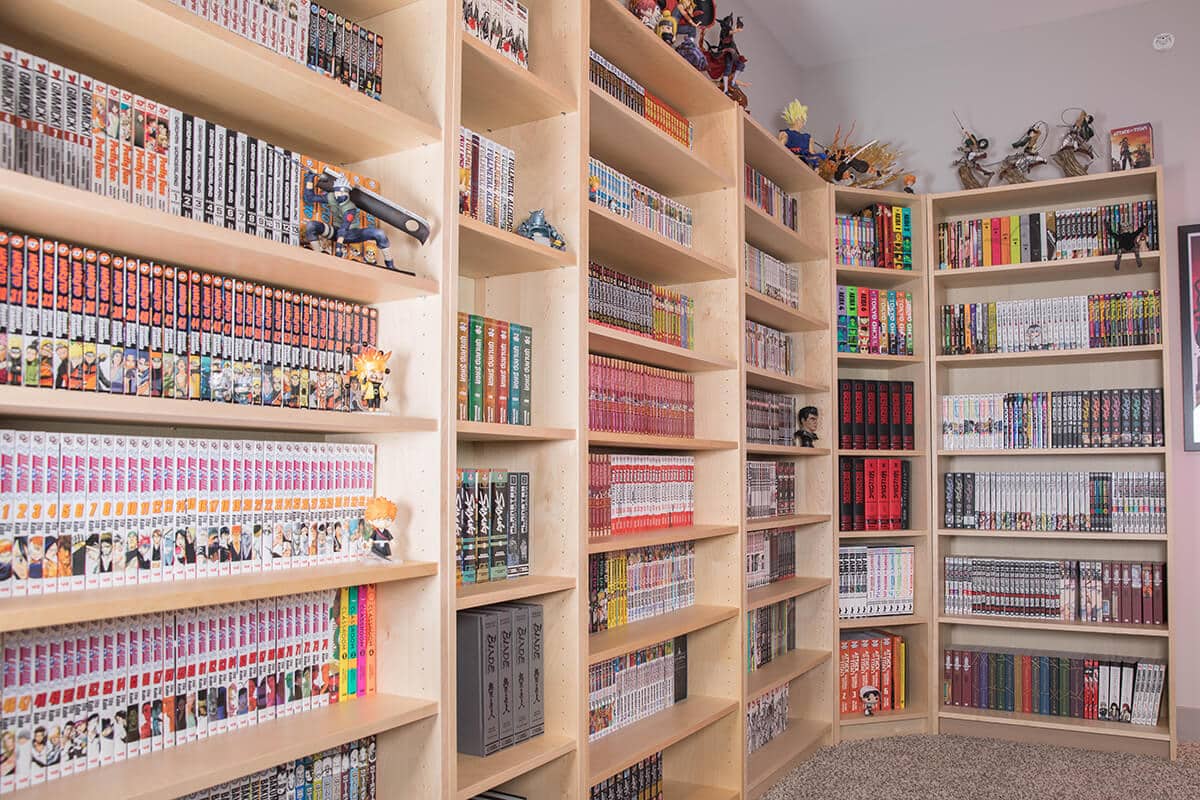 Starting a Manga Collection
My manga collecting journey began with Naruto years ago, and to this day, it still holds a special place in my heart. I remember how it felt, though, trying to decide which series to get into first. I walked into the manga section at Barnes and Noble and was overwhelmed, but also excited, by the sheer number of series that I could read.
If you are completely new to manga collecting or if you are trying to find something new to get into, one awesome way to discover what manga you may like is to think about what else you are into. If you are into movies, what type of movies do you like? Do you like sci-fi? Do you like funny manga? Horror series? It's good to start with something you are familiar with, but it's also good to explore different things as well because you never know if you'll enjoy them until you try them out.
What about your hobbies? Are you an artist? There are manga like Blue Period and Barakamon. Do you like sports? There are a lot of sports manga recommendations. Pretty much any sport has a manga about it, including climbing with The Climber and racing with manga like Initial D and MF Ghost. There are a number of different hobbies and topics explored in manga, so there's a lot to look into.
Another great way to find manga you'll be into is to find a creator(s) you like and explore their other works. I sometimes don't even realize that someone has written something else until I do a search and discover they have more series to read. A good example of this is Haro Aso. I stumbled upon his manga Hyde & Closer while at Half-Price Books one day. I had no idea he wrote Hyde & Closer, and since I love his other manga Zom 100 and Alice in Borderland, I decided to pick it up as well.
Another great example is Blue Lock's creators. Blue Lock is the most popular of their series, but I often find that people aren't aware of their other manga, including Jagaaan, which is one of my favorites, Dolly Kill Kill, Bokutachi ga Yarimashita, and more.
If there are two or more creators, be sure to search each because, in most cases, they've either done something on their own or collaborated with others at some point in their career, like Yusuke Murata who worked on One Punch Man with ONE but also created Eyeshield 21 with Riichiro Inagaki.
That being said, as mentioned before, just because you like one manga by someone doesn't mean you'll necessarily end up enjoying all of them, but I've found that most times if I love one manga by a creator, I'll generally enjoy the others.
At this point in my manga collecting journey, I'll buy some creator's works no matter what they are about because they've impressed me time and time again, like Inio Asano, Tsutomu Nihei, and Takehiko Inoue to name a few. You'll find the creators over time that you are invested in as well and it's fun to see and experience what else they've created in their careers!
With so many manga out there, it can be hard to know where to start or what series to pick up first. To help you decide, I want to go over the different genres of manga you can explore!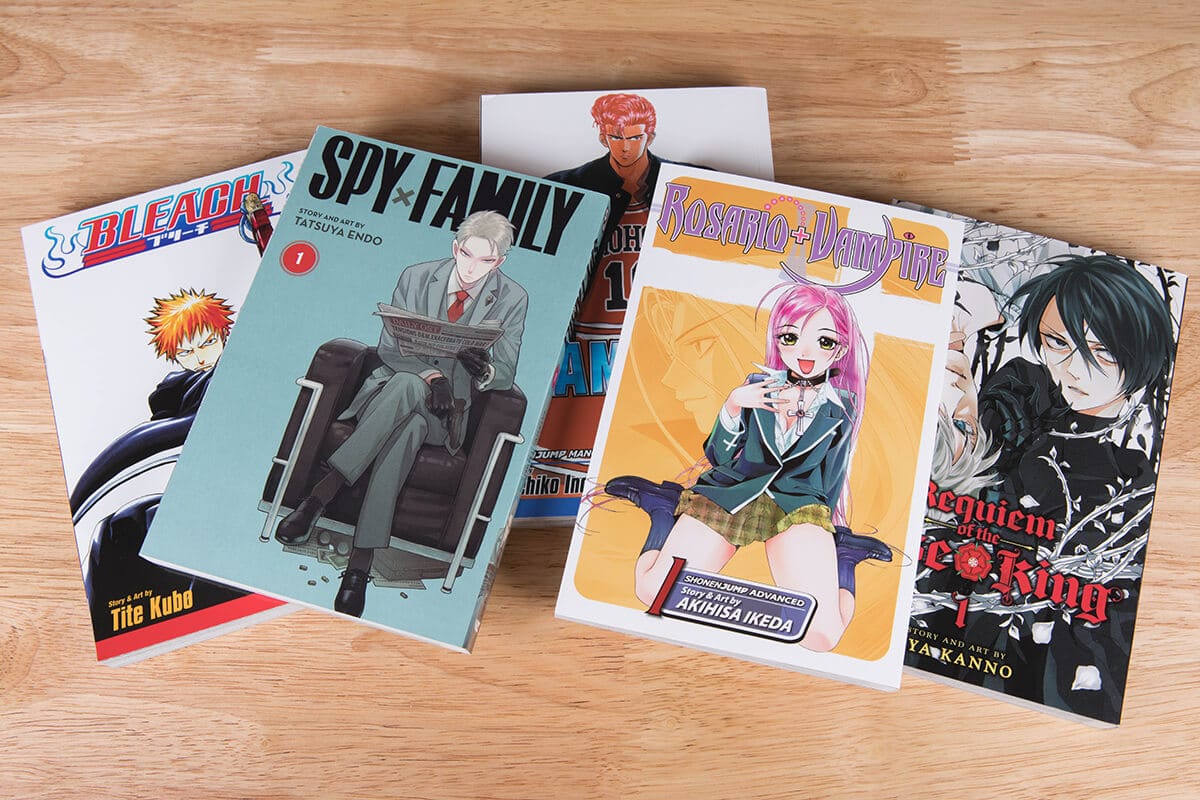 Manga Genres
Some manga target specific demographics. Shonen, like Bleach, One Piece, Naruto, are targeted towards teenage boys whereas seinen, like Berserk, Vagabond, and Tokyo Ghoul, are targeted towards adult men. Shojo, like Fruits Basket, Maid Sama, and Banana Fish are targeted towards teenage girls, and josei, like Karneval, Love of Kill, and Servamp, are targeted towards adult women.
That being said, just because it is targeted at you, as with everything else, doesn't mean it is something you will enjoy. I, for instance, am a 30-year-old woman who primarily likes seinen and shonen, both of which are supposedly not targeted towards me.
That being said, I recommend checking out manga from all of these demographics to find out which ones you enjoy. If you branch out into something new, you may even be surprised. For example, I absolutely love Banana Fish and Karneval and I really enjoyed Fruits Basket too even though I'm typically not a fan of shojo or josei and tend to prefer shonen and seinen.
And then there are the genres you can check out that are more so based on a manga's content. There's a lot to explore in manga from romance to horror to slice of life, which typically follow the daily lives of the characters and mirrors everyday life. There's ecchi, which have sexual themes but its all done a humorous way, like Sankarea Undying Love. There's isekai, where the main character(s) are transported to another world than their own, like Re:Zero and Mushoku Tensei.
Most of the time, though, series fall under a number of different genres, like Kaguya-sama: Love Is War, which is romance but is also a comedy. There's mecha series too, which have giant, for lack of a better word, robots in them, like Gundam and Code Geass.
Those are just a few off the top of my head, but there are many, many more to browse. Looking at genre lists is pretty much all I use My Anime List for. They have most series listed out by genre if you are looking to see what kinds of manga you can get into!
Dropping a Manga
I keep hearing something about a three volume rule for manga; That if it hasn't hooked you by three volumes then you probably won't like it. I'm not exactly sure as to who came up with this rule, but I personally don't use it, because some series take more time to hook you and, honestly, if I had used this rule I would have dropped so many series that I ended up loving.
It's one thing to consider dropping a series with say 6 or 7 volumes three volumes in, but it's another thing entirely to drop a series that has 70+ volumes three volumes in, especially if it's a shonen. What I recommend doing before you think about stopping a series is asking yourself what you like about it. Does it have a style and art that you enjoy? Do you connect with any of the characters? Do you like the world it is set in? Are you a fan of the creator's other works?
I completely understand that aspects like pacing may be an issue for some, but manga like Gantz for instance develop differently than something like Goodnight Punpun would, and different genres like slice of life vs action, for instance, tend to pace themselves differently as well. Also some manga, like shonen, take some time to get into the thick of things, because there are training arcs and whatnot in them. That being said, there are some shonen that get into things faster than most. Psyren is a great example of this, so there are always exceptions.
What I guess I'm trying to say is that, there's really no set volume rule that I personally use to determine whether or not I want to continue on with a series. I just really rely on how a series makes me feel and how I connect with it. Do I enjoy it on any sort of level and do I feel like it will hook me later on? I'm not saying you can't and shouldn't drop series, because I get it, it costs money and time to collect and read manga, but that some things take longer than others to really hook you.
I've also found that some people when they read one manga by a creator or creators and end up not liking it will come to the conclusion that they don't like that individual(s) manga at all and move on.
For example, I personally enjoy Platinum End by Takeshi Obata and Tsugumi Ohba, but it's not the best they've released so far. Because of this, I can only imagine what would happen if someone's first introduction to them was through Platinum End, they end up not liking it, and then decide not to look into their works any further. They would then miss out on Death Note, Bakuman, or any of their other works for that matter.
So you sometimes have to find what manga you like from a creator(s). Even if you didn't like one, you still may like others; However, if you've read multiple of their most popular series then they probably aren't for you, and that's okay. Just because something is popular to the majority, doesn't mean you have to like it. The other way around goes too; Just because something is rated low by others, doesn't mean you won't enjoy it.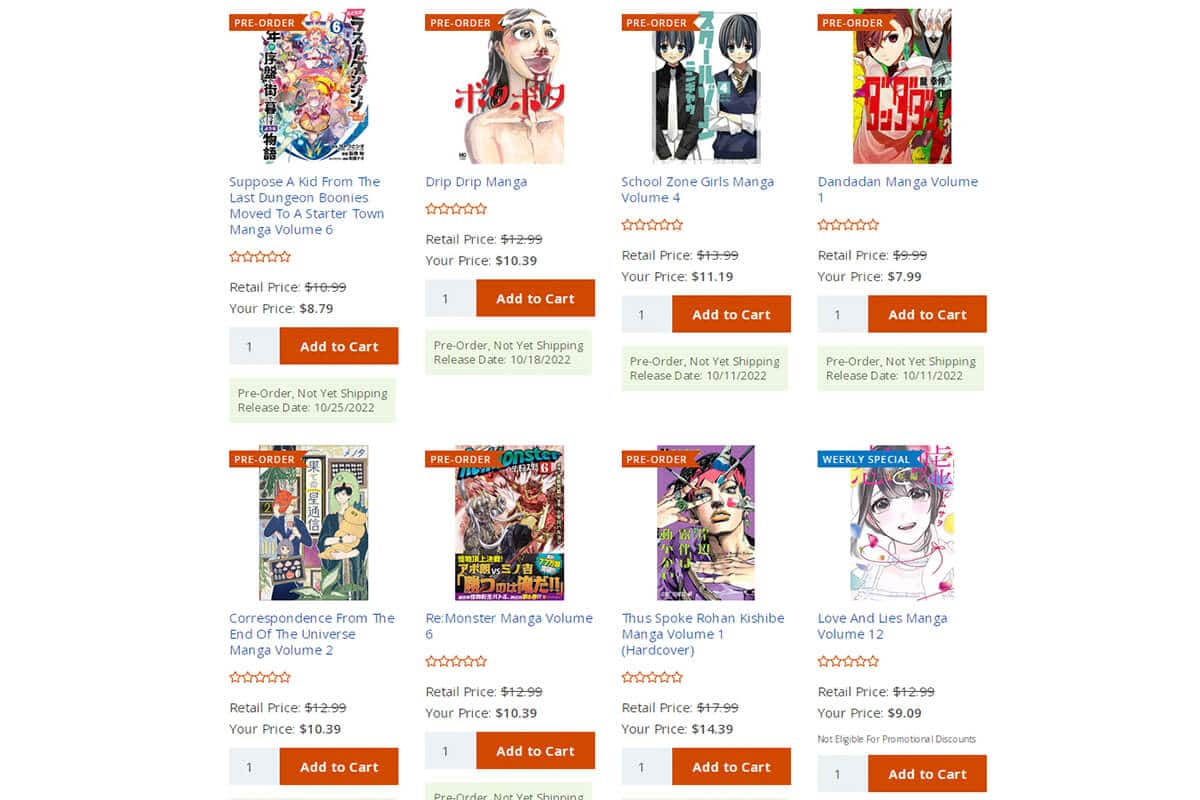 Where to Buy Manga
I have bought from many sites and stores that sell manga over the years. To see my favorites and the pros and cons to buying from each, check out the best manga sites and bookstores! I really go into depth about what to look out for when buying from each site, where to find cheap manga, who has the best manga deals and more.
Best Manga Sales
If you're looking for the best deals currently running, be sure to check our best manga deals for all the latest sales. Other than daily sales, of the best manga sales every year is the Right Stuf Birthday Sale, which usually takes place in July. To get an idea as to what sales they have, check out all that was on sale during the Right Stuf Birthday Sale in 2022. Right Stuf, in general, are always running sales on manga, so they are a good place to check.
Black Friday and Cyber Monday is a good time to keep an eye out for manga sales as well. Last year, Barnes and Noble had 50% off all hardcovers, which applied to manga as well and Right Stuf had hundreds of volumes on sale. To get an idea as to what type of manga deals run during Black Friday, check out all of the manga that went on sale during Black Friday 2022.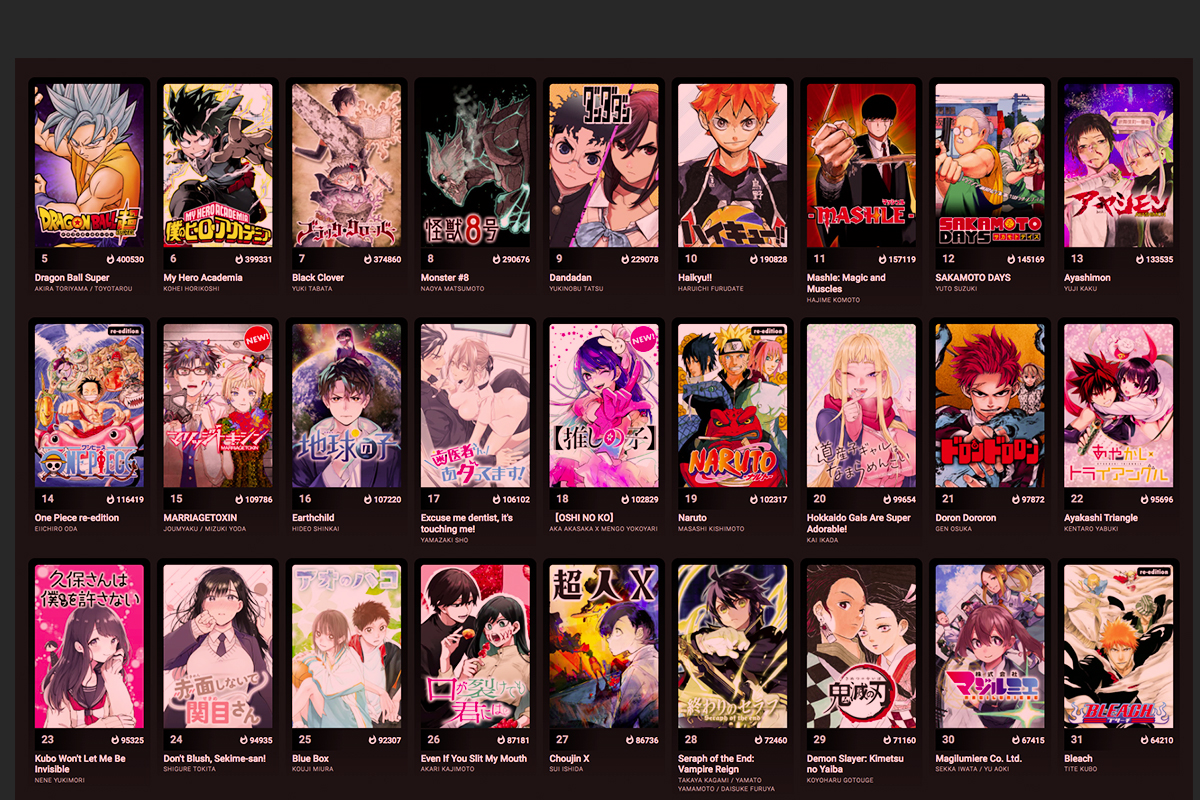 What about digital manga?
Digital manga apps are a great way to essentially try before you buy. If you aren't sure you want to put your money into a series, digital apps, like the Shonen Jump app and other manga readers and apps, are great places to start.
They are great places to read manga, especially if you are running out of space on the shelf. Sometimes I'll head to the Shonen Jump app to read series, and once I determine it's one I'll enjoy, I'll pick up the physical copies. I personally enjoy reading physical copies more, but I like to read manga digitally too, especially if I want to give a series a shot or if it has yet to get a print release.
Also, the chapters typically release quicker on manga sites than they do with a print release, so you can catch up on a series quicker than if you were reading them physically. These apps are great for when I get impatient and can't wait to read a series. For those wanting to start a manga collection digitally, you can also purchase volumes on Kindle & Comixology. Be sure to keep an eye out for frequent bundle deals on Humble as well, like the current Attack on Titan manga bundle from Kodansha.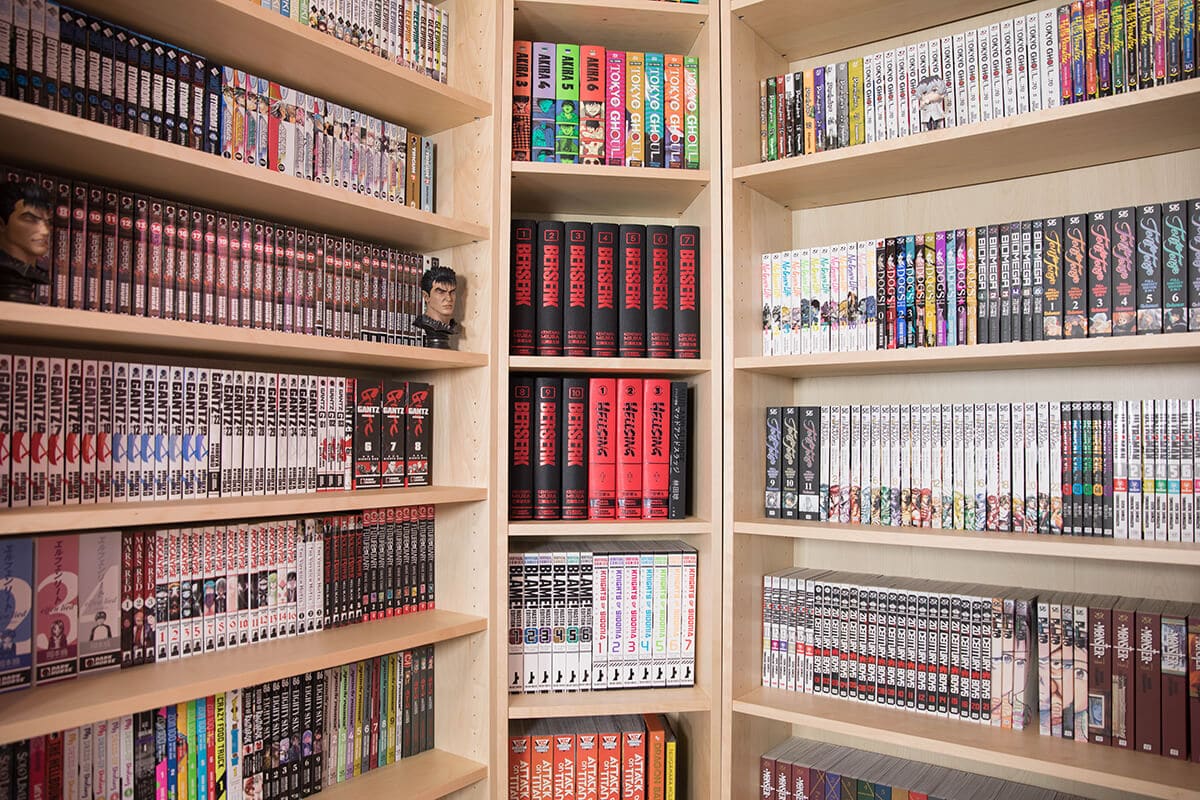 How to Display and Care For Manga
Manga Bookshelves
First, I want to talk about shelving. You probably have already heard about the Billy Bookcases from Ikea, but if you haven't, they are a really cost-effective way to store and display your manga safely and securely. I typically see people get them in either white or black, but they have them in birch as well, and I think they have new colors too.
You can either buy the Billy Bookcases individually or you can buy them as sets that make up different bookshelf configurations, including one that allows you to wrap the bookcases around a corner.
I do want to note that the tall and largest Billy Bookcase with the 29" wide shelves has a hard time supporting the weight of something like all of the Berserk Deluxe Editions since their shelves are longer. They are great for standard sized volumes, but if you have heavier volumes, I highly recommend getting a thinner Billy Bookcase instead. They are the same height as the larger Billy Bookcase, but are thinner and have smaller shelves. Because of this, I can store my heavier volumes without concern or bowing the shelves, which is never a good thing, and they fit in really well with the larger Billy Bookcases since they are the same height.
You can also extend the tall Billy Bookcases, both the full size one and the thinner one, one shelf higher with their height extension unit. These are especially great if you have a lot of vertical space in your room. You can also add doors to your Billy. The doors are called the Oxberg if you want to buy them separately, but you can also buy sets that come with the doors. You can also purchase extra shelves for the Billy Bookcases, which allow you to put even more manga on display.
If you don't want the tall Billy Bookcases, they do have a smaller option too. The larger ones dwarf everything else in the room, so you may prefer the size of the smaller one depending on your setup. That being said, you get the most bang for your buck with the larger ones given the amount of manga they hold.
Display in a Temperature Controlled Room Without Sunlight
Another thing I want to talk about is where you put your bookcases matters, because you want to make sure they aren't in direct sunlight and are in a temperature controlled room. When manga is in direct sunlight, it fades the spines and yellows the pages, so it's always a good idea to keep them out of its line of sight.
I've also been recommended by a lot of individuals to use a humidifier in the room where you have your manga. Humidity is another enemy of books, so you want to make sure your room is cool, temperature controlled, and isn't humid.
Don't Keep Your Manga in Plastic or Shrink Wrap
I also take my volumes that come in shrink wrap out of the wrapping as soon as possible. Moisture can get trapped under plastic and moisture is bad for books. I've seen a lot of individuals storing their manga in plastic bags as well, but this creates the same issue.
Spine Stretching
Stretching the spine is another thing that I do, but only if a volume has sewn-binding. If it has glued binding, like the Attack on Titan Colossal Editions, I do not do this, because it would crack the spine if I did. Just handle with care when you do this and gently push the pages down. You don't want to put a ton of pressure on the volumes and you want to make sure it is against a flat surface when you do so.
Restoring Manga
There have been many times that Brad and I have been at Half Price Books and found a volume we needed, but it was a library volume in its past life. Many times the volumes aren't all that salvageable with stuff like water damage, cover fading, large creases and dents in the covers, or yellowing pages, not just on the outside but the inside as well. That being said, there are still a lot of used manga volumes that can be saved and, when cleaned up, they oftentimes look brand new.
Here are some tips for cleaning up and restoring used manga!
Removing Sticker Residue from Manga
Sticker residue is something you can remove with Goo Gone. We use this all the time to remove the residue left behind by stickers placed on manga. Sometimes you'll find volumes that just have the sticker residue and not the sticker themselves, which can quickly be cleaned up with some Goo Gone. If the sticker is present, remove the sticker as best as you can. Then, use Goo Gone to remove the rest of it.
The only thing you'll have to keep an eye out for is stickers that have removed the protective film underneath them. Overtime, when a sticker has been on a volume for so long, it can corrode the glossy coating that's seen on most manga volumes. In this case, nothing can be done unfortunately to fix the volume and Goo Gone will only make the issue worse. But, if you can tell that it's just sticky residue, you can get rid of it with Goo Gone. Goo Gone, though, should only be a last resort. A lot of times sticker residue can be removed with a slightly damp paper towel.
I've used Goo Gone on many volumes I've picked up from Half Price Books, that have both glossy and matte covers, and it has never damaged them when handled with restraint and care. As aforementioned, though, be sure that the glossy layer is still intact and present before using Goo Gone.
Cleaning Up Dirty Manga
A lot of times manga at secondhand book stores are just dirty and need a quick cleanup. If you notice that the marks or debris on the cover will come off, you can easily and carefully wipe the covers down with a very slightly damp microfiber cloth or paper towel if you don't have one. After doing that, I go in with Goo Gone to remove any leftover sticker residue that may be present on the covers or spine.
Sanding Yellow Edges of Manga
For yellowing that's just on the edges of the pages, I use a fine grit sandpaper to slowly sand off the areas that are discolored. I build Gunpla, so I actually use my DSPIAE Sanding Sponges to do this. Again, you'll want to use a very fine grit sandpaper, because you don't want to remove all that much, just a very, very small amount.
If the pages inside the volumes are yellowing, as far as I'm aware, there's nothing you can do about that, but you can better, if not completely fix, the yellowing on the edges of a volume with fine sandpaper. This is something some of you may not want to do, and I completely understand that. It's just something that I personally like doing to fully restore these secondhand volumes back to their previous glory.
Keeping Track of Your Manga Collection
If you don't keep track of your collection, it can get out of hand even more so now than ever with gaps in a collection due to certain volumes being out of stock. Usually these volumes will be burned in my mind, but it's good to have a spreadsheet or tracker of some sort that has all of the manga you own on it, so when you are shopping out in public or at secondhand stores, you can easily see what volumes you have so you don't duplicate buy any volumes.
I just have a spreadsheet in Drive and whenever I get more manga in, I add them to the list, so I always know what I'm still in need of. I have the Google Drive app on my phone, so that I can access this list when I'm out shopping in public.
Final Thoughts
There's a lot that goes into manga collecting, but it's one of the most rewarding and exciting hobbies. Not only is it fun to find series you've been in search of, but reading them is fun as well. There's a joy I get from seeing a bookshelf full of manga, and I'm sure that many of you can relate. I collect partially because I surround myself by the things I love, but even more so than that, manga has opened me up to new worlds and perspectives. The opportunities and possibilities with manga feel endless, and this in itself, makes it compelling, but it's also important to support the manga creators, who've created the series that we enjoy and love.
No matter where you are at in your manga collecting journey, I hope this post was helpful and that it was able to connect with you on some level.
If you are new to collecting or are looking to get into a new series, definitely check out my videos on YouTube! I do a lot of manga edition comparison videos as well as manga recommendation and manga review videos on the channel that may be of help as well!