I buy and read a lot of series, so I am always looking for the best manga deals. Not only that, but I'm also always on the lookout for new sites to buy from. I've learned a lot about collecting manga over the years and I've bought from many sites and stores that sell manga, but the following are my favorites!
Before I get into the best places to buy manga, in addition to the pros and cons of buying from each, I want to first talk about the current state of the manga industry and the difference between out-of-stock manga and out-of-print manga.
Also, if you are curious as to what manga is releasing in 2023, here's all of the new manga that's been confirmed so far! Looking for good deals on manga? I am keeping an up-to-date list of all of the manga deals and sales of 2023.
Why is so much manga out of stock lately?
Due to the current state of the world, manga has been out of stock lately and some series have been out of stock for quite some time. But why are they going out of stock? It really comes down to the current state of the world, but supply and demand also come into play.
Manga has seen a huge boom in 2021 with sales more than tripling in the last year or so and because of that, demand has outgrown supply. On top of that, due to restrictions, production hiccups, like the availability of printers, paper shortages, the shipping crisis with ports being overrun, and whatnot, it became even harder for publishers to keep up with demand.
It was already a challenge for manga publishers to keep up due to an increase in demand, but this was all made worse in 2020 and beyond due to the unforeseen economic and production issues that would come due to the current state of events. For these reasons, manga is out of stock more often than usual and it has become harder and harder to fully complete series.
I do want to stress though that recently serialized series, like Jujutsu Kaisen and Chainsaw Man, is not of concern and will be back in stock eventually. Please do not pay more than the cover price for these volumes as they will return as soon as publishers catch up on production. Chainsaw Man, Volume 1 in particular is one that was out of stock for a bit, but it started hitting shelves at Barnes and Noble again, so it looks like printing has resumed again for some of these harder-to-find, out-of-stock volumes. Here is a complete list of all the known manga restock dates so far.
We aren't out of the woods yet, but as publishers navigate and overcome these new challenges, these issues should gradually get better over time and eventually be fixed.
Out of Print Manga vs Out of Stock Manga
I also want to talk about the difference between out-of-stock and out-of-print manga, because I often find the two are confused. Out-of-print manga are books that are no longer going to be printed by a publisher, such as the Initial D individual volumes released by Tokyopop. I wrote a post that lists all of the out-of-print manga that I'm currently aware of if you'd like to check that out. That post also includes tips when buying out-of-print manga and things to look out for.
I also want to mention that just because a manga is out of print doesn't mean that it will never receive a new format release. For instance, the individual volumes of No Longer Human by Usamaru Furuya are out of print but Kodansha announced that they'll be releasing a Complete Edition of No Longer Human in the Fall of 2022.
On the other hand, out-of-stock manga are series that are usually just temporarily out of stock, meaning that the publisher needs to print more volumes. More recently serialized series, as mentioned above, are definitely not of concern.
Even though some product listings say out of stock, expecting more, or temporarily out of stock, this doesn't always mean that manga bookstores and sites will be able to get more stock. Books-A-Million states on their website that they'll reach out to a publisher and see if they can get more stock and depending on what they say, they could cancel your order.
Manga sites and stores, much like us, are often left in the dark as to when or if a series is going out of print and they won't know that something is no longer available until they are told so by the publisher or distributor. This is something that has usually only happened to me with longer-running series. If you want to learn more, here are some signs that a manga may be at risk of going out of print.
Most times, though, if it's a newer series and it says out of stock you have no reason to be concerned!
Best Manga Retailers
Usually have the best prices and discounts on manga box sets & hardcover editons
They are convenient to buy from
Some items have a preorder price guarantee
Don't charge you for preorders until release day
Quick shipping
No free shipping threshold with Prime Membership
Easy returns
Can easily cancel orders or select volumes with the click of a button
Packaging needs a lot of improvement
Volumes come damaged the most
Be wary of some third-party sellers
Amazon is a great place to buy manga, especially if you already have a membership with them. They are just super convenient, I've found their shipping to be the fastest, and they have easy returns in the event that something comes damaged.
Since Right Stuf usually excludes heavier items, like box sets, from their free shipping discount, Amazon usually has the best deals on manga box sets when they go on discount or sale. They also run discounts on manga editions, like the Berserk Deluxe Editions, as well as individual volumes from time to time.
One benefit to buying from Amazon is that when you preorder a manga they usually have a preorder price guarantee. Amazon had the following to say about their preorder price guarantee policy on their site: "Whenever you pre-order a physical item displaying the "Pre-order Price Guarantee" message on the product detail page, the price we charge when we ship it to you will be the lowest price offered by Amazon between the time you placed your order and the end of the day of the release date."
Another benefit is that unlike Right Stuf, which charges you for preorders immediately, Amazon won't charge you until release day. So if you don't want to be out the money immediately for manga preorders, Amazon is a good way to go.
The one negative of Amazon is its shipping. They seem to just throw manga into a box or ship a lot of manga together in a bubble mailer, which can damage the covers and spine. I've had to return the most manga to Amazon because of their poor shipping. But they have easy returns and they send you replacements for free, so the return process is much easier than if you were to buy from somewhere like Right Stuf.
One final thing I want to mention is that Amazon has third-party sellers, so if you are wanting to buy from Amazon directly, make sure they are listed as both the shipper and the seller in the description. Not all third-party sellers are great, but there are some like Book Depository that are reputable. To see how good a seller is, you can check their seller page for customer reviews and ratings. I've also seen some ridiculous listings by third-party sellers, who massively overprice out-of-stock or out-of-print manga volumes, so double-check the price before buying.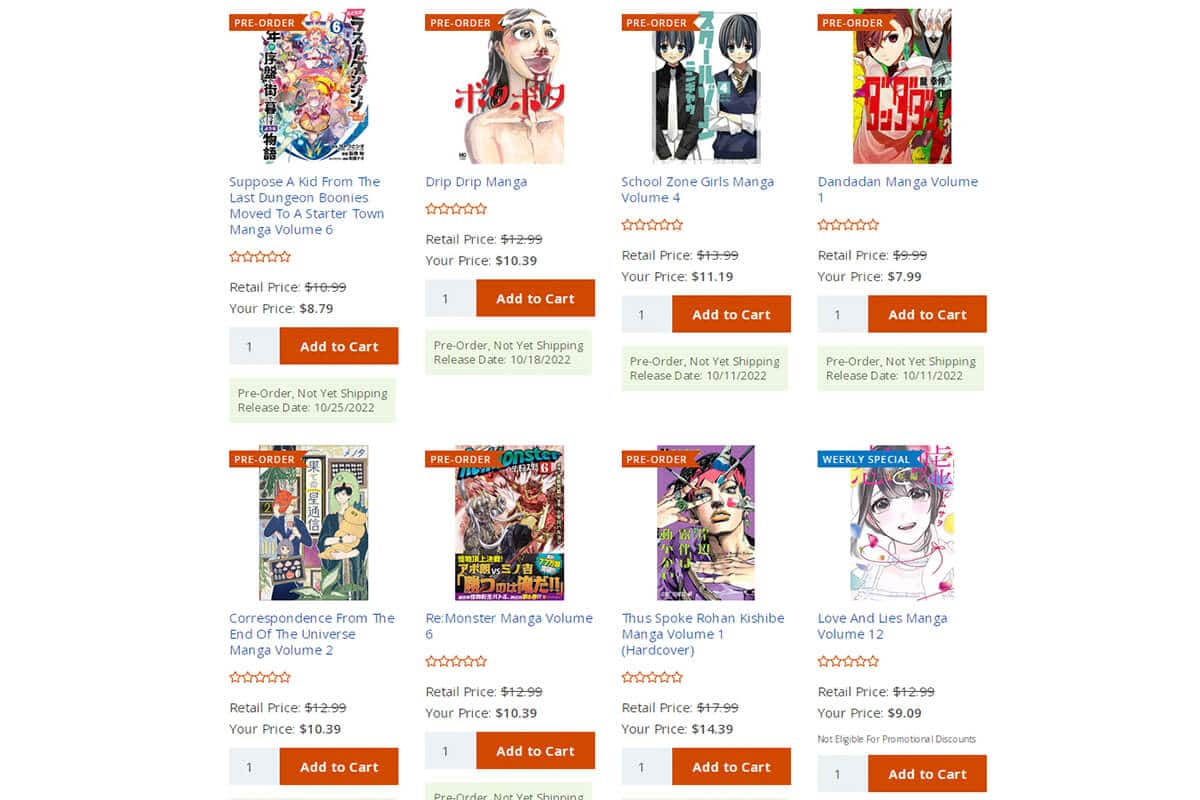 Right Stuf
They have some of the best manga sales
They run weekly specials
They have cheap manga prices
You can get even lower prices on manga if you get the Got Anime? membership
Have better shipping than most
They charge you immediately if you use PayPal
Returns aren't easy and they make you pay to ship returns even if something arrives damaged or incorrect unless you pay for their shipping protection
Exclude certain items like manga box sets from free shipping
Free shipping isn't unlocked until $75 USD for US orders
You have to reach out via contact form or email to cancel items in your order whereas other sites let you do so with the click of a button
Their customer account and order pages could be more user-friendly
Customer service needs improvement
Unfortunately, since the time of writing this post, Right Stuf has been acquired by Crunchyroll. Crunchyroll has since shut down the Right Stuf website and is now selling manga on its website instead. I have yet to buy manga on Crunchyroll's website, but once I do a few times, I will update this post if they are a good retailer for manga as well as the pros and cons of buying from them.
Right Stuf used to be one of my favorite sites to buy manga on because they constantly ran sales and specials and they had some of the lowest everyday prices. Right Stuf is a site that used to always have cheap manga prices too. It remains to be seen whether or not Crunchyroll will maintain all of this or if they will be making massive changes.
I will say though that Right Stuf really is only worth it if you are able to reach their free shipping threshold. If you are based in the US, free shipping is unlocked at $75 USD. It used to be that if you are based in Canada, free shipping would be unlocked at $250, but unfortunately, Right Stuf has since removed free shipping on orders to Canada.
One downside though is that Right Stuf excludes certain items from free shipping. In my experience, figures as well as anything that's heavier, like manga box sets, are typically excluded from free shipping. With that said, if you are looking to buy manga box sets, I have other recommendations below. But if you are looking to buy individual volumes, Right Stuf is definitely the way to go, because they usually have the lowest prices for manga.
Another thing is that they don't make it easy or cheap to return items. You are responsible for return shipping and it is up to their discretion whether or not your return will be accepted. They even make you pay for return shipping if a volume arrives extremely damaged or has issues with the cover or pages coming apart from the spine.
For instance, I just had a volume arrive that's cover was coming apart from the spine and they told me that I was required to pay the shipping back to them. Unfortunately on a $7 volume, the cost of shipping back to Right Stuf doesn't make it worth the hassle of returning. And this was even when I paid for the shipping protection on the item.
Honestly, this has made me buy from Amazon more and more when they have similar sales on manga because they have easy and free returns with their membership. To me, pushing the cost of shipping on the customer when something arrives damaged or wrong has always been a bad practice. If this is something that concerns you, I highly recommend Amazon or Book Depository, which I talk about more below. Both of these companies don't charge return shipping for damaged or incorrect items.
One final negative is their user experience, especially when it comes to their customer accounts. For example, something that would be really helpful is a way to view all of your items that have yet to ship. They partially fulfill orders a lot so your order history can get really messy and convoluted and it becomes hard to tell what's arrived and what hasn't. Also, a way to see estimated back-in-stock updates would be super helpful like Barnes and Noble does on their site.
Also, if you partially cancel an order, those items won't disappear from your order and don't get marked as canceled, so there's no way to tell if your item(s) or order was actually canceled other than the email confirmation you have with Right Stuf. It also makes it confusing when you go back months later to see what items still have yet to ship and see the volumes that were canceled are still listed on the order.
You may be thinking, with those negatives why do you still buy manga from Right Stuf? What really gets me into trouble and keeps me coming back to Right Stuf is their sales and cheap manga prices. Not only do they run weekly specials, but they also have larger yearly sales, like the Right Stuf Birthday Sale. To see the up-to-date manga on sale, check out all that's on sale during the Right Stuf Birthday Sale 2022!
Also, I want to mention that if an item is out of stock, expecting more on their site, you can still place an order for that item. They will charge you immediately for the purchase though even though they don't have it in stock at the moment or if it's a preorder when you use PayPal. If you use a credit card, however, Right Stuf will place an authorization charge on your card to ensure you have the funds available, but they will only charge you the full amount when your items are preparing to ship.
When you go to check out, make sure you uncheck their shipping insurance if you don't want it and make sure that free shipping is selected if you reached the threshold, because ground shipping, which costs a bit of money, sometimes gets automatically selected for some reason.
Another thing they have is the Got Anime? Membership which gives you an additional discount of up to 10% off their prices and access to members-only special promotions. It costs $18 USD a year, and after using it for a year, it definitely pays for itself, and then some if you buy a lot of manga.
To sum things up, if getting the cheapest prices and finding the best sales on manga is your thing, Right Stuf is definitely the best option on this list.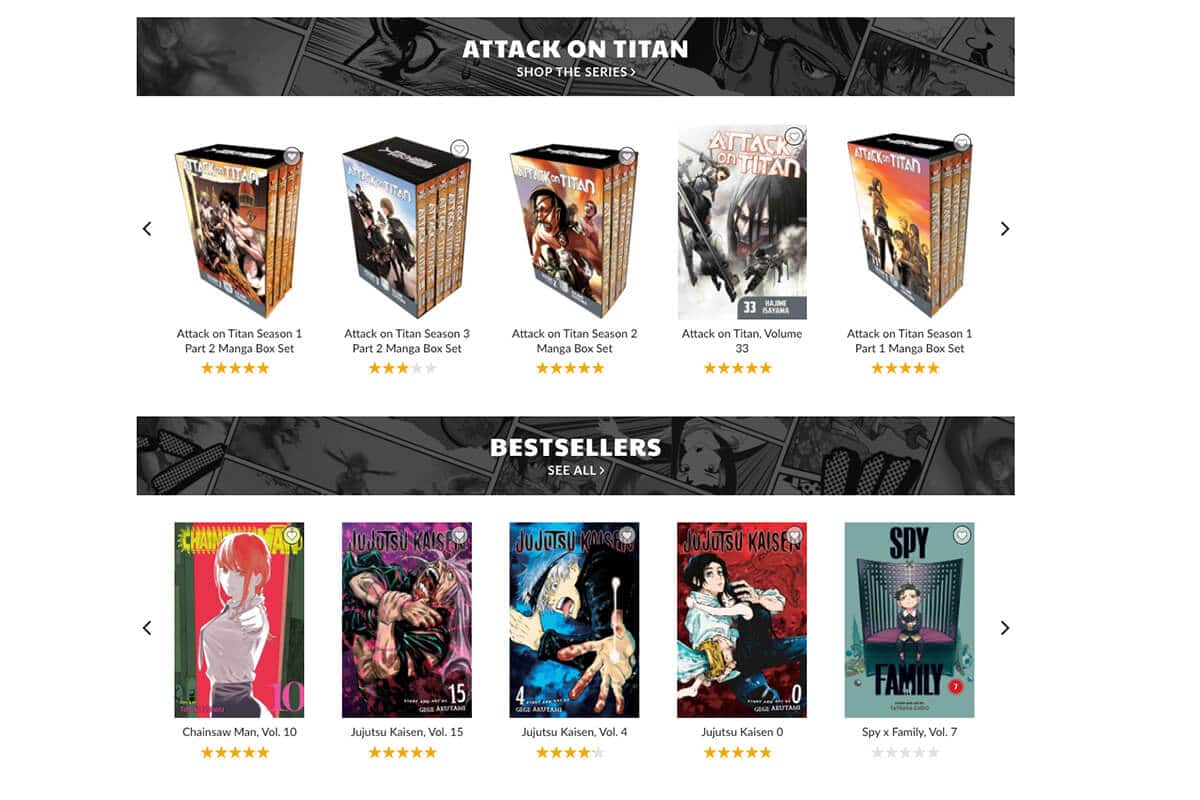 Can buy in-store or online
They get exclusive manga releases
Run good sales on manga from time to time
Tend to get items back in stock quicker than online-only retailers
Barnes and Noble notes expected restock dates
Have memberships with discounts and benefits
Tend to have the highest prices on manga
Some items don't qualify for free shipping
If something arrives damaged, they don't refund you the shipping you paid on the item
Ship manga with less care than others
When they aren't running sales or coupons, Barnes and Noble and Books-A-Million are typically the most expensive places to buy manga from, because they commonly price their manga at full cover price. Right Stuf always has lower prices than these stores when it comes to normal everyday prices. But with manga constantly going out of stock nowadays, they are still good places to search for and buy manga.
Both stores don't run nearly as many sales as sites like Right Stuf but they do run some, including Buy 2, Get 1 Free manga sales, that you can keep an eye out for as well.
Another great thing about buying from BAM and B&N is that you can choose the quality of the manga volumes you buy when you shop in-store, whereas you can't when you buy online. So if quality is something you care about, this is something you may want to consider.
Barnes & Noble has a membership that gives you 10% off in-store and online (certain exclusions on online purchases may apply) with free shipping with no minimum purchase for $39.99 USD a year. It used to be around $25 a year, but they have since increased the price. The 10% off discount used to not apply to online purchases, but it does now, which is nice.
Barnes & Noble also added a new feature to their rewards program called stamps. You can collect 1 stamp for every $10 spent on a purchase, so 10 stamps = a $5 reward. This gives Barnes & Noble's membership a slight edge over Books-A-Million's, which has a membership that gives you 10% off in-store and free shipping on all orders for $25 USD a year.
Both Barnes and Noble and Books-A-Million get exclusive manga releases also. For instance, Barnes and Noble released the Toyko Ghoul Monster Editions.
Manga Buying Hack for Barnes and Noble: When buying manga box sets or large orders of manga from Barnes and Noble, I wait for sales or promo codes (they tend to run 10%-20% coupon codes from time to time).
I then buy discounted e-gift cards through a site called CardBear. They'll direct you to the gift card re-sale site with the biggest savings. If you are buying online, make sure the gift card you are buying is an e-gift card. Also, keep in mind that it can take up to 24 hours for your e-gift card to be emailed to you, so make sure you have enough time to make your purchase if there's a limited-time sale or coupon code.
These discounted e-gift cards when paired with coupon codes and sales add even more to my savings when buying manga on Barnes and Noble's website.
Update: Since the time of this post, Barnes and Noble have started shipping some volumes in unpadded bubble mailers. I have been receiving more damaged volumes from them as of late. They also tend to package multiple volumes in too large of a box without any package fillers to prevent them from sliding around, so many come damaged as a result of this as well. That all being said, they could package their items with more care.
Book Depository
Book Depository used to be one of our favorite places to buy manga, but they have since shut down.
Free delivery worldwide regardless of size, value, or destination
Sell manga in a lot of different languages
Run good sales
Have good shipping
Prices are a bit higher than others
Depending on where you are located, shipping times may take longer
You have to pay return shipping unless your order arrived wrong or damaged
Book Depository is another site that I've been using a lot lately. They have had some volumes in stock that I can't quite find anywhere else, so they are a great place to shop for manga. Their biggest pro though? They have free shipping worldwide regardless of size, value, or destination. On top of all that, they run good sales, especially during Black Friday and Cyber Monday, but they still don't run nearly as many sales as other sites like Right Stuf.
One thing I will say to look out for when shopping their site though is to make sure the volumes you are ordering are in your language even if you've filtered your search on their site. For some reason, their filtering system isn't always accurate so volumes in other languages will still show up in the search. To give you an idea, Book Depository has volumes of Btooom! available in English, French, Spanish, German, and more, which is a plus to buying from them, but just make sure the volumes you are buying are in your language.
You can also find them as a third-party seller on Amazon from time to time. They usually have pretty fair prices, so this is something to look out for as well!
Used Bookstores Like Half Price Books and 2nd & Charles
Great places to find rare or out-of-print manga
Can find manga for cheap prices
They overprice some manga
The quality of the manga sometimes isn't all that great
They don't price based on quality, so keep an eye out for this as well
Variety depends on the location
Used bookstores are awesome places to find manga often for half-off cover price for newer releases. But, they are also good places to find rare or out-of-print manga as well. If you'd like to learn more about out-of-print manga and where to purchase it, check out our Out-of-Print Manga Guide. I also talk about the things you should look out for when buying from used bookstores in that post as well, like quality, prices, etc.
I always find shopping at used manga bookstores, like Half Price Books and 2nd & Charles, to be really rewarding, because oftentimes, you will find something you didn't expect to find.
InStockTrades
Shipping takes a long time even for in-stock items
They sell out of their stock fast
Not as much variety
InStockTrades have everyday prices that are comparable to Right Stuf, so they are a good place to find manga for cheap, but they don't have nearly as much manga to shop as larger or manga specialty retailers. Another benefit to buying from them is that their free shipping threshold is only $50 USD.
I've also found that they have some of the best prices for Dark Horse manga, especially the Deluxe Editions, which are often listed at a 42% discount. You can often find these on discount as much, if not more, on Amazon though, and since shipping isn't free until you reach InStockTrades' shipping threshold, this can cut into your savings.
One thing about buying from them is that they tend to sell out of volumes decently fast, so you'll want to get your order in as soon as possible if you are looking to preorder an item. Another thing is that shipping tends to be a lot longer than other manga sites, even when you place a fully in-stock order, so this is something to keep in mind as well.
They also sell graphic novels, so if you are someone who collects these in addition to manga, you may want to give InStockTrades a shot.
Your Local Comic Book Shops
Great places to find Dark Horse manga in particular
Sometimes have rare manga
You support a local business
Have a tendency to overprice some manga
Depending on the store, the selection can be small
I've often found that a lot of people don't know that some comic book shops carry manga, but they are great places to check. I've found that a lot of them in particular sell manga from Dark Horse, but some sell manga from other publishers as well.
The only thing I'll say about comic book stores is that you have to make sure their prices are fair, especially for out-of-print manga. There have been many occasions where I saw them selling a volume for way more than it's worth, so that's something to keep in mind.
What about digital manga?
You can also purchase manga digitally directly from the publisher or on sites like Amazon and Barnes and Noble. Sometimes publishers will release digital versions of manga series first. For instance, Kodansha released digital copies of Blue Lock and Tokyo Revengers before their print releases were announced. If you are looking for the best places to read manga online legally, you'll want to check out the best manga readers, sites, and apps!
Viz also has the Shonen Jump app, which costs around $2.99 USD a month, and has a digital vault of 15,000+ manga chapters. It used to be $1.99 a month, but Viz recently increased the price of its monthly membership. You can also read chapters of select manga as they release in Japan, so you can catch up on series quicker than you would with physical copies. They also have English-translated versions of manga that don't have physical copies yet on the Shonen Jump app. Special one-shots, such as Tatsuki Fujimoto's Look Back, are also available on the app.
You can also read series digitally on Manga Plus, my favorite site to read on. You can read more recently released series that have yet to be printed with English translation as well as completed manga on their site!
Final Thoughts: Where's the best place to buy manga?
This definitely depends on what you are looking for.
As to who I recommend buying manga from most in the US, I would say Right Stuf because they have the best prices and sales, particularly on single volumes. Takara Cafe, though, has become another place I shop as of late with its lower free-shipping threshold and good sales. They have slow shipping as of now, though, so if you need your item(s) quickly, Right Stuf, Barnes & Noble, and Amazon ship in-stock orders quicker.
If you are looking for ease of returns or the most convenient site to buy manga from and the lowest prices on heavier items like manga box sets, Amazon is the best choice.
If you like to pick the quality of your manga and prefer shopping in-store, Barnes and Noble and Books-A-Million are great choices. Also, they tend to get items back in stock quicker than online-only stores, so this may be something you want to consider as well.
If you are looking to buy used or out-of-print manga, used bookstores like Half Price Books are great places to shop. If you love supporting local businesses, check out your local comic book stores and specialty shops.
And finally, if you are located outside of the US, definitely check out Amazon or Blackwell's if you are located in the UK!
Where to Buy Manga
Looking for some new manga to get into? Check out all of my manga recommendations!