Manhwa has been surging in popularity lately, and rightfully so, with some of my all-time favorite titles like The Breaker, The Horizon, Bastard, Solo Leveling, which is getting a manga box set exclusively through Barnes & Noble, and more. It feels like every year more and more manhwa rise into the spotlight as new series increase in popularity and entice new fans.
Not only are physical copies of some manhwa releasing worldwide, but successful anime adaptations and live action adaptations, like Netflix's All of Us Are Dead, have come out as well. And if that isn't sign enough, Solo Leveling has even made the New York Times Best Sellers list, which I couldn't be more excited about.
Needless to say, manhwa is growing in popularity. There are so many incredible series to experience, but where can you read manhwa legally?
Before I get into talking about the best places you can read manhwa online or offline, I want to first talk about what manhwa is and how it differs from manga for those of you who may be new to it!
What is manhwa and how is it different from manga?
To put it simply, manhwa are Korean comics. Because it was relatively unknown at one point in time to Western readers, manga publishers first marketed manhwa as manga when manhwa titles were first printed with English translation. But now, it has grown in such popularity, even so much so that manhwa, like Noblesse, Tower of God, The God of High School, and more, are receiving anime adaptations.
There are some notable differences between manhwa and manga also that I want to note. A lot of manhwa are drawn in full color, whereas most manga are drawn in black and white. This isn't always the case though with manhwa like The Breaker, which is one of my all-time favorites by the way, mostly being drawn in black and white. Aside from the few exceptions here and there, most manhwa are drawn in full color though. Another thing I want to note is that manhwa are typically drawn digitally, whereas a lot of manga are drawn by hand.
Manhwa also read differently than manga. Since these series are posted online, they read top to bottom. They also read left to right like Western comics do unlike manga which read right to left. When translated over into a print release as seen with Solo Leveling, though, the panels are cut and pasted so that they are more readable in a physical format. The physical copies of manhwa that have been released so far also read left to right.
Now that we've gone over all of that, here are the best places you can read manhwa online and off with official translations!
Where to Read Manhwa
Webtoon
This first one is one you'll probably recognize because it is perhaps the biggest and one of the most recognized manhwa websites on this list, Webtoon. It's home to Tower of God, The God of High School, Noblesse, Sweet Home, and many, many more. Out of all the sites on this list as well, Webtoon has one of the best user experiences.
Webtoon has the most extensive library I've seen with a number of diverse titles, including everything from horror manhwa to romance manhwa. They boast unlimited reading on their site, but there is a catch. That catch being something called the Daily Pass.
When select series are completed, Webtoon turn on something called the "Daily Pass". This means that the series will have a limited amount of episodes available for free. The number of free episodes vary per series and often depends on their length. For instance, a longer webtoon that has up into the 500 episodes will often have more free episodes than a shorter one. For instance, Noblesse has 50 free episodes, but after that point, the Daily Pass kicks in since it's completed.
Once you get to the locked episodes, you can only read 1 episode a day for free. Sometimes they give you 2 a day from time to time, but more often than not you only get 1 episode per day. So essentially, for the series that require a Daily Pass, you get one free episode per series per day.
The one thing that is slightly frustrating about this system is that, once unlocked with a daily pass, you have a time limit of 14 days to read that episode and once that 14 days is up that episode expires and you can't go back and read it without using another Daily Pass. This issue prompts a lot of people to hoard their Daily Passes, so they can binge multiple chapters within that 14 day time period. But of course, you have to use them up before that 14 days or they will expire.
If you want to read more than 1 episode a day for these choice series, you have to purchase something called Coins. Coins are like a pay as you go system, where your coins essentially act as cash to purchase episodes. This can get quite pricey though when buying coins for series that are long-running.
I just wanted to outline the specifics about using Webtoon's site and app, because it can get a bit confusing with the whole Coins and Daily Pass thing. I'm all for the creators making more money, which is what Coins and Daily Pass help with, but some of the choices made, such as the time limit and general 1 episode per day limit, have made it difficult for people to read these series or have perhaps prevented them from getting into certain series entirely.
On top of having an extensive library, Webtoon have an app as well that you can download, so you can access their titles from various devices. This is yet another positive to using their platform. There are some things about Webtoon that make it slightly frustrating to use, but there are so many incredible titles on their platform, so it's well-worth checking out.
Webtoon Manhwa Recommendations
If you are looking for a manhwa to read on Webtoon, a few I highly recommend are: Anything written by Carnby Kim (Bastard, Sweet Home, PIGPEN, Shotgun Boy), The Boxer, The Horizon, Weak Hero, Viral Hit, Lookism, Tower of God, Omniscient Reader, The God of High School, Jungle Juice, HIVE, GOSU, Hardcore Leveling Warrior, The Red King, Let's Play, and The Gamer.
Two I mentioned, the Tower of God and The God of High School, received anime adaptations on Crunchyroll that you may want to check out as well!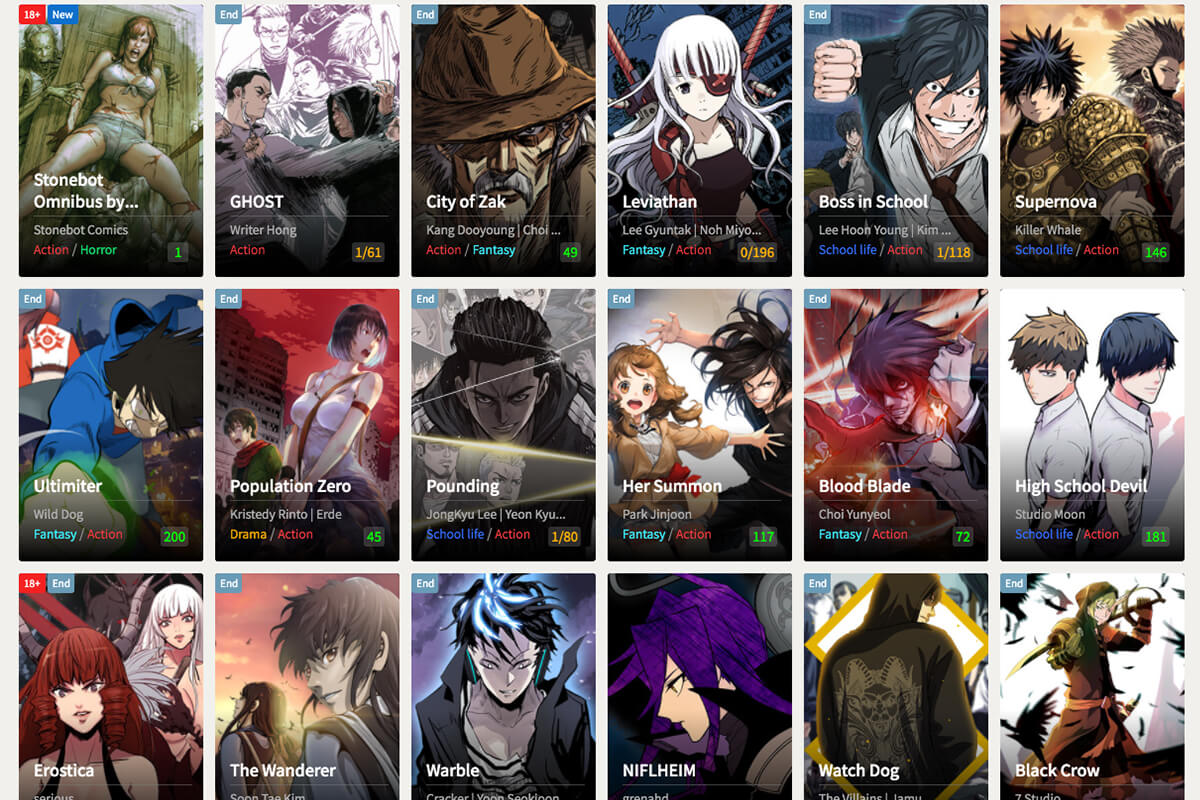 Toomics
Another manhwa site that I recommend is Toomics. They are a great place to read manhwa legally and they have official translations. And while their library isn't nearly as extensive as others, like Webtoon, they have some of my favorite titles like Leviathan and Blood Blade to name a few.
One positive to using Toomics is that they have a VIP Membership option that gives you unlimited access to all of their webtoons without restrictions, which is something that other manhwa websites, like Webtoon currently don't have. A membership costs $8.99 per month, but you get a discount when you pay for multiple months in advance. For instance, paying for 3 months at a time saves you more money in comparison to paying month to month. This is definitely a more cost-effective way to use their site if you read a lot within a month, especially given that each episode costs 3 Coins without a membership.
Every series on Toomics has a limited amount of free chapters you can read. My favorite series on the platform right now, Leviathan, for instance has 7 free chapters, but this of course varies from series to series. Unlike Webtoon, who have a Daily Pass, which allows you to read 1 free chapter of a series per day, Toomics only allows you to read chapters free on their site up to a select point.
They are also a really good place to read adult webtoons in addition to those that aren't. Plus, Toomics has one of the best BL manhwa selections I've seen so far. In addition to all of that, it has a better interface than most and it has an app that you can download, so you can read their titles on different devices.
When it comes to reading series on their site or app, Toomics have one of the best reading experiences of them all. The artwork is more crisp and less pixelated, especially when reading on a tablet or on a higher-resolution device, than it is on other readers. On some other sites and apps, the artwork looks a bit blurry when read on higher-resolution devices, but Toomics minimized this issue.
Toomics Manhwa Recommendations
If you are looking for a manhwa to read on Toomics, a few I highly recommend are: Leviathan, Blood Blade, Warble, Boss in School, Pounding, and Super Rich.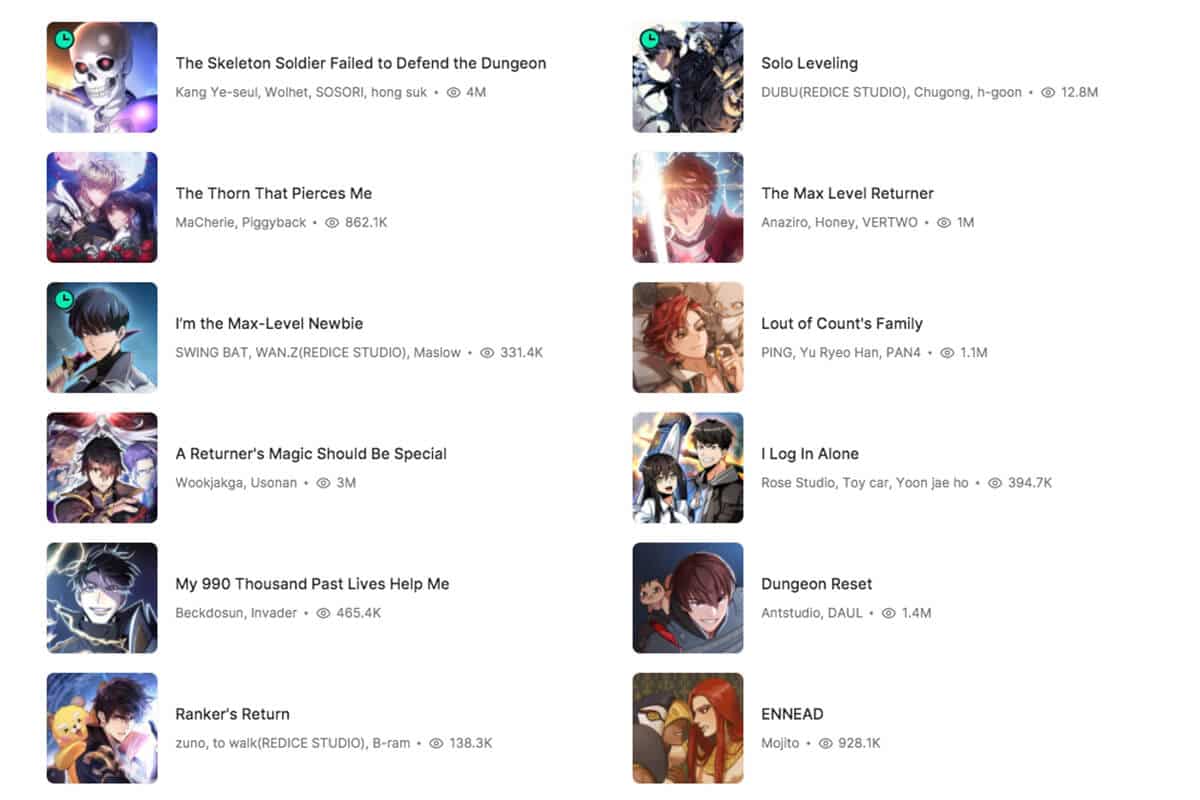 Tappytoon
Tappytoon is another great manhwa website that you may already be familiar with, especially given that it is the original home of one of the most popular manhwa to date, Solo Leveling. Tappytoon has a fantastic library of manhwa series, including those that are mature and not, that you can check out. They also have not only a selection of manhwa, but novels as well, on their platform, so if you are into both, this is one you'll want to look into.
One negative I've noticed about Tappytoon is that, on average, they offer the least amount of free chapters of a series in comparison to other sites like Toomics. While other places offer around 7 chapters for free, if not more, Tappytoon only allows users to read 3 chapters for free.
They do have something called Free Tickets, which allow you to open a locked chapter for 48 hours. It is a unique feature and is something that separates them from the other manhwa websites. These Free Tickets are offered for select series only and are available for a limited time.
They also have something called a Time Till Free feature, where you can read select chapters for free within 24 hours of opening. These series will be marked with a 'Clock' icon. According to their site, you can read the next chapter for free, one chapter at a time, every 24 hours (or the time period that's indicated). If you want to be notified about Time Fill Free chapters of a series, you can sign up for notifications on their app.
If you are wanting to read more chapters past those that are free, you can purchase something called Tokens or Points, which you spend to unlock chapters. The larger the points bundle you buy, the more money you save.
On Tappytoon, webtoons are available to read in English, French, and German, but novels are only available in English according to their FAQ.
Tappytoon Manhwa Recommendations
If you are looking for a manhwa to read on Tappytoon, a few I highly recommend are: Solo Leveling, The Legend of the Northern Blade, The Max Level Returner, Cherry Blossoms After Winter, Lout of Count's Family, and I'm the Max-Level Newbie.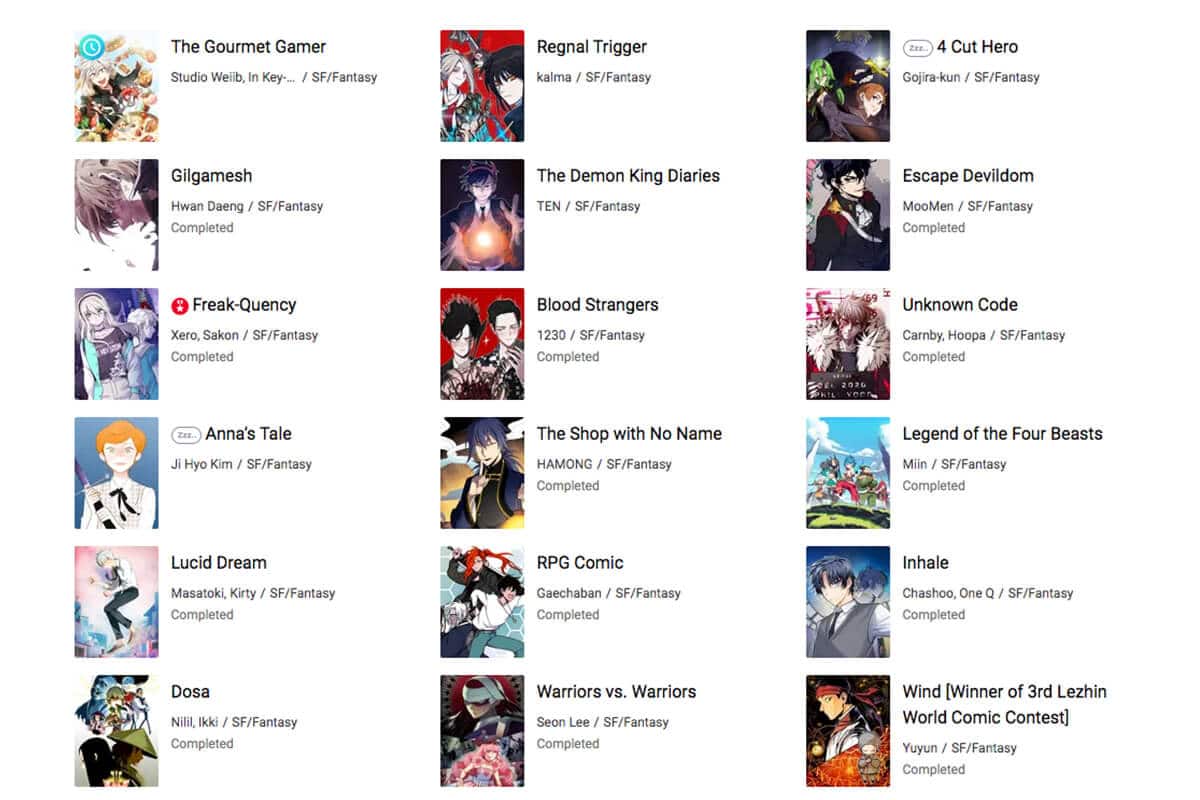 Lezhin Comics
Lezhin Comics has a great selection of manhwa and they are a great place to turn to especially if you are a fan of mature, BL/GL, or romance manhwa. They also have a selection of manhwa in different genres, most notably fantasy, but it seems like most of the manhwa on their platform fall within these genres.
There are a limited number of free episodes you can read to try out a series on Lezhin Comics, but the number of free episodes varies per series. For instance, Carnby Kim's (Bastard, Sweet Home) latest manhwa with Hoopa, Unknown Code, has 4 free chapters. Like Tappytoon, Lezhin Comics has a Wait Until Free feature for series, which essentially means you can read 1 free chapter every 24 hours. Once unlocked, you will have 72 hours to read the episode. If you don't, it will expire and that episode will become locked again. Like all of the other sites, you also have the option to purchase Coins to unlock chapters and read ahead.
I will also say that it is a bit harder to find what you are looking for when browsing Lezhin Comics' site in comparison to the others. It's a little less user friendly than the other manhwa websites, especially when it comes to browsing genres, which may be a potential negative for some.
One thing I really like about using their site, though, is that when you reach the end of an episode, it will automatically take you to the next episode if you continue scrolling. This is unique because you usually have to manually select the next episode to keep reading. Not really a huge deal, but a nice feature nonetheless.
Lezhin Comics Manhwa Recommendations
If you are looking for a manhwa to read on Lezhin Comics, a few I highly recommend are: Unknown Code, Killing Stalking (Getting a print release in 2022), Save Me, Gilgamesh, 4 Cut Hero, and Blood Strangers.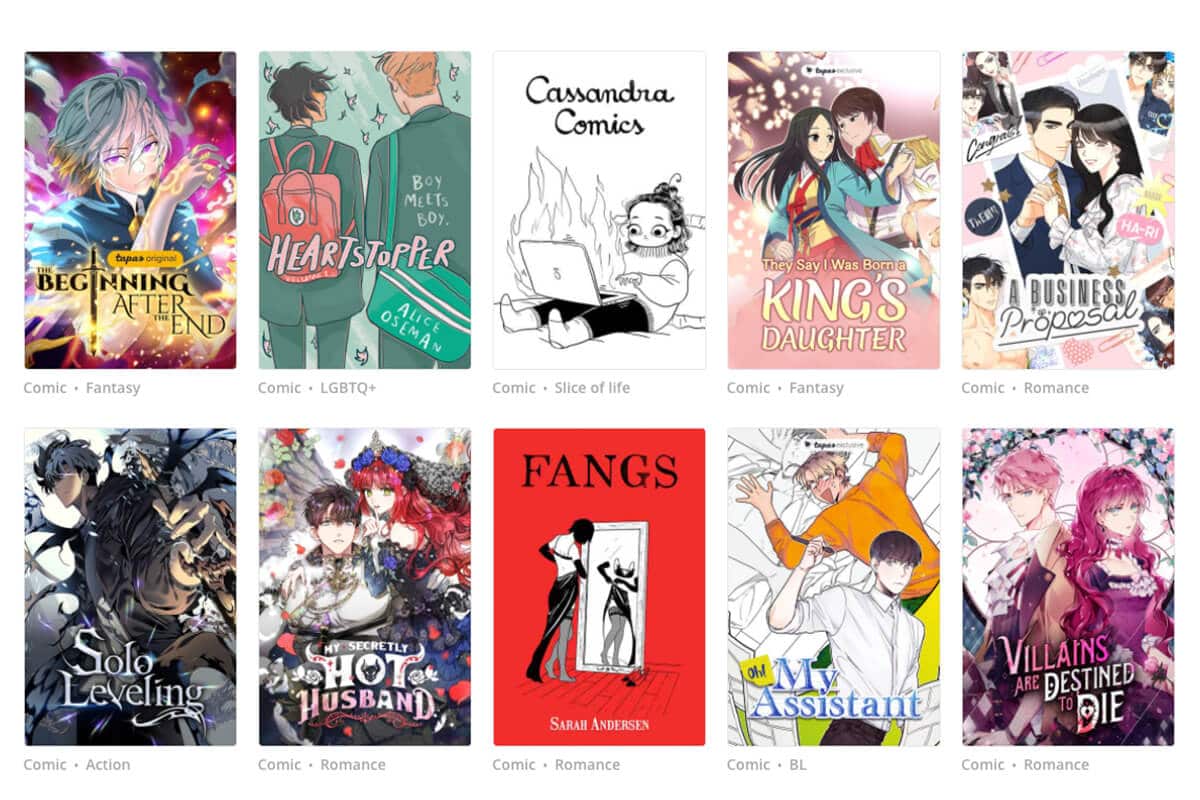 Tapas
Tapas is another manhwa website that has an extensive library and they have a lot of originals to browse as well, including one of my favorites The Beginning After The End. Solo Leveling is even available to read on their site. Not only do they have a selection of manhwa to check out, but much like Tappytoon, they have novels to read on their platform as well. They have an app that's available on Apple or Android products too that you can read series on in addition to their website.
One thing I will say about Tapas is that their site and app have some room for improvement. In comparison to sites like Webtoon and Toomics, their site is less user friendly, especially when it comes to browsing series or finding what you are looking for.
Like all of the other websites, Tapas allows you read series for free up to a certain point for select series, generally around six episodes. After that point, you will have to unlock the episodes with Tapas Ink, which work like Points or Coins, or free episode tickets if available. Other series operate under the "Wait for free" model, meaning that you have to wait a specific time period for a new episode to be unlocked. Some series though are marked as Premium, so they don't apply to this "Wait for free" model.
One thing that's unique about Tapas is that they have something called a 7 Day Check-In Challenge, which only applies to new users on their app. All you have to do is check into the app everyday and you will receive Daily Bonus Ink, which you can spend to unlock locked episodes. You will automatically be checked in to the challenge via an event page and the challenge begins the first day you open the app.
Tapas Manhwa Recommendations
If you are looking for a manhwa to read on Tapas, a few I highly recommend are: The Beginning After The End, Adonis, Book Eater, Tomb Raider King, Second Life Ranker, Jack: The American Ghost, Positively Yours, and Solo Leveling.
Physical Copies of Manhwa, Kindle & ComiXology
With manhwa growing in popularity, a lot of publishers are looking to print these series. Some publishers have already began printing select manhwa, such as Solo Leveling, The Hellbound, and The Breaker, while others are set to come out in 2022, like The Beginning After The End and Killing Stalking. This is just the beginning for print manhwa releases and I am excited to see what publishers have in store for us in the future!
When a manhwa receives a print release, they usually get a digital release on Kindle & ComiXology also.
If you are interested in buying physical copies of manhwa, you can pick them up now at one of the sites listed below!
Where to Buy Physical Copies of Manhwa
If you are interested in manga as well, be sure to check out the best manga bookstores and sites as well as the 2022 New Manga Release Schedule. We've included new manhwa that's releasing in 2022 on that post as well!