Reading manga online has a lot of benefits. It saves you a lot of space or can be a great option for when you run out of space for manga in your house, you can read new manga series as they release in Japan, so you can keep up-to-date on series quicker than you would be reading them physically, and it is usually cheaper, and even sometimes free, to read manga online.
With manga being so out of stock lately, manga readers and apps are something I've come to appreciate more and more. They are really helpful when you are missing one or two volumes, but can't wait to read a series. They also are awesome places to read out-of-print manga, which oftentimes is expensive and harder to collect, as well. I enjoy building a manga collection, but I enjoy reading manga digitally too.
There are many sites as well as manga readers and apps that you can read manga on, but the following are the best! All of the sites I included on this list are places you can read manga online legally. I've personally read manga on all of these platforms, so in addition to their manga selection, pricing, etc., I'll try my best to review their user-friendliness and manga readers as well.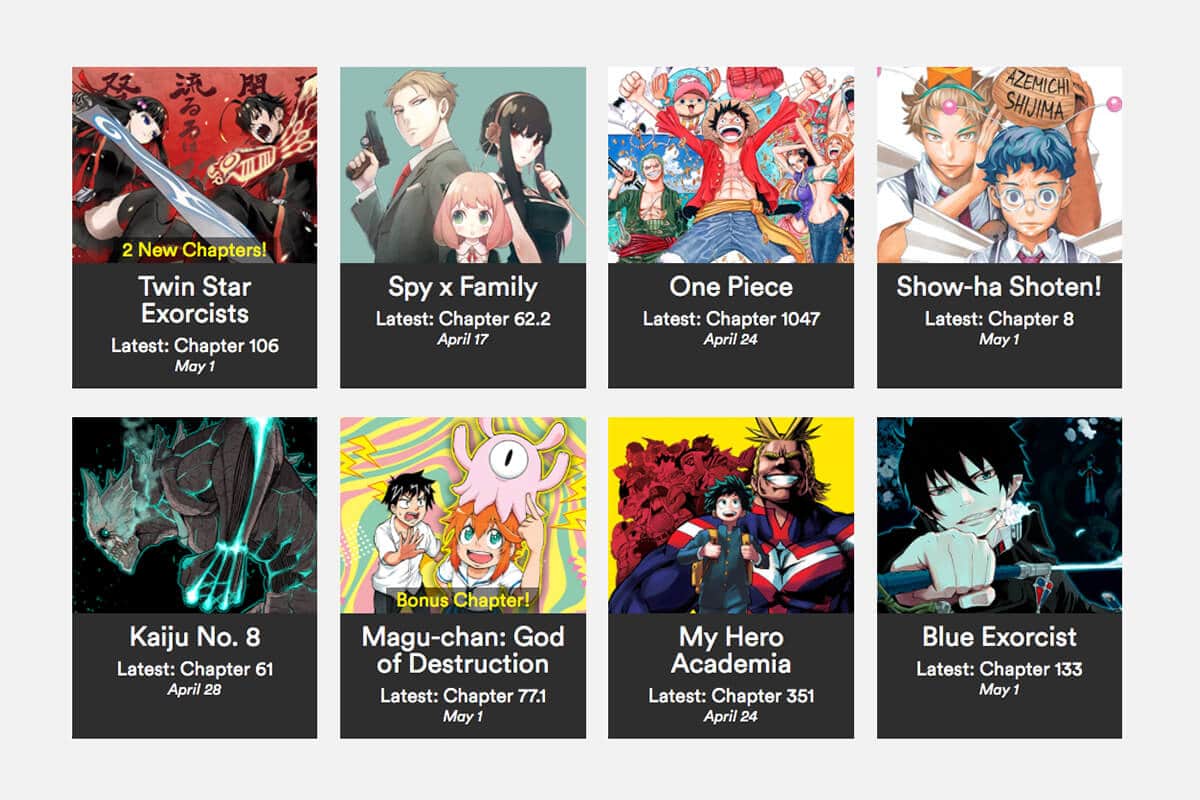 The Viz Shonen Jump app is one of the most popular and well-recognized places to read manga online. As you'll see later on in this post, the Shonen Jump app isn't the only place you can read some of Viz's manga online, but with 170 series on their app at the time of this post, they have the most extensive catalog of any reader dedicated to manga. Later on, Viz would release a new Viz Manga app, which has over 10,000+ chapters available of series, like Junji Ito's Uzumaki and Nana.
If you are looking for Viz's more mature titles, including Sig titles, you'll want to check out the Viz Media app, but if you are wanting to read all of the latest simulpub chapters, you'll want to check out the Shonen Jump app, especially since a lot of them like One Piece are still releasing to this day.
Viz's apps are some of the cheapest options on this list too at only $1.99 a month for the Viz Manga app and $2.99 per month for the Shonen Jump app. When you sign up you get 7 days free to see if you want to continue on with an auto-renewing membership or cancel before your trial period ends. Once started, you can cancel your membership at any time. You aren't locked into any sort of contract with their membership, which is nice.
Without a membership, you can still read select chapters for free either on Viz's website or the app. For instance, Volumes 1-3 of Kaiju No. 8 are free to read on their site as well as the most recent chapters to be released, but you have to get a membership to read the rest of the chapters. That being said, you can read some manga for free on their platform, albeit with select chapters.
One downside to the Shonen Jump app used to be that their more mature, seinen releases are not available to read on the app since they are 18+ titles, but this has since changed with the arrival of their new Viz manga app, which has some of these titles its library.
The Shonen Jump app still has a wide variety and selection of manga from new series to older favorites, which comes as no surprise given that there are over 15,000 chapters on the app. It's great when you are looking to read longer-running shonen, whose volumes are vast, including One Piece and JoJo's Bizarre Adventure, but it's also great for keeping up with new manga series as well, like Dandadan, which is one of my favorite new sci-fi manga, and Mission Yozakura Family. Both of these are getting print releases in 2022 and are some of my most anticipated new manga releases!
All around, Viz's apps are one of my favorite places to read manga online! In my opinion, the Shonen Jump and Viz Manga apps are some of the best manga apps currently out in the market and it offers one of the best reading experiences. Also for the price and size of their catalog, it can't be beat when compared to other paid manga subscription services.
If you have a Crunchyroll membership, you may be surprised to learn that you also have access to their digital manga library.
There are actually some really interesting, exciting manga titles on Crunchyroll, including one of my top ecchi action manga, Sun-Ken Rock by Boichi, Bokura wa Minna Kawai-sou, The Morose Mononokean, One Room of Happiness, YanOta: The Delinquent and the Otaku, Father and Son, and Talentless Nana that aren't available to read anywhere else legally with English translation. Actually, none of these titles, at the time of this post, have been printed with English translation either, so they are currently only available to read online.
They also have a great selection of manga that has already been published in English, including Grand Blue Dreaming, To Your Eternity, Edens Zero, Fire Force, and more. While their reader isn't as good as other sites and it lacks some of the functionality that I enjoy on others, like being able to change the page with the arrows on your keyboard, reading manga digitally on Crunchyroll is a no-brainer if you already have their membership! Plus, they have exclusive manga that you won't find on any other manga reader.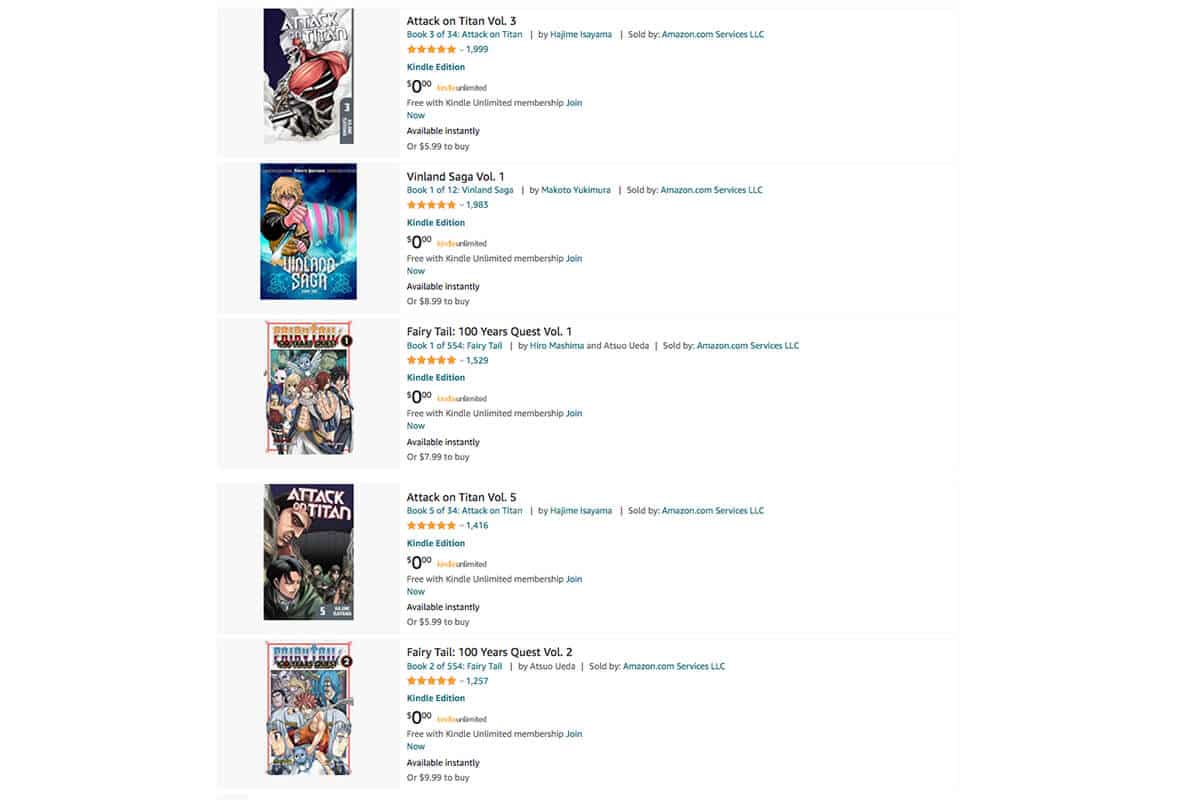 Kindle Unlimited is another place you can read manga, but it is one of the more expensive options on this list at $9.99 per month. This makes sense given that you have access to not only manga and graphic novels, but also books of all kinds on their platform. So if you read manga in addition to other things, it is a great option. If you are looking to read just manga though, you may want to spring for one of the more affordable or free manga readers on this list.
That being said, there is a nice selection of manga on Kindle Unlimited, including select volumes of Attack on Titan and Fire Force. They have a great selection of Kodansha, Vertical, and Tokyopop manga right now. That being said, to some, their selection of manga may be somewhat limited.
You can download the Kindle app on any device for portable reading and you can customize the reader to fit your preferred reading experience. For instance, you can adjust the font type, margins, text alignment, orientation from portrait to landscape, and more.
If you have never signed up for Kindle Unlimited before, there is a 30-day free trial for Kindle Unlimited that you can take advantage of as well! A lot of the manga you can't find on Kindle Unlimited will be available on the Kindle Store for digital purchase. Definitely keep an eye out for digital manga sales if you are looking to buy manga digitally through Amazon.
ComiXology is owned by Amazon, but it is separate from Kindle Unlimited. That being said, it requires a different membership and is not accessible with a Kindle Unlimited membership. Between Kindle Unlimited and ComiXology, unless you are a reader of books, ComiXology offers a more streamlined experience for manga readers and it's easier to find what you are looking for on their platform in comparison to Kindle Unlimited.
There are a few manga series that are available on ComiXology that aren't available on Kindle Unlimited, including a few Dark Horse manga like Lone Wolf and Cub and Appleseed, so there is slightly, but only ever-so-slightly, more manga available on ComiXology than there is on Kindle Unlimited. It's also much cheaper than Kindle Unlimited is at $5.99 USD per month versus $9.99 per month, so if you are only looking to read manga and/or comics and graphic novels, ComiXology is the way to go.
Like Kindle Unlimited, there is a 30-day free trial for ComiXology that you can take advantage of This will allow you to get in, use their platform, and see if it's something you want to continue with before spending any money. Also, any manga you can't find on ComiXology Unlimited is usually available for purchase digitally.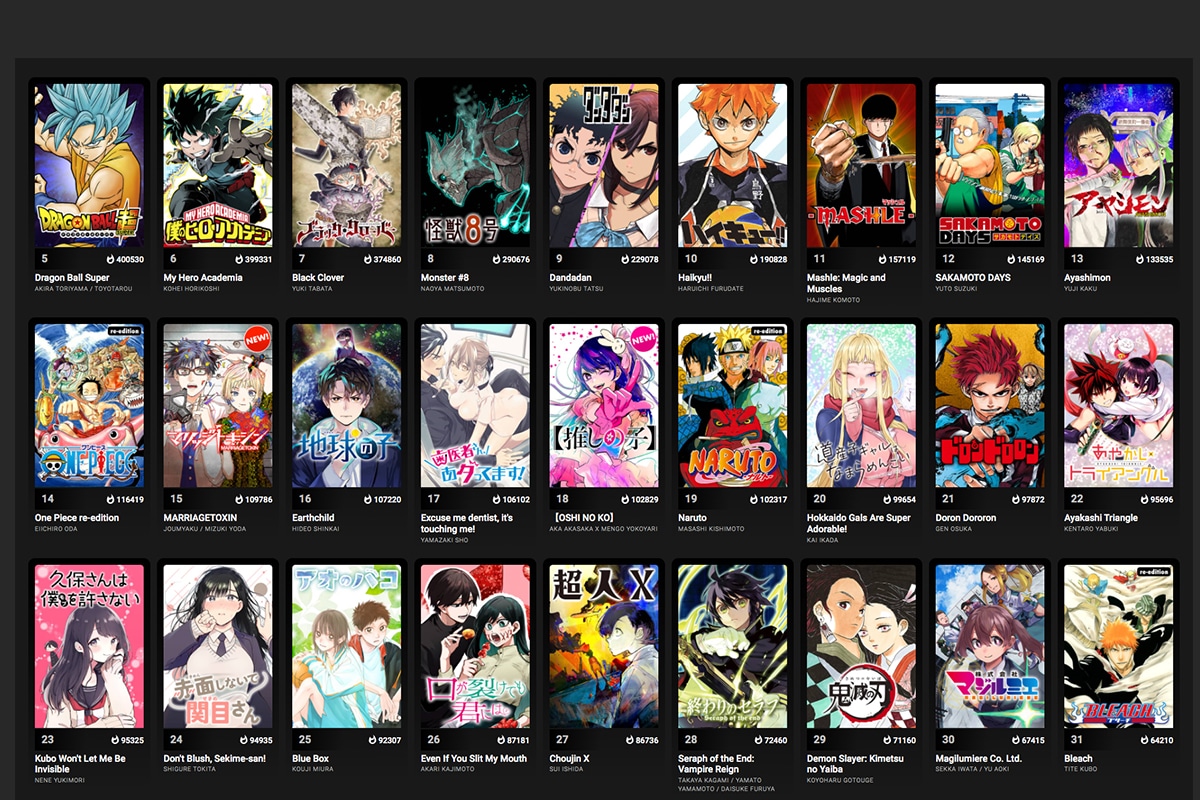 Looking for a place you can read manga for free? Look no further than Manga Plus. Manga Plus is the official manga reader of Shueisha, a prominent manga publishing company, and right now, it is one of my favorites, if not my favorite, place to read manga online.
Their platform has a more modern, sleek design, which I appreciate, and they offer one of the best user experiences. Not to mention, their manga selection, which is vast. Their catalog is one of the most extensive, up there with the likes of the Shonen Jump app, with just over 130 manga series available to read on their app at the time of this post.
Manga Plus is always releasing exciting new manga series with English and Spanish translation that you usually can't read anywhere else, like Oshi no Ko by the creator of Kaguya-sama Love Is War, one of the most hilarious manga I've read to date. You usually get official translations of newer, fresh series like these on Manga Plus first. They tend to jump on these series quicker than other manga readers and apps, which I really appreciate.
Many of the manga series that are present on the Shonen Jump app is also available to read on Manga Plus, including a lot of the Weekly Shonen Jump and Jump Plus titles, such as One Piece, Jujutsu Kaisen, My Hero Academia, Sakamoto Days, Dandadan, and many, many more.
Manga Plus currently has fewer manga titles than the Shonen Jump app, but there are benefits to both. There are titles on the Shonen Jump app that you can't read on Manga Plus, like Astra Lost in Space, Black Cat, and D.Gray-man to name a few, but there are also some titles, as mentioned prior, that you can read on Manga Plus that you can't read on the Shonen Jump app. Also, something to take into account is the fact that Manga Plus is free, but there's a slight catch with this, you can only read each chapter once for free.
Another thing to note is that aside from a few exceptions, currently serialized titles are only available on their site and app. You can either read manga on Manga Plus' website or their app, which is available on Android and Apple products! Online, their manga reader reads vertically, but it reads horizontally on the app, and you can move to the next page by swiping right. The pages and panels look high-quality and they have great translations too, so it has one of the best reading experiences out of all the manga readers on this list.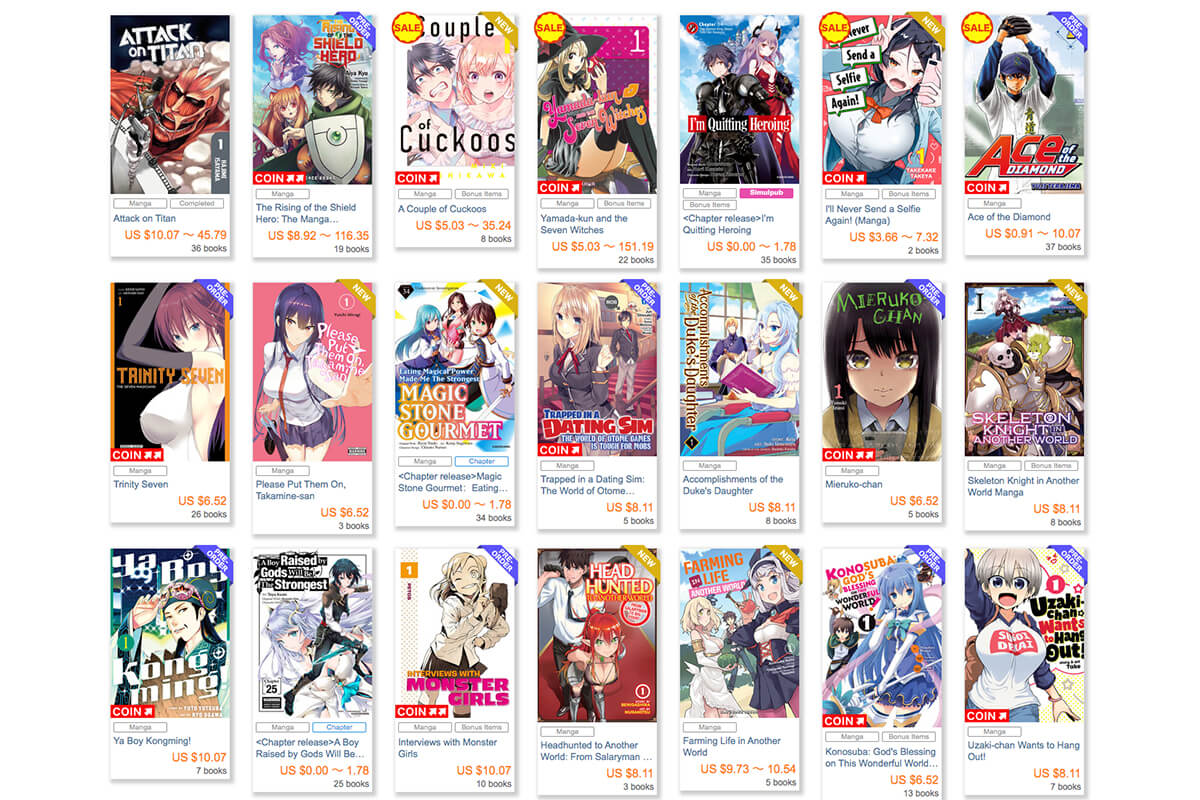 Book Walker, which is owned by KADOKAWA, is one of my favorite places to buy digital manga and read manga online. They have a large selection of digital manga to shop, but they also have a large selection of digital light novels that you can shop as well. So if you are into manga as well as light novels, they are a great place to turn to. They even have select manga volumes available to read for free.
If you are looking to buy digital copies of manga, BOOK☆WALKER has some of the best sales as well as some of the best incentives. They have a points program, which is essentially a loyalty program, that rewards you for buying digital manga on their site. With each purchase, you earn Coins, which you can use as cash towards future purchases. 1 coin is equal to 1 JPY.
On top of that, they have something called the BOOK☆WALKER Club, which places you in different tiers depending on how much digital manga or novels you purchase each month. With each new tier you reach, your Coin-back rate increases.
Their prices are generally the lowest for digital manga as well. For instance, if you're looking for a horror manga to read, volume 1 of Mieruko-chan is priced at $5.92 USD on BOOK☆WALKER, compared to $6.99 on Kindle. The savings become even more significant on BOOK☆WALKER during their sales events.
In my opinion, BOOK☆WALKER is the best site to buy digital manga on, because they have a large selection from a wide variety of publishers, simulpub series, and they have some of the lowest prices on digital manga. In addition, they partner with publishers to release exclusive titles from time to time.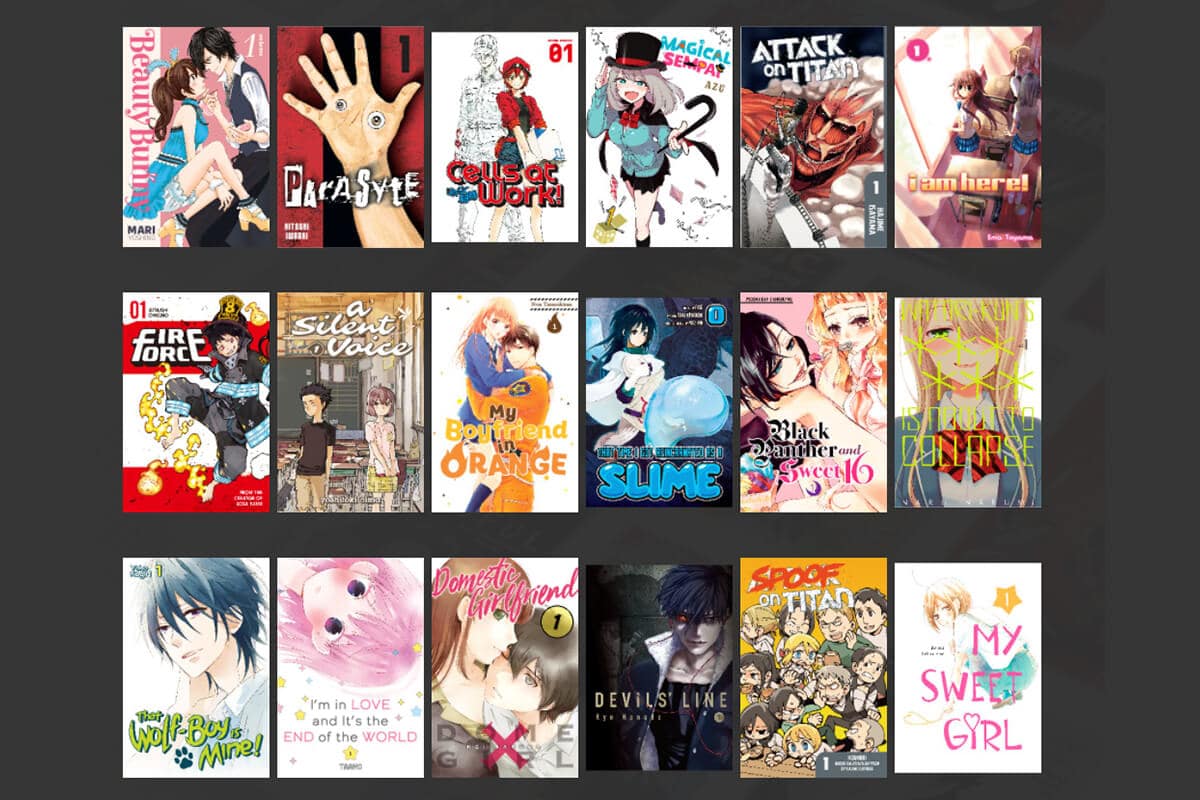 InkyPen
If you have a Nintendo Switch and are looking to read manga on the go (as long as you have internet access of course) or from the comfort of your console, you'll want to look into InkyPen. The fact that InkyPen is only available to read on Switch may be a negative for some, but depending on your preferences, it can be one of the most convenient and great options, especially if you are on the go or like to read manga while traveling. Crunchyroll recently released an app for Switch as well, so you can read manga as well as watch anime on your Switch.
As far as pricing goes, InkyPen charges a monthly fee of $7.99 a month, so it's one of the pricier options on this list given their selection. That being said, they do have a smaller selection than some others, but the manga they have on their platform is great. They also have a select offering of Dark Horse manga, like Samurai Executioner, Appleseed, and Lone Wolf and Cub you can read as well.
They do have a somewhat limited collection of manga to read on their platform; however, they do have a great variety of genres to browse from romance to comedy to action to horror manga and more.
If you have a Switch and enjoy the portability that comes with it, you will enjoy InkyPen. The screen size may or may not be an issue for some, though. Some series do look rather small on the screen if you don't have it plugged into your TV, so there is a give and take to using InkyPen more so than most on this list.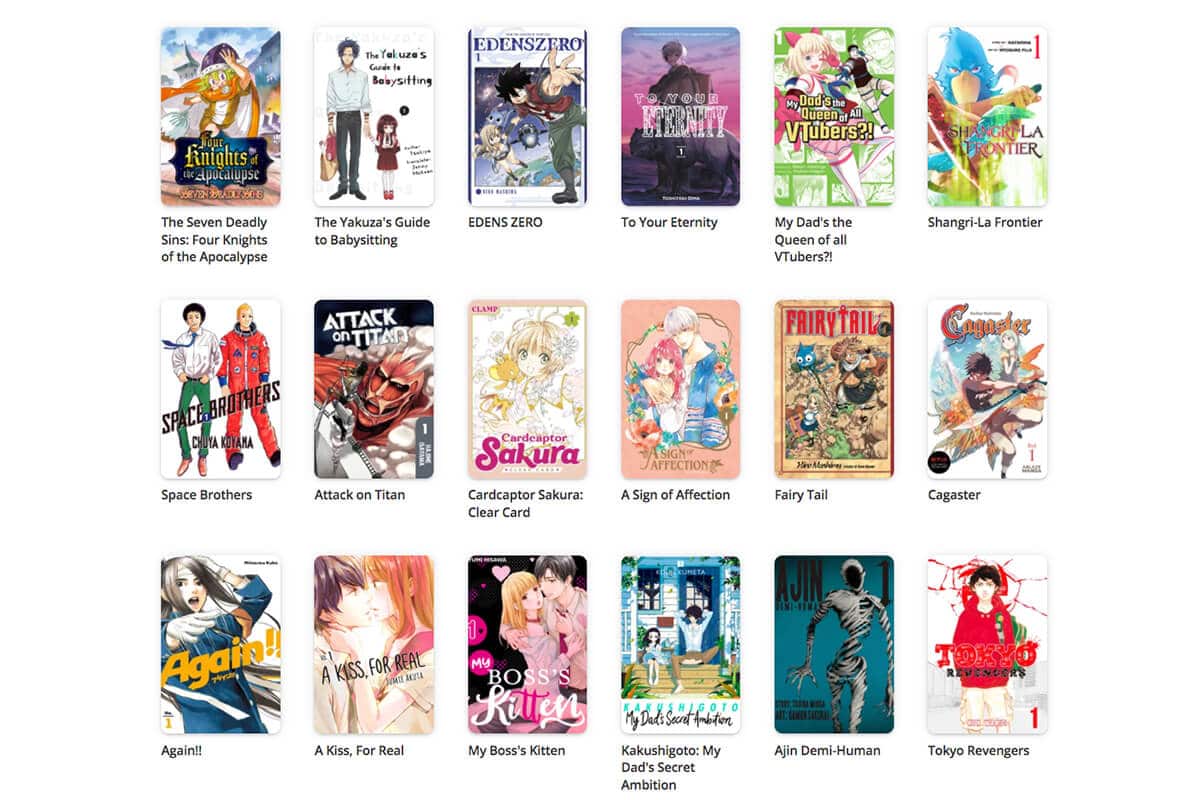 Azuki is one of the newest manga apps on this list and you can read manga online, as well as legally, via their website or app. They allow you to read a few chapters of a series for free, but to unlock the rest, you'll need a membership. Their membership will run you $4.99 USD a month, so they aren't the cheapest, but they aren't the most expensive manga reader on this list either.
Azuki has a nice selection of manga to read from publishers like ABLAZE, Kaiten Books, Glacier Bay Books, Star Fruit Books, and SOZO Comics. They also have exclusive manga series on their platform, including My Dad's the Queen of all VTubers?!, Crueler Than Dead, and The Yakuza's Guide to Babysitting, which you currently can't read on any other manga readers.
I enjoy the selection of publishers as well as the genres they have on their site and app, but I also love the user-friendliness of their platform too. They allow you to browse series by genre on their platform, which is super helpful when I'm looking for a new, but also specific, series to read. I also like how when you get to the end of a chapter in the Azuki app, it moves on to the next chapter without prompting you to select it as seen in the Shonen Jump and Manga Plus apps. There are also no ads that pop up while reading, which I really enjoy as well.
One thing to note is that some similpub chapters disappear off their site when they are released physically. Even so, there are still quite a few series on their platform that are complete that you can delve into!
Final Thoughts
Needless to say, there are a lot of sites, apps, and manga readers where you can read manga online legally, but these are some of my favorites to use. Interested in picking up physical copies of manga as well? Here are my recommendations on where to buy manga!
Don't know what to read or in search of new manga to get into? Here are some manga recommendations you'll want to check out. Also, if you collect physical manga in addition to reading manga digitally, check out my favorite manga sites and bookstores!