There is a lot of exciting new manga series releasing in 2023 and more are sure to be on the way.
In this post, I only included series that are releasing for the first time with English translation. I've also only included manga that are receiving print releases in 2023, so digital releases are not included on this list. I only included confirmed series too, so all these series are 100% for sure releasing in the year.
That all being said, here are the new manga you need to be reading in 2023!
Gachiakuta by Kei Urana
Kodansha officially announced that they are licensing Gachiakuta by Kei Urana. It is a shonen manga that's full of action and mystery. Gachiakuta is a series you may already know thanks to a recommendation from Atsushi Ohkubo, the creator of one of my all-time favorite shonen manga, Soul Eater. He even went as far as to say that he is passing on the baton to Kei Urana, who was his assistant at one point in time.
Those are big words and big shoes to fill, but I couldn't agree more after reading Gachiakuta. The style, character designs, and world-building are amazing. It has a similar vibe and feel to two manga I love, Deadman Wonderland and Fire Force, but it's still so unique. On top of all that, it's gritty and emotional and it has amazing art. I could go on and on as to why I enjoy this series and why it's one you'll want to pick up when it releases in Fall 2023.
If you are new to the series, Gachiakuta follows a boy named Rudo, an orphan living with his adoptive parent in the slums. He has abilities that make him stand out from other people, but they make him a target as well. One day, Rudo's life is changed forever when he is framed for a murder he did not commit and he is thrown into a place called "the abyss."
Instead of dying, though, he finds himself in a strange new world surrounded by monsters made of trash. There he meets a man named Engine, who's a Janitor, an individual who fights against these monsters with special weapons. Rudo becomes a Janitor so that he can fight his way out of the abyss and get revenge.
Gachiakuta is one of those series that just excites me. I've been waiting for a manga like this one to release for quite some time. Something that could give me that same feeling that creators like Atsushi Ohkubo or Jinsei Kataoka and Kazuma Kondou have made me feel time and time again, and I finally felt that feeling again with Gachiakuta. There's so much potential here and I'm looking forward to picking it up when it releases in 2023 from Kodansha!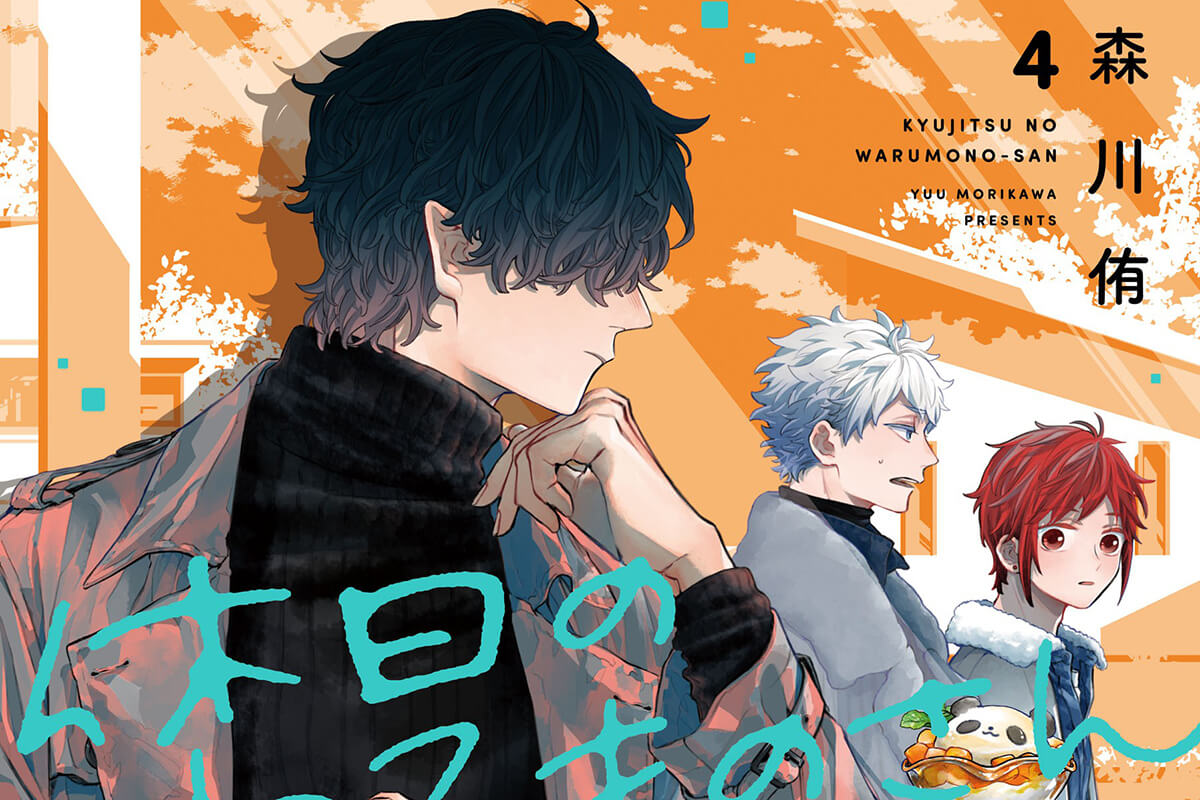 Mr. Villain's Day Off is a feel-good, slice-of-life manga that takes a comedic look at what a supervillain does in his free time. When he's not planning world domination, our MC is off doing unexpected things like visiting the pandas at the zoo or trying out the latest ice cream flavor.
Since it follows him on his days off, it's rather episodic in nature, but I really enjoy this about the series. You never know what he's going to do or get himself into next, which makes it an exciting read, and the humor is top-notch. You also have a defensive unit called the Rangers that is trying to thwart his plans, which adds even more humor to this story.
Mr. Villain's Day Off shows us the life of a supervillain through a new lens. It's a wholesome, fun read and it's one of my favorite new comedy manga to release within quite some time. Square Enix announced that they are releasing Mr. Villain's Day Off with English translation with the first volume expected to release on August 15, 2023.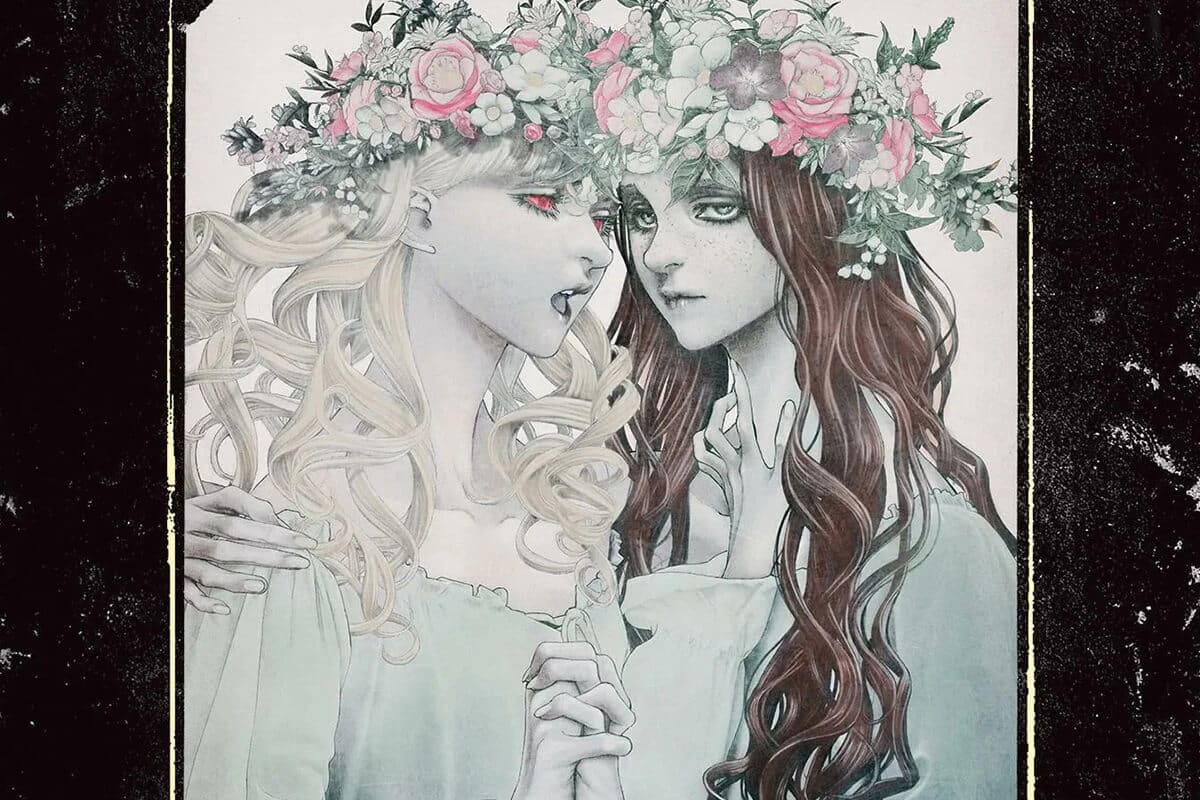 Not one, but two of Shinichi Sakamoto's manga are releasing in 2023! In addition to Innocent, which is being released by Dark Horse, #DRCL midnight children is being printed with English translation thanks to Viz. 
Shinichi Sakamoto showcases his highly-realistic and detailed art yet again in this series, but it's also one of my favorites thanks to its subject matter. #DRCL midnight children is based on Dracula by Bram Stoker. Horror is one of my favorite genres, so I couldn't wait to see how Shinichi Sakamoto would reimagine this original classic. #DRCL midnight children also features some of the best body horror I've seen in manga as well.
Set in a quintessential gothic setting in the 19th century, the landscapes as well as the backdrops that Shinichi Sakamoto drew further bring the world of Dracula to life, and our MC, Mina, is a well-written and strong character. #DRCL midnight children pays homage to the classic by maintaining the same atmosphere and feel of the original, but it brings the series into the modern day and age with the topics and themes it explores.
Viz is releasing the first volume of #DRCL midnight children on September 19, 2023, and it is a hardcover release.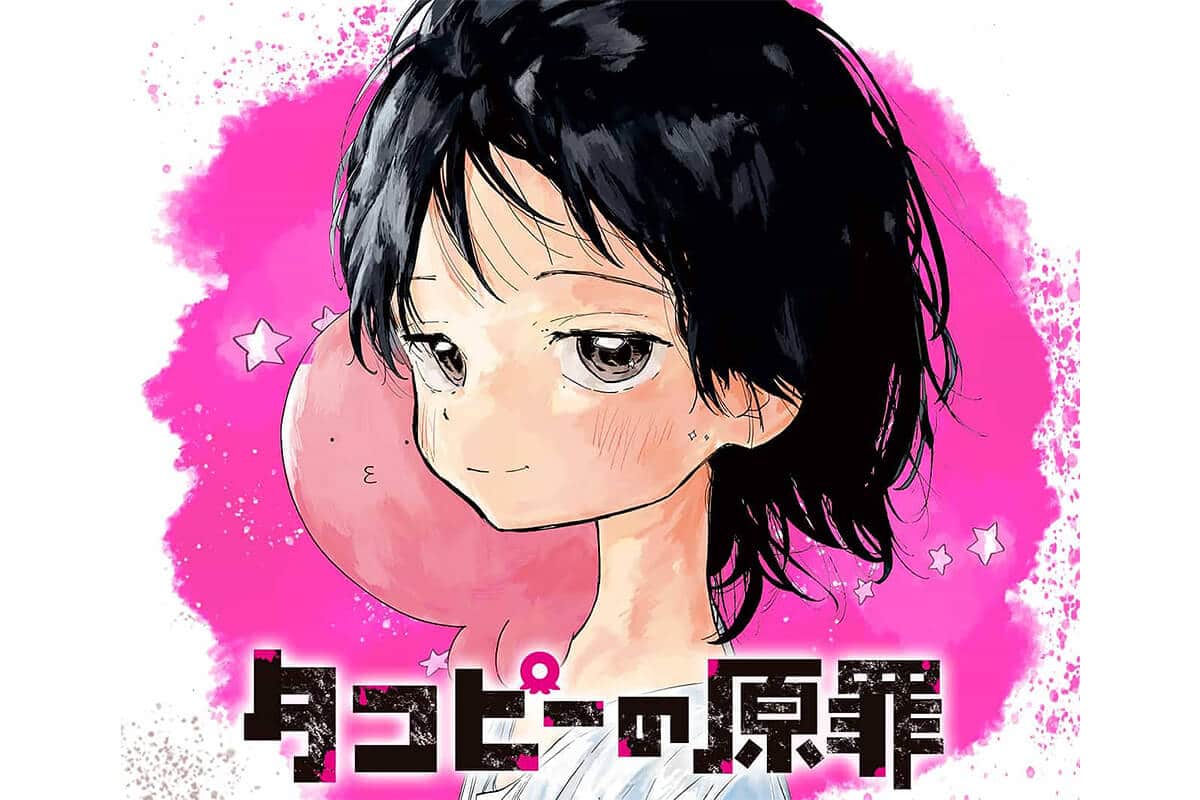 Takopi's Original Sin is a short sci-fi manga by Taizan 5 that has skyrocketed in popularity over these past few months. I couldn't be happier that it has because it is one of my favorite new manga series to release within quite some time.
I thought Goodnight Punpun by Inio Asano was a tough read, and don't get me wrong it definitely is, but there's something about the compactness of Takopi's Original Sin and the topics it explores that makes it just as much, if not more, of a heavy read. While Goodnight Punpun is a story that unfolds over multiple volumes, Takopi's Original Sin hits you hard from the get-go and continues to do so over the course of its two volumes.
The two share a lot of similarities. Both are incredibly difficult to get through, but they are some of the most amazing stories I've ever read. What's unique about Takopi's Original Sin, though, is that it's a sci-fi story about Takopi, an alien from Happy Planet, a utopia where everyone is kind and happy, who meets a girl named Shizuka. In his interactions with her, he discovers that sadness and anger are part of human existence.
Through his experiences on Earth and his time with Shizuka, Takopi learns to cope with new emotions he's never experienced before, the consequences that come with your actions, and how to be compassionate towards others, all while trying to get home.
The series' serious tone contrasts with the main character Takopi, an octopus-like alien who is really cute. This story tackles complex, dark topics, but in ways that are interesting and original, and it's a harrowing read you won't soon forget. Keep an eye out for its first volume, which is expected to release on November 21, 2023, from Viz!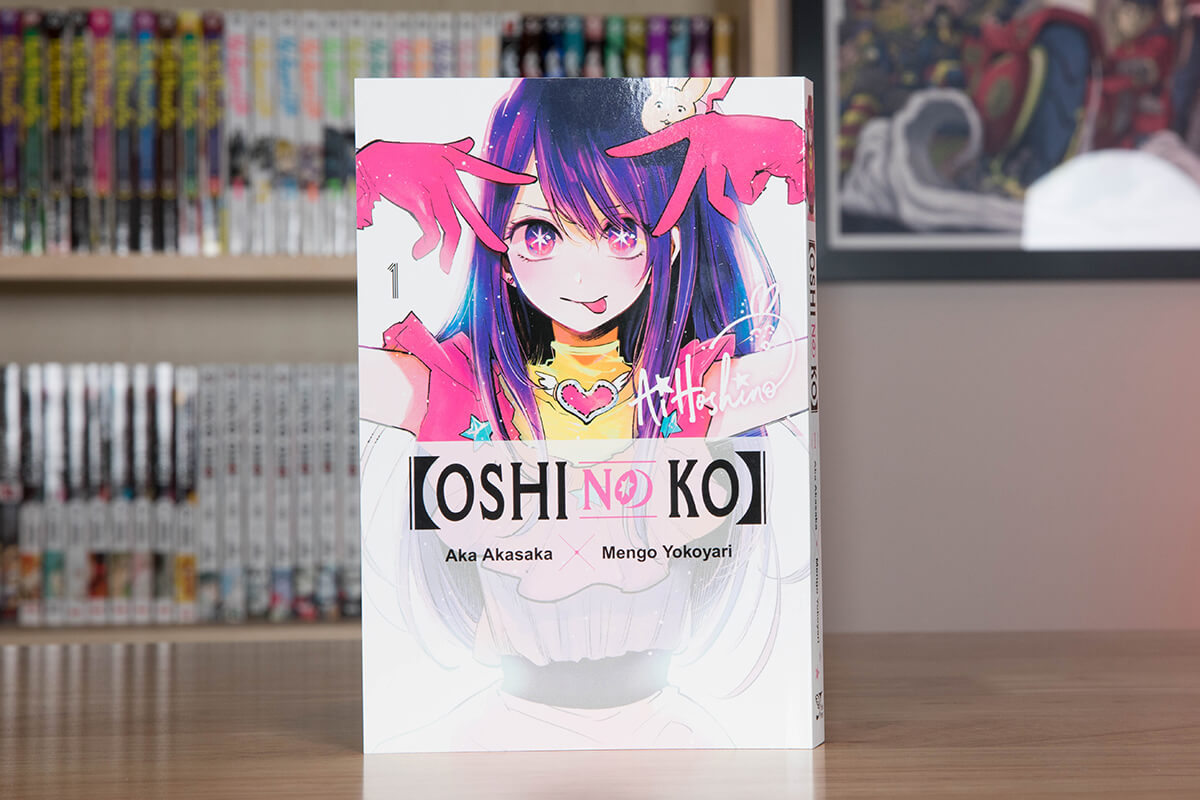 Oshi no Ko by Aka Akasaka and Mengo Yokoyari
Yen Press is releasing Oshi no Ko in 2023 and it is from the creators of Kaguya-sama: Love Is War and Scum's Wish. An Oshi no Ko anime is on the way in 2023 as well, so you'll want to keep an eye out for its release in the future.
Oshi no Ko is out there, but in the best way possible, and it's one of the most unexpected and unique titles I've ever read that involves reincarnation. I was also excited about this one because it's written by two creators, whose previous works I've enjoyed. If you are looking for a series about an idol, the MC is one, but if you are thinking this is going to be your typical idol story, you are in for something else entirely. It shines a unique light on what it means to be famous and the struggles that come with it, like always being in the public eye and having to fake emotions for the camera, but it's a supernatural story too.
In this story, Ai Hoshino, an idol, ends up pregnant and heads to a rural hospital to secretly have her twins. The doctor there, Gorou, just so happens to be a fan of hers. One thing leads to another, and a mysterious figure kills him. He wakes up to find out he's been reborn as Ai's newborn son, Aquamarine. There's quite a bit of mystery to this one that makes it an interesting read, but the art is stunning as well.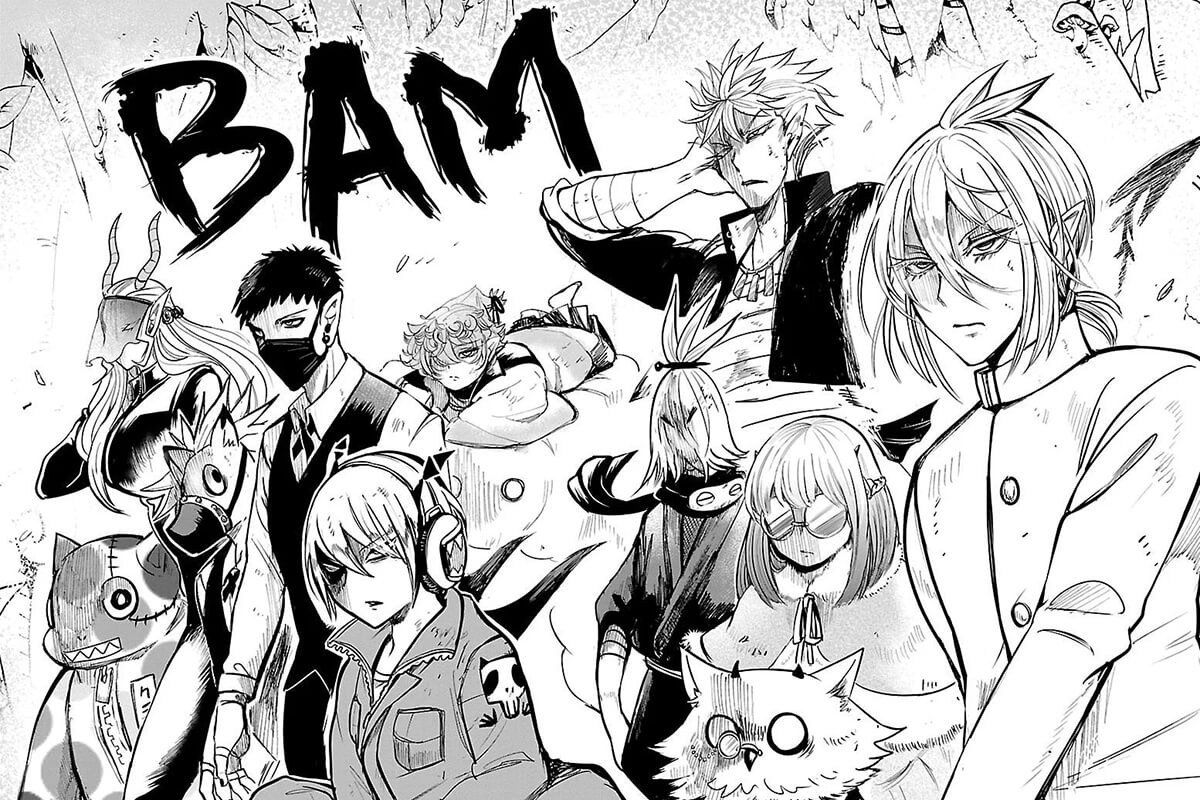 Welcome to Demon School! Iruma-kun has been releasing since 2017 in Japan and it is finally getting an English print release thanks to Kodansha in 2023. You may have already watched the anime, which is incredible as well, but the manga is even better, in my opinion.
It has a great sense of humor and lighthearted comedic moments, fun as well as lovable characters, and the fantasy demon world that this one is set in and the world-building in this one makes it a true joy to read.
Our MC, Iruma, is transported to another world when his parents sign a contract with Sullivan, a high-ranking demon. He will have to keep the fact that he's a human hidden and convince everyone he's a demon, which becomes increasingly more difficult when he begins attending demon school. Of course, though, there's more to this story than we initially realized. 
A lot of the humor in the series is a result of Iruma's interactions with the students as well as his teachers, but it's through them that he also begins to learn a lot about himself and begins to grow as an individual and form strong bonds with others. The characters are lovable too. It's just a fun and amazing read. I highly recommend checking Welcome to Demon School! Iruma-kun out if you haven't already when it begins releasing in Spring 2023! It is easily one of the best isekai manga releasing in 2023.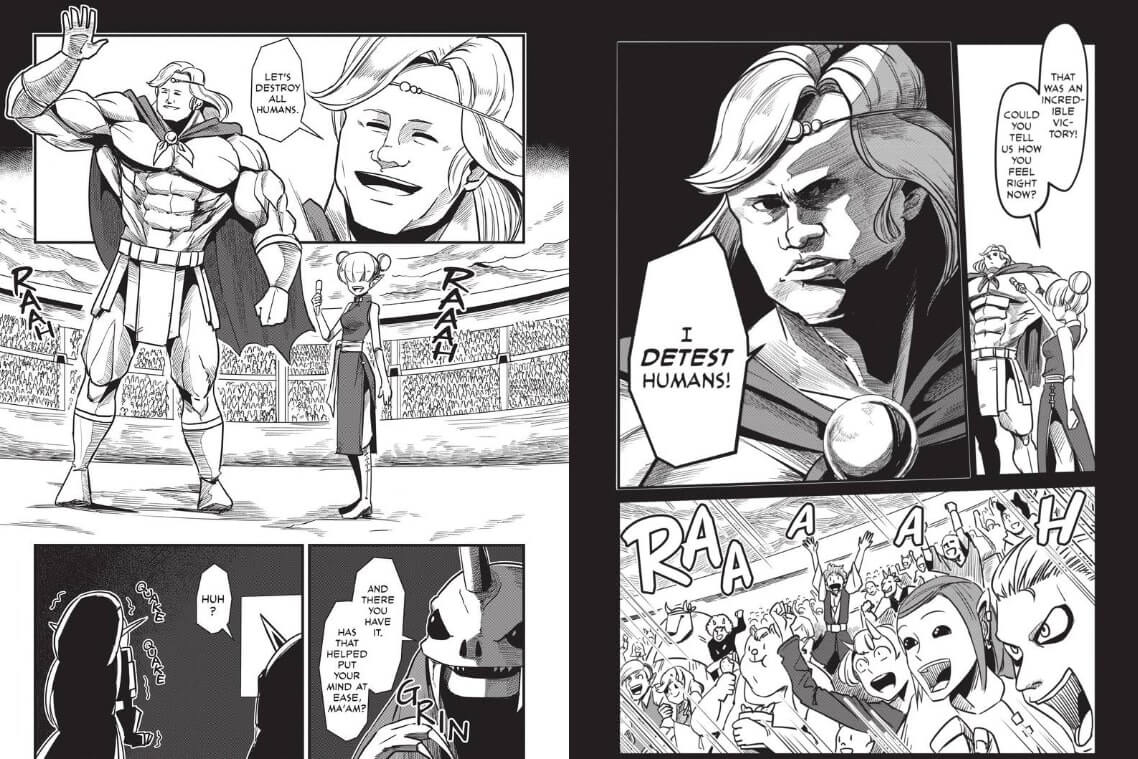 Helck by Nanaki Nanao
Helck is an amazing action fantasy coming from Viz in 2023, and it is releasing under their Sig imprint. It's one of my most anticipated of the year and it's a hidden gem. In Helck, the Demon Empire holds a tournament to choose the next Demon King. The favorite contestant to win is Helck, a kind-hearted human who says the reason he wants to become the Demon King is to defeat his own race, or does he have an ulterior motive?
Dark forces are at work, and Red Vamirio—one of the Four Heavenly Kings who rule over the empire—must discover why Helck has such a strong following among some of the demons and find out exactly what he's planning.
While it has a seemingly simple premise, it's a fantasy story that flips the script in a lot of ways. Not only is the individual that wins the demon king tournament a human, but he despises humans as well, which makes for an interesting and unexpected story. It also has a lot of depth. The series starts out as a fun, heartwarming read, but as it develops, it becomes more serious, so you feel a lot of different emotions while reading the series.
Like many of the series I enjoy, it's fun, and will make you laugh, but it also knows how to pull on your heartstrings as well. It also has some of my favorite characters in all of manga, including the main characters Helck and Vamirio, who have a wonderful dynamic. In addition to having a great cast of characters, it has great world-building too.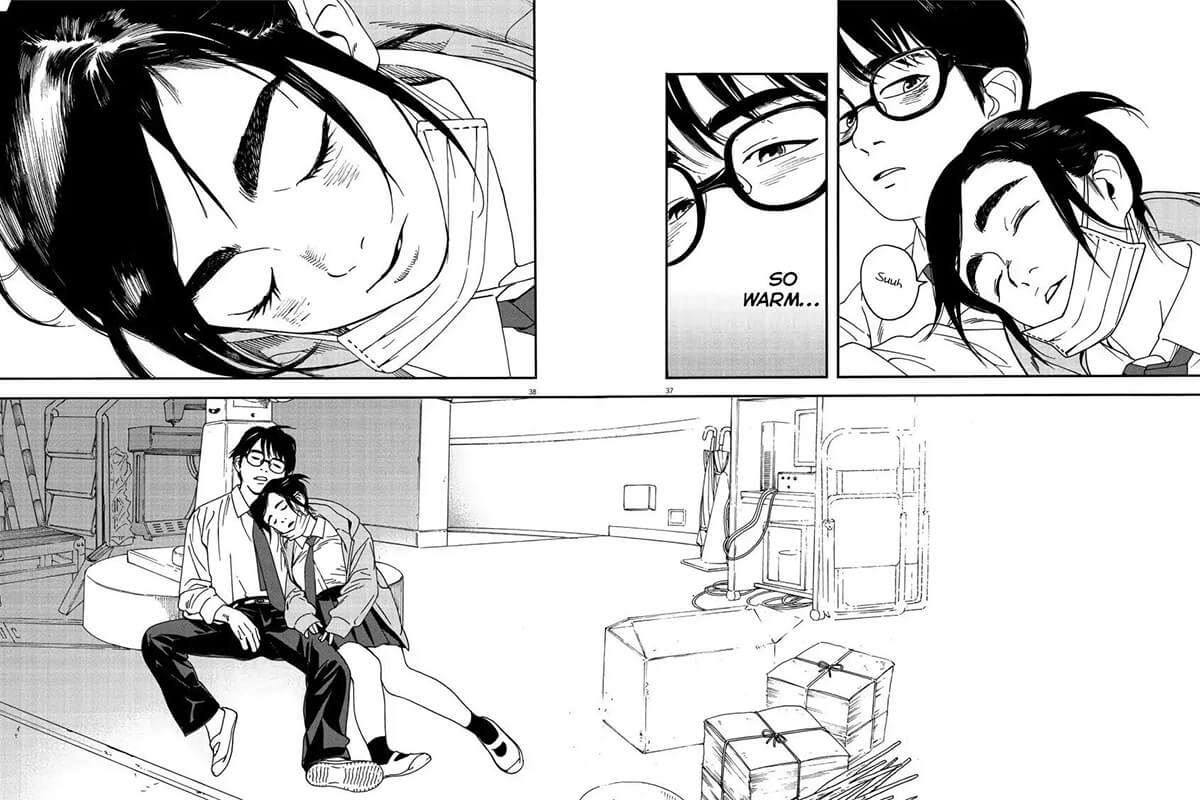 Insomniacs After School is a manga that has such a refreshing vibe to it and it's quite a healing and relaxing read. There's something oddly melancholic, but ultimately beautiful to it and the humor as well as the dynamic between its characters remind me a lot of the characters in Dead Dead Demon's Dededede Destruction by Inio Asano, which is one of my all-time favorite sci-fi series.
Also, if you enjoy series like Call of the Night, you'll want to check this one out. While it isn't supernatural like Call of the Night is, the tone of the series and the main characters and their stories are similar.
Insomniacs After School follows two students who have insomnia that find solace together in the school's abandoned observatory. This secret hideout becomes a safe haven for them where they can rest. They form an unexpected bond and find comfort within each other. It's nice to know that someone not only knows, but understands what you are going through, so it makes for a touching story, and their connection is beautiful to witness.
For me, slice-of-life series hinges on their characters as well as the topics and themes they explore. Insomniacs After School not only has a unique premise, but relatable and likable characters as well. It's just a nice, calming read that feels very fresh, and it's one you'll want to keep an eye out for when it releases from Viz in March 2023!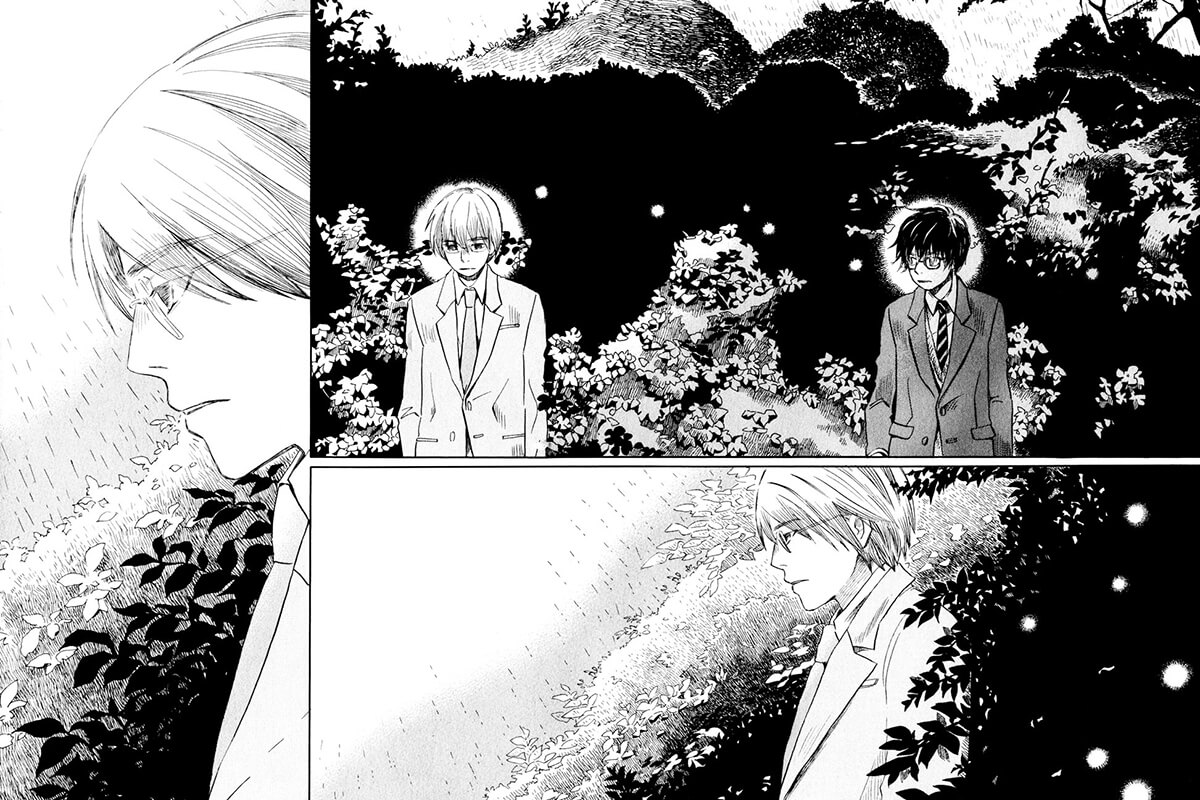 March Comes In like a Lion is releasing from DENPA starting in March. It follows Rei Kiriyama, who is a young prodigy and lives alone. He's on the verge of turning pro in shogi, but he has no home life or much of a life outside the game until he meets his lifelong friends. With their help, he gets an opportunity to start over and we see him grow and develop over the course of the series.
It's an iyashikei (slice-of-life manga that heals the reader) as well as seinen manga, so this one is full of heartfelt as well as tough moments and it focuses on realism too. It gets deep into the meaning of life, what it means to be human, etc, and it's a highly relatable series, which is further enhanced by the fact that it mirrors reality. The characters, and their personalities as well as their lives, are believable, and it's easy to get behind the characters and their stories really resonated with me.
All and all, it's one that connected with me deeply emotionally, and personally. It reminds me a lot of Your Lie in April in ways, but Barakamon too, so if you enjoy either, I highly recommend getting into this one when it releases this year!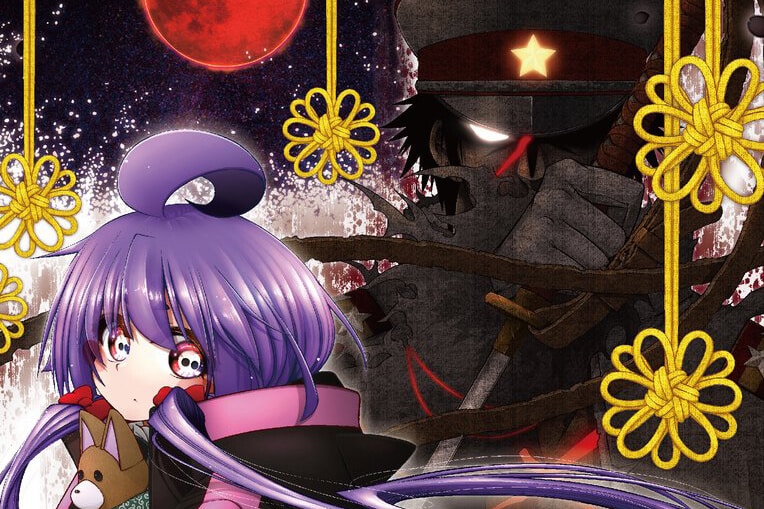 Dark Gathering is an exciting supernatural horror series releasing from Viz in 2023. The story follows Keitaro Gentoga, a college freshman who has been haunted by his ability to attract spirits and the collateral damage it's caused in the past. In an attempt to blend into society, he becomes a private tutor—but supernatural danger returns when his first student, Yayoi Hozuki, enlists him in her quest to find the spirit that took her mother away.
It's really good, has a unique art style, intriguing premise, and cool designs, and it shows a lot of promise so far. For these reasons and more, it's one that I highly recommend keeping an eye out on, because it's one that's going to catch fire in the next few years.
Dark, supernatural fantasies, like Kemono Jihen, Shadows House, and Mieruko-chan are series I enjoy, and Dark Gathering is very much in the same vein as these types of series. It contains topics and themes, like the occult, that are interesting too. This one is pretty dark and horror-filled, more so than other shonen I've read, so if you are a fan of horror, you'll be surprised to see the panels that show up in this series.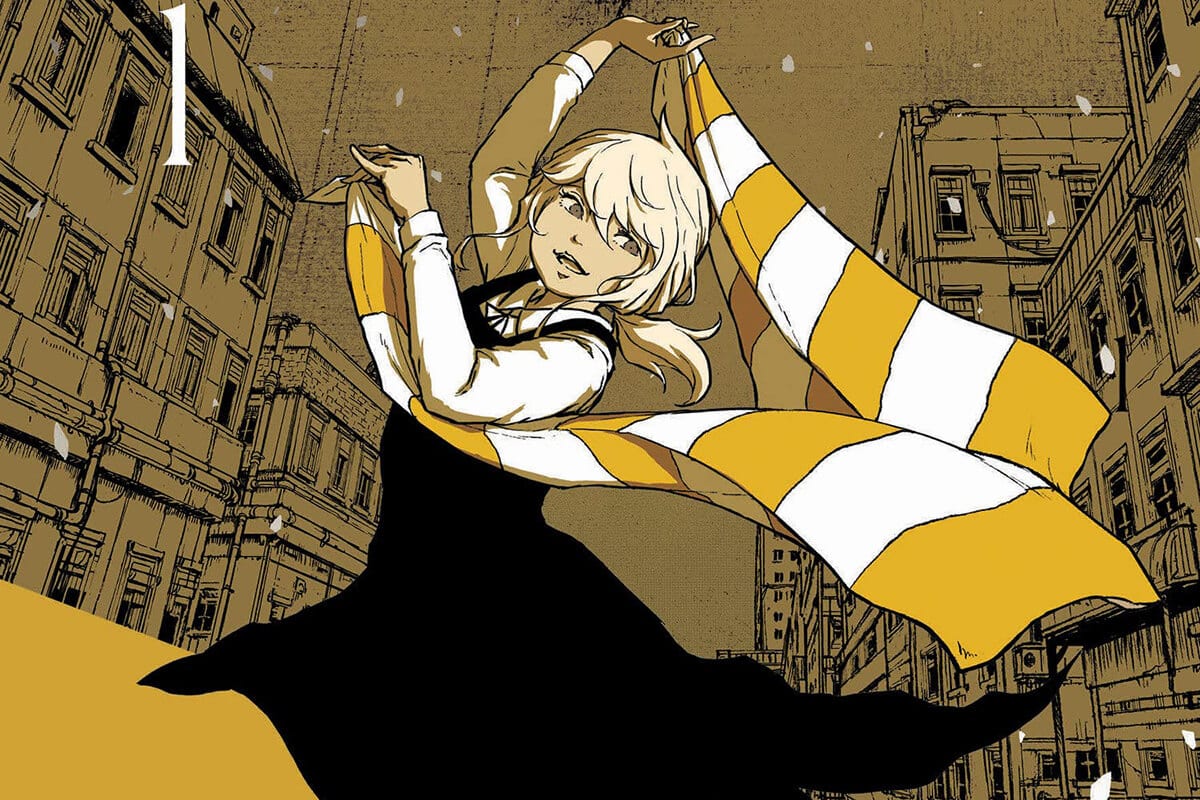 Soloist in a Cage is one you may have already read on Manga Plus, but it's getting a print release in May 2023 from Seven Seas. It's dystopian and it's set in a city that is better described as a walled-off and heavily guarded prison cut off from the rest of the world, so those who live there are very much stuck in a cage. Those who dare try to escape have to overcome not only a tough climb, but also have to sneakily do so as not to raise an alarm, and awaken the guard robots that guard it.
In this city, lives Chloe, our MC, and her baby brother. She dreams of a better life for him and will do anything to protect them, even if that must mean escaping this place forever, no matter the cost. On top of having beautiful artwork, which pulls you into this bleak and snowy world, it is an emotional read. It's a 3-volume series, but while it's short, it doesn't feel rushed in any way and it's one that has a lasting impact.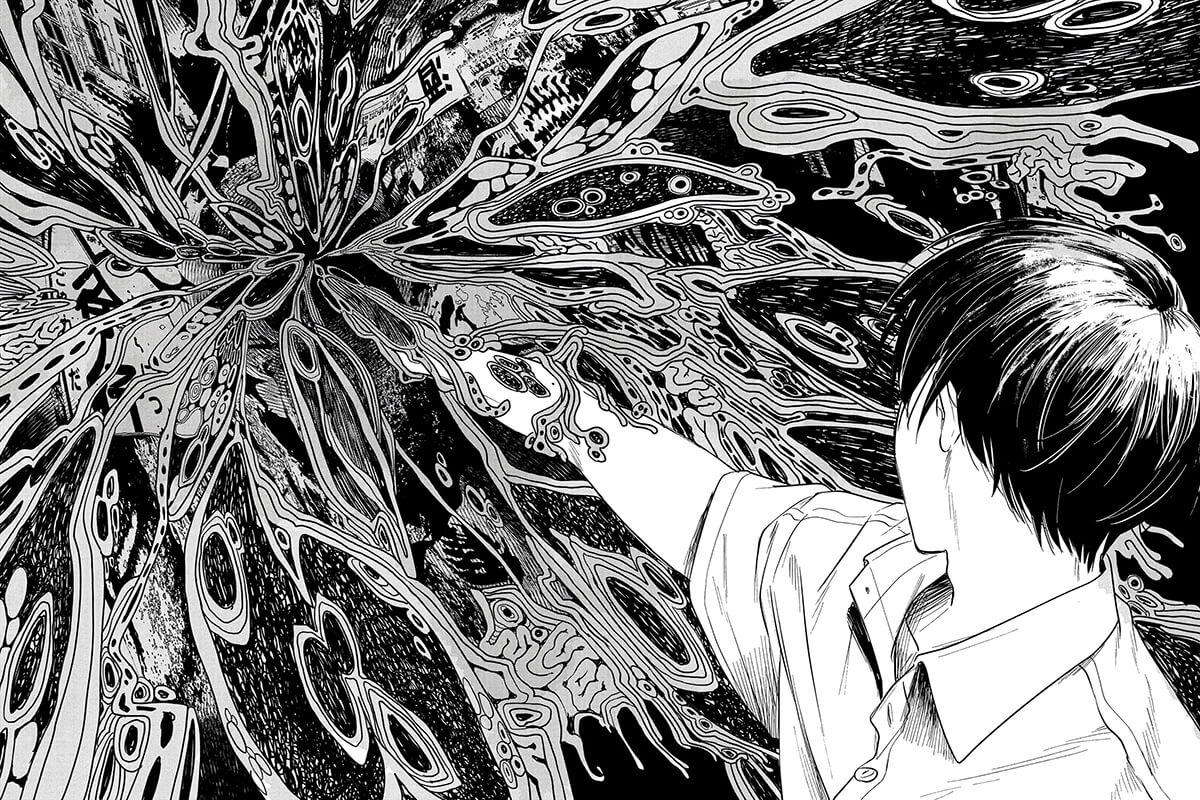 The Summer Hikaru Died (Hikaru ga Shinda Natsu) is one of the best new horror manga series I've read in awhile. It follows two boys, Yoshiki and Hikaru, who grew up together in a small village. One day, Yoshiki notices that something is different about Hikaru, and discovers that an imposter has taken control over his body. With the real Hikaru gone in spirit, but not in body, Yoshiki struggles to let him go and decides that he'd rather be together with whatever it is than lose Hikaru forever.
It's a story about grief and loss, and how we struggle to let those who have passed go. This is a true part of human nature and one that is often explored in horror, but few explore it as well as The Summer Hikaru Died.
Since it's set in a village where strange incidents begin occurring, it reminds me a lot of Higurashi in regard to its setting and atmosphere. There's something that's just not quite right about this village. The people are secretive and dark whispers move around the town, the animals are uneasy, and there's an ominous terror lurking in the shadows as well as the trees of the mountains.
You very much get the feeling as you are introduced to this place that the village is steadily descending into madness. All in all, with all of the unexpected and unexplained happenings, it is an unsettling read. At the same time, it's a very emotional read too, as you watch Yoshiki comes to terms with his new reality. There's a lot of mystery in this one that will keep you guessing, but each volume is like a new piece of the puzzle.
The story and emotions of the characters are expressed well, the art is beautiful, and it's the best new horror manga I've read to date. If you love mystery as well as supernatural manga too, you'll want to give this one a shot. Yen Press announced that they are releasing The Summer Hikaru Died in 2023 with an English translation, so it will be available to collect soon! The first volume is expected to release on July 18, 2023.
Soara and the House of Monsters is a new manga by the creator of Marry Grave that has beautifully drawn settings and architecture and uniquely designed characters. It's releasing from Seven Seas in 2023. To put it simply, it follows the travels of a monster architect, who's conscientious about his clients' very specific and unique needs.
A knight, who battled these monsters before a time of peace, stumbles across him and his band one day on her search for a new home. Unexpectedly, after meeting him and seeing his work, she decides to work with him and they embark on a new journey together. 
What initially captured me about this series was its art. It's so intricate and it has a unique style. The architecture and settings actually remind me a lot of some of my favorite action-adventure games and so does the world-building.
It's an enjoyable and fun action, adventure, fantasy series that has a touching story and it really takes a look at what it means to have a home, a place where you feel comforted, somewhere you can rest and recharge at the end of the day, feel safe and make memories, and how everyone, from monsters and heroes, deserves to have a place they call their own. We see our MC searching for a home of her own, so there's quite a bit of depth to this one too.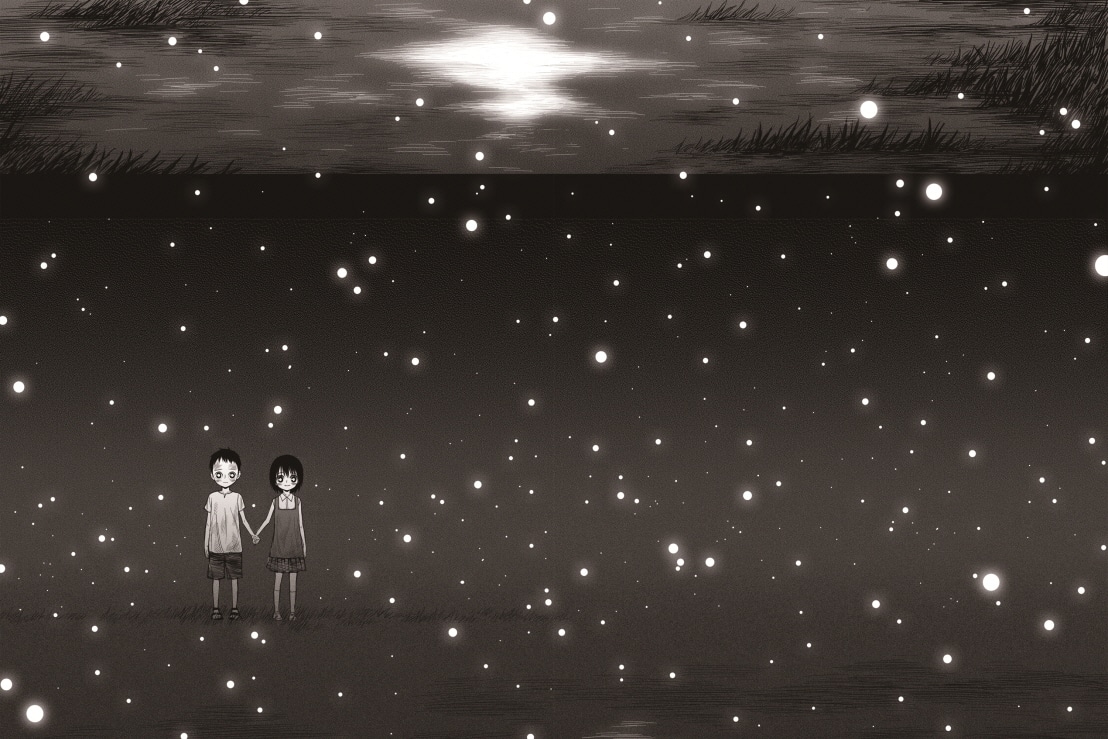 The Horizon is a manhwa by JH and it is one of the most harrowing stories I've ever read. And despite it only being 21 chapters, it was still as impactful, if not more impactful, than some stories I've read that have 100 chapters if not more. It didn't quite make me cry as much or take as much of a toll on me as Goodnight Punpun by Inio Asano did, but it came close and for a series that's this compact, this is a huge feat. The Horizon is releasing from Ize Press in June 2023 and it was confirmed at Anime NYC 2022.
I want to mention JH's other series, The Boxer, real quick, because he's written not just one, but two, series that hooked me. If you enjoy JH's works or you love stories about boxing, it's one you'll want to check out. One thing I really enjoy about all of JH's works though, including The Horizon, is their commentary on life.
JH takes these stories, one that's about two kids living in the aftermath of a cataclysmic war and another that's about a boxer, and tells them in a way that feels poetic, so the story-telling element is a strong suit of these for sure, but his stories also feel very real and his characters are very relatable.
The Horizon is one of the most profound and dark series I've ever read. It's similar to The Road, and to this day, that movie still haunts me. Much in the same way, The Horizon still haunts me to this day, but even more so, because there are no parents helping these children in this story. 
Instead, the story follows a young boy who is trying to survive in a post-apocalyptic world after losing his mother. One day, he meets a young girl who is struggling to do the same and they accompany one another. Despite all of the scary moments and obstacles they face, they push forward in search of a safe haven and are looking for light and hope in this dark world. Of course, that light can very well be felt at times in their interactions with one another. But it's very clear from the images in this story, that the loneliness these two feel, despite having one another, still exists.
They meet other survivors along the way, adults who have lost their way, and most notably have lost their humanity in their endeavor to survive, no matter the cost. Some have lost all morals, some have resorted to terrible acts.
It's a really harrowing tale that, while it has little dialogue, has so much to say. The atmosphere and emotion that the author conveys through the art are unbelievable as well. You really grasp the grave nature of the situation, and the way the story unfolds is just so expertly done. It's one that absolutely broke me, but I'm glad I experienced it nonetheless because it's one of my favorites of all time. Keep an eye out for the first volume, which is releasing from Ize Press in June 2023!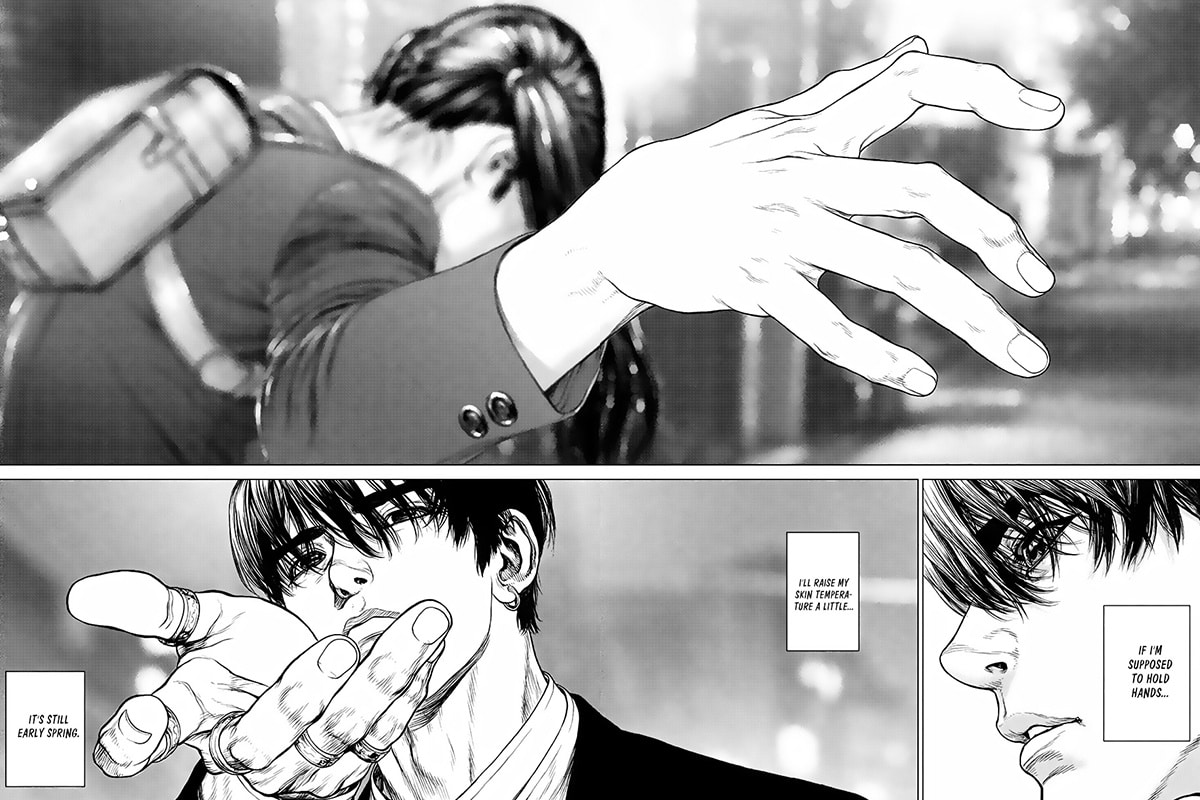 Sci-fi, seinen, and Boichi fans are in for a big treat in 2023 with the release of Origin, which is coming in Fall 2023 from Kodansha. Boichi is well-known as the artist behind Dr. Stone, but he has also brought us amazing series like Sun-Ken Rock and Origin.
I'm a huge fan of his works, he is one of the most incredible artists I've ever seen and he's one of the best of our time. Origin was first released in Japan in 2016 and finished releasing in 2019 with 10 volumes. It has been released in a number of different languages, but this is the first time it will be printed in English! I really hope this means that Sun-Ken Rock is coming soon too.
Origin is set in the future in the capital city of Tokyo, which is now connected to Eurasia by a transcontinental railroad. Criminals and terrorists live in its metropolitan darkness, as well as mysterious creatures who prey on humans. Only one stands against them...Origin.
Boichi's series always have a great sense of humor as well as emotional moments that connect you further into his stories, they are action-packed, and feature incredibly detailed and stunning art. Robots with advanced AI exist in this story, but the real beauty of this one is that our MC is an android, who wants to learn more about himself and what it means to be alive. There are plenty of emotional as well as beautiful moments, but we get some badass action as well as comedy too.
We have some deeper exploration here, not quite as deep as series like Pluto by Naoki Urasawa, but it still gets into the whole "what does it mean to be human," and robots with feelings narratives, self-reflection, etc, but it also has the action and detailed unique artwork you'd see in series like Inuyashiki by Hiroya Oku, so if you are a fan of either, definitely give this one a shot. It's quite fun and entertaining to read, but has depth to it as well.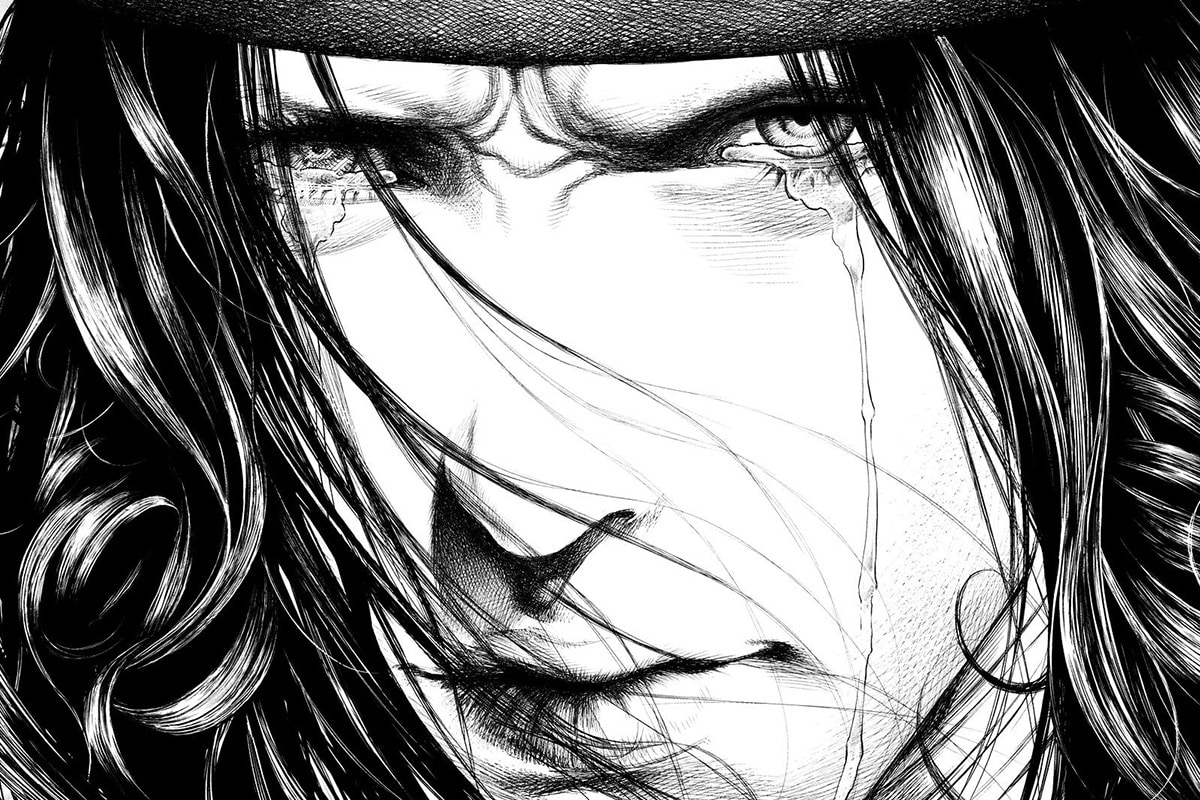 Innocent by Shinichi Sakamoto
When Dark Horse announced that they would be releasing 3-in-1 omnibuses of Innocent at Anime NYC 2022, I couldn't believe it. Definitely up there with the announcement of Homunculus, which I'm going to talk about later, as news of the year! I would honestly have been happy with any of Shinichi Sakamoto's works being printed, whether it be The Climber, one of the best seinen of all time, or DRCL midnight children, but Innocent is an incredible first step and I'm really hoping this means that all of his works will be on the way in the future too.
Innocent is set before the French Revolution and its story is told from the perspective of Charles-Henri Sanson, who comes from a family of executioners. He takes on this role even though he doesn't want to, in order to change the system from within.
One thing about Shinichi Sakamoto's works that always captivates me is not only the fact that he emphasizes reality and this is something you can see through his hyper-realistic artwork, but I also really love the fact that you can hear what's happening on the page. You don't just see the events that are unfolding before you… you feel them, hear them, etc. as if you are in the very scene. I remember seeing an interview with him where he said he was experimenting with not using onomatopoeia in his panels. He wants to make you imagine those sounds rather than tell you they are there, and he excels at doing so.
He even goes as far as to help the reader understand what something would sound like in his works. For instance, in Kokou no Hito (The Climber), he mentioned that the sound of a glacier collapsing is not something that we come across every day, but we see and hear buildings collapsing in film all the time, so he drew a panel of a building collapsing before to give the reader the idea as to what it would sound like.
Shinichi Sakamoto's expression and his sense of perspective are just beyond anything I've ever seen before. He is truly one of the best artists of our time and all of the details and work he puts into making Innocent and all of its characters are accurate to the time period it's set in is incredible. The details of their clothing, their hair, where they live, and the settings they take part in, it's just above and beyond and it's a true masterpiece through and through.
Innocent is one of my top series by Shinichi Sakamoto, but also one of my top series of all-time. It has stunning artwork that's detailed and intricate and is full of emotion and symbolism. He showcases our character's emotions in abstract ways. He doesn't tell you a lot of the time but instead shows you, and this is part of the reason I love his works so much. It's one of the best historical series I've ever read and it is full of drama. It is quite over-the-top, in the best way possible, too.
The first omnibus is expected to release on November 21, 2023, so be sure to keep an eye out for its release then!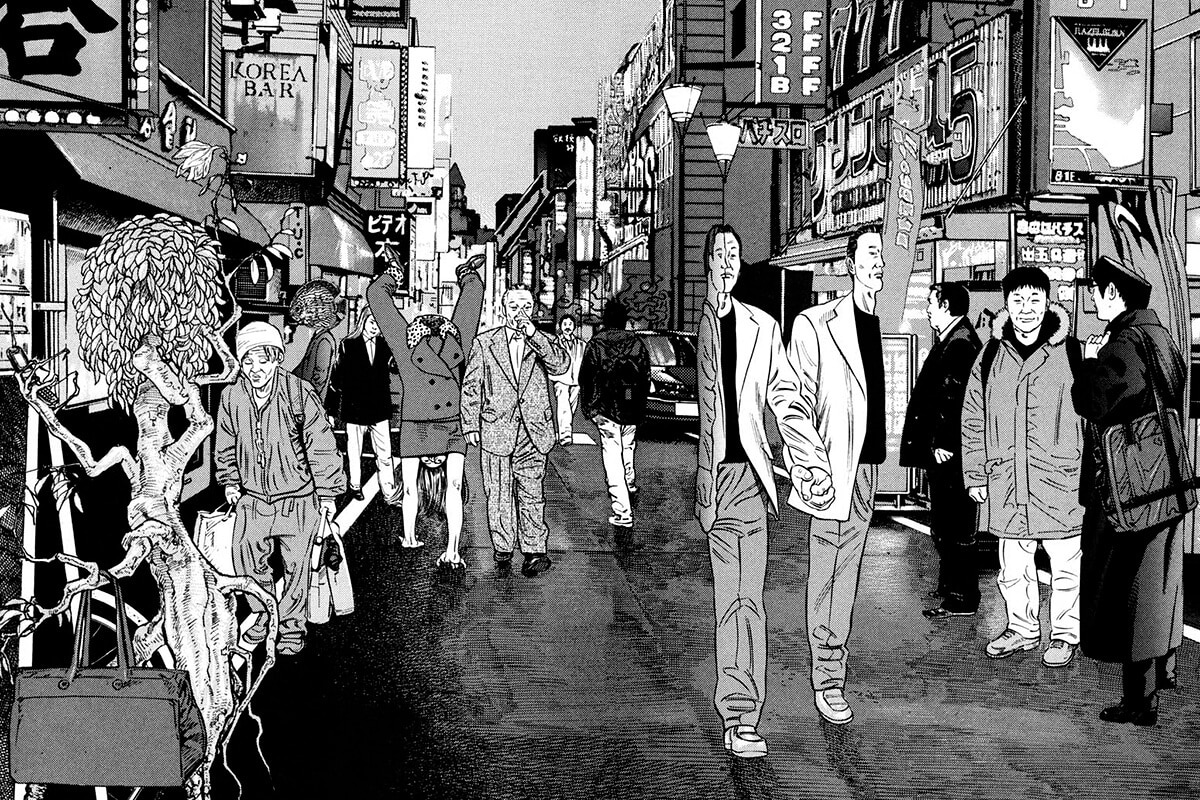 Homunculus by Hideo Yamamoto, the mind that also brought us Ichi the Killer, is one of the best thrillers and psychological horror manga. Seven Seas recently announced that they will be releasing Homunculus with English translation in an oversized omnibus format. It was announced in 2022. Definitely the biggest and most exciting manga news of the year for me!
The story follows Susumu Nakoshi. One day he's in a lavish hotel, the next he's living in his car. He is approached by the mysterious Manabu Ito, a 22-year-old medical student, who says he's a perfect candidate for his experiment. He initially rejects his offer, but later accepts it when his car is towed and is in need of cash. In exchange for 700,000 yen, Nakoshi lets Ito drill a hole into his skull via a method called trepanation. At first, everything seems normal for Nakoshi following this experimental surgery, but this all changes when the effects kick in and he begins seeing the homunculus in every person.
Watching Nakoshi undergo this experimental surgery is a horror in itself, but it's the aftereffects of the surgery and the distorted humans that Nakoshi now sees that are the most unsettling. It's hard to really know what's real or not in this one too, as you are reading, so there is an element of mystery to the series as you work to understand what is happening to Nakoshi as he himself is trying to understand what is going on as well. You really feel like you are in this story with Nakoshi as a result.
There are a lot of new manga releasing in 2023, but these are my favorites to be announced so far. As new manga is announced, I will continue to update this post, so stay tuned for more!
I want to shout out some honorable mentions that I am excited about picking up in 2023. Also arriving in 2023 are Choujin X, Akane-banashi, Heart Gear, Don't Call It Mystery, Megumi & Tsugumi, Boy's Abyss, Tsugumi Project, and Last Game. I am looking forward to picking all of these up in addition to those mentioned above. Also exciting is the release of JoJo's Bizarre Adventure Part 6 (Stone Ocean)! The first volume is expected to release on November 28, 2023.
These next ones are not a new release, but I am excited about them nonetheless: The Toilet-Bound Hanako-kun manga box sets, Chainsaw Man manga box set, which collects volumes 1-11 and comes with a full-color, double-sided poster, as well as the Vinland Saga Deluxe Editions. All are being released in 2023, so keep an eye out for these new editions too!
New Manga You Need To Be Reading in 2023 Video