Toilet-bound Hanako-kun by AidaIro was first released with English translation in individual volumes, but Yen Press is now releasing manga box sets of the series, which they have fittingly named the Toilet-bound Hanako-kun Boxed InSTALLments. The first box set is expected to release on May 23, 2023, and it collects the first 10 volumes of the series.
If you are new to the series, Toilet-bound Hanako-kun is a unique supernatural manga set in Kamome Academy, where rumors of the "Seven Mysteries" run wild. One such mystery is one of our main characters, Hanako-san, who resides in the third stall of the third-floor girls' bathroom. When summoned, it's said he grants any wish. High schooler and occult fanatic Nene Yashiro heads up to the bathroom to make a wish, but the Hanako she meets is a lot different than she expected.
One of the things I love the most about Toilet-bound Hanako-kun, in addition to its characters and its premise, is its art. The panels and character designs are some of the most unique I've seen, and I really enjoy the style of the art in Toilet-bound Hanako-kun. So much so, it's one of my all-time favorites.
If you enjoy stories that are centered around the occult or urban legends, manga with a unique style, or enjoy stories that are full of mystery, Toilet-bound Hanako-kun is a must-read. Not only is it one of the most charming supernatural manga series I've ever read, but the fact that it's character-centric also allows you to connect with the characters and they are relatable as well. On top of all that, the Toilet-Bound Hanako-kun volumes are some of the best-looking I've ever seen.
If you are wavering on picking up the series, I highly recommend doing so, especially with the release of the manga box set, which is one of the highest-quality manga box sets to release so far. In addition to the first ten volumes, this box set comes with a single-sided poster that features artwork of Hanako. The poster has a glossy finish and is larger than most other posters in manga box sets.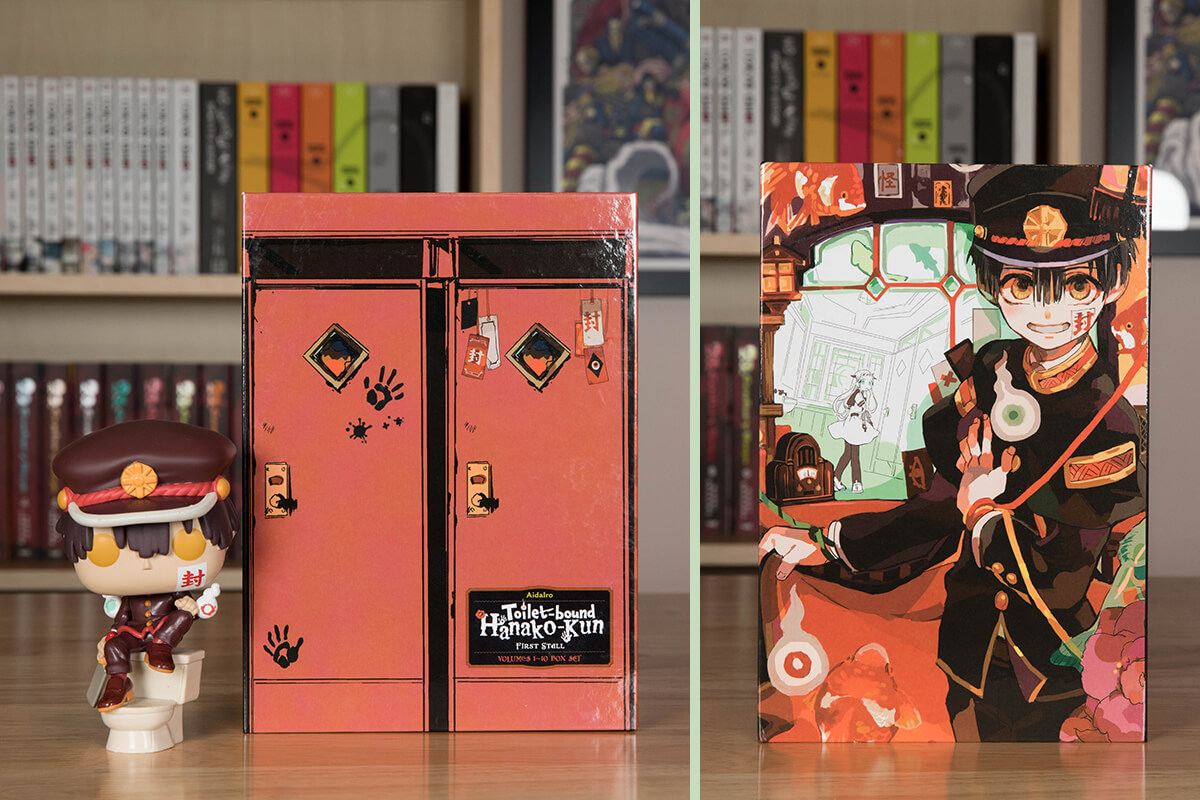 The box set itself is cool and I enjoy its design. I love that they made it look like Hanako's stall. We have the stall artwork on the front and back of the box set, but we also have beautiful artwork of Hanako on the side. If you have the Hanako Nendoroid or the Hanako Funko Pop, they look great on display with this box set.
The Toilet-bound Hanako-kun manga box set is compact. It even fits on a Billy Bookcase shelf, which is nice. This box set is easy to display and it looks great on display too. One other thing I want to mention is that they added magnets to this box set. Most box sets have velcro that keeps them shut. I really appreciate the fact that Yen Press went the extra mile here with the addition of the magnets because they make the box set feel more premium. And then you open up the box set, and you see all of the bold and colorful spines of Toilet-bound Hanako-kun. Overall, it's a high-quality box set and it has a beautiful design.
As far as price goes, the box set retails for $100 USD, but with sites running sales on manga all of the time, you can often find it on sale. At retail, though, you get these volumes for around $10 apiece. The individual volumes retail for $13 each, so you save around $3 per volume when you buy the box set. And of course, these savings become even greater when you can find this box set on sale. That being said, the Toilet-bound Hanako-kun box sets are going to be the cheapest way to collect the series.
Regarding their release, the first box set is coming out on May 23, 2023. At the time of this post, 17 volumes have been released with English translation. Since it looks like each box set is collecting ten volumes, and volume 20 isn't out yet, we haven't received news of when a second box set will be released. That said, you will almost be caught up with the series if you pick up the first box set since only 17 volumes have been released.
Now that we've gone over everything, is the Toilet-bound Hanako-kun manga box set worth it? Yes, it definitely is. It's a beautiful yet compact box set that is easy to display and it looks amazing on display too. I love its cheeky design and the fact that it looks like Hanako's stall. The box set is the cheapest way to collect the series too if you are looking to get into it! I highly recommend checking out Toilet-bound Hanako-kun, whether you pick it up via the singles or the box sets. After seeing this box set as well as the Pandora Hearts Box Set I really hope we are going to get more box set releases from Yen Press in the future.
You can pick up the Toilet-bound Hanako-kun manga box set at one of the sites listed and get a closer as well as an all-around look at the box set in my review on YouTube below!
In other manga news, check out all of the new manga that's releasing from Yen Press in 2023!