JH has created some of my favorite manhwa, including The Horizon, which was confirmed to be getting a print release by Ize Press at Anime NYC 2022, as well as The Boxer. The Boxer is one of my most anticipated releases of 2022 as well as one of my favorite series to release to date, so I couldn't wait to get the first volume in hand.
The Boxer is complete with 123 episodes and it was first released with English translation digitally on Webtoon. Much to my excitement, Ize Press later picked up the series for print release and the first volume is releasing on December 20, 2022. The Boxer, Volume 1 collects the first 9 episodes of the series.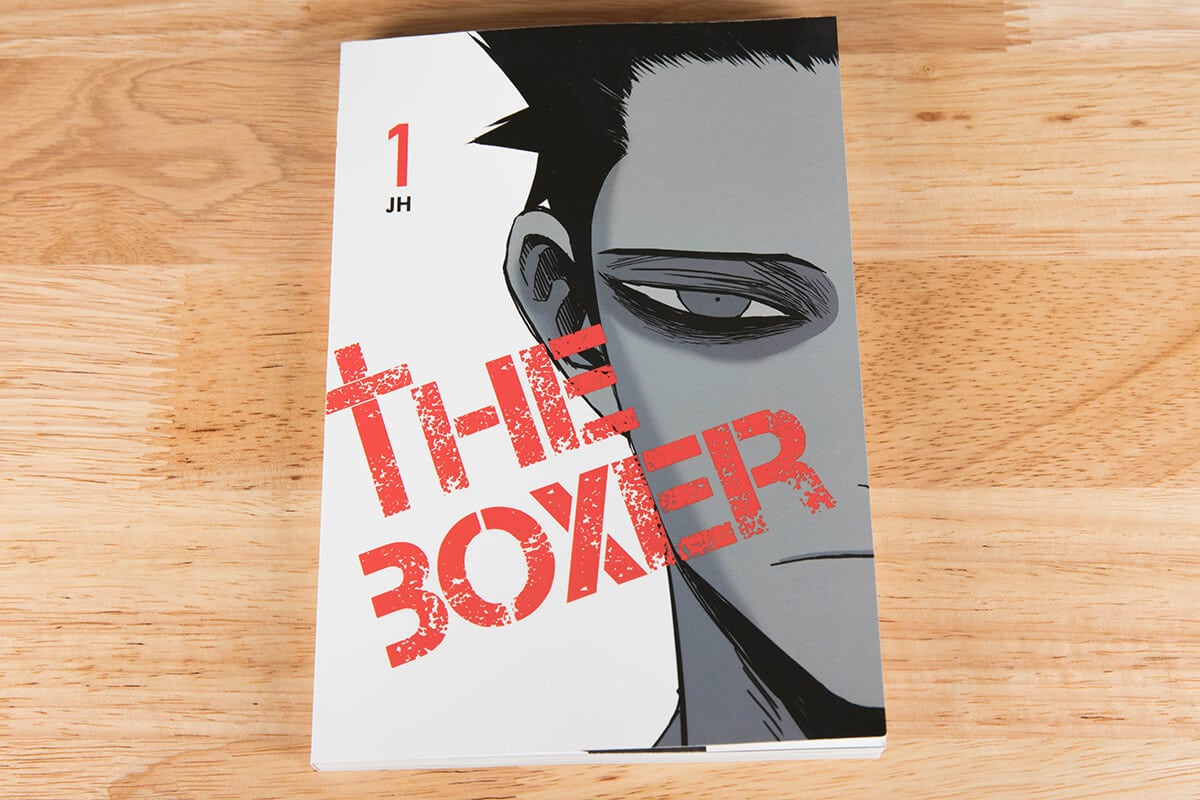 I couldn't have been happier with the design of the first volume. They have matte white covers, black and white artwork, and bright red text. The Boxer logo is raised, glossy, and textured, so it pops out from the matte white cover. The design of the volumes is minimal, but they are aesthetically pleasing, much like JH's artwork. They highlight and represent the series well, both on and off the shelf. I love the look of the volume, but it's how it reads and the way they cut and paste the panels that impresses me most.
I enjoyed reading The Boxer on Webtoon's site, but it was primed and ready for a print release, especially with the way it reads and the impact the panels have on the page. Another thing to note is that they updated the translation in the print release. The sentences flow and read better in the print release and they changed the wording of select sentences to give them more impact too. There's a section where Coach K is explaining a fight, for instance, that is much different from the digital release and it is much easier to follow.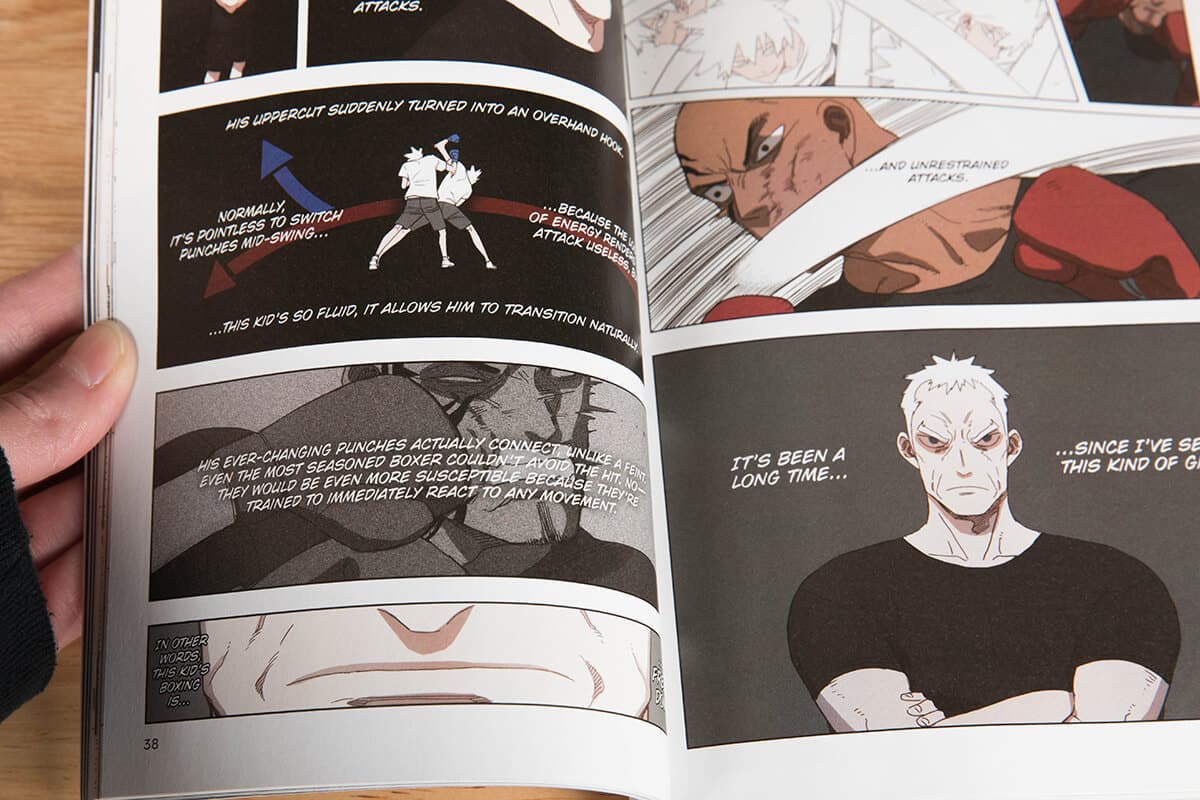 They've even included sentences that were not present on the Webtoon release to add more context when needed. They also have new lettering and sound effects too. The sound effects in particular flow and fit in with the artwork a lot better in the print release. They enhance the scene, but don't distract from the panels. I couldn't be happier with how Ize Press structured and placed the panels and all of the updates and changes they made to the translation, lettering, and sound effects are incredible.
The Boxer is a sports manhwa with a dark tone, much like another one of my favorite sports manga, Holyland, so it highlights the struggles that come with being a boxer more so than most, but they also delve into deeper topics about life and really dive into what it means to be human as well.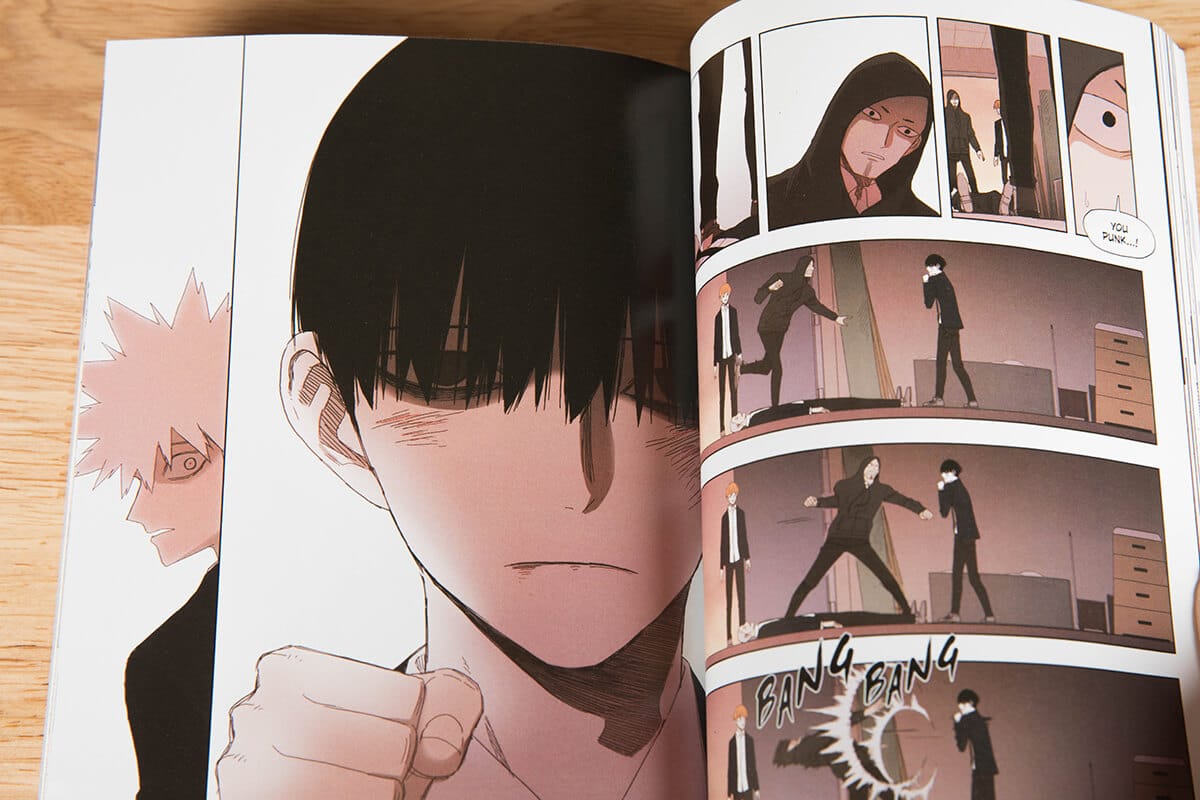 These series have a "What is it that you live for'' as well as a "What is it that keeps you up at night?" type of mentality, dive into what drives or motivates our main characters, and explores their psyche. Another manga that comes to mind in this vein is Rikudou, so if you love either Rikudou or Holyland, and have yet to give The Boxer a shot, you'll definitely want to.
While The Boxer is a sports series about boxing, it doesn't feel all too much like one, even though it is. That being said, if you aren't typically into sports manga, please don't let this put you off, because it has so much to offer. I love series that take a realistic, but also hard look at the sport they are about, and The Boxer is one of the best.
Not only does it highlight the struggles of being an athlete, it also highlights their struggles as individuals as well. This series touches on a lot of dark, mature, and tough topics with a focus on its characters and their real-world lives, so it feels very much like a seinen as a result.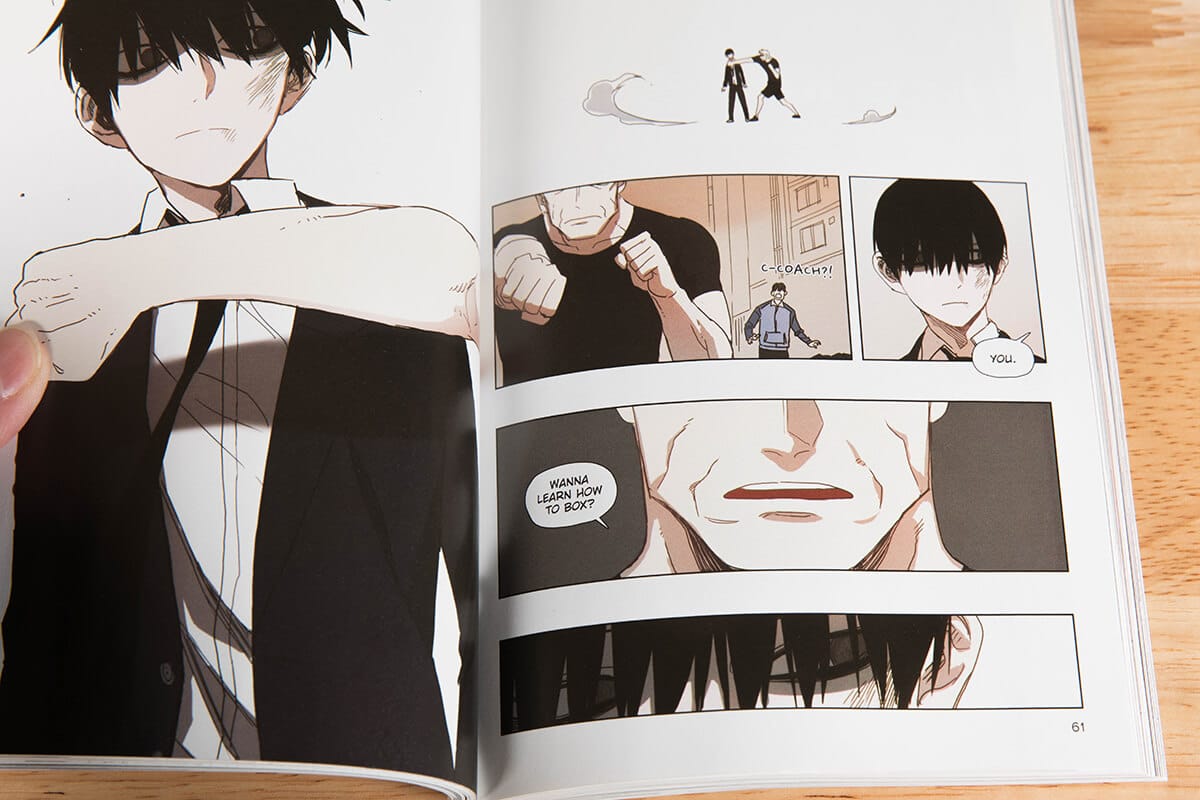 The story of The Boxer starts with Coach K, a legendary boxing coach known for training multiple boxing champions, who stumbles across our main character, Yu, as he is being repeatedly punched in the face in an alley by some school bullies. At the beginning of the story, Yu is so apathetic that he can't even be bothered to dodge punches or stick up for himself, even though he's more than capable of doing so. However, K sees something within him and offers to train him if he's interested.
Due to incidents at school, he ends up putting the school's strongest fighter in the hospital with a single punch. After that, he decides to take Coach K up on his offer to train him, and essentially, his life changes forever. He comes across new obstacles and opponents along the way and we get a glimpse into these characters' backstories, which adds even more interest to this story.
The Boxer is a beautiful series with well-developed characters, but the fights in this one are exciting also. On Yu's journey to become the world's greatest professional boxer, he fights various opponents with unique fighting styles that make for a thrilling read throughout.
The Boxer also teaches you many different boxing terms, strategies, and fighting techniques throughout the course of the story, so you get a glimpse into the ins and outs of the world of boxing in this one too. They also included some notes in the back of the first volume explaining terms and techniques used throughout this series if you are new to boxing altogether, which help clarify things as you read.
If you aren't familiar with boxing, this one will still pull you in, because the fights have meaning. Each fight shows the characters not only battling against their opponent, but also themselves, which is interesting. The Boxer is full of drama as well as suspense, features an incredible rivalry, a strong protagonist as well as an antagonist, and it explores the human condition, which makes it a relatable read.
If you are familiar with JH's works already, you are familiar with the style in which they draw. The Boxer has a more minimal aesthetic and I absolutely love the art style. I feel like there's so much raw emotion in JH's artwork, and the panels really hit you emotionally as a result. It's how JH structures the panels and highlights the characters' inner emotions as well as captures the feeling of the moment, whether it be through the characters' actions or their surroundings, that makes JH's works stand out the most.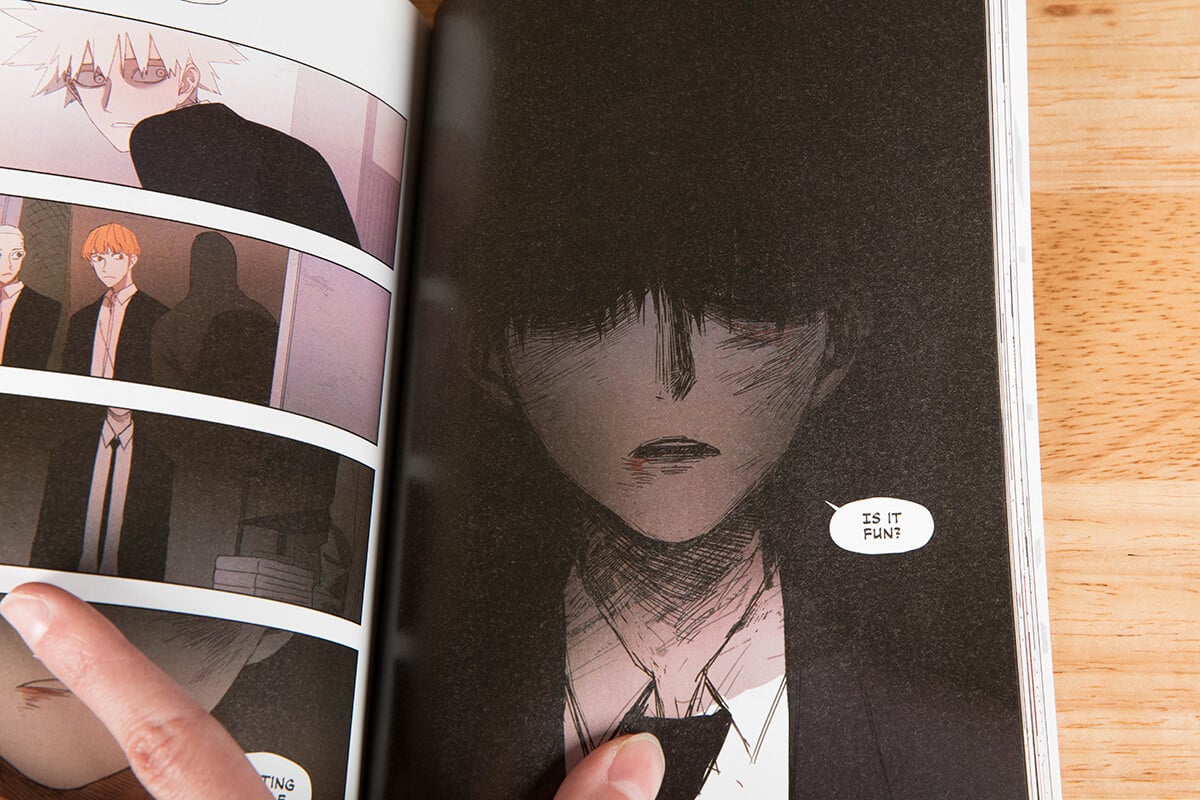 JH's storytelling is also incredible and the dark as well as light side of humanity is oftentimes highlighted in their works. They are deep with a melancholic feel, but there's always a light of hope, even if it's ever-so small, glimmering in the distance, and this is much thanks to his characters who strive to be better, strive to continue to push forward, in a world full of darkness. The Horizon is one of the toughest series I've ever read. It absolutely broke me, because it follows two kids trying to survive in the apocalypse. But, The Boxer sees JH stepping into a new territory entirely and it's successful in similar, but also completely different ways.
For me, The Horizon as well as The Boxer are masterpieces through and through, so I can't recommend them enough. I couldn't be happier that Ize Press is printing both of these series and I'm looking forward to seeing what else they have in store for us in the future! Even though The Boxer is one that fans of darker sports series will love, it's one that seinen fans will love as well. It's an addicting read with a story and characters that develop phenomenally over the course of the episodes and it's one that you won't be able to put down.
You can shop The Boxer as well as Ize Press' other manhwa releases, including The World After the Fall, Tomb Raider King, The Remarried Empress, Villains are Destined to Die, and more, at one of the trusted manga retailers listed below, and if you'd like an inside look of the first volume, be sure to check out my review on YouTube for more!
The Boxer, Volume 1 Review with Inside Look