2021 saw the release of stellar anime, like 86, Attack on Titan: The Final Season, Jujutsu Kaisen, Horimiya, The Case Study of Vanitas, Sk8 the Inifinity, Mushoku Tensei, Sonny Boy and many, many more. It seems like the years for anime just keep getting better and better and 2022 is no exception.
This year feels special, because not only are we seeing a lot of new anime releasing, including originals and manga adaptations alike, but select anime that have been on hiatus for quite some time are finally making their anticipated return as well. Needless to say, it was bound to be an exciting year. I have to admit...There are multiple series that I could give the top spot to in 2022. This year, incredible release after incredible release has debuted, so it's no surprise at all that it'd be difficult to narrow down my favorites.
I watched all of the anime on this list entirely as well as many others that have aired this season to determine the best of the year. I know more will be added with the Fall 2022 anime season kicking off, so I will add more anime once most of their season's episodes air.
Out of all of the anime that released in 2022, these are the best (so far)! I will continue to update this post throughout the year as new anime are released. All of the anime listed on this post are available to watch now on an anime streaming service.
Best Continuing Anime of 2022
I really wanted to focus on the new anime that came out this year on this list, but so many amazing continuing seasons released or are releasing in 2022 also that I have to mention as well, including a few that have been long-awaited like the Bleach Thousand Year Blood War Arc and Classroom of the Elite II.

I always find it hard to compare series that have been running for two or more seasons to one's that just got started, so I wanted to separate the two. It's also hard to write about these anime in a way that you don't spoil anything, especially since some of these anime are in their third, fourth, and even sixth seasons.
Out of all the continuing anime seasons I watched in 2022, these were my favorites! I highly recommend checking out all of these anime if you have yet to get into them.
Kaguya-sama: Love is War - Ultra Romantic
Attack on Titan Final Season Part 2
The Case Study of Vanitas Part 2
JoJo's Bizarre Adventure Part 6 Stone Ocean
Kingdom Season 4
Made in Abyss: The Golden City of the Scorching Sun

Demon Slayer: Kimetsu no Yaiba Entertainment District Arc

Ascendance of a Bookworm Season 3
Teasing Master Takagi-san 3
Komi Can't Communicate Season 2
Shadows House Season 2
Is It Wrong to Try to Pick Up Girls in a Dungeon? IV
Date A Live IV
If I had to pick my number one continuing anime of 2022 it would have to be Kaguya-sama: Love is War - Ultra Romantic, but the rest are stand outs as well. To learn more about all of the continuing anime series that released in 2022, check out the 2022 Anime Release Schedule.
Best New Anime of 2022
Here are the best new anime that debuted in 2022!
My Dress-Up Darling
Anime like My Dress Up Darling depict characters with hobbies that many viewers can relate to, making it easy to connect with the series. The story follows two characters who are passionate about their hobbies—Marin Kitagawa who loves to cosplay and Wakana Gojou who loves to make hina dolls. When Marin finds Gojou in the sewing room at school one day, she discovers his talent for sewing. She enlists him to make her next cosplay outfit, pushing him out of his comfort zone and into a new world.
What makes My Dress Up Darling so endearing is that it isn't just a romance story. It's about individuals who are passionate about their hobbies and bond over them, and a romance blossoming out of that connection only feels natural. There are some ecchi moments in this series, but they serve a purpose. Rather than simply being there for appeal, they add to the story's romance and comedy.
The show has a nice balance of funny and heartwarming moments, but what's most important is the message it gives—unapologetically be yourself regardless of what anyone thinks.
You can watch My Dress-Up Darling now on Crunchyroll.
Kotaro Lives Alone
Kotaro Lives Alone is one of the most heartwarming anime I've watched to date, but it's also a heartbreaking watch given the nature of its content. The story follows Kotaro, a child who lives on his own due to unfortunate circumstances. But even though he's very much a child, Kotaro is wise beyond his years, and teaches valuable lessons to the residents of his apartment building—who are much older than he is.
While Kotaro's kindness and warmth towards the residents may seem one-sided at first, in actuality, they are mutual. The residents act as guardians of sorts for Kotaro; he gains something from them just as much as they gain something from him. As their relationships grow over the course of the season, you see that Kotaro—who is not close with his family—chose a family of his own.
As a result of his upbringing, Kotaro feels like he has to be strong no matter what. Through his interactions with his schoolmates though, Kotaro learns from their example that it's okay not to be strong all the time—sometimes it's okay to act like a kid, to let loose, and have fun with his friends. They also learn lessons through Kotaro, who teaches them to be appreciate of what they have.
Kotaro Lives Alone is a incredible anime that will make you appreciate the people around you and the little things in life. Even though it delves into complex issues, Kotaro's positive attitude and the colorful residents are always there to warm your heart. For these reasons and more, it's one of the best anime of 2022!
You can watch Kotaro Lives Alone now on Netflix.
Spy x Family, which is adapted from the manga by Tatsuya Endo, is an action-packed, fun series that's nothing short of entertaining with a core group of characters that develop incredibly over the course of the chapters both individually and as a unit. It's also a refreshing and extremely well-rounded series.
Spy x Family is a story about an immensely charming family that are anything but typical. The father Loid aka Twilight is a spy, the mother Yor is an assassin, and the daughter Anya is a telepath. They were all brought together by Twilight because he needed a family to complete his mission that requires he infiltrate the highly prestigious Eden Academy to get close to his target Donovan Desmond.
There's two different kinds of dialogue within Spy x Family, you have the inner monologue these characters are having with themselves and then there's the conversations they have with one another. The series really excels at showing you the difference between how they are feeling and how they are portraying themselves to the world and those closest to them. What comes out of these characters' mouths is often very different from what they are thinking in their heads, and while the manga does a great job at distinguishing between the two, it was amazing to hear the differences in their tones and voices in the anime.
Spy x Family has made me laugh more times than I can count, but it's also moved me as well. I feel deeply connected to the plight of its characters, which keeps me emotionally invested in the series. A big part of its appeal is its thrilling and dramatic scenes, but its story keeps you hooked as well. Wit Studio and CloverWorks, who are two of my favorite animation studios, did an amazing job bringing Spy x Family to life on screen. It's one of the best manga to anime adaptations I've seen to date.
You watch Spy x Family now on Crunchyroll and Hulu.
Ao Ashi
In Ao Ashi, Ashito Aoi is a third-year middle school student and soccer player who meets Tatsuya Fukuda, a coach for the J Youth League. Coach Fukuda notices his potential and invites him to tryout for his team in Tokyo. But Ashito faces some surprises along the way that make this story even more amazing. The MC in this story isn't overpowered either. Instead, he's the type who constantly practices and improves himself through hard work. As a result, he's someone many people can relate to, including myself.
If you're looking for a soccer anime that's both realistic and fun to watch, you'll want to check out Ao Ashi. The series goes into great detail when describing the players' experiences and matches, even going so far as to include the drills they do before each game, the dynamics of the players both on and off the pitch, and the injuries they sustain during play, but it's how the action sequences and movements of the players were animated that make this series a stand out.
You can watch Ao Ashi now on Crunchyroll!
Ya Boy Kongming!
Even though it's one of the brightest stars of 2022, Ya Boy Kongming! is still one of the most underrated of the year. It follows the adventures of Kongming, a historical figure who was known as the "God of War" during his time in China, who's been reincarnated. The series begins with him being transported to modern day Japan, where he meets an aspiring and talented musician and singer named Eiko.
Eiko's music moves Kongming, he becomes a massive fan of hers, and later on, he becomes her manager or as he calls it, her "tactician". What follows is a comedic but also touching journey of a girl, who has lofty dreams, and a man, who wants nothing more than to help her achieve them.
It's comedic, but also intriguing, to watch a brilliant mastermind and strategist like Kongming use what he learned and experienced from his days in the Three Kingdoms Period and apply them to modern day problems. The way in which he interacts with this new world too is incredibly entertaining, but it's his connection with those around him that really make this one hit all the right notes.
Ya Boy Kongming! has a lot going for it - likable characters (including our protagonist), amazing music, and an overall endearing and warm tone that makes it easy for anyone to get into the series. You can watch Ya Boy Kongming! now on HIDIVE!
Lycoris Recoil
When anime originals are done well, they are some of the best as seen with 2021's Vivy -Fluorite Eye's Song-, but 2022 came out swinging with Lycoris Recoil, an A-1 Pictures original series. A-1 Pictures are the studio behind my favorite anime of 2021, 86, but they are also the studio behind a number of incredible anime, including Kaguya-sama: Love is War, Erased, Sword Art Online, and Your Lie in April to name a few. They are also the studio bringing us the upcoming NieR:Automata anime and Solo Leveling anime, so there's a lot to look forward to on the horizon as well.
Known for their well-animated action sequences and battles, but also their beautifully crafted emotional scenes, A-1 Pictures shines yet again in Lycoris Recoil, an anime that is chock-full of both. It's premise, which follows two orphaned girls trained to be assassins by a program called "Lycoris" to fight against terrorism, reminds me a lot of series like Gunslinger Girl, Princess Principal, or Puella Magi Madoka Magica. If you enjoyed any of these anime, you'll want to check out Lycoris Recoil.
The duality of the girls' personalities, Takina Inoue, who is very practical, cool-natured, and is always focused on the job, and Chisato Nishikigi, who has a more joyful and cheerful personality, is part of what makes this one such an enjoyable watch. You watch these two different personalities work together on their missions, but also watch them grow to be friends. But it's not just these two that add a lot to this story. The supporting characters do as well, so there's a great group dynamic; Similar to the group dynamic you'd see in series like The Great Pretender.
What Lycoris Recoil does the best, though, is show the difference between the girls lives as Lycoris and their lives outside of the "job", so there are a lot of tonal shifts in this series. You go from things being serious to things being light and airy, but this shows just how normal the life of a Lycoris has become for these girls. But it also shows how it hasn't hardened them, particularly Chisato, in ways you'd expect it to.
It's one of the best anime in 2022, because it does so many different things well. It's emotional with a great cast of characters, but it's action-packed and full of drama and thrills also. You can watch Lycoris Recoil now on Crunchyroll!
Call of the Night
Call of the Night follows Ko, a middle school student who has insomnia. One night, he sneaks out of his house to go for a walk, hoping that the fresh air will help him sleep. He wanders around until he stumbles across Nazuna, a mysterious girl who invites him inside her home.
To his surprise, Nazuna bites him and before he knows it, he finds himself immersed in the world of the vampire. From then on he has one goal, to become a vampire himself, so that he can enjoy the quite of the night and forever escape the bores of everyday life. The path to achieving his goal is a little complicated, though, because vampires aren't simply created with a bite in this story, they are born out of love.
The thing that I like about Call of the Night is that it really paints a picture of how different the world is in the hustle and bustle of the day compared to the quiet of the night. I found this aspect of the series to be intriguing and loved how this theme wove throughout the first season as it did in the manga by Kotoyama.
There's much to love about nighttime—The dark yet vibrant skylines, the neon or warm glow of the street lamps and lights, the emptiness of the streets and commonly crowded areas like playgrounds, pools, and schools. CloverWorks did an amazing job at conveying all of this on screen and showcasing the solace it offers many, including myself and Ko.
It is a slower-paced watch, but it never felt so by any means. This is largely thanks to the dynamics between Ko and Nazuna, which is quite hilarious but endearing at the same time, but also the adventures they go on and the people they meet along the way. Everything from the visuals to the color and character design to the music were executed well, and it's one that I could find few, if any, faults with.
If you are someone who comes alive after dark, this one will connect with you in many ways. Even if you aren't, though, it will open your eyes up to an exciting new world full of wonder and possibility. You can watch Call of the Night now on HIDIVE!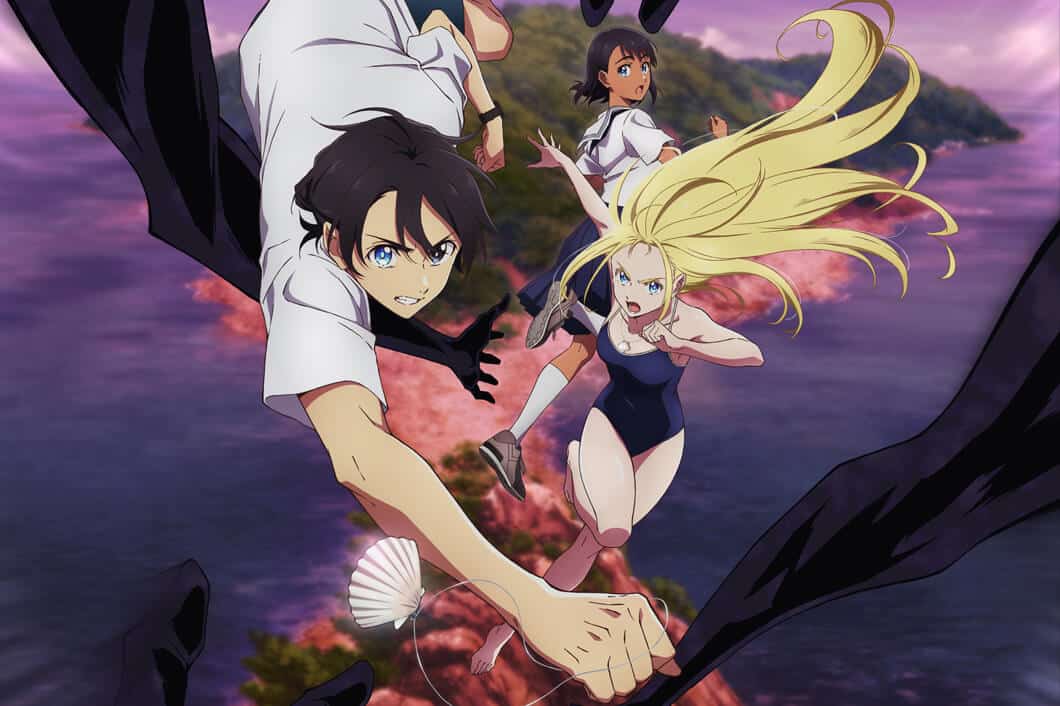 Summer Time Rendering
Summer Time Rendering is an anime that looks like one thing, but is another entirely. It's not what you'd expect and this is only part of the reason it's such an incredible anime. Adapted from the manga written by Yasunori Tanaka, which you can currently check out now on manga readers like Manga Plus or read physically thanks to Udon, who are printing the series in both a paperback and hardcover format, it's one you definitely don't want to miss.
The animation in Summer Time Rendering, which is done by OLM (Odd Taxi, Berserk (1997), Komi Can't Communicate) is absolutely stunning. Set on Hitogashima Island in an idyllic town nestled between the mountains and the ocean, OLM really had their job cut out for them with this one. Not only did they have to showcase the beauty this island has to offer, but they had to showcase the darkness that lies there as well.
The atmosphere and tone of this series shifts drastically and quickly. The story begins with Shinpei Ajiro, who grew up on Hitogashima Island with the Kofune family, returning after 2 years in Tokyo to attend the funeral of his childhood friend, Mio Kofune. Initially, we are told that Mio drowned trying to rescue a young girl, but little clues and whispers around the town, say otherwise.
What unravels is a story of mystery on an island that's full of shadows and an ever-winding labyrinth of questions that Shinpei must now work to solve. Summer Time Rendering isn't a straight-forward mystery, though. Like others that came before it, such as Higurashi, supernatural forces are at play that make this anime even more of a thrilling and unexpected watch. It will keep you guessing until the very last episode and this makes it all the more exciting.
Time travel is something that is explored in Summer Time Rendering. Unlike Steins;Gate, where time travel is more of a human-made concept, Summer Time Rendering dives more into the supernatural route that others take, like Tokyo Revengers or Erased. What makes Summer Time Rendering stand out from others is the fact that Shinpei is trapped in a death loop like Subaru is in Re:ZERO -Starting Life in Another World-. If you like any of the anime I just mentioned prior, Summer Time Rendering is one you'll want to dive into.
You can watch Summer Time Rendering now on Disney+!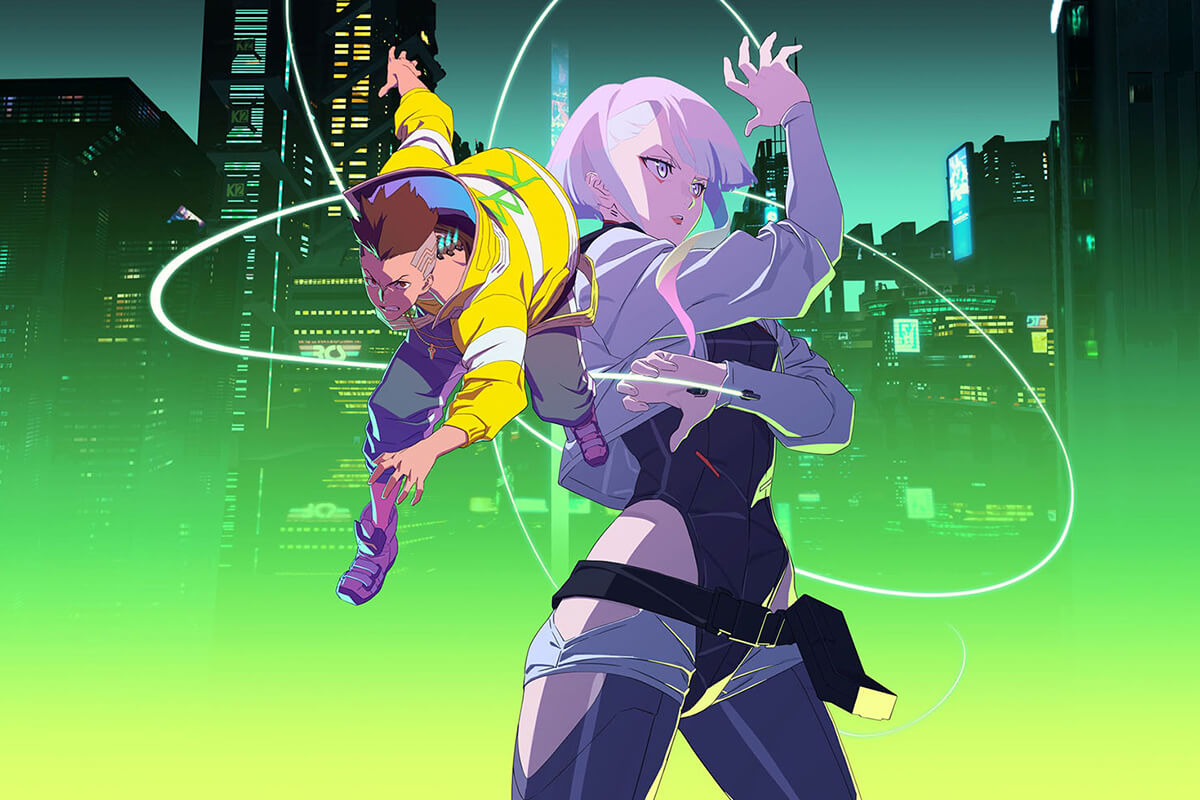 Cyberpunk Edgerunners tells the story of David Martinez, who due to certain events, gets thrown into the world of edgerunners. The chance meeting with a girl named Lucy sets him in a new direction and his life changes forever. For those of you who may be wondering if you have to play the game before watching the anime, you don't. Cyberpunk Edgerunners is a stand-alone series with a completely different storyline from the game.
Cyberpunk Edgerunners is set in the beautiful neon landscape of Night City, but don't let it's beauty fool you. Night City is a dystopian city that's full of struggle, corruption, and violence, where people indulge in their vices freely and have to scrap and fight for everything they own. That is, unless they work for one of the big corporations Arasaka or Militech.
Cyberpunk Edgerunners is a colorful visual cornucopia with stunning animation and graphics, which comes as no surprise given that it was animated by Trigger. Trigger is an animation studio that never ceases to amaze me. Their work extends into series like Darling in the Franxx, Kill la Kill, Gurren Lagann, Promare and more, but Cyberpunk Edgerunners very well may be their best to date. And this is a bold statement with such incredible series already under their belt. With Cyberpunk Edgerunners I felt like they really had the resources to show off everything they do well, and they took this chance, and really ran with it.
Cyberpunk Edgerunners is one of those anime that does few things wrong. You can watch Cyberpunk Edgerunners now on Netflix!
These are the best 2022 anime to release so far! After the Fall 2022 anime season airs, I will update this post with more amazing anime releases. In other news, check out all of the anime you have to look forward to in 2023!