Along with horror manga, science fiction or sci-fi manga is one of my favorites to collect, because they not only allow you to enter a whole new world, but they also tend to connect with you on a deeper level. They often take a look into the future, while also paying homage to the past, which is really compelling.
The world of sci-fi manga is vast. There's everything from cyberpunk, futuristic societies to giant robots to alien invasions to advanced powers, like telekinesis, advanced tech, and more on this list. Some sci-fi manga highlight the dangers of technology, while others highlight the benefits and beauty of it. Some are set on Earth while others are set in space. You also have more comedic sci-fi manga that put a humorous, lighthearted spin on the genre, so there's a lot of different series to get into!
There are a lot of sci-fi series that have released in the past, but new sci-fi manga are on the way in 2022 that you'll want to check out as well. Quite a few of these manga are available to read digitally on manga readers and sites as well.
That all being said, here are the best sci-fi manga you need to check out now!
20th Century Boys has a little bit of everything I love from doomsday cults to giant robots, so I had a feeling I'd love it, but I didn't know just how much. Flash-forward years later after completing it and it's still one of my top manga of all time. It may be a sci-fi manga with out of this world elements, but it feels so real and relatable thanks to its characters.
I've always been a fan of stories that are centered around a group of friends working together to unravel a mystery, like It, but the success of these series, really depends on the dynamics as well as the personalities of its characters. That being said, if you are a fan of movies like It or The Goonies, you'll most likely love 20th Century Boys, because it features an incredible cast of characters.
Given that this series features an adult cast of characters, who experienced something unbelievable together as children, there are a lot of flashbacks in this series. You'll be taken through various timelines of this story over the course of chapters. When done incorrectly, jumping through timelines in one story could confuse the reader, but Naoki Urasawa ordered the events in 20th Century Boys in a way that make them not only easy to follow, but more thrilling and impactful as well.
If you love twists and turns, a compelling mystery, or stories about ordinary people doing extraordinary things, 20th Century Boys is one you'll want to check out. You can collect the series via the singles or the 20th Century Boys Perfect Editions!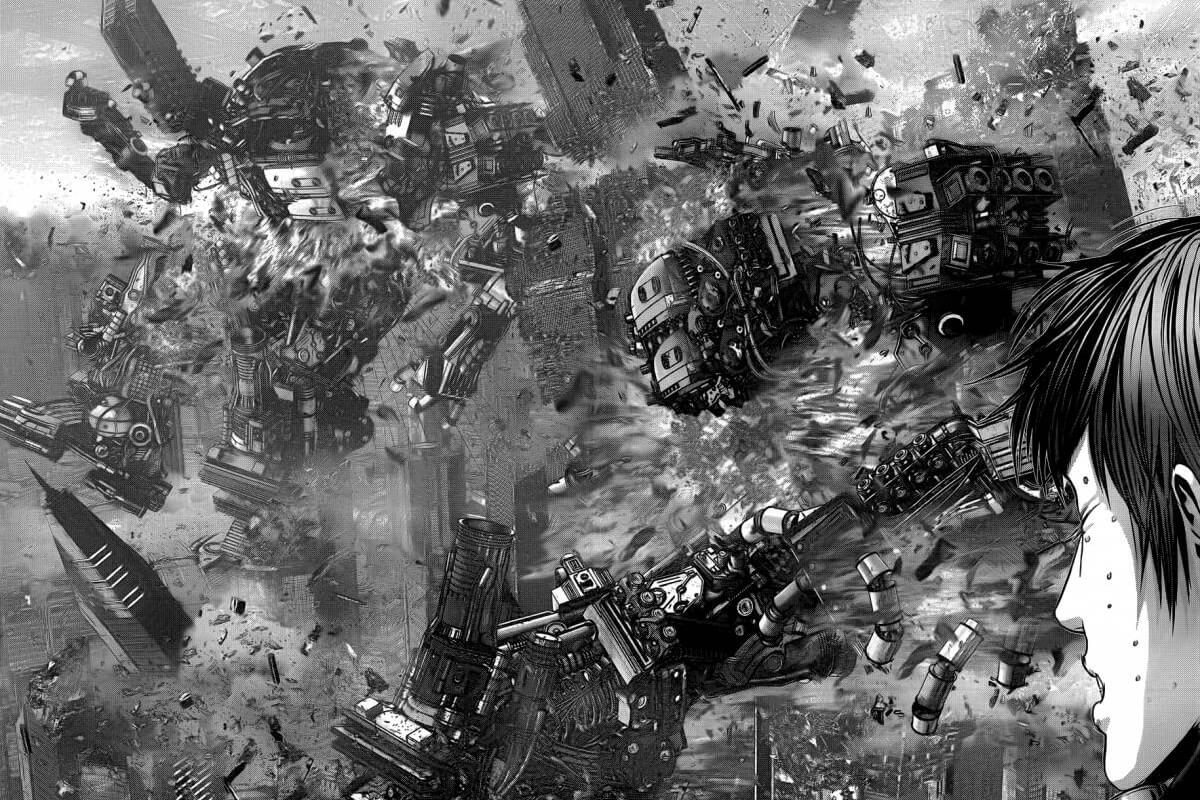 Gantz by Hiroya Oku
Gantz by Hiroya Oku is not only one of my favorite sci-fi manga, but it's one of my favorite manga that leans heavily into horror as well. It's one of those action-packed, unforgettable series that's full of suspense, mystery, but also so much heart.
Gantz has all of the elements that make a good action manga. It's suspenseful, it's fun thanks to its over-the-topness, it's badass, it has amazing action scenes and fights. It has elements that make it a great sci-fi manga with otherworldly beings, which by the way he has some of the best alien designs I've ever seen, exciting technological advancements and weapons, a unique world aside from that which we know, plus it keeps your attention. But it's also mysterious and has some romance involved as well. It kind of has a little bit of everything and it somehow does them all well.
One thing I want to debunk is that Gantz has no substance. While it is a story that's full of blood and gore and action, it is so much more than that. Gantz really takes a good hard look at us as humans, especially when we are backed into a situation where we are now facing life and death. Ironically, in this situation, again. Most of the characters in this story died unexpectedly in the real world, whereas in the Gantz world they know that they can die because they are actually faced with a life and death situation as they battle against these insanely strong and terrifying aliens.
The aliens don't start out all that strong, though, and actually, I started out feeling bad for them. The Onion alien in particular is one that really actually tugged at my heart strings. This is where we see the characters begin to struggle with themselves and their values. Many still have something left to live for and don't want to die, like Kato, but still have a strong sense of duty to put themselves in harm's way to protect others.
On the other hand, you have people like Yakuza members, who just want to destroy anything and everything around them without a care in the world as to who dies; Almost as if they are in a video game. You have all different types of people in this story, so it really takes a look at human nature. Later on, more developments, which I can't spoil, take an even further look at how we live through a different lens.
Gantz is a cinematic experience in manga form. When viewing the panels, I felt like I was watching a movie. I could actually hear what was happening—you could hear a explosion, their guns going off, etc. In Gantz, you experience everything you would in a blockbuster hit, especially given that Hiroya Oku, who is a film buff, seems to by paying homage to all of his favorite films in Gantz.
Need more convincing? Here are 7 reasons you need to read Gantz! If you want a more in-depth and spoiler-free review and look at the manga, you can also check out my review of Gantz on YouTube below.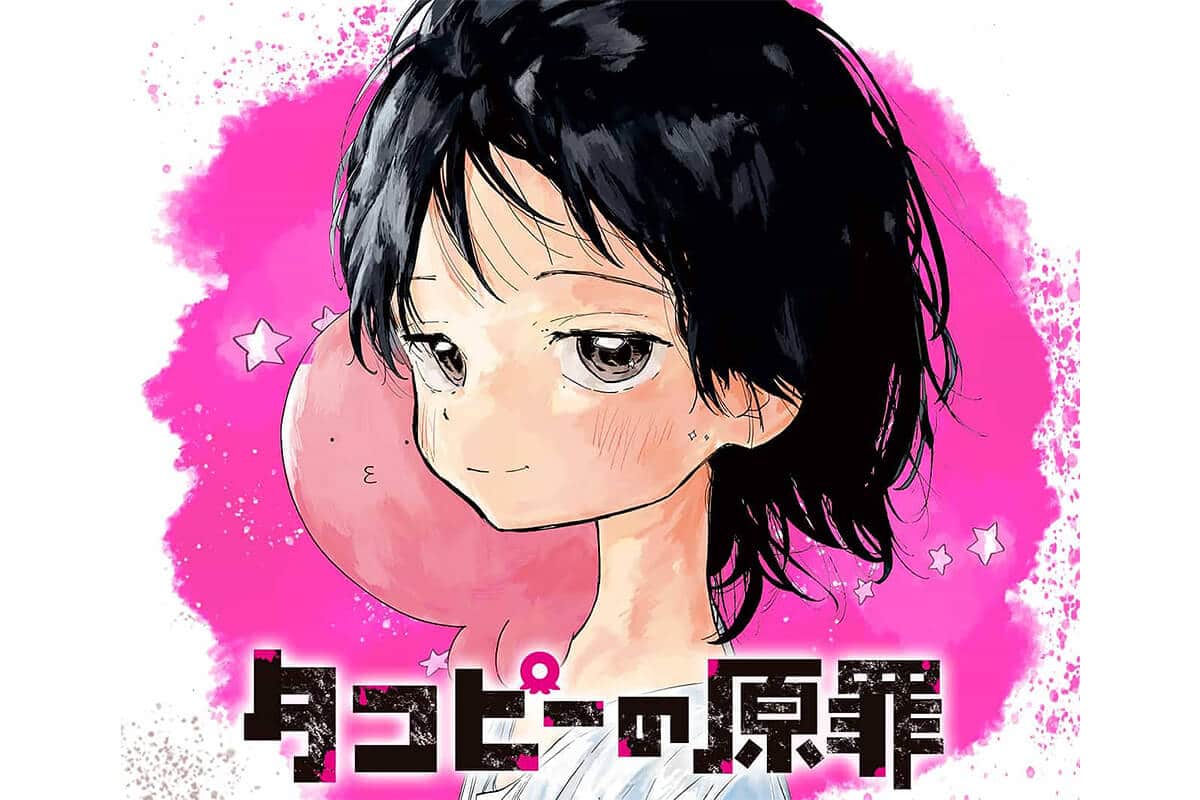 Takopi's Original Sin is a drama, sci-fi manga by Taizan 5 that has skyrocketed in popularity over these past few months. I couldn't be happier that it has because it is one of my favorite new manga series to release within quite some time.
I thought Goodnight Punpun by Inio Asano was a tough read, and don't get me wrong it definitely is, but there's something about the compactness of Takopi's Original Sin and the topics it explores that make it just as much, if not more, of a heavy read. While Goodnight Punpun is a story that unfolds over multiple volumes, Takopi's Original Sin hits you hard from the get go and continues to do so over the course of its two volumes.
These two share a lot of similarities. Both are incredibly difficult to get through, but they are some of the most amazing stories I've ever read. What's unique about Takopi's Original Sin, though, is that it's a sci-fi story about Takopi, an alien from Happy Planet, a utopia where everyone is kind and happy, who meets a girl named Shizuka. In his interactions with her, he discovers that sadness and anger are part of human existence.
Through his experiences on Earth and his time with Shizuka, Takopi learns to cope with new emotions he's never experienced before, the consequences that come with your actions, and how to be compassionate towards others, all while trying to get home.
The series' serious tone contrasts with the main character Takopi, an octopus-like alien who is really cute. This story tackles complex, dark topics, but in ways that are interesting and original, and it's a harrowing read you won't soon forget. If you have yet to check it out, you can read Takopi's Original Sin now on Manga Plus!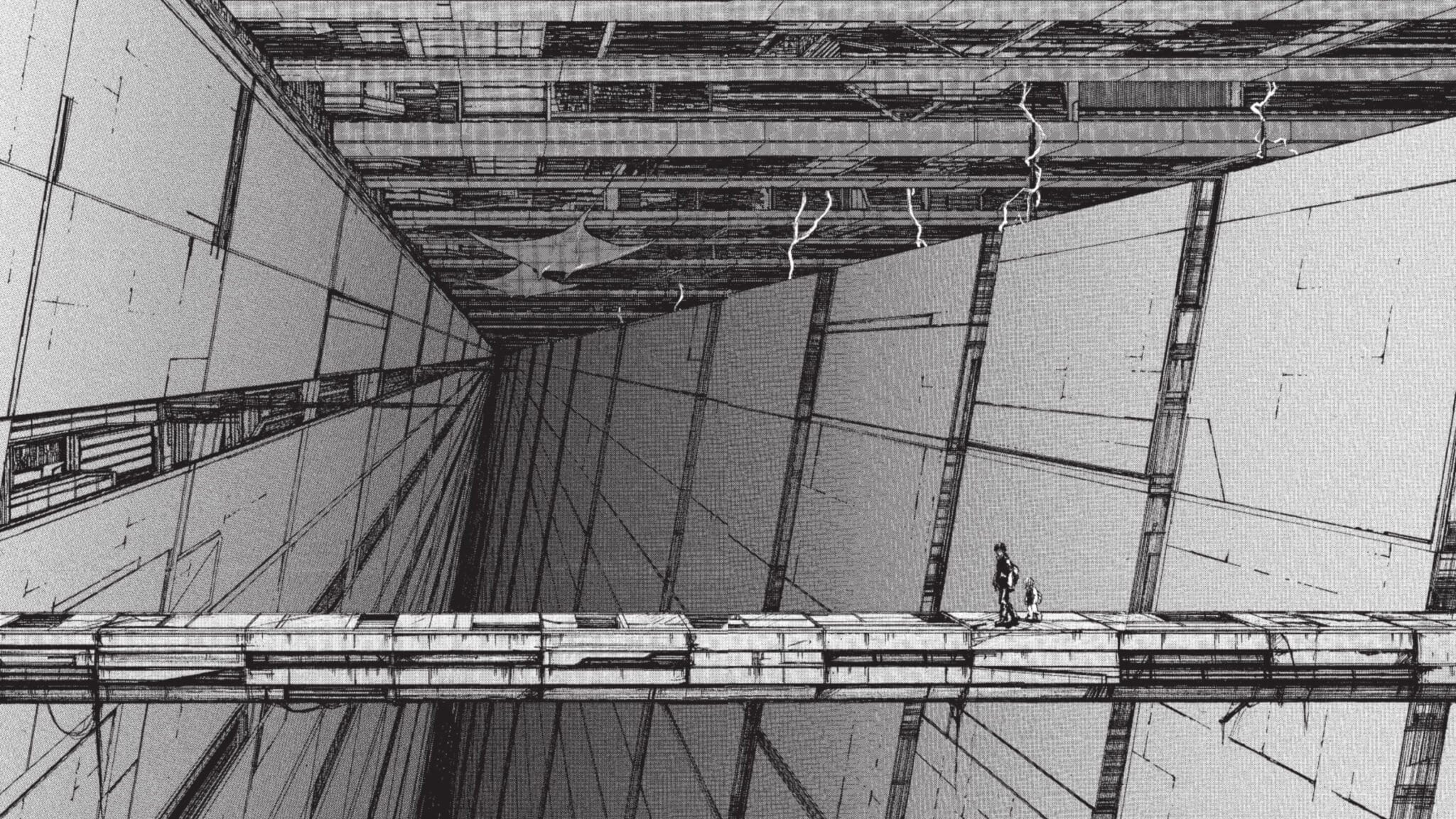 Blame! by Tsutomu Nihei
Tsutomu Nihei is a master at creating futuristic, otherworldly sci-fi worlds, and he's shown this time and time again in manga like Knights of Sidonia, Abara, Biomega, and more. He is one of the best sci-fi manga creators out there, and you are going to get a unique and incredible experience no matter what series of Tsutomu Nihei's you read, but Blame! is my favorite manga of his.
Blame! is a story about Killy. He is making his way through this giant superstructure that is far bigger than we could ever imagine in search of something called the Net Terminal Gene. Over the course of his journey, he meets new allies and people, but he also comes across opposition from the Safeguard and the Silicon Life. There is of course more to this story, but I can only tell you this much, because I don't want to spoil anything for those of you who have yet to get into the series.
One of the main reasons I love Blame! so much is Tsutomu Nihei's art, which is a lesson in perspective and scale. You really get the sense that the structure Killy is moving through is massive, because the locations he moves through on his journey are large as well. The way he shows scale with the characters also, whether be in comparison to one another or a structure, such as a bridge, is top-notch.
Whether it be Killy and Cibo hanging in the sky with a birds eye view of what's below them or Killy walking over a bridge, every step of the way, the way he conveys the vastness or sheer size of this world and the perspectives he uses to show that in his art are just unbelievable and further immerse you in the story.
His character designs too are something to witness. While the portraits of his characters are rather simple, which some may or may not be a fan of, the outfits of the characters are incredibly detailed and intricate. The way he designed them further hones in the fact that Blame! is set in this dystopian, futuristic setting and the weapons, such as the Gravitational Beam Emitter, further add to the believability of this world. The designs of the Silicon Life are both marvelous and horrifying. Their designs in particular sometimes remind me of H.R. Giger's art, which is a huge compliment given that he is one of the most prolific names in sci-fi.
One of the biggest factors that keeps me invested in a sci-fi manga is if it has a rich and well-thought-out world that pulls you in and immerses you in its story, and while a lot of series have good world-building, few do it as well as Tsutomu Nihei's Blame!.
Tsutomu Nihei is collaborating with Polygon Pictures on a new anime titled Ōyukiumi no Kaina that you may want to check out in the future. NOiSE, the prequel to Blame!, is also coming back to print thanks to Kodansha!
Read more on why Blame! is one of my favorite manga! You can also check out my full review of Blame! on my YouTube channel below if you'd like.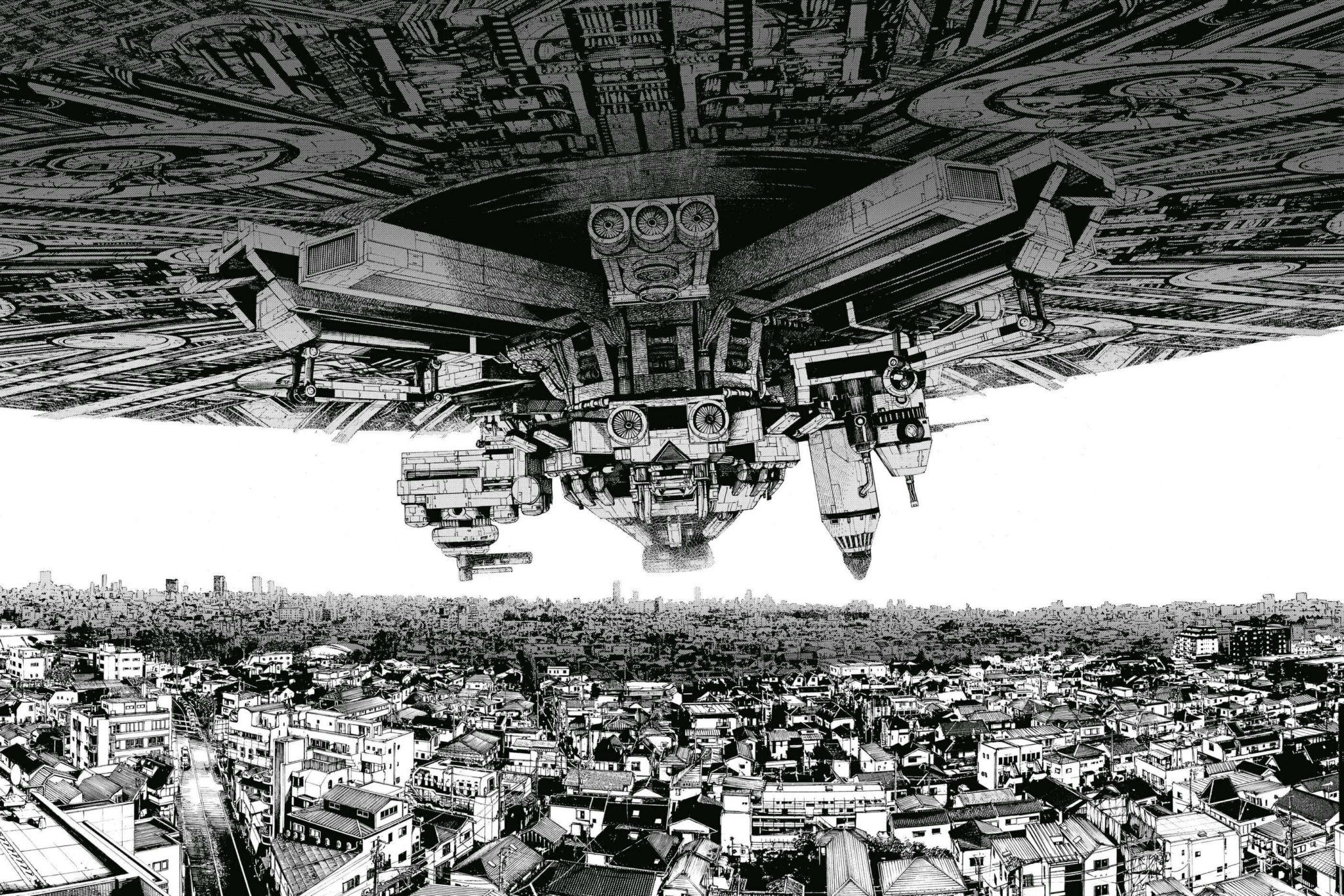 Dead Dead Demon's Dededede Destruction by Inio Asano, who you may also know as the creator of Goodnight Punpun and Solanin, is unique on this list because it's not only one of my favorite sci-fi manga, but it's one of my favorite comedy manga and slice of life manga as well. Not only does it blend slice of life and sci-fi together flawlessly, but it is one of my all time favorites of his.
For those of you who are new to Dead Dead Demon's Dededede Destruction, the story is set in Tokyo. But when the citizens of Tokyo look up to the sky, they don't see a blue expanse. Instead, they see an alien mothership looming above them. Who are these "invaders" and what do they want?
This fear of the unknown creates fear within some people and the government and the response is anything but peaceful. This creates a rift between those who would like to seek conversation and peaceful treaty with the invaders and those who would rather use force instead. It really takes a good look at what people would do in the face of something or someone they don't quite understand.
Alongside this overarching storyline, we follow MC's Koyama Kadode and Nakagawa Ouran as well as their main group of friends, who are trying their best to live a normal high school life in the midst of all that's going on. So, on one hand, this story really takes a hard look at society, but it's also a coming-of-age story as well. And as they learn more about themselves and the situation that's happening around them, they find out that the real threat to humanity isn't the invaders, but is rather humanity itself.
Inio Asano's manga always have an interesting cast of characters, but they also feature great social commentary. He yet again shines in both of these areas with Dead Dead Demon's Dededede Destruction. But what makes this one unique more so than any other series he's released before is its sci-fi themes.
It was also confirmed that a Dead Dead Demon's Dededede Destruction anime is on the way!
Akira by Katsuhiro Otomo
Akira by Katsuhiro Otomo is a series that probably needs no introduction. It's a classic that still holds up to this day and it has only continued to grow in popularity since its release in the 80's. Not only is it one of the best sci-fi as well as cyberpunk manga to ever release, it has made a huge impact on the manga and anime industries and beyond.
Akira is an epic saga, set in a dystopian version of Tokyo that has been devastated by a thermonuclear attack. Biker gangs control the streets, while the wealthy and powerful are engaged in unethical experiments designed to unleash destructive supernatural powers on an unsuspecting populace. Akira continues to be one of the most prominent forces in post-apocalyptic fiction with its dark themes and groundbreaking premise.
As mentioned earlier, Akira was written in the 80's, but the story is set in 2019. If you have yet to read Akira, it's interesting to read a story that takes place in about the same time we are living in now. To see how one person envisioned what our world would be like today, and how it compares to the world we currently live in, makes it that much more enjoyable to explore.
If you've already seen the Akira anime film but have yet to read the series, I highly recommend it. Not only is it ahead of its time, but it is one of the best stories I've ever read. There's a lot more content in the manga that wasn't included in the film, so there's even more to experience.
The best way to read the series, in my opinion, is via the Akira hardcovers that come in the Akira 35th anniversary manga box set, which is my favorite manga box set to release to date.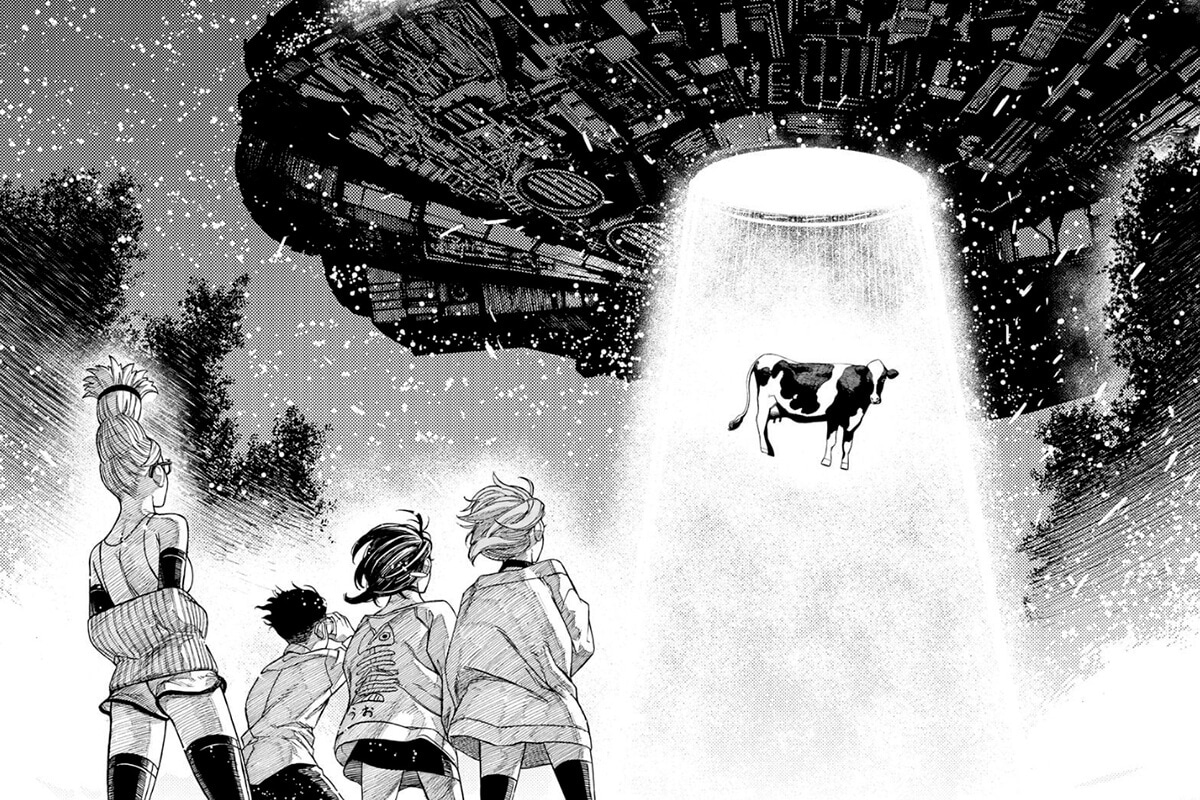 Dandadan by Yukinobu Tatsu
Dandadan by Yukinobu Tatsu is quite the trip. This is one that a lot of people may already recognize because it was recommended by two of my favorite manga creators, Tatsuki Fujimoto, the creator of Chainsaw Man and Fire Punch, and Yuji Kaku, the creator of Hell's Paradise, which is getting an anime adaptation, and Ayashimon. This definitely makes sense because Yukinobu Tatsu was an assistant to both of them.
If you haven't checked out Dandadan yet, the story follows Momo Ayase, who comes across a boy named Ken Takakura that's being bullied. Because of her kind heart and her knack for jumping into situations without thinking, she ends up confronting the bullies and saving Ken. Ken then takes this opportunity to try and make a friend and attempts to connect with her by talking about one of his favorite topics: The occult. Ayase rejects his claims and says she doesn't believe in aliens, but that she does however believe in ghosts. Funny enough though, Ken doesn't believe in ghosts.
The two break out in an argument and set up a challenge to determine who's correct; Ayase will head to a fabled local alien hot spot and Ken will head to a fabled local ghost hot spot. When they both reach their destinations though, it turns out that both of them were right. Not only do aliens exist, but ghosts do as well. Thus begins their wild journey as they attempt to navigate the supernatural and sci-fi worlds they've stumbled into and work together to return their lives back to normal.
There is a charm to Dandadan that is undeniable and it's absurd in the best way possible. This one had me saying "What the hell am I reading," especially when I first got into it. Aliens obsessed with bananas and a turbo granny, that's all I'm going to leave you with. Definitely not a bad thing though, because I loved every second of it; It's quirky and wacky, but in a lovable and funny way.
Dandadan is set in a world that has both sci-fi elements, like aliens, and supernatural elements, like ghosts, in it. Instead of focusing on one or the other, the two collide in this world, and this makes it unique and intriguing. Dandadan is one of the best modern shonen manga to release as of late
Dandadan began releasing digitally on the Shonen Jump app in August 2021. You can read Dandadan online on select manga readers and sites. Viz later confirmed in February 2022 that Dandadan is getting a print release with English translation starting in October 2022!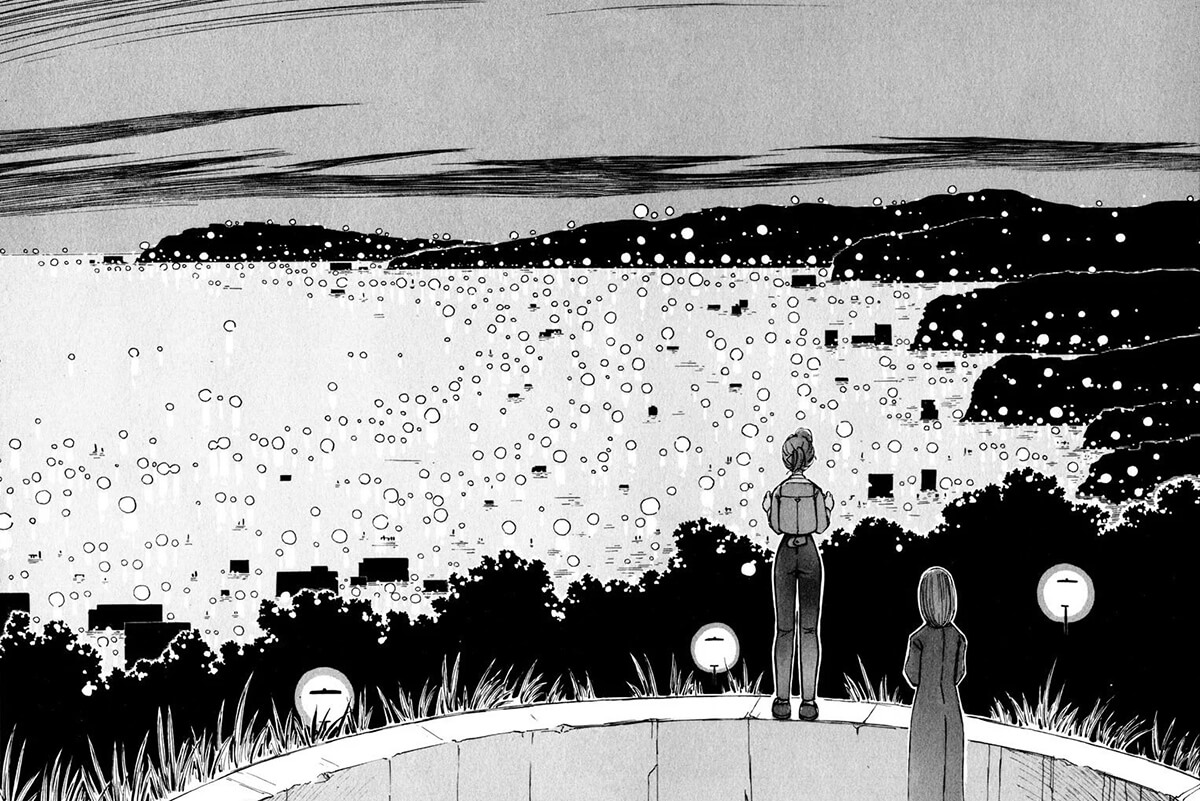 Yokohama Kaidashi Kikou by Hitoshi Ashinano is a slice of life sci-fi manga that is severely underrated for how incredible it is. Seven Seas are publishing the series for the first time with English translation in a Deluxe Edition format, and it is one of my most anticipated new manga releases of 2022!
Set in a post-apocalyptic world, Yokohama Kaidashi Kikou follows an android named Alpha Hatsuseno, who runs a small cafe outside of Yokohama that the owner left in her care, on her everyday journeys. She meets a lot of different people over the course of the story, and she learns and gains a lot through her interactions with them. While it's a sci-fi, Yokohama Kaidashi Kikou is set in a rural place, where life is quiet and slow, and even though this is a futuristic society, it doesn't necessarily feel like one because it is still very much of this world.
The story has a melancholic, bittersweet tone, but it's still a light read. Everything has its time, and Yokohama Kaidashi Kikou highlights the transience of the world in a way that, while tragic, is ultimately beautiful. In most post-apocalyptic manga, the world is crumbling, humanity is fighting against itself for resources, and all chaos breaks loose, but in this story, humanity has accepted their fate and is living out their days as best and as peacefully as they can. As a result of this, it's an extremely refreshing read. Given that the story is told through the eyes of Alpha, who never ages, we see the world change around her, so it has a unique perspective as well.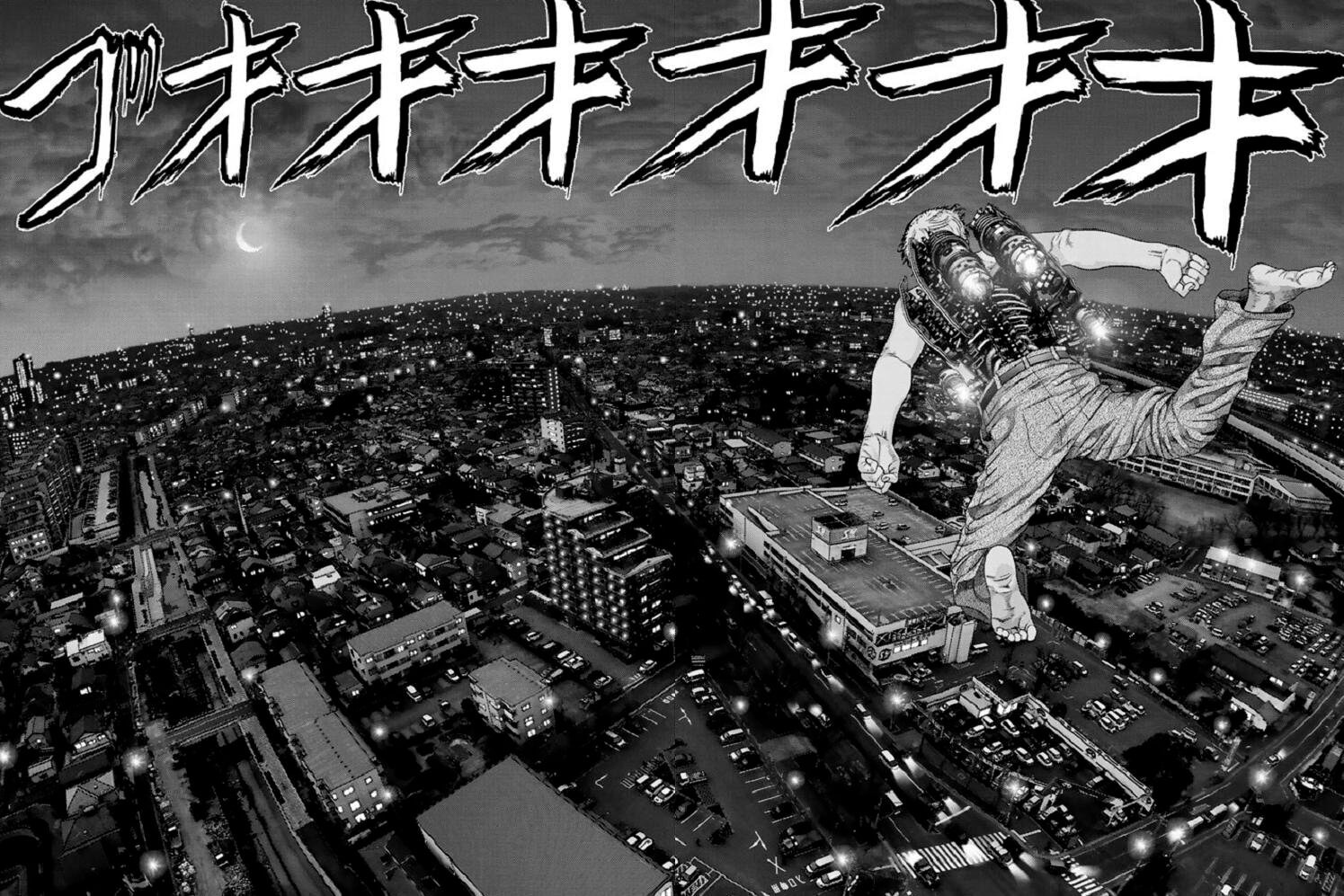 Inuyashiki is a fast-paced action sci-fi manga from the creator of Gantz, Hiroya Oku, which is also featured on this list. The premise of Inuyashiki is very similar to something you'd see in western superhero comics. After a freak accident, our two main characters are killed and reassembled by aliens into high-tech war machines. How will these two people use their newfound power? Will they help the world or seek to destroy it?
On the surface, Inuyashiki might seem pretty straightforward. It would be easy to say that it is just a story showcasing good vs. evil, but I think it's more so a story of redemption. Even though it is action-forward, which I love, I enjoyed the more philosophical moments in Inuyashiki too. As each character struggles in their own ways to cope with their new powers, you watch how they develop over the course of the chapters and witness how it shapes their individual lives.
I'm happy Kodansha decided to publish this one in their slightly oversized format, because the art in Inuyashiki is incredible. This comes as no surprise given it was created by Hiroya Oku, who has impressed me time and time again with his highly-detailed, realistic panels. The backdrops and cityscapes are beautiful and the level of detail in the internal mechanics of the characters is mind-blowing. At 10 volumes, Inuyashiki is a quick read, but it's a timeless story that will stay with you long after you're finished reading.
Psyren by Toshiaki Iwashiro
Psyren is a sci-fi, supernatural series by Toshiaki Iwashiro that—when it comes to shonen—is relatively underrated. The story follows high schooler Ageha Yoshina as he dives into the fabled world of Psyren to save his fellow classmate Sakurako Amamiya. What unravels from there is a high-stakes death game that pits Ageha and his friends against the monsters of Psyren, the "Taboo". Everything is not as it initially seems though and there are plenty of twists along the way.
Psyren is great because it constantly keeps you guessing. Once I started reading the series, I couldn't put it down because each volume left you with huge cliffhangers. Like many other shonen, this series has exciting battle sequences and a great cast of characters, but it stands apart thanks to the mystery, thriller and sci-fi aspects of the story.
Psyren is frequently compared with another series on this list, Gantz, and while I get the similarities, these series really only share a general premise. If you're looking to get into a shonen series that doesn't have long drawn-out training arcs or pacing issues, Psyren is right up your alley. You can read the series in the Viz app or it can be collected physically via the 16 volumes released by Viz!
Hinamatsuri by Masao Ohtake is a comedy sci-fi series about a Yakuza member, who takes in a girl named Hina that has telekinetic abilities. You can only image the comedy that ensues from a Yakuza member living his best bachelor life, like Nitta, who suddenly becomes a parent overnight to a middle school girl, let alone one with unpredictable as well as destructive powers. He has to change his way of living now that she's in his life, which adds humor to this story, but this also makes it a heartwarming read.
As with many series on this list, one of Hinamatsuri's strengths is its characters and the dynamics between them. You have a main group of characters that interact with one another, but this manga does a great job at focusing on their individual journeys as well. As a result, you really see them come together, but also grow individually. Hinamatsuri doesn't spend too much time focusing on one character, which is refreshing, but there's also a strong sense of family as you watch this band of misfits bond together.
The series is very episodic too, which is common of comedy manga. It's very slice of life in the way that it follows the everyday lives of the characters, but of course, Hina, as well a few others, mix things up with their powers. All in all, this one is as endearing as it is funny.
If you like dry humor and stories about Yazuka members doing everyday things albeit with an anything but ordinary girl, you'll enjoy Hinamatsuri!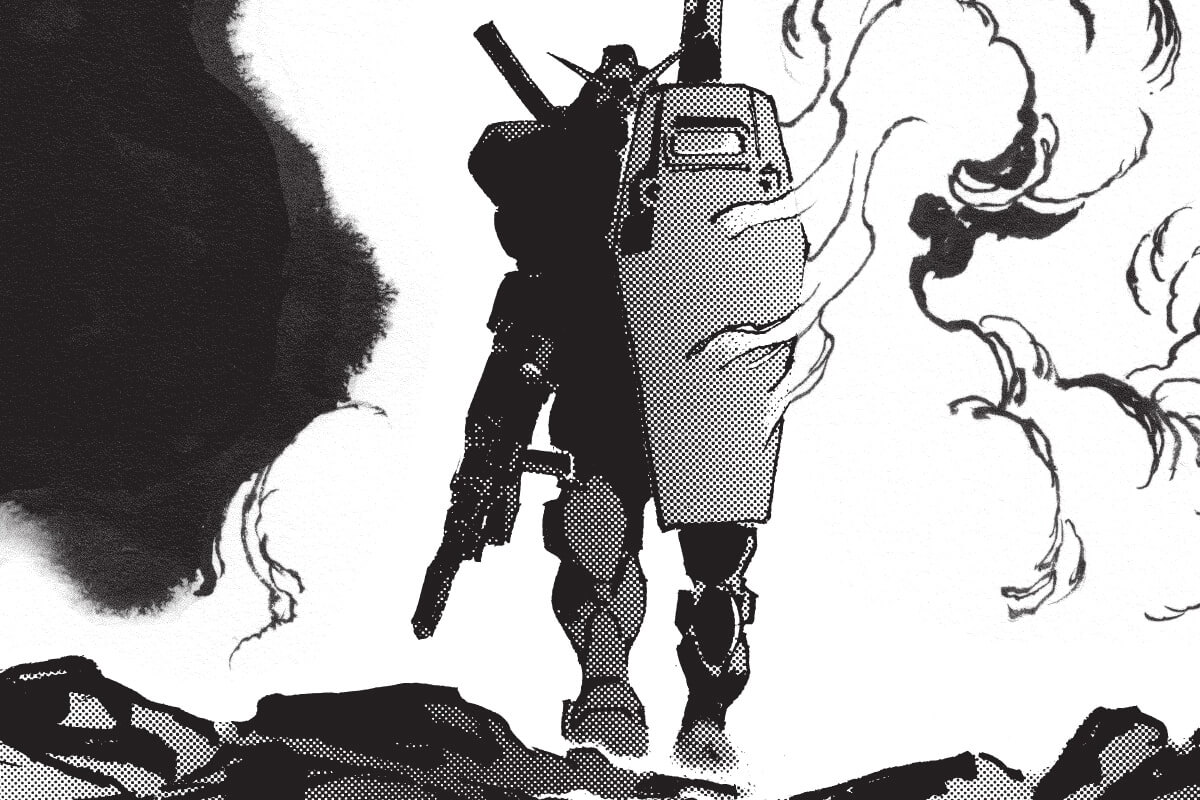 You can't have a best sci-fi manga list without featuring Gundam, especially Mobile Suit Gundam: The Origin, which is one of the best mecha manga to release of all time. Mobile Suit Gundam: The Origin's anime, which is the first entry in Gundam's longest running timeline Universal Century, is the very first series to release in the Gundam franchise. Want a rundown on all of the Gundam timelines? Check out our simple guide to Gundam!
The Mobile Suit Gundam: The Origin manga, however, released later down the road and is inspired by the anime, so it offers a new experience for fans of the original series. This story has been retold a number of times, but for me, Mobile Suit Gundam: The Origin by Yoshikazu Yasuhiko is a more hashed out, more mature version and the story additions further enhanced this already esteemed and outstanding story.
If you are familiar with the source material, you will notice some differences or changes in the manga. I love that the manga gives us more backstory on some of the events as well as the characters in Mobile Suit Gundam: The Origin. Both the anime and the manga are great, but the manga expands more on the original. Essentially, it's the original story with some changes and some new additions. On top of having an incredible and revamped story, the artwork by Yoshikazu Yasuhiko is beautiful to witness.
If you enjoy mecha series or you are looking for an entry point into the Gundam universe, Mobile Suit Gundam The Origin is the best place to start. It's filled with great artwork, has a compelling story, and it has one of the best manga antagonists of all time, Char Aznable.
The best way to collect the manga, though? I highly recommend checking out the Mobile Suit Gundam The Origin hardcovers!
Pluto by Naoki Urasawa & Osamu Tezuka
Pluto is Naoki Urasawa's take on Astro Boy's The Greatest Robot on Earth arc and it is one of my favorite sci-fi manga to release to date. In the postscripts of the volumes, I read that Macoto Tezuka, who is the son of Osamu Tezuka, the Father of Manga, first said no to Urasawa's proposal, but after meeting with him, later accepted with one condition: He had to go toe to toe with his Dad and create something entirely different and new.
The combination of Tezuka and Urasawa, who has already penned masterful works like Monster and 20th Century Boys, is a no-brainer given what they both have achieved and the type of works they create. What Urasawa adds to Astro Boy is an air of mystery, a story where the world's greatest robots are being hunted down and killed by an unknown killer.
Instead of the main character being Astro Boy, or Atom as he is called in Pluto, we follow a detective named Gesicht. Gesicht is a robot, but through his actions and interactions with others, we see that he's very much human. In Pluto and Astro Boy, the human and robot relationship, and how the line between the two is so often blurred, is explored. Urasawa delves into this even further in Pluto, and showcases the struggles and discrimination that robots face in this world.
The big thing Pluto really questions, though, is what happens when the line between robot and human no longer exists, and human-like emotions, such as hatred and sadness, are brought into the mix. Being that it's set in a post-war society and highlights the aftermath that war has had on the people, both robot and human alike, it's many times a heartbreaking, harrowing read, but it's also thrilling and exciting thanks to the mystery and action that fills its pages as well.
Urasawa didn't stray too far from Astro Boy, or Tetsuwan Atom as it's known in Japan, so it's a respectful retelling, but it breaks the mold as well. As a result, it's one that fans of the original series will find familiarity in, but it offers an entirely new experience too. It's a fantastic retelling of The Greatest Robot on Earth arc and it has one of the most enthralling stories, and some of the most striking panels, in all of sci-fi manga.
Gintama by Hideaki Sorachi
Few series have been able to make me laugh as much as Gintama by Hideaki Sorachi. Although, Grand Blue came close in the comedy manga category, Gintama is the most hilarious sci-fi manga I've ever read. It is also my favorite shonen manga to release to date, because it has such a uniquely crafted and interesting world as well as one of the best cast of characters.
A lot of people love Gintama because of its humor, including me, but to say that Gintama is just a comedy would be doing it a disservice. Even though the series' absurdness and Hideaki Sorachi's sense of humor is a large part of its appeal and success, Gintama has so much more to offer.
Gintama gets serious later on, and while its main character Gintoki is a lovable dope, he's a complete badass as well. It's a well-balanced series that is chock-full of sidesplitting as well as action-packed panels, but it has relatable characters and moments that will connect with you on a deeper level too.
Another thing about Gintama that I love is the fact that it's episodic, but it also has an overarching story that ties everything together. The story follows Gintoki and his friends at Odd Jobs, who take on a myriad of different requests. It's set in the Edo period, but aliens called Amanto have taken over, so it has a very unique and interesting world.
Gintama was released with English translation by Viz, but only 23 of the 77 volumes were released. Here's hoping the series is fully translated one day, because it definitely deserves it!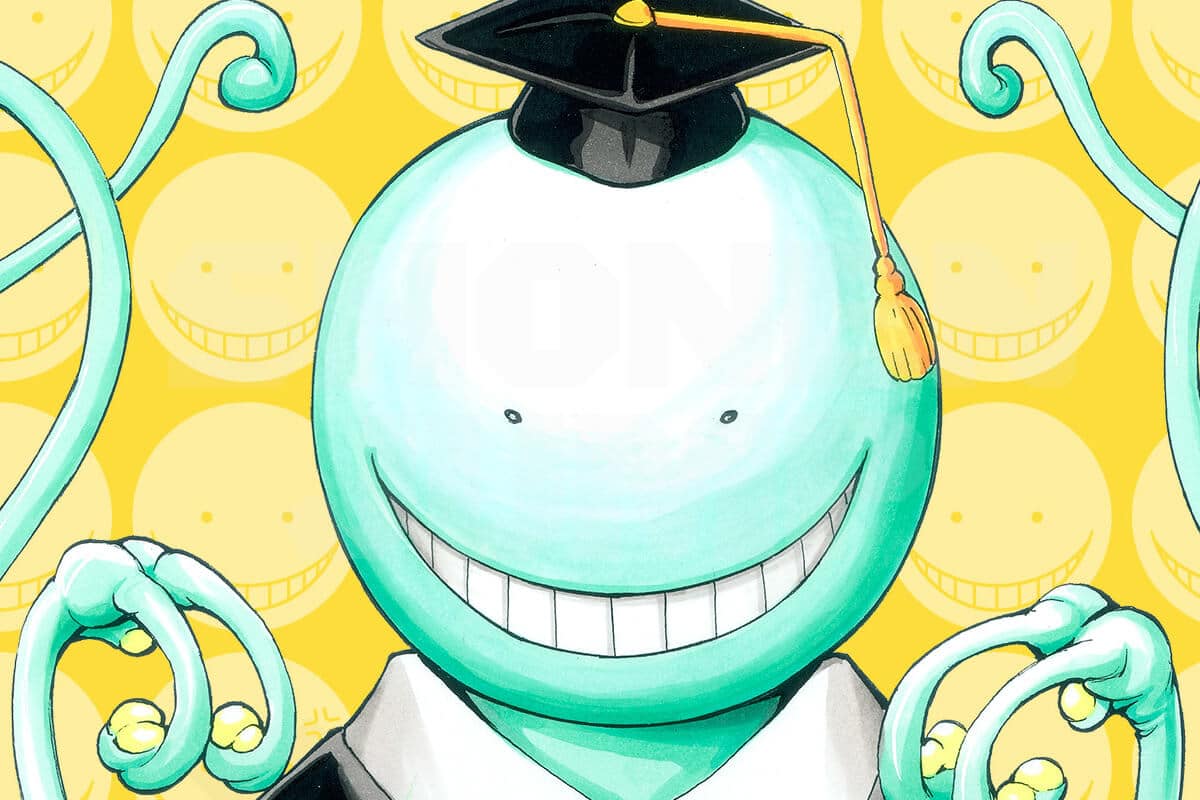 Assassination Classroom is a unique shonen and sci-fi manga that takes a hard look at the education system. Not only does it showcase various teaching styles over the course of the series, but it showcases the individual strengths and talents of the students in Class 3-E, a misfit class that are tasked with sharpening not only their skills as a student, but their assassination skills as well. Their target? Their otherworldly teacher Korosensei that looks like a yellow octopus and has a myriad of unbelievable powers and abilities, including the ability to move at mach 20 speed, regeneration, and more.
The students in Class 3-E, which are excluded from Kunugigaoka Junior High School, struggled in their studies in the past, but Korosensei sees the potential in them from day one. He notices their strengths and weaknesses and changes his teaching style in order to best help each student. Korosensei even takes an AI under his wing. He treats everyone the same, but different as well, to foster their strengths, improve on their weaknesses, and ultimately, help them reach their full potential.
On one hand, you see Korosensei being such an incredible teacher, one you'd dream to have yourself, but on the other hand, you are told from the start that he's a threat to humanity. Not only did he allegedly blow up part of the moon, but he also plans to do the same to Earth as well unless one of the students assassinate him within a set timeframe. So it's an interesting dynamic. You see the students really grow to love and appreciate Korosensei, but they are also always trying to assassinate him as well.
There is a very serious tone to this manga and it has a lot to say, especially in regards to education, but it's funny and heartfelt as well. On top of all that, it has a incredible cast of characters. Even though it's a large cast too, each character is given their time in the spotlight, so you'll connect with them all. It focuses a lot on the group dynamic, but spends time highlighting each individual as well, which is unique.
It's one of my all-time favorite shonen manga, and while it's loved by many, it's still underrated in comparison to other series in the genre.
The Disastrous Life of Saiki K. by Shuuichi Asou
The Disastrous Life of Saiki K. is comedy sci-fi manga set in school. This one really captured my attention because our main character Kusuo Saiki has psychic powers, and the list of what he can do with his abilities is long. He's one of the most overpowered main characters in manga yet feels no need to use them and he's trying to keep this all a secret from his classmates, which only adds to this story's humor and charm.
If you have yet to check this one out, it is somewhere in the vein of Hinamatsuri and Mob Psycho 100, so if you enjoy manga like these, The Disastrous Life of Saiki K. is most likely right up your alley. One thing I love about The Disastrous Life of Saiki K. is its pacing. It's really fast-paced, but nothing feels rushed, because the events that happen in this manga occur in Saiki's everyday life. Since life is unpredictable, so is The Disastrous Life of Saiki K.
That's actually probably one of the best ways to describe the series, unpredictable, because you never know what's going to happen next whether it be in regards to the story or its humor. It's just one of those really feel good, never fails to cheer me up types of series and it has a special place in my heart because of this.
I really hope we get a English translated print release of The Disastrous Life of Saiki K. soon, but it has a great anime adaptation if you'd like to check that out in the meantime. It's actually one of the best anime streaming on Netflix now!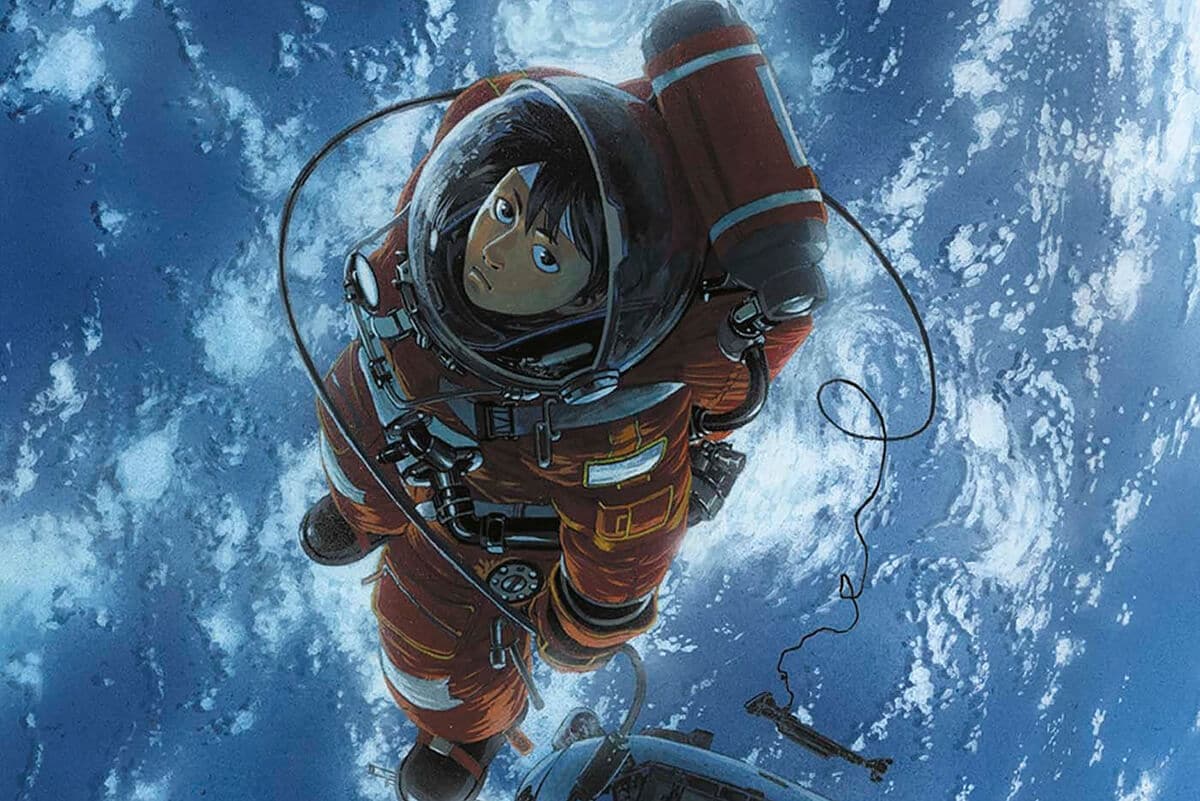 Planetes by Makoto Yukimura
Planetes, a sci-fi space manga, is the first series by Makoto Yukimura, who is well-known as the creator of another favorite of mine, Vinland Saga. Planetes was first released with English translation in 2003 by Tokyopop, but it was later released in a new omnibus format by Dark Horse. I recently compared both of the Planetes manga editions on my YouTube channel if you'd like to check it out!
There aren't a ton of space manga out there, which is a shame, because manga set in space are some of the most wondrous and thrilling series you can experience. Out of those that exist, though, Planetes is my favorite. The series is set in the 2070's in a time when interplanetary travel is possible. While this is a great step forward for humanity, excess space travel has caused an increase in dangerous space debris, and someone has to pick it up. Enter aspiring explorer Hachimaki and his space-garbage crew.
Planetes is rooted in reality, and because it follows the rules of our world, it's more so a hard sci-fi than anything. While there's nothing surreal about this story, it still feels so surreal because of the things these characters are doing in their everyday lives. Planetes places a strong emphasis on its characters, but one can hardly complain with such an captivating cast. The character development in this series is top-notch and you'll really connect with the individuals in the crew.
If you are looking for a sci-fi series that, at times, feels very much like a slice of life, Planetes is one you'll want to check out. It isn't as flashy as other sci-fi manga, but this makes it unique and refreshing. Don't get me wrong, I love a good over-the-top, action-packed story, but Planetes is so good that it doesn't need any gimmicks to stand out.
Melancholia by Douman Seiman
Douman Seiman is well-known for The Voynich Hotel, which is one of my favorite horror manga, but he also wrote and illustrated one of my favorite sci-fi manga as well, Melancholia. Much like The Voynich Hotel, Melancholia is made up of short stories, and while it may seem confusing at first, everything will feel more cohesive by its end. With an atypical art style and a dark feel, it's one of the most unique titles on this list.
Melancholia is a bizarre story that combines supernatural and sci-fi elements much like Dandadan does, so if you are a fan of these two genres, it blends them together well. Although, since this one is a collection of short stories of sorts, they feel more self-contained. That is, at first glance.
Each story follows a different character(s) and has a different theme from apocalyptic events and talking cats to aliens, so it's a wild ride to say the least. It's chock-full of black humor also, which I really enjoy, but the humor in this one is definitely an acquired taste. All in all, Melancholia is melancholic as foreshadowed by its name, but it's enjoyable and funny too.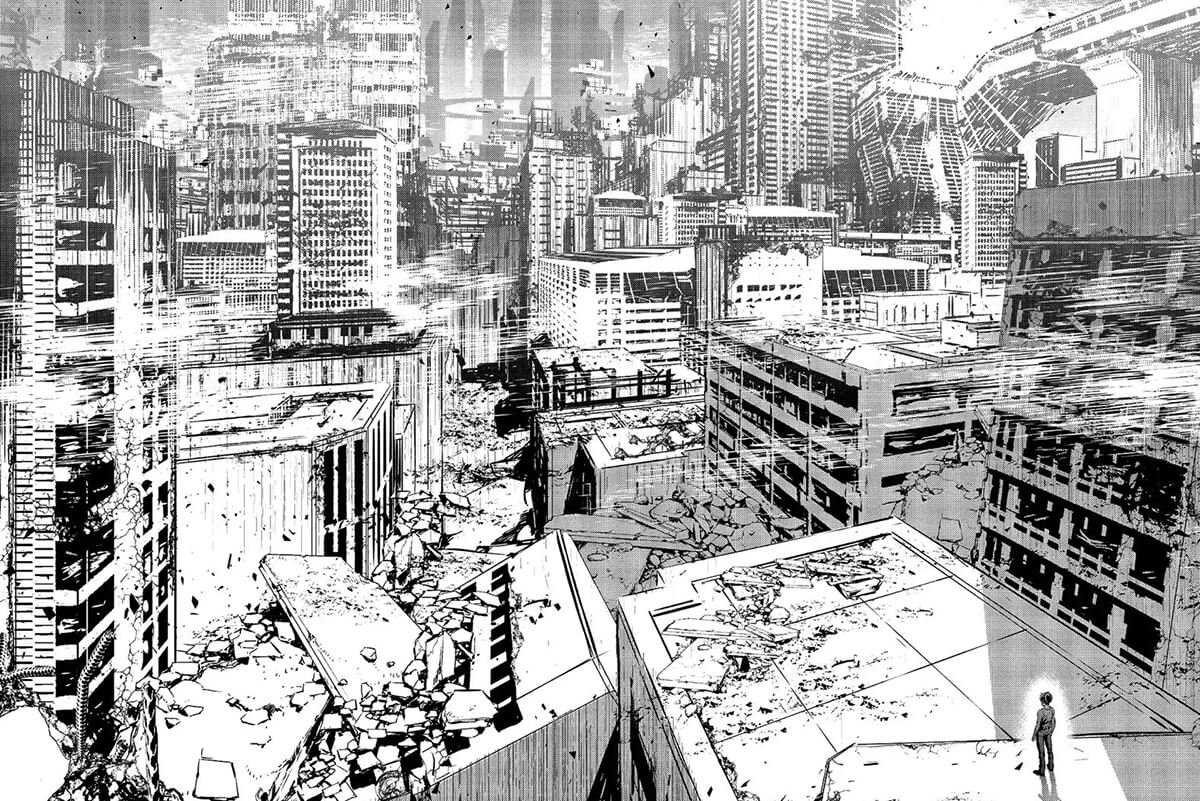 Rebuild World by Kirihito Ayamura & Nafuse
Rebuild World is an action sci-fi manga and it's based in a world that was once technology advanced, but a collapse occurs that changes everything. It's one of the best new sci-fi manga to come out within quite some time.
Our main character Akira has dreams to make it out of his birthplace Slumtown, which is right next to the dangerous wastelands and make something of himself, so he becomes a hunter and ventures into the ruins of the Old World, where relics worth money reside, but perils await in this region as well. There he meets a mysterious entity named Alpha, who brings him his first commission as a hunter. He signs a contract with her and she supports him on his missions, but to what end?
Apart from having a really interesting story that's full of action and danger around every corner, which is somewhat expected for a survival manga, I really like the characters and the world it's set in. My favorite thing about Rebuild World, apart from its world-building though, is its art. The panels are highly detailed, super clean, and they are beautiful to witness. Some of the best panels I've seen in a recently released series, so on top of having an interesting world, premise, and characters, Rebuild World has phenomenal art. If you are into survival stories or advanced tech, I highly recommend checking this one out!
Bokurano is a mecha sci-fi manga that is about a group of fifteen kids, who wander into a seaside cave one day and meet a man named Kokopelli. He tells them that they will play a "game," where they'll pilot a mecha to protect humanity against alien invaders. But the truth is far more sinister...
Each time an alien materializes, one kid in the group is chosen to pilot the mecha, so each "mission" is centered around a new character. Most of the time in mecha series, you have one pilot who pilots a mech, but in this story, there are 14 different pilots. Because of this, it's a unique story but it's also interesting, especially given that the pilots all have different upbringings, personality styles, attitudes, motivations, and values. Some value human life and want to be a hero, while others don't value human life at all and would rather cause chaos.
The situation that these kids find themselves in make it a brutal read. Anytime a group of kids is tasked with piloting a mech, I know things are going to be tough. I really think of series like Darling in the Franxx, Mobile Suit Gundam: Iron Blooded Orphans, which is one of my favorite mecha anime on Netflix, or pretty much any Gundam series for that matter here, but Bokurano is one of the most heart-wrenching I've ever read. It's actually up there with the likes of Neon Genesis Evangelion for me. Both are quite similar, especially in regards to their tone and the designs of the enemies they are fighting against.
That being said, if you enjoy dark mecha manga that highlight not only the physical impact that piloting has, but also the psychological effects it has as well, you'll want to give Bokurano: Ours a read.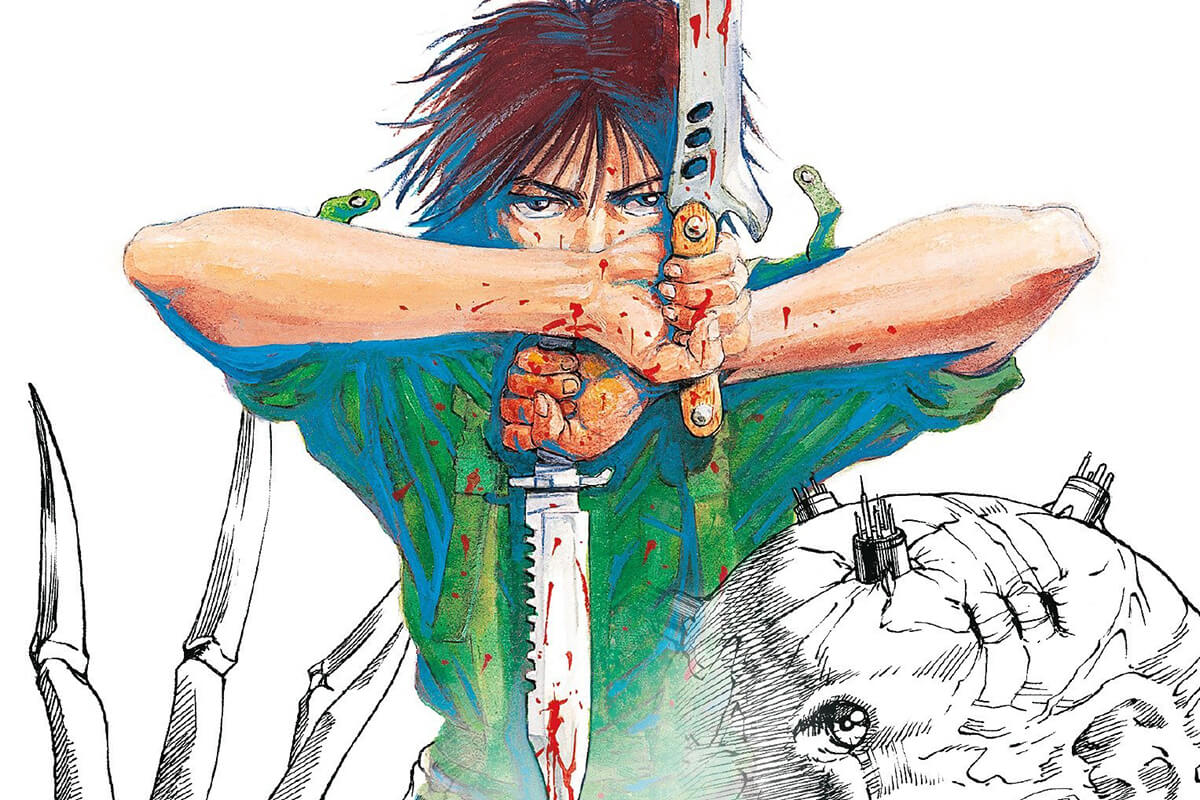 Eden: It's an Endless World! by Hiroki Endo, who you may also know as the creator of All Rounder Meguru, is one of my favorite survival manga as well as sci-fi manga of all time. It also has a cyberpunk feel and is more violent and dark than most of the series on this list, which puts it more so in the category of series like Akira. Even though it's one of the best to release so far, it's still a highly underrated sci-fi manga.
One reason as to why this could be is because it is so expensive to collect right now, especially given that the Eden: It's an Endless World! singles by Dark Horse are out of print. There is hope that Eden: It's an Endless World! Deluxe Editions will be released some day, like they did with Hellsing and Berserk.
Eden: It's an Endless World! is set in a post-apocalyptic future, where a devastating virus that hardens the skin and dissolves internal organs is ravaging humanity. Those who aren't immune are left severely crippled or, if they can afford it, live on with cybernetic enhancements.
In a world thrown into chaos, a paramilitary group called the Propater has toppled the UN, setting up its own government with the intent of taking over the world. Elijah, a young man searching for his lost mother, travels towards the Andes Mountains with an artificially intelligent combat robot. When he encounters a group of freedom fighters opposed to the Propater, a diverse cast of fascinating characters enter this story.
Eden: It's an Endless World! is set in a cold and harsh world, so you see the absolute worst of humanity in this manga. Despite this, you do get some moments of warmth and light between the characters, but even still, it is a brutal read. Eden: It's an Endless World! focuses a lot on realism, and because of this it's believable. It's the way that Hiroki Endo envisioned as well as executed this futuristic, bleak world, though, that is the most compelling thing about Eden: It's an Endless World!.
Terra Formars by Yu Sasuga & Kenichi Tachibana
Terra Formars by Yu Sasuga and Kenichi Tachibana is a survival manga as well as an action sci-fi manga where an attempt to terraform Mars goes terribly wrong. The world's greatest scientists are tasked with coming up with a plan that would heat the surface of Mars to the point where it would be inhabitable by humans. They choose to achieve this by sending cockroaches to inhabit the surface of the planet. 
The story picks up during the first manned mission to Mars, in the year 2577, where a crew of six discovers a civilization of highly intelligent, giant humanoid cockroaches with unbelievable physical strength. The crew is wiped out with ease, but is able to send one last transmission to Earth, warning them of the dangers on Mars. Now, Earth's strongest nations must assemble teams of genetically modified super soldiers to reclaim Mars and save the human race.
One indisputable strong point to the series is its art. Kenichi Tachibana's attention to detail is next level and the battles in this series are beautifully drawn. Terra Formars is an action-packed story where new powers and enemies are always being revealed, which makes for an exciting read. At times, it reminds me a little bit of the movie Starship Troopers, especially since both have over-the-top action and characters. If you're a fan of sci-fi, action, or horror manga, you'll definitely enjoy Terra Formars.
Mosquito Wars by JH
Mosquito Wars is a sci-fi manhwa by JH, who you may also know as the creator of top-tier manhwa like The Horizon and The Boxer. I know this is a post about sci-fi manga, but I wanted to give this one as much exposure as possible, because it's incredibly good and it definitely deserves a spot on this list.
Mosquito Wars is set a hundred years in the future in a time where mosquitoes are Earth's most fearsome predator, but humans may still have a fighting chance if they obtain lost research that may hold the key to defeating this enemy. An elite team of special soldiers races to save mankind from extinction.
If you love series like Terra Formars, you'll enjoy Mosquito Wars. Both have outrageous action and gore, but delve into philosophical topics also. There's an absurdity to both as well as many plot twists that make them entertaining reads. Some of the chapters are available to read now on manhwa sites like Webtoon if you'd like to check it out!
Want more manga recommendations? Check out the best horror manga, best ecchi manga, best sports manga and more! Interested in buying any of these series but are new to manga collecting, check out our favorite manga sites and bookstores!