I remember the days when it was hard to find anime clothing, especially quality anime clothing. Of course, you could always go to Hot Topic to pick up anime merch, but other than that your options were slim. Luckily, more and more companies today are selling anime clothing or dropping anime collaborations.
From my personal experience, the companies on this list produce some of the best anime clothing; In addition, they are of great quality for their price point and they are all officially licensed. I am only including companies on this list that I've personally bought from and I've included photos of some of the clothing I own from each company down below as well, so you can see how they look firsthand.
That all being said, here are the best places to buy anime clothing from!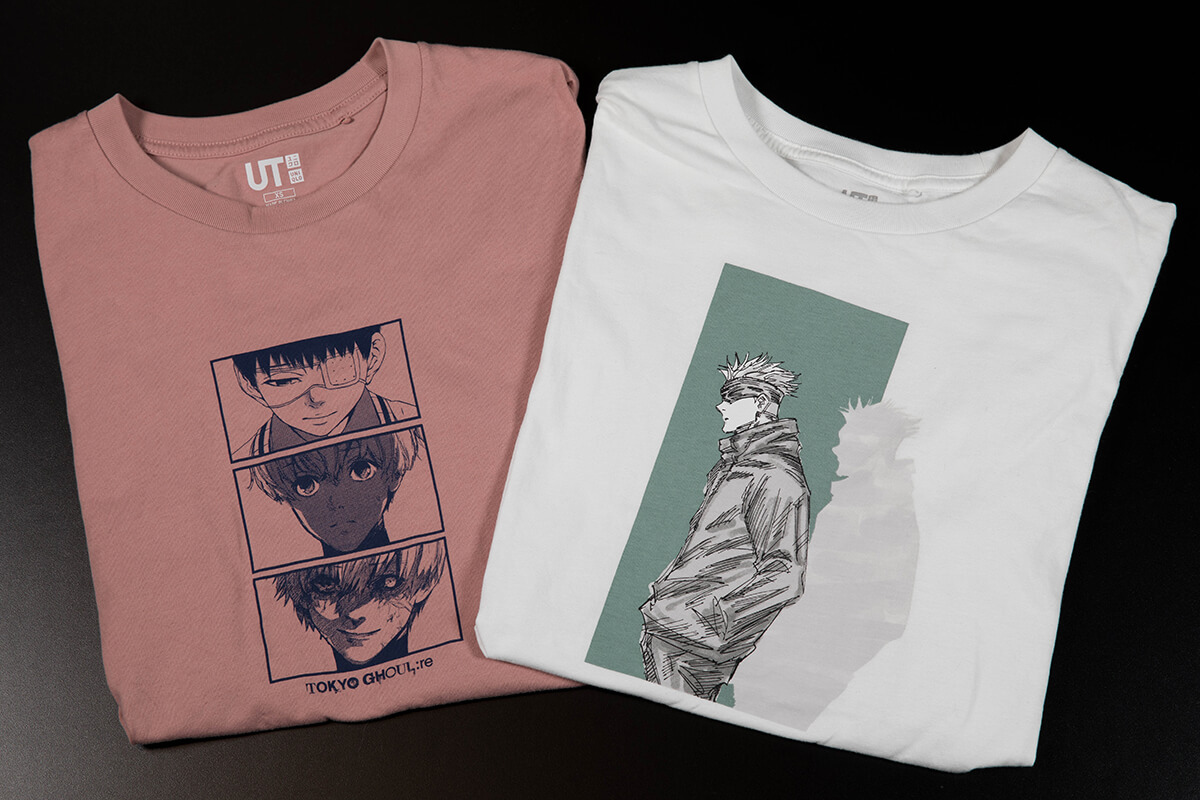 Low prices
High-quality for the price
Run a lot of sales
Their clothing is minimal
Some items sell out fast
Only sell anime t-shirts
T-shirts run small
$100 free-shipping threshold
Uniqlo has the most affordable anime t-shirts on this list, coming in at around $14.90 USD. Lately, they've been adding even more collaborations to their Manga UT line with their most recent being their Demon Slayer: Kimetsu no Yaiba collections and Jujutsu Kaisen collections. Right now, they only sell anime t-shirts, while other sites sell sweatshirts, hats, jackets, and more, but their anime t-shirts are some of my favorites and I really enjoy their minimalistic look.
I must admit that I was skeptical as to just how well-made Uniqlo's anime t-shirts would be since they came in at such a low price point. But, I was pleasantly surprised. They are of much better quality than Hot Topic and BoxLunch's anime t-shirts and cost less. The shirts feel soft and even after multiple washes, they have remained the same as when I first got them. But as always, this depends on how you care for the item.
Graphic-wise, they are more minimal than other options, and they don't necessarily stand out in your face as anime t-shirts, and I really appreciate this about them. I really like what they did with their Demon Slayer shirts in particular. They added elements that were clearly from the anime, like the patterns they use throughout the t-shirts, but they are subtle and incorporated into the design. Other favorites of mine, include their Tokyo Ghoul:re and Evangelion t-shirts they released in the past. Uniqlo is releasing more and more anime collections, so I can't wait to see what they have in store for us next!
One thing I will say is that Uniqlo's t-shirts do run small. I usually wear a Small on sites, and while their t-shirts fit me well, they almost fit too well and they are quite snug, especially in the sleeves, so this is something you may want to keep in mind when buying their t-shirts. They are also shorter in terms of length, which may be the style they are going for, but other sites, like Primitive, are longer. Depending on your preference and how you like your t-shirts to fit, though, this may be something you like.
If you have yet to purchase from Uniqlo before, make sure you sign-up for a free account before purchasing. First-time buyers with an account get free shipping on their first order! After that, they have a $100 USD free shipping threshold.
Shop Uniqlo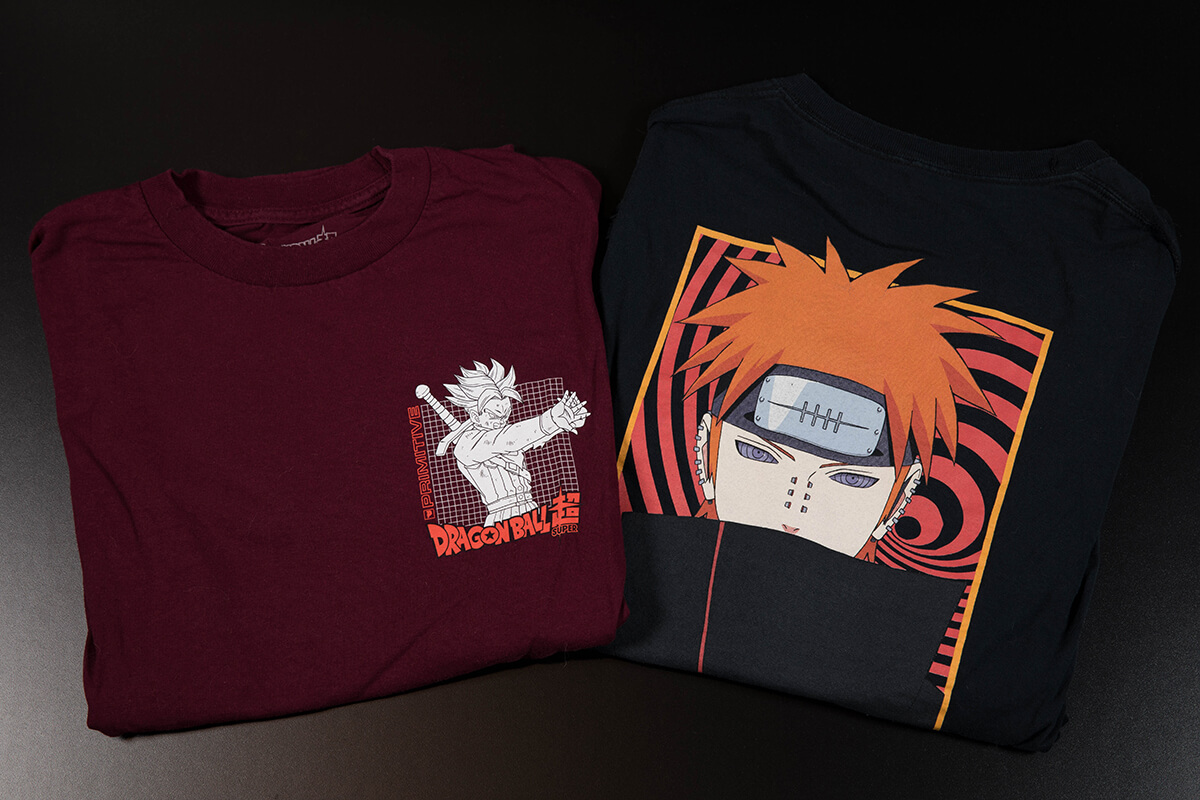 Clothing is of high quality
Good value for the price
Have a streetwear aesthetic and bold graphics
Have washed and tie-dye options in addition to base colors
Clothing fits true to size
Run good sales
Sell anime skateboard decks as well as clothing
Best place to buy anime hats
Not as many licenses to shop from
Some items sell out fast
Free shipping isn't unlocked until $100 USD
Primitive is unique because they are a skateboarding company that also sells anime apparel from time to time. As a result, you will see unique anime items from them that you wouldn't usually find anywhere else, like skateboard decks and grip tape. As of now, Primitive has released clothing collaborations with Dragon Ball Super, Naruto, and Sailor Moon with their latest being their Naruto Shippuden Delivery 2 collection that features graphics of Obito, Pain, Gaara, Itachi, Kakuzu, and more.
The thing I appreciate most about Primitive is that its clothing is influenced by streetwear with graphics that are more modern than other anime clothing companies. The fonts they use in particular are ones I enjoy, and in addition to their more standard, base color t-shirts, they also have washed and tie-dye options that offer more variety when browsing their site. They also have anime snapback, strapback, and beanie hats available, and they are some of the best I've come across yet. If you are looking for anime hats, Primitive is the site I recommend most.
When it comes to sweatshirts, I have to say that they have the highest quality options out of all the choices on this list. Their long-sleeve and short-sleeve t-shirts are great as well, but I have noticed with their long-sleeve t-shirts in particular, that the sleeves can shrink a little over time even with hang-drying and washing on cold. I'm not sure how this keeps happening, but it's happened to me with three of their long-sleeve t-shirts. The one thing I really appreciate about Primitive's clothing though is that they do fit unisex. They are in men's sizes, but to give you an idea, I'm a 5'5" girl and I wear a size small in their clothing.
All in all, Primitive's quality is high in comparison to other anime clothing companies, and while they don't exclusively sell anime clothing, they still have some of the best anime clothing currently available on the market. Personally, Primitive is my favorite option in terms of design and style on this entire list and I highly recommend them!
When Primitive drops a new collection, they tend to sell out fast, especially their skateboard decks, so always keep this in mind. They have been known to re-stock items when they sell out. If there's an "Email me when available" section on a sold-out item's page, make sure you sign-up to be notified when it goes back in stock. Primitive is also sold at Zumiez, so if something is out-of-stock on their site, you might be able to find an item there as well!
It's also important to note that they used to have free shipping to the U.S. on orders over $49.95 USD, but they recently bumped that all the way up to $100 USD, so they have one of the highest free-shipping thresholds on this list. They tend to have promo codes available, which I find through Honey, that you can use to save money on your purchase. Sometimes these promo codes can result in you essentially getting free shipping on your item(s) if you don't reach their free-shipping threshold.
Shop Primitive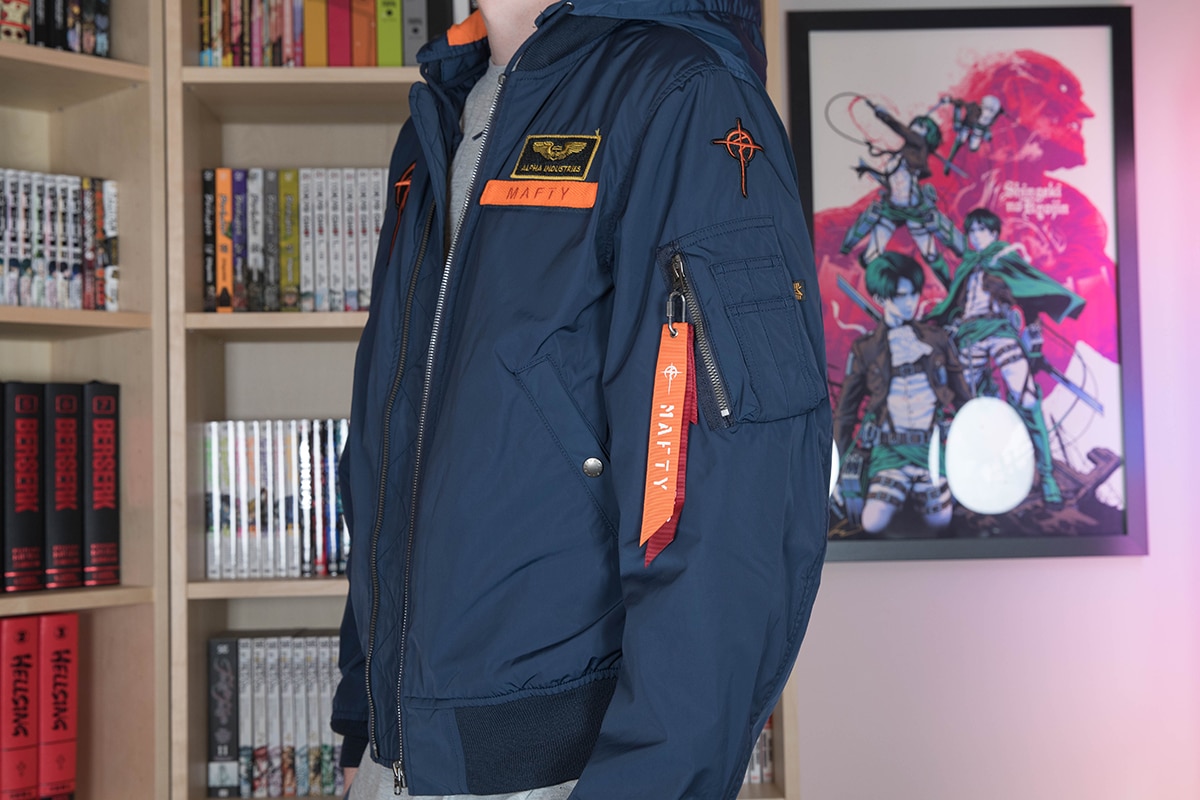 Best Gundam clothing
Beautifully-made and high-quality
Made to last
Wide range of styles to shop
Fit true to size
Best anime jackets
Do collaborations with companies like Alpha Industries
Higher price-points
Limited licences to shop from
STRICT-G use high-quality fabrics and their attention to detail and quality control is amongst the best. They make some of the best quality anime clothing and they also do collaborations with other well-known brands, like Alpha Industries.
Most of the licenses that STRICT-G has are for mecha anime series, like Mobile Suit Gundam and Neon Genesis Evangelion, which could be a negative or a positive depending on what anime you are a fan of. I am a massive Mecha fan, though, so this is a plus for me. If you want a closer look at the quality of STRICT-G's clothing, specifically their jackets, we recently did a review of two jackets from their Mobile Suit Gundam Hathaway Alpha Industries x STRICT-G collection, which they made in collaboration with Alpha Industries.
STRICT-G are based in Japan, but their items are sold on P-Bandai USA, so they are available for purchase in the US. They sell everything from T-shirts and sweatshirts to jackets and accessories, like key cases and gloves. The range of jackets they sell is vast too from anoraks to parkas and bomber jackets. The level of detail their clothing has and the quality of it is just beyond anything I've ever purchased before.
Given that they are higher-end and their products are made of premium materials, their clothing is higher-priced, but they are made to last. I can attest to this. I have owned one of their jackets as well as their sweatshirts for over a year, and I've worn them a lot. They look great still to this day. Their jackets typically run anywhere from $180-358 USD depending on the style, while their t-shirts run around $40 and their hoodies cost around $100-160 USD. I highly recommend checking out their hats too. I've owned two and they are high-quality, even better than Primitive, which has some of the best anime hats on the market.
All in all, STRICT-G's clothing has incredible designs, but they also make some of the best quality anime clothing you can buy. If you are a fan of Gundam or Evangelion, you'll especially want to check them out.
Shop STRICT-G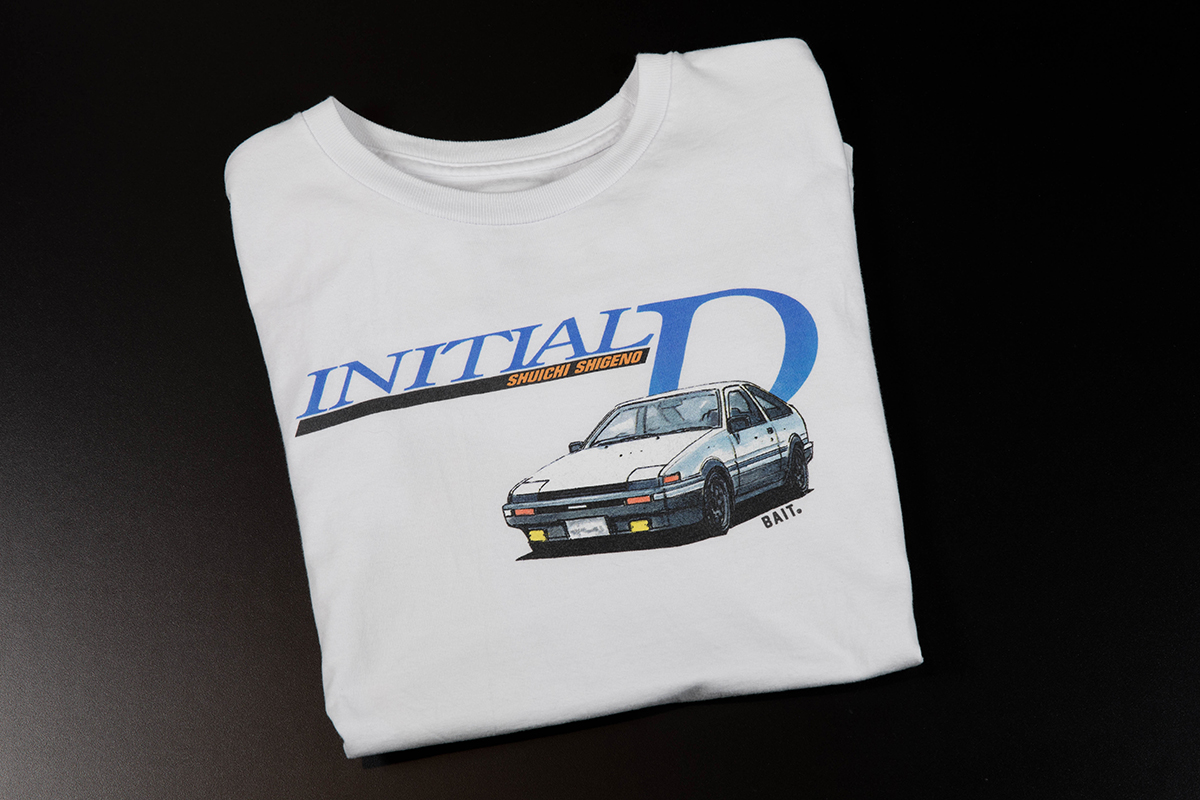 High-quality and bold graphics
Has licenses for modern and classic anime
Best anime hoodies
Fits true to size
Free shipping isn't unlocked until $99 USD
Slower shipping
Run few sales
BAIT is a streetwear company that has released a number of anime collections, including Bleach, Initial D, Astro Boy, Attack on Titan, Gundam, and more. Their clothing has a pleasing aesthetic and I really enjoy their graphics, but their clothing is high-quality and fits true to size as well. I am a fan of most of their anime collections, but their Initial D collection is my favorite of them all.
I love the look of their T-shirts, as well as their soft feel, but it's their sweatshirts that impress me the most. Often, anime sweatshirts are not as high of quality and they tend to wear quickly, but BAIT's sweatshirts do not. Their sweatshirts, in addition to STRICT-G, have lasted the longest and they are made to last more so than most. In addition to T-shirts and sweatshirts, BAIT sells anime hats and skateboard decks that are cool as well.
Price-wise, BAIT falls somewhere within the middle with their T-shirts costing around $38 USD and their sweatshirts costing around $70-75 USD. They aren't the cheapest, but they also aren't the most expensive on this list. Given the quality of their clothing, though, they are definitely worth the cost, especially if you are someone who enjoys anime clothing that has a streetwear aesthetic and you are willing to spend more for higher-quality products.
Another thing I will note is that BAIT's shipping is slower than most of the other sites on this list, even if you place an in-stock order. Free shipping also isn't unlocked until $99 USD, and since they hardly run coupons or sales, it's hard to find discounts on their site.
Shop BAIT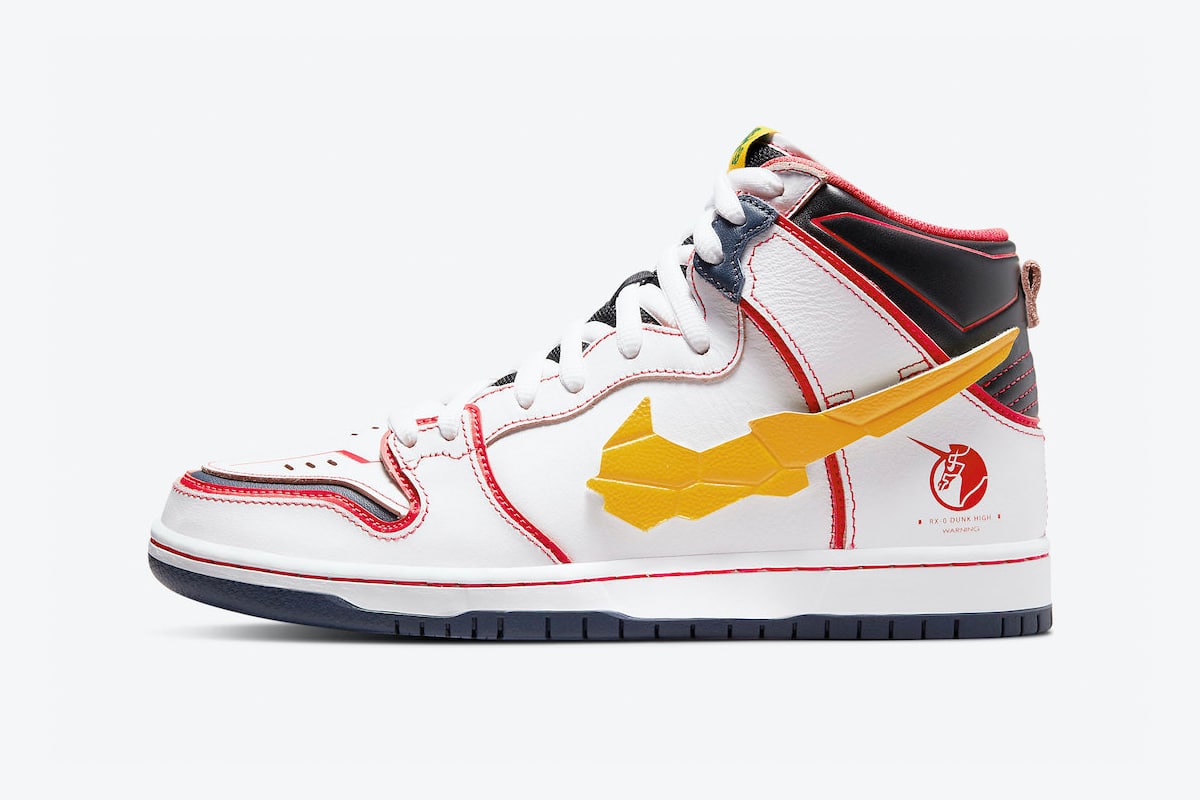 Best anime sneaker collabs
Use high-quality materials
Interesting colorways
Few anime collabs to shop in the US right now
Some drops sell out fast
If you are looking to buy anime sneakers, Nike has released the best to date. Even though there are few to shop, I can only imagine that they are going to come out with more in the future, especially given the popularity of anime right now.
So far, my favorite they've released is the Nike Gundam SB Dunk High, one inspired by the Unicorn Gundam and another inspired by the Banshee. More recently, Nike did a collaboration with Zion Williamson and Naruto.
One thing I will say is that Nike's drops often sell out fast. The Unicorn Gundam SB Dunk High sold out a few minutes after its release. That said, many of their sneakers are only available for purchase on aftermarket sites, like GOAT or StockX, right now. I highly recommend these two if you are going to shop for sneaker releases that are no longer available directly from Nike because they authenticate the products you are buying.
If Nike does any future collaborations with anime, you'll want to be ready to shop their site or app (some sneakers are app exclusives) on drop day. Be sure you have an account already made and your payment and shipping details saved, so that you can get your purchase in as soon as possible because these item(s) usually sell out fast. They will note the time as well as the day that they are releasing on the drop calendar that's on their site. Some sneakers are sold on a lottery system, so you will be placed in a draw for a chance to buy them. Few things are more satisfying than getting that "Got 'Em" message.
Nike's sneakers have always been some of my favorites, whether they be anime collabs or beyond. Not only are they high-quality, but they have some of the best colorways and I love the details they add as well as the materials they use on their sneakers. I really hope we are going to see more anime sneakers from them in the future because the ones they have released so far are amazing, especially the Gundam SB Dunk High. I actually did a review of them on my YouTube channel if you'd like to check them out!
Shop Nike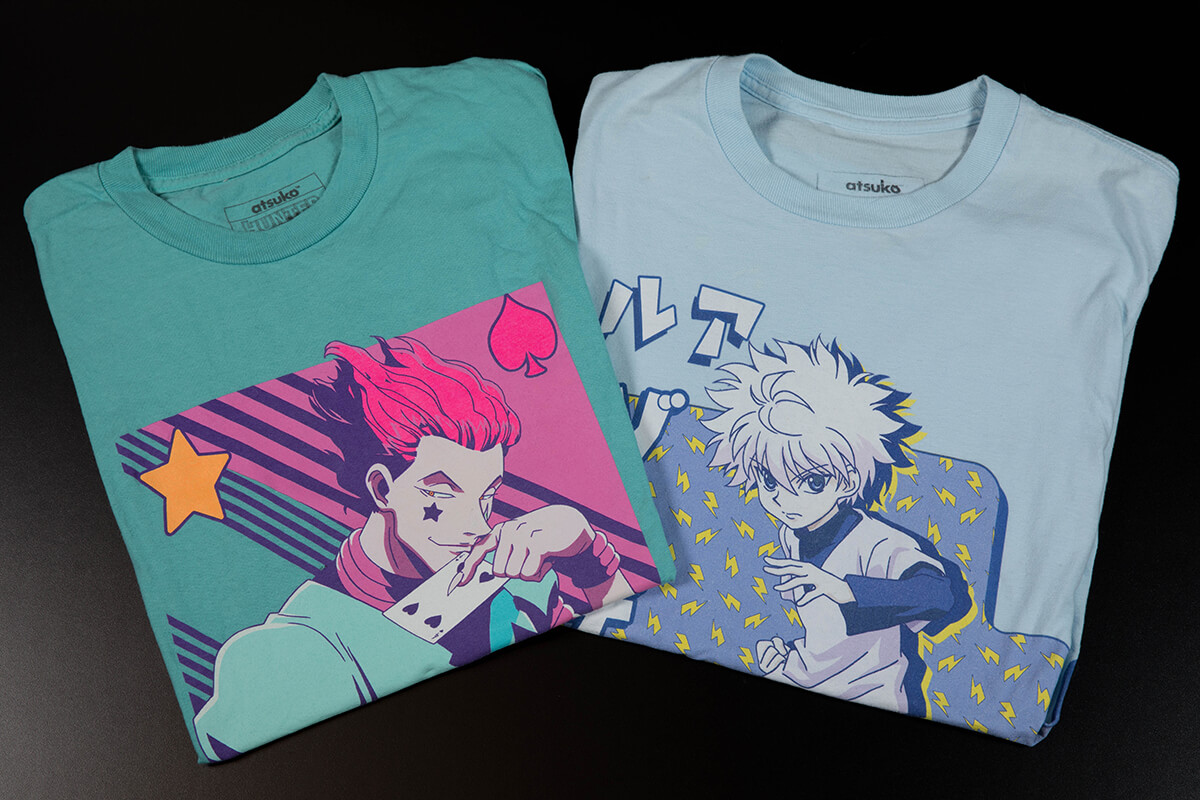 Wide range of licenses to shop
Run good sales
Unique colors and graphics
T-shirts are high quality
T-shirts are priced well
Items vary in quality (Crewnecks and sweatshirts in particular)
Free shipping isn't unlocked until $75 USD
Atsuko is an anime clothing company I discovered at a con one year, and I'm happy I did. Since then, they have been a go-to of mine, because their graphics are bold, I really enjoy the designs of their t-shirts, and they sell officially licensed products. Although, I will say that I'm partial to some of their collaborations more so than others, particularly their Hunter x Hunter line, especially because it features colors and graphics you'd see in the 80s. I'm also partial to their Berserk line because they have some pretty unique color combinations. In addition to the standard Berserk black and red, they also have some items in purple and blue.
In terms of colors, their t-shirts come in standard colors like black, white, and gray, but they also come in brighter colors, like blue and pink. This of course varies from item to item and line to line, but they have different options you don't typically see from anyone else. For instance, I've never seen an Attack on Titan graphic printed on a pink t-shirt, but they chose this unique color combination for their Mikasa t-shirt. This really differentiates them from other brands.
Quality-wise, they are one of the best on this list. Aside from Primitive, which I will talk about later, their graphics really pack a punch in the color department. After multiple washes and many months, the colors still have yet to fade and the shirts I purchased from them have remained soft to the touch. I will note though that I always hang-dry my clothes and wash them in delicate mode.
My biggest issue with anime clothing is that most of the time, they are printed on lower-quality materials. Atsuko's t-shirts, however, are always of higher quality and I have yet to have any issues with shrinking, pilling, or sagging like you'll experience with t-shirts from places like Hot Topic. I don't have experience with their other items yet, like their anoraks, pants, and accessories (lapel pins, face masks, hats, bags, etc), but I can attest to the quality of their t-shirts.
The one thing I have stopped buying from them is their crewneck sweatshirts and sweatshirts. From my experience, these items in particular aren't of great quality and they tend to feel rough and the stitching on them comes loose after a few washes, even when they are hang-dried and washed in a delicate setting.
While I like the graphics on their crewnecks and sweatshirts, personally I feel the quality just isn't high enough to justify its $68 USD price after owning them and the graphics appear to be washed out as well. Sometimes the pictures they have on their website aren't true to the item you receive.
They have good customer service, though, so be sure to reach out if this is the case, because you may have received a faulty item. This is something you'll have to keep an eye out for when receiving any of their items in particular. If the graphics aren't as bold or bright as they appear in the photos, you'll want to reach out. I had two occasions where this happened, but they responded quickly, and after seeing photos of my item, sent me a replacement.
When it comes down to the price, Atsuko's t-shirts, in particular, are affordable. Compared to places like BoxLunch or Hot Topic, which have some of the cheapest prices, they are competitively priced at around $30. For the quality, they are priced at an affordable price-point, which is a strong selling point to buying from them. But, the thing I love about them most is the variety of graphics and the sheer number of anime licenses they have to shop from! They have a diverse selection to shop from from popular anime like Berserk or One Piece to more underrated and niche series like one of the best sci-fi anime series of all time, FLCL.
Also important to note for anyone who is considering buying from Atsuko is that they have free shipping after $75. Their free-shipping threshold is higher than most, but there are usually promo codes you can apply at checkout to save you some money and they run a lot of sales that you'll want to keep an eye out for as well if you are considering buying from them.
Shop Atsuko
Final Thoughts
Right now, these are the only companies that sell anime clothing that I've had personal experience with and feel comfortable recommending. Hypland may be a future addition to this post, but I haven't purchased anything from them yet. I have a feeling that they may be one of the better options out there, but I have yet to buy from them because I personally prefer the style of Primitive's clothing. I wanted to mention them, though, because they sell licensed anime clothing and you want to look into them as well.
I also do want to mention that you can of course purchase anime clothing from Hot Topic and BoxLunch. While their clothes don't last long, I have still purchased from them in the past because they have such a wide variety of anime licenses to shop from that I can't find anywhere else. I personally prefer BoxLunch's anime clothing over Hot Topic's, because I've found their clothing to not only be of better quality, but they have graphics that I prefer more as well. But, even still, if you are looking for a cheaper option, I'd recommend Uniqlo's UT line over these two options.
Hopefully, this list is helpful for those of you in search of good quality, affordable anime clothing! As I buy from and discover more licensed anime clothing companies, I'll continue to update this post with my favorites.