When I embarked on my anime figure collecting journey, I was at a loss for where to start. Navigating trustworthy sites to purchase anime figures within the US was a daunting task. Realizing that many newcomers likely share my initial concerns, I've compiled a comprehensive guide to purchasing anime figures.
If you are looking to buy anime statues in addition to anime figures, we also wrote a dedicated post on our favorite sites to buy anime statues from and if you are into manga as well be sure to check out our favorite manga sites and stores!
To give you an idea as to what I'm into, I mostly collect resin statues, scale figures, Nendoroids, and WCFs as of late. I've collected different things over the years though, so I've bought items from a variety of sites.
Before I get started with the sites, I want to first mention that places like eBay and Amazon are riddled with fake figures. Unless you are familiar with how to spot bootlegs and what kind of warning signs to look for, I would stay away from those sites unless you are buying from a reputable seller, the company that made the figure, or Amazon itself.
With that said, read up on the online stores I personally have had a good experience buying anime figures from along with the positives and negatives that come with each regarding their selection, customer service, and shipping/preordering policies!
Where to Buy Anime Figures in the US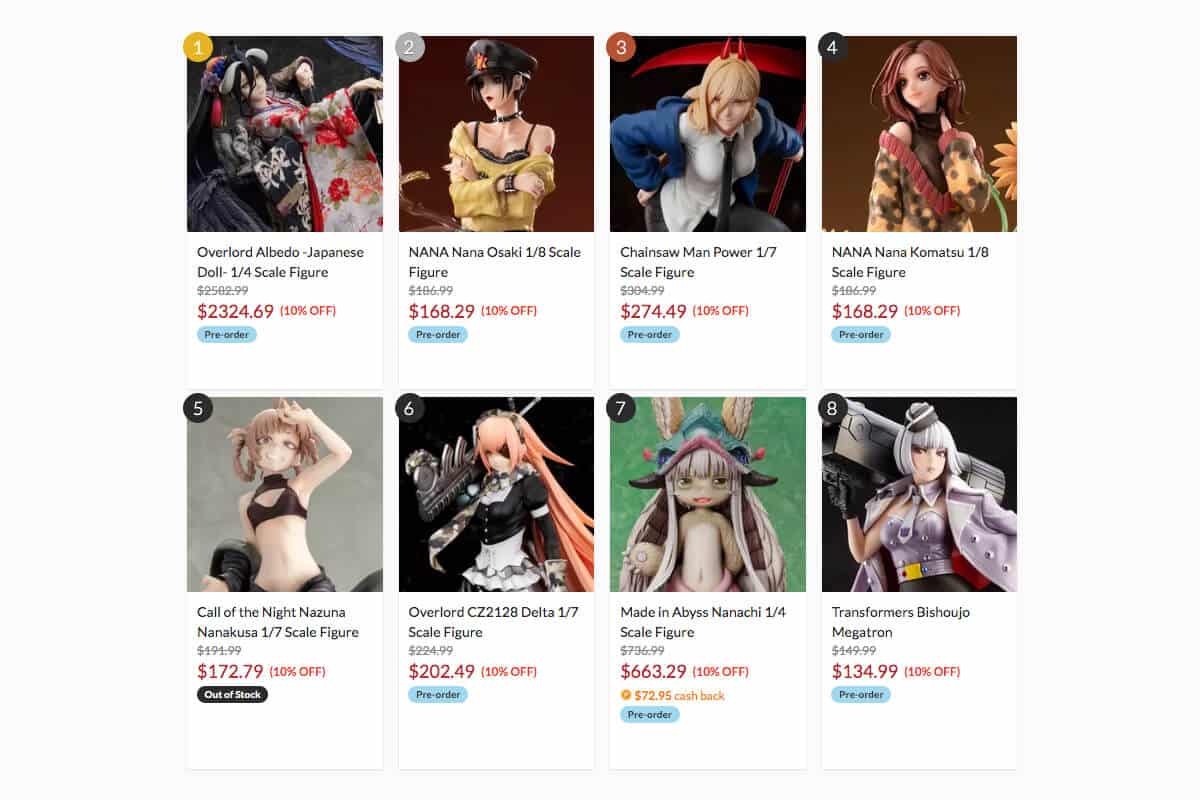 Pros
Best membership

and loyalty program
Some figures can be shipped from their warehouse in the US
Great selection of anime figures
Good shipping
Cons
Can't cancel preorders
Charged immediately for preorders
Higher shipping costs depending on your location
Tokyo Otaku Mode is the site where I buy most of my anime figures. One of the biggest benefits to buying from them is that they have a TOM Premium membership that allows you to rack up something called TOM Points, which never expire and count essentially as money towards other purchases on their site, exclusive discounts, birthday coupons, and more. Not only that but you get a 10% shipping discount with the membership as well. In my opinion, they have the best membership program out of all the anime figure stores and sites on this list.
One thing to keep in mind when buying from Tokyo Otaku Mode is that they ship items from two different locations (1) Their warehouse in Japan and (2) Their North American warehouse. Their site states that you can see where your items are shipping from on their Shopping Cart page, so be sure to verify this before you check out to see what location your items are arriving from. This of course will influence how much shipping will cost.
If your items are coming from their Japan warehouse, depending on where you are located, the shipping may cost you more than it would when buying from a site that ships from the US. That being said, their anime figures are overall priced lower, especially if you have a TOM membership, so the savings you get may make up for the difference in the shipping cost. Oftentimes, their shipping cost has come out to be way lower than I expected, especially given that a lot of their items ship from Japan.
Also, they offer discount shipping on select items when you reach their $150 USD shipping threshold, but this is of course after all discounts and coupons are applied. You can check out their discount shipping offers on their website.
They also have a wide variety of items, including anime figures, art books, plushies, and more that you can't get on other sites mentioned on this list. Not only that, but they tend to put items up for preorder quicker than other sites as well.
All in all, they are my first choice when it comes to buying anime figures and I've had a wonderful experience buying from them. They have an incredible selection, great shipping, and good prices, and their membership program has some of the best benefits I've seen to date.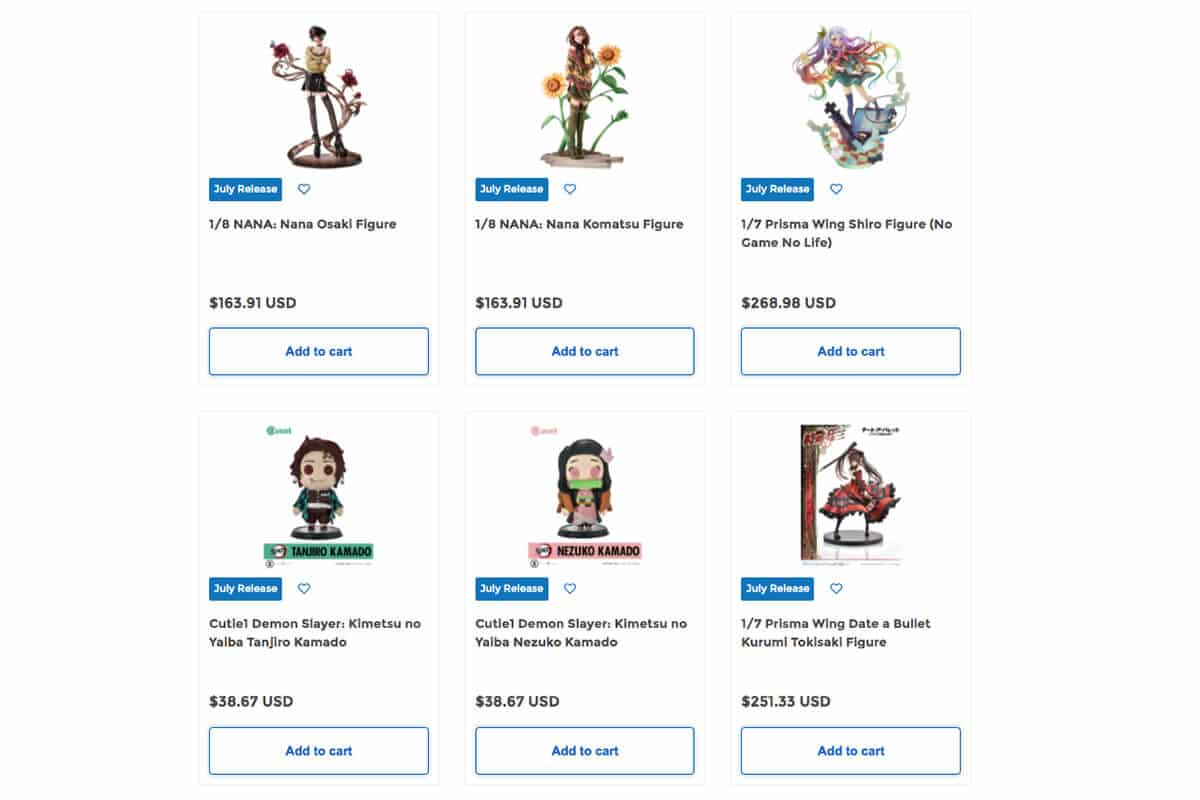 Pros
Don't charge you until your order is ready to ship
Offer bulk and customizable shipping options with their private warehouse
Great customer service
Good shipping
Vast selection
Cons
Higher shipping costs depending on your location
HobbyLink Japan allows you to store your items in their private warehouse until they are ready to ship. With this feature, you can bulk ship your anime figures or items for potential shipping savings, combine them into one package, or split orders into smaller shipments. This shipping customizability allows customers to choose how their items will be shipped and find ways to save on shipping, and it's a feature of HobbyLink Japan's site that I love as a collector.
In terms of customer support and response, HobbyLink Japan is one of the better sites on this list. They have friendly, quick-responding customer service, which is something else I appreciate about shopping from their site. They ship to a lot of different countries and regions worldwide also, but shipping rates vary. They have a number of different shipping options though for most locations, which allow you to choose the amount you'd like to pay for shipping as well as how quickly you'd like to receive your item. Shipping rates and selections are available at checkout for in-stock orders.
Another great thing is that HobbyLink Japan doesn't charge you for items immediately unless they are currently available to ship. There are some exclusions to this rule (any exceptions are noted), but most items that are on preorder aren't charged to your card until they are ready for shipment.
Selection-wise, they are one of the best as well. You can shop a number of different anime figures, in a number of different scales and from a number of different anime figure companies, on their site. They also have items that aren't available for purchase at many retailers that are based in the US, and if you build Gundam model kits in addition to collecting anime figures, like I do, they have a great selection of Gunpla to shop too.
In regards to pricing, they are one of the best also. Of course, you have to keep in mind, the cost of shipping depending on your region. But, in most occasions, they price their figures low enough that they actually cost me less money than they would have if I bought them from sites in the US, even with the added shipping cost. For these reasons and more, they are one of the best places to buy anime figures!
Pros
Have an awesome selection of manga as well as anime figures
Run good sales and deals
Ship items well
Cons
Figures are excluded from free shipping
Have preorder cut-off dates
Customer service needs improvement
Right Stuf Anime has a large variety of figures and anime-related items. They also sell manga, so if you are wanting to stock up on those as well, it's a great place to do so.
When ordering from Right Stuf, there are some things to consider. Firstly, if you place an order on the site that contains both in-stock and preorder items, everything in that order will not ship until all your preorder items become available. With that said, if you want certain items right away, this is something you need to consider.
As far as shipping policies go, they do offer free US economy shipping at $75 and free Canadian shipping at $250; However, preorders are not eligible for free shipping, only in-stock items, regardless of if you reach the threshold or not. Something that can be frustrating about ordering from Right Stuf is that a lot of their items, particularly most anime figures, are excluded from free shipping even if you meet the threshold. There have been many occasions that I went to check out and decided to purchase a figure elsewhere, because they exclude a lot from free shipping.
If you don't meet the free shipping threshold, shipping varies depending on the region you are from in the US as well as the amount/weight of the items you are shipping. For instance, shipping in the US for one manga volume would cost me $4.99, whereas something like the Izuku Midoriya King of Artist Ver My Hero Academia Prize Figure would cost me $9.03.
Right Stuf run promos and they also have a lot of good deals that pop up over time, especially during the Right Stuf Birthday Sale and their Holiday Sale, which they kick off during Black Friday. I like that they send out emails if you join their list, because they always alert you of these special sales. I've rarely seen places run deals as good as they have over the years.
As far as reward programs go, they also have something called Stuf Bucks, which according to their site, are earned during special promotions and can be used on future purchases after the promotion ends and during the pre-defined redemption period. They also have a Got Anime? Membership, which costs $18 USD a year and gives you a higher discount on the items they sell on their site.
Pros
Supports a small business
They have Gunpla in addition to anime figures
Run sales and deals from time to time
Get anime Funko Pop! exclusives
Have good packaging
Cons
Have a small selection in comparison to other sites
Charge you immediately for preorders
Don't ship your order until all items in that order are in-stock
Can cancel, but there's a 20% cancellation fee
Shipping costs are higher than other sites
I first heard of Galactic Toys at a Con and I was excited to discover their booth. I've since bought from them on many occasions online and have had a positive experience when dealing with their customer service in addition to the quality of their shipping.
I will say that they do not have a free shipping threshold, so you will always have to pay for shipping when buying from them. It is also important to note that they sometimes sell figures at their marked up resell value, which may be a negative for some, but I find to be a positive in some aspects. You can find anime figures for sale that you wouldn't be able to find on other sites although they may be marked up to aftermarket prices.
For instance, I bought the Jiraiya Nendoroid, which was a Con exclusive, so it went for a higher price. I personally don't mind that, because it prevented me from having to buy off of Ebay and I knew it was coming from a reputable seller.
Two positives about buying from them is that they run deals on occasion and have exclusive releases from companies like Funko. Many times those exclusives have been anime-related, so I always like to keep up on what they are coming out with next.
Some important things to note when buying preorders from them:
You are charged immediately for all preorders
If you order multiple items in one order, they will not ship until all items in that order are in-stock
You can cancel a preorder for a 20% cancellation fee
All in all, they are definitely a great option, especially if you are looking for anime figures, but they also have other items you can buy from different categories, like Gunpla as well.
Pros
Select anime figures are free to ship in the US
Have good packaging and shipping
Nice selection of anime figures
Have exclusives, like anime Funko Pops!
Cons
Items don't ship out as fast as other sites
Orders are often delayed
Entertainment Earth not only has an incredible selection of anime figures to shop from, including Megahouse figures, Banpresto figures, Max Factory figures, and more, but a great selection of anime statues as well from studios like Prime 1 Studio. They are one of my favorite places to shop anime figures from on this list, because they have free US shipping on in-stock orders over $49 USD and they package your items well.
Select anime figures are even free to ship in the United States, which is something that few, if any other sites, on this list offer. Just look for the "Free USA Shipping" marker when shopping their site. They are always running deals and sales, so this is something to keep an eye out for also.
With great shipping and a wide selection of anime figures to shop from, Entertainment Earth is one of the best places to buy anime figures from, especially if you are located in the US!
Nakama Toys is a store that we discovered when visiting Chicago and they have an online shop as well. We visited their storefront in Chicago one year and really enjoyed the experience; The owners are super nice as well.
I love Nakama Toys particularly because they are anime fans themselves and they have great customer service. Their selection is also great. In addition to the many different types of anime figures they have available, they also have a selection of Gunpla.
One thing to consider when buying from Nakama Toys is that you are charged in full for preorders when you place them and once they are placed you cannot cancel regardless of the exception.
A positive is that they have a rewards program. According to their site, with 500 points you earn $5.00, 1000 points you earn $10.00, and 2500 points you earn $25.00. The points you gain are redeemable either online or at their storefront.
Pile of Loot feature allows you to bulk ship items

Have a decent selection of anime figures

Sell items, like WCF's and Ichiban Kuji figures

Easy cancellations
Cons
Considerable mark-up on anime figures in comparison to other sites
Orders are often delayed and take a long time to ship
Charge deposits on select anime figures
Never run sales or discounts
BigBadToyStore is a site I use to buy select anime figures. They have items that places less commonly sell, like World Collectable Figures (WCF's) and high-end anime statues, like those from Figurama and Prime 1 Studio. That being said, if an anime figure is available for purchase elsewhere, I usually choose not to buy from them because their prices overall are much higher and they tend to ship out their items about a month, and sometimes even months, later than other sites do.
There are some positives to buying from them, though. One being that they they only charge you when your item is in-stock and ready to ship. Other sites like Right Stuf will charge you immediately for preorders. Although, they have started doing non-refundable deposits for more expensive figures from companies like Megahouse, so this is something to keep in mind.
Another positive to buying from them is that you can bundle shipping in something called a "Pile of Loot". You can accumulate and keep orders in your "Pile of Loot" for 90 days, so you'll need to make sure you ship them before their cut-off shipping date to get your items. That being said, the savings you get with shipping sometimes isn't all that much given that their prices are commonly higher than other sites.
Perhaps the biggest positive, however, is that it is easy to cancel if you decide you no longer want an item or made a hasty purchase. You can do so directly in your account with the click of a button instead of having to reach out to a customer service email, like you do when cancelling from sites like Crunchyroll. One caveat however, is that in-stock item cancellations will go onto your account as a BBTS credit, so keep that in mind when doing so, and if there is a non-refundable deposit on an item, you won't get this deposit back when you cancel.
Crunchyroll is a good place to buy from, particularly if you hold a Premium Plus Membership with them already. The perks it has include free domestic shipping on all orders, exclusive coupons, and more. In addition, if you aren't already familiar, you gain access to their streaming service.
If you aren't part of their Premium Plus Membership, you can get free US shipping if you spend $100+ dollars, which is a higher shipping threshold than most. A lot of other places, however, don't offer a free shipping threshold when it comes to anime figures, so this is somewhat a positive as well.
As far as their preorders go, they do charge you immediately for the product. If you want to cancel your order, you do have to contact support via email; However, you can easily cancel, which can be difficult, if not possible, to do on other sites. That being said, other sites allow you to cancel with the click of a button whereas Crunchyroll makes you email their support to do so.
One positive is that, from my experience, they have some of the lowest prices available. They are constantly running sales and you can stay up to date on them easily if you sign-up for their email list. Their selection is also pretty vast with everything from PVC scale figures to Nendoroids, along with a variety of other anime-related products, merch, and manga. Only thing I will say is that they have preorder cut-off dates for the figures on their site, so you have to decide on your orders quicker than you would with other sites.
One possible negative to buying on Crunchyroll is that they always seem to ship later than other sites. If you want something sooner than later, they may not be the site you want to preorder from as their in-stock times seem to statistically lag behind others mentioned on this list.
Good Smile Company made a site dedicated to selling and shipping Nendoroids in the US. Since Good Smile makes figures, like Nendoroids and figmas, I find that they are the best place to purchase these. See all of the Nendoroids that are coming in 2022 so far!
Sometimes if you preorder figures on their site, you get something called a preorder bonus. For instance, if you preorder Tatsuya Shiba from The Irregular at Magic High School: Visitor Arc's Nendoroid, you get a special round base. It's usually a small addition, but this is an added bonus when buying from them directly.
Also, if you sign up for a free account with them, you get 50% off shipping on all preorders. If you buy in-stock figures, I've found their shipping, which usually comes in around $10 to be pricey, but since their prices are lower than most, you usually pay around the same as you would on a speciality shop's site without shipping added. With that said, if you buy from Good Smile, it's always best to preorder if you can.
Sometimes you'll also catch Good Smile exclusive figures on their site, like Nendoroid Izuku Midoriya: Costume γ or Nendoroid Mako Mankanshoku: Fight Club-Spec Two-Star Goku Uniform Version. When conventions happen, they'll release special figures like these that you can purchase directly on their site.
I've purchased many figures, mainly Nendoroids, from Good Smile Company US, and I've had no issues with their shipping and customer service so far. I'd definitely check out the site if you haven't yet!
Other Sites to Buy Anime Figures From
I also want to mention USA Gundam Store and Gundam Planet, who though predominately sell Gunpla, also sell figures. They both are highly reputable sites and if you are looking to buy both, they are great places to do so. You can also buy directly from the company in some instances, like seen above with Good Smile US.
Also important to note is that nationally-based stores, like BoxLunch, Hot Topic, and GameStop also sell anime figures. I've even seen Target selling items, like My Hero Academia Nendoroids and Banpresto figures.
Their selection can sometimes be more limited to what's popular at the time, like Dragon Ball, One Piece, My Hero Academia, etc, but they do have a selection you can shop from.
Final Thoughts
Hopefully those recommendations give you a good place to start if you are just getting started with collecting or are in search of trustworthy sites to buy anime figures from in the United States!
If you buy manga as well, be sure to check out the best manga bookstores and sites to buy from! And if you are looking to buy anime statues as well, check out our Guide to Buying Anime Statues.