I'm a '90s kid, so few things are as nostalgic and as exciting to me as Pokémon cards. Well into my adulthood, they still bring as much joy today as they did back then. Back when they were first released, anyone and everyone I knew was rushing to buy anything and everything Pokémon, and it was hard to get sets too, but with the addition of online retailers, buying Pokémon cards is easier now than it ever has been before. Still, sets released now are becoming harder and harder to come by and are shooting up in price as we are seeing with Evolving Skies.
To help keep you in the loop with all the of the latest Pokémon TCG releases, I've curated a comprehensive list that contains all the announced products to date. I'll be updating this list throughout the year when new product announcements come our way as well!
It's been incredible to see the evolution of Pokémon over the years from the original base set to the more recently released sets, such as the Sword & Shield Series. Crown Zenith is one of my all-time favorites they've released as of late by the way and I'm really enjoying the cards we are seeing in these newer sets. The art is above and beyond on these recent releases with cards like the Charizard V Alternate Full Art card from Brillant Stars and more.
Given the price of some cards, fakes do pop up from time to time, so if you are someone who likes to buy your favorite cards outright instead of opening up packs, it's good to know where, or who, you are buying from is reputable. I'll get into some reputable places you can buy singles from below. I am someone who loves opening up packs, but I also know that sometimes it is best to just buy the cards you like, so I buy them individually too, so I'll talk about the best places to buy from for each.
Whether you like to buy cards individually or enjoy the thrill of opening packs, these are the best places to buy Pokémon cards right now!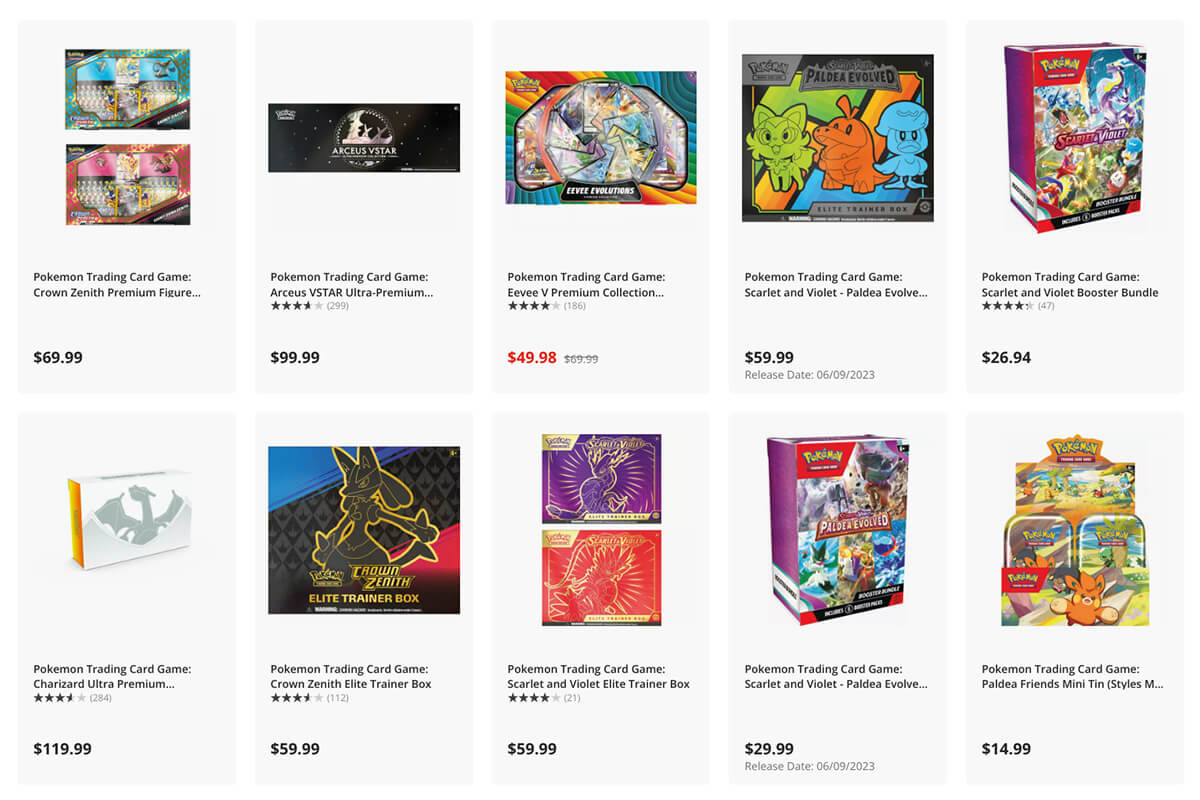 GameStops are generally easy to find and they seem to be everywhere. They have a lot of storefronts, and some are even clustered in a small area, so depending on your location, you may have multiple you can go to. This is especially helpful when I can't find a certain set I want at my main location. When I shop around, I'll often find it at another GameStop nearby.
The selection varies from location to location. Some locations have items that I can't find anywhere else and, in my experience, they stock new items quicker than most. They overall tend to have a good selection of products from packs to boxes to shop too. GameStop even has some amazing exclusives that you can browse.
GameStop also has a rewards program. It's $14.99 a year to join their "PowerUp Rewards Pro" membership. You get a $10 reward to use on your next purchase at sign-up and a $5 reward certificate every month. Essentially, you get a free booster pack per month when you get their membership program and it pays for itself after one month, because you get that $10 reward certificate at sign-up. If you purchase video games as well, GameStop's membership is a good way to go, but if you buy manga, books, or graphic novels, I highly recommend Barnes & Noble's membership instead.
If you don't have their membership, though, GameStop is one of the most expensive places to shop for Pokémon cards and you'll often have to buy them at MSRP unless you purchase them during one of their sales. GameStop runs a lot of incredible sales on Pokémon cards, especially online, that you'll want to keep an eye out for. Often, you will be able to buy something for a sale price online and even pick it up in-store if your local shops have it in stock.
If you buy online, I highly recommend using Rakuten, because they have cashback options and GameStop usually has higher cashback rates than most. Sometimes they even run 20% cashback limited-time offers on Rakuten that you'll want to keep an eye out for if you shop online.
Your local game store or comic shop
One of the places that will value your business most is your local game store or comic book store, and when you shop from them, it supports a small business. Often, I find that they are more knowledgeable about the products as well and you can verify the quality of the cards you are buying before you purchase them.
I highly recommend testing the waters at multiple shops before deciding on your go-to store if you have multiple game stores and comic book shops in your area. I always check to see how they price things, whether or not the prices or fair, etc. What prices are fair to you may vary from mine, though.
I personally am willing to pay a little more than market value for a card that I can see in person and make sure it's in NM condition and I don't have to risk shipping the item. You can verify things, like centering, corner sharpness, check for scratches in the holo, etc. before buying and this is great if you are looking to get your cards graded or you just prefer to have the highest quality cards possible. It's also fun to just go see what they have.
You can really build a relationship with your local shop and it feels good to support individuals, who often love Pokémon just as much as you do. Another thing to ask is if they have a rewards program. Some stores give you a reward every time you spend X amount of dollars, but this, of course, will vary from location to location. In addition to being great places to buy from, both for sets and singles, your local stores may have Pokémon game nights or tournaments that you can take part in.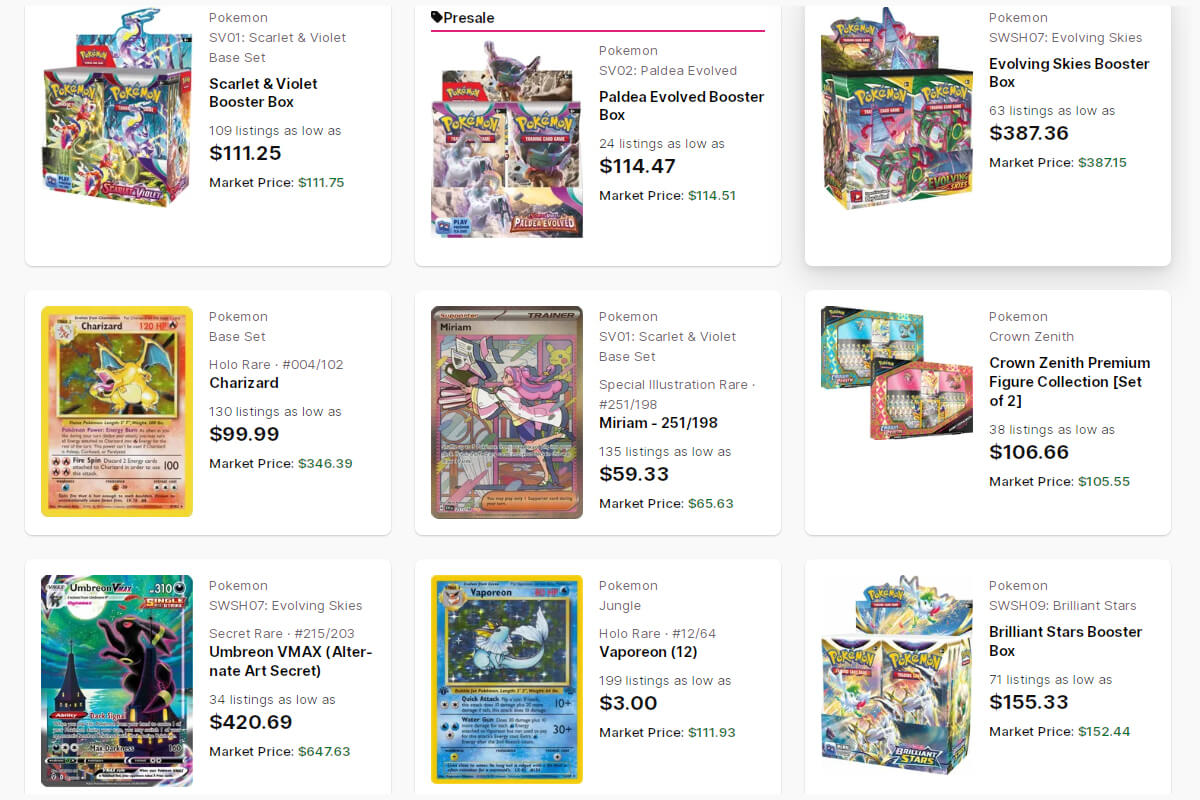 TCGplayer has a marketplace for Pokémon cards, and I often buy from them more than eBay, because when you buy direct from TCGplayer, your card(s) are authenticated and you get free shipping on orders over $50 USD. When shopping on their site, you can filter cards that are sold directly from TCGplayer.
I will also buy from Verified Shops or Gold Sellers on their site as well. I always recommend buying from a local game store over buying online because you can see the cards in person, but you won't always be able to find the cards you are in search of. When this happens, I turn to TCGplayer.
If you have the chance to buy direct from TCGplayer, it gives you that added assurance that your card(s) are authentic, but Verified Shops and Gold Sellers which have a lot of reviews, are great to buy from too. Depending on your preferences, you may want to get the lowest price possible, but if you are like me, you may prefer to buy a card at a slightly higher price from someone who has higher reviews and is verified for added peace of mind.
If you buy from Verified Shops or Gold Sellers, be sure to check for added shipping costs. You will pay shipping individually depending on the shop or seller you are buying from. Some have free shipping, while others don't. As mentioned earlier, you can get free shipping on orders over $50 USD when you buy direct from TCGplayer.
I will say that some individual sellers ship better than TCGplayer themselves. I placed an order of six cards and TCGplayer shipped them all in the same sleeve back to back. Many of these were $20 or above-priced cards. Some smaller shops that sell on TCGplayer ship their items with better care, but this varies from seller to seller.
Before you buy, definitely check reviews to see if anyone mentioned how they ship their cards. How they ship usually depends on the price of the card too. Lower-priced cards will usually arrive in a standard envelope in some sort of sleeve, while more expensive cards tend to come in bubble mailers and inside sturdy toploaders.
In addition to buying, TCGplayer is a site I often reference to make sure I'm getting a fair market price on a card. On sites like eBay, prices can vary so much depending on if someone got something for a steal on a bid or if someone else bought something for a ridiculously high price.
People are also always trying to have the lowest price on eBay too, which drives down prices, which while good for us buyers, can drive down the market value of a card. For these reasons and more, I've found TCGplayer to be a more accurate resource when finding a price for a card. It's also a great resource when shopping out in the wild to know whether or not you are getting a fair price.
Barnes & Noble is a great place to buy Pokémon cards if you enjoy shopping in-store, but they rarely release cards and sets online. Recently, they put the Ultra-Premium Charizard Collection up on their site, so they do put larger collections up online from time to time, but for everything else, you'll have to shop in-store. If you are someone like me, who personally prefers picking up sets and packs in-store rather than online, Barnes & Noble is one of my top choices.
I will say that selection can vary from store to store, but I've found that most Barnes & Noble's have a good selection to shop from. If you have multiple Barnes & Noble's in your area, I highly recommend checking them all out to find out which one has the best selection. Some stock or restock items more regularly and quicker than others too, so this is something to keep in mind as well. At the time of this post, my local B&N's have everything from packs to Elite Trainer Boxes as well as boxes, like VMAX, V-Union, and ex boxes, and the Ultra-Premium Charizard Collection available, so they usually have a good selection of items to browse in-store.
If you call in to check stock, I've found that the staff's knowledge of the products varies by location. That being said, if you are looking for a specific item, it's always best to just go and check yourself to see if they have it in stock.
One big reason I love buying Pokémon cards at Barnes & Noble is because of their membership benefits, which you can use to get discounts on sets and packs. For $39.99 a year, you can sign-up for their membership program, which gets you 10% off purchases. Barnes and Noble also have something called "stamps". For every $10 spent on eligible items in a single transaction, you earn a stamp. So every 10 stamps, you get a $5 reward. If you buy a lot of sets and Elite Trainer Boxes, in particular, you'll reach these rewards often and you only have to spend a couple hundred dollars a year to make the membership worth it.
To give you guys an idea, one day I picked up a Crown Zenith Elite Trainer Box for around $38 USD. Not only did they apply the 10% off, which came out to around $5.50 in savings, but I had a $10 coupon to use as well. Their membership is definitely worth it in my opinion, especially if you buy a lot of the higher-priced sets that release.
If you are someone who buys manga, books, graphic novels, etc in addition to Pokémon cards, Barnes and Noble's membership is even more worth picking up, because you will save well more than the $39.99 membership fee you pay per year. I personally buy a lot of manga, in addition to Pokémon cards, so Barnes & Noble's membership is one of the best options out there for me.
If you don't want the online free shipping with no minimum purchase or the 10% off member discount, there is a free rewards card option available. The free option allows you to collect stamps for rewards, but it doesn't have any of the other added benefits mentioned above.
One final thing I want to note is that I have another money-saving hack for Barnes & Noble. I buy discounted gift cards through a site called CardBear. CardBear helps you to find the most highly-discounted Barnes & Noble gift cards and I often shop their site to get even more savings. The gift cards are only digital and they usually take 24 hours to arrive via email, so if you need to purchase an item asap, make sure you order them in advance.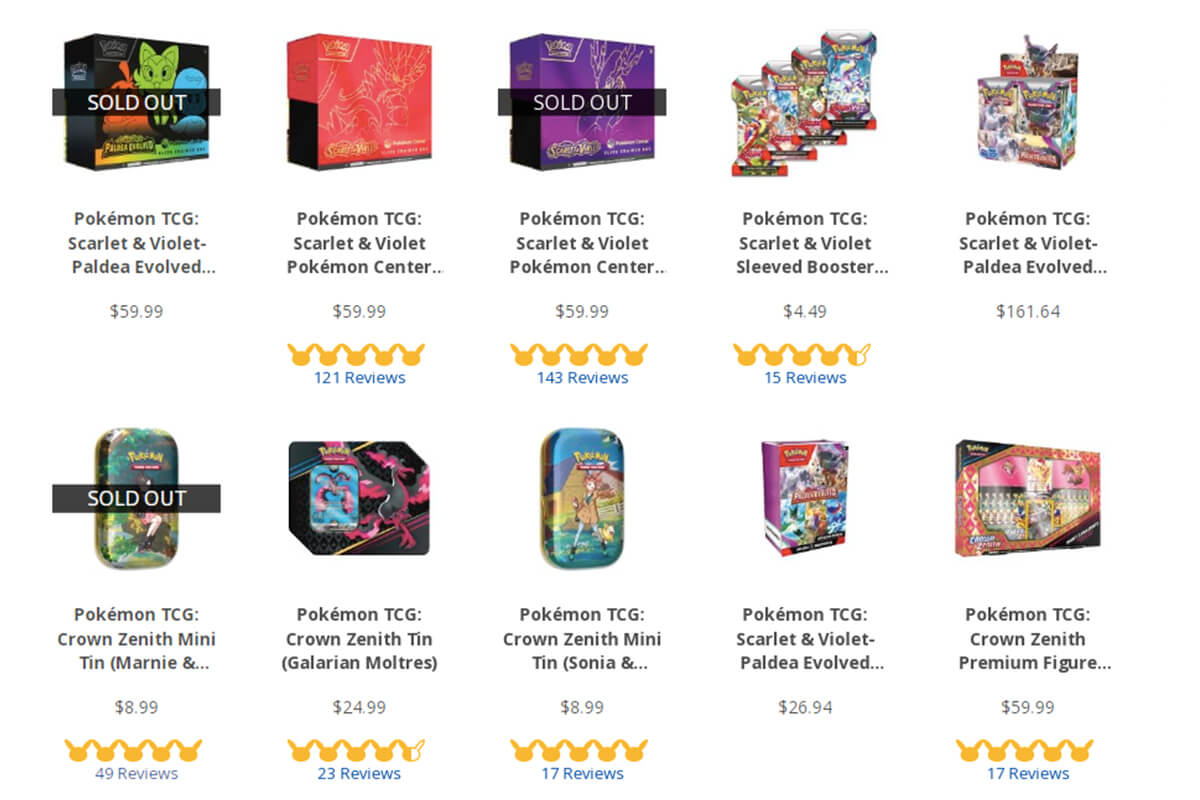 Pokémon Center is the official site for Pokémon and it is one of the best places to shop not only Pokémon cards, but official Pokémon products as well, including merch, plushies, toys, and more.
One benefit to shopping at Pokémon Center is that they release exclusive sets on their site, most notably exclusive Elite Trainer Boxes. Since Pokémon Center runs few sales, you will, more often than not, have to pay full MSRP for products on their site. That being said, they are one of the more expensive places you can shop Pokémon cards, but you always know that the packs and sets you are buying are 100% authentic since they are coming straight from the source.
If you like shopping for other Pokémon products, in addition to Pokémon cards, Pokémon Center is an incredible place to shop.
If you are looking for deals on Pokémon cards, Amazon often has them listed for lower than MSRP, especially items like Premium Collections, Booster, and Elite Trainer Boxes. When buying from Amazon, though, make sure your items are shipped and sold by Amazon itself. Amazon has third-party sellers and not all of them are reputable. That's not to say that there aren't some reputable sellers on Amazon, but that, much like eBay, you have to be wary of buying Pokémon cards from third-party sellers on Amazon.
In all honesty, though, I only recommend buying Pokémon cards directly from Amazon, because, unlike eBay, third-party sellers don't post pictures of the product or the cards you are actually buying. There is some level of protection when buying from Amazon, though, if they are being shipped from an Amazon warehouse.
As mentioned earlier, Amazon often has Pokémon cards listed below MSRP and they run a lot of discounts and sales. They are also one of the most convenient places to shop online, especially if you have a Prime membership. Another thing to consider is that Amazon does not always package items with care. Oftentimes, boxes will come with dings and dents due to their bad packaging, so if you are looking to save unopened boxes, Amazon may not be your best bet. Since Amazon has some of the lowest prices you can find, they are still worth it, though, especially if you like to open up packs.
eBay is one I recommend with a caveat because you have to know a lot about the cards and sets you are buying when shopping eBay, especially if you are looking for an expensive, highly-sought after card. Fakes are out there and sellers don't always note when an item is fake.
They've gotten better at faking cards too, even adding texture to cards in order to further trick buyers. You really have to study these cards, know the patterns of the texturing and look at the quality of the holo as well as the overall printing of the card. If anything about the card looks off or the price is too good to be true, it's best to think twice before buying it. Some will also put the card in multiple sleeves to hide the quality of the card as well. And it doesn't stop there, because some graded cards are now being faked too.
These are just a few of the things that people selling fakes will do to trick buyers into thinking a card is legitimate. I'm not saying this to scare you guys off from buying cards on eBay because it can be a good place to find deals, especially when you bid on an item you want, but you just have to be a bit more knowledgeable and cautious when buying Pokémon cards on eBay.
There are incredible sellers, including small businesses, like reputable comic shops and game stores that sell on eBay, so there are reputable sellers you can buy from. Always be sure to check the seller's reviews before buying from them and see if they are selling any other cards you want because some will have bulk shipping costs or give you discounts when you purchase multiple items from their shop.
eBay is a great place to shop Pokémon cards, both Japanese and English cards, and you can often find graded cards available for purchase on eBay too. As mentioned above, you just have to be a bit more wary and research the item you are buying to make sure you are getting a legitimate product, and make sure the seller is reputable before buying from them as well.
Big Box Retailers like Target, Walmart, and Meijer
Another great place to buy Pokemon cards is big box retailers. Stock tends to run out fast for some items on release at some of these stores, particularly Target, but they usually have a good selection to shop year-round and they are a good place to check for restocks as well. Stock, of course, will vary depending on your location, but they are worth checking out if you are in search of a specific set.
It's not as easy to get deals at Target, Walmart, and Meijer as it is on sites like Amazon, or even GameStop and Barnes & Noble, who have membership options that allow you to get discounts on boxes and packs, but if you shop them enough, you will stumble upon some discounts. In-store, some boxes are put on discount or even placed on clearance shelves too, and online sales happen from time to time. You have to keep an eye on their deals more so than most.
One thing I will say about Walmart and Target's websites is that they allow third-party sellers to sell items on their sites and there are a lot of third-party sellers on each selling Pokemon cards, boxes, and packs. That being said, you'll need to treat the third-party sellers on these sites much like you would on Amazon. Make sure they have good reviews and are reputable before purchasing from them. In most cases, though, I only recommend buying directly from Walmart or Target themselves.
Another thing I want to mention is that Meijer doesn't seem to care as much about where and how they display the cards and sets they have on sale and since some of them place their Pokemon cards all the way in the back near the games and toys aisle, I've noticed many open packs and boxes on the Pokemon shelves, so theft can be an issue at these stores as well. Most Targets and Walmarts keep their cards near the front and this is something I personally prefer and they also keep the shelves more organized and cleaner than Meijer does, at least in my experience.
What about Japanese Pokemon Cards?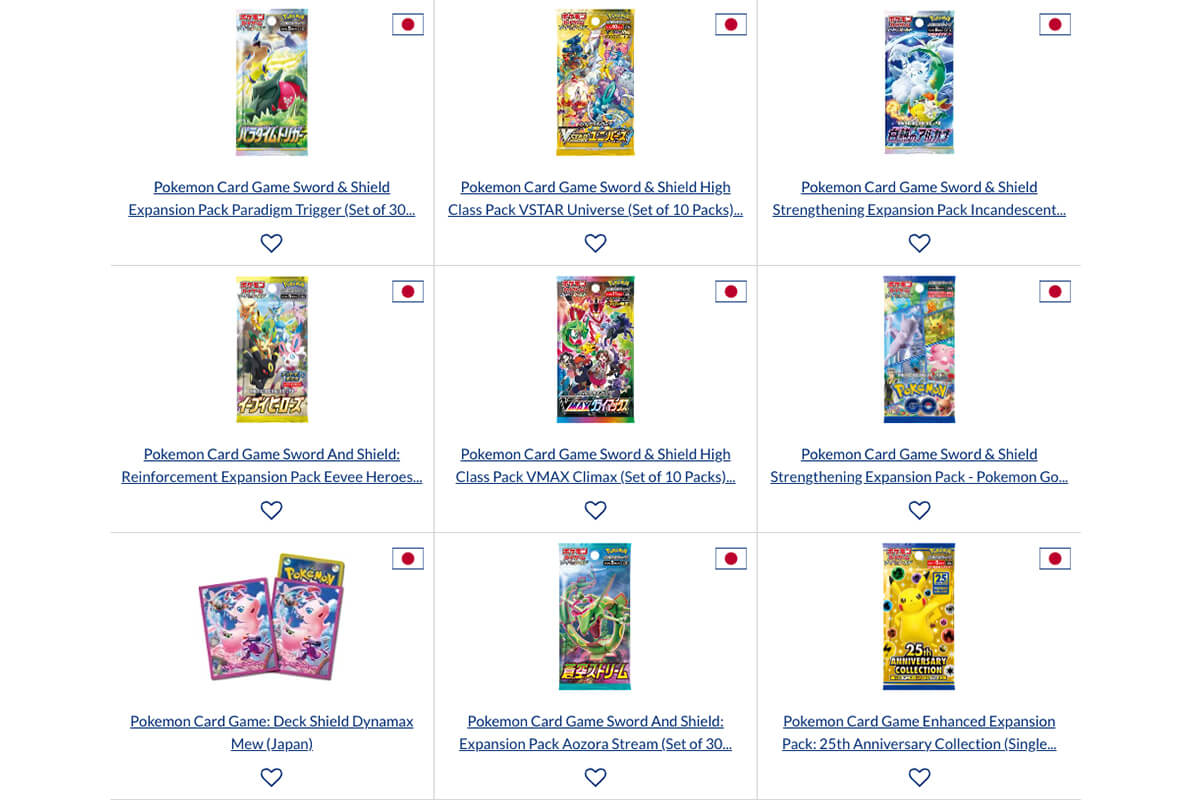 Playasia is a site I initially began shopping because they sell video games with English support, including Pokemon games, that you can't find or are harder to find in the US right now. Later on, I discovered that they are a good place to shop for Japanese Pokemon cards as well as Japan-exclusive plushies and figures as well. 
If you buy video games in addition to Pokemon cards, Playasia is an incredible place to shop. Keep in mind, though, that they only sell Japanese Pokemon cards on their site and that, if you are looking to buy games that have yet to be physically released in the US, you'll want to make sure that they have English support before buying them.
The reason I recommend Playasia for Japanese Pokemon cards is that they are a legit and trusted retailer. I have been buying from them for years and have yet to have a negative experience. They have good shipping as well.
Another thing to note is that Playasia sells out of stock quickly, so you have to keep an eye out on their site for new releases and restocks more so than most. Because of this, they often don't have a whole lot of stock to shop aside from newer releases when it comes to Pokemon cards. There is a lot more to shop on their site, in addition to Pokemon cards, which makes them one of my favorite places to shop.
To give you an idea as to how they price items, they are selling the Sword & Shield High-Class Pack VSTAR Universe (Set of 10 Packs) for $89.99 USD, which is going for around $63.90 USD on Amazon Japan pre-shipping cost. Shipping cost to me in the US tends to be around $20-$40 USD from Amazon Japan depending on the order the size.
One of the main reasons I shop Playasia over Amazon Japan is that you often have to buy from third-party sellers for most sets, and while you can find reputable and good sellers on Amazon, I personally feel more comfortable buying from a retailer whenever I can.
That all being said, if you are someone who loves to buy video games, figures, plushies, and more in addition to Japanese Pokemon cards, you'll want to check out Playasia!
These are the best places you can buy Pokémon cards right now! I only included sites and stores on this list that I've personally bought from and can attest to, but I will continue to update this list as needed and as I buy from more, so stay tuned!