When I first started collecting anime statues, I was quite overwhelmed and lost on where to begin. Unlike collecting anime figures, collecting resin statues is not as straight forward. Not only was I concerned that what I was ordering was authentic, but were all these sites legit and did they offer good customer service? Some offer better prices than others and shipping prices vary from place to place, but the one thing I always look for is whether or not they have good customer service.
Before I'll purchase from a site, I'll shoot them an email with a general question that's usually about shipping or a certain statue, and I'll see how long it takes for them to get back with me. And while this doesn't necessarily show you how good they will be fixing an actual issue, it does show you how responsive they are. Unfortunately, you really won't know how great a site is until you receive your statue in terms of shipping and handling breaks/missing or wrong pieces, but you can definitely listen to the experience of others whether that be on Facebook groups or on posts like this one.
I'll also mention that there are two types of anime statue studios: Licensed and unlicensed. I purchase both, even though I don't condone what unlicensed studios are doing. Of course, it's always best to buy from a licensed studio, because it supports the industry and the series. But I've been known to look past this when an unlicensed studio releases a completely original piece. With that said, the places I recommend you buy unlicensed anime statues from are not the same places I recommend you buy licensed anime statues from. In this post, I'll recommend different places you can buy each.
Many statues later and I've purchased from most of the sites that sell anime statues. While I've had some issues when buying from certain sites, which I'll get into below, I've had a positive experience buying and getting statues from many others. Read more about the sites I recommend buying anime statues from and a few I recommend being wary of below!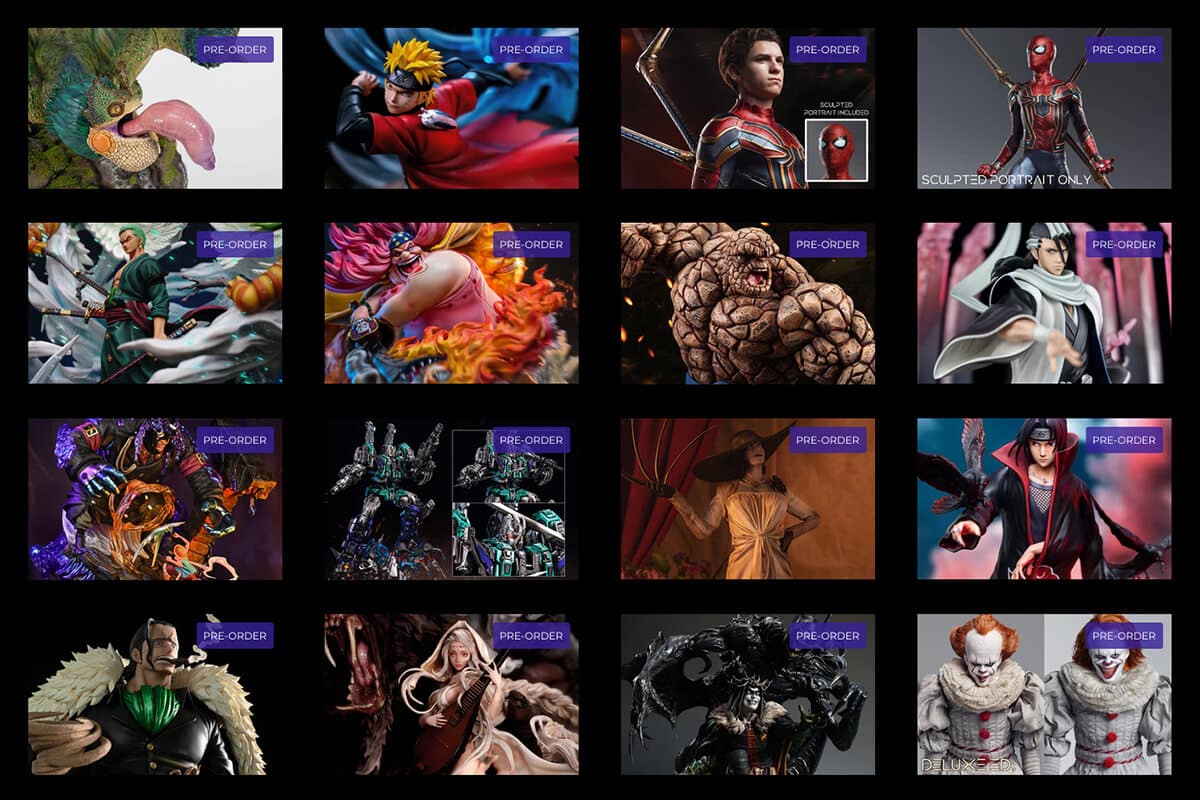 Spec Fiction is a statue site that only sells licensed statues and they are one of my favorite sites to buy from. They have a great selection to shop from from studios like Figurama, Iron Kite Studio, Jimei Palace, Tsume and more. At the time of writing this post, their selection is one of the largest out of all the sites that sell licensed anime statues, so this is a benefit to buying from them. They also sell a lot of comic book statues too if you collect those.
Their prices are great for licensed statues, especially when you consider their lower shipping rates. Although, I will say with the shipping crisis as of late that rates have increased on all anime statues sites, so this is something to keep in mind. Their shipping rates tend to be cheaper in comparison to other sites, especially when shipping to the US or Canada, and in most occasions, it's even cheaper to buy from them instead of the licensed studio themselves.
Once your order ships from Spec Fiction, it arrives quickly if you are based in the US as well. Do note, though, that Spec Fiction ship their statues out later than the licensed studios themselves, like Figurama for instance. So if you want your statue asap, you may want to buy directly from the studio, but if you are looking to save on shipping and don't mind waiting a bit longer, Spec Fiction is a great place to shop.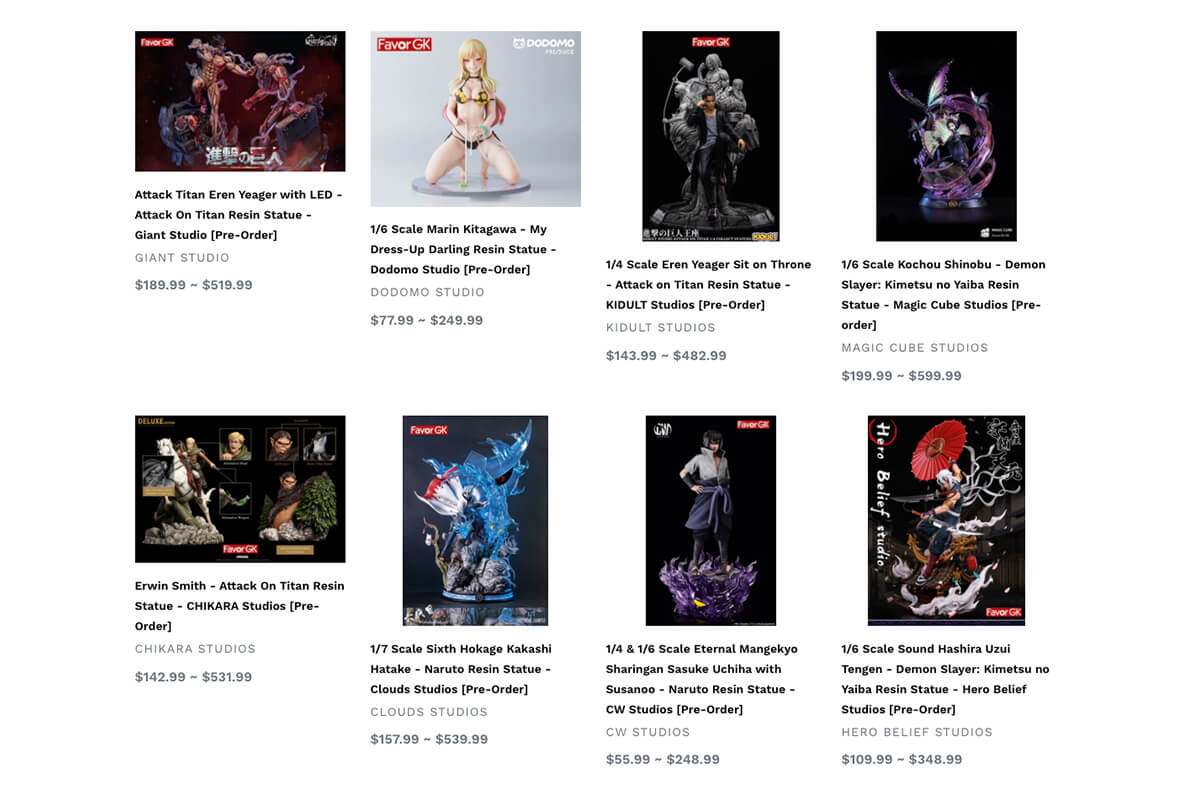 I discovered Favor GK awhile back when looking for recommendations on YouTube, and they have since been one of my go-to's for buying anime statues. They are the main place I preorder and purchase my unlicensed anime statues from; However, if you are looking to purchase a licensed statue, I have other recommendations, especially if you live in the US, which I list in this post. For those of you looking to buy unlicensed anime statues, though, Favor GK is the one I recommend most.
Personally, I have yet to have a negative experience with Favor GK, and unlike some of the other sites I've purchased from in the past, they have great communication and quick response times. As far as customer service goes, they are one of the best I've come across and it is mainly for this reason that I continue to purchase from them.
Other sites may have cheaper shipping options at times, but I feel more confident and secure in purchasing from them with their customer service. Aside from that, they have a wide variety of anime statues to choose from, and this only makes shopping from them that much more enjoyable.
One thing to be aware of is is that I've found it's always better to buy statues when they are on preorder, because when they go in stock, Favor GK does boost the price a bit. This is just something to keep in mind if you are considering purchasing a statue from them. Also, Favor GK runs early bird discounts for a limited time on statues when they go up for preorder, which definitely helps level out their overall cost in comparison to other sites.
As it currently stands, when it comes to buying unlicensed anime statues, Favor GK is one of the sites that I feel comfortable in recommending, because I have never had a bad experience when buying from them and they seem to care about their customers and the quality of their shipments more.
Is Favor GK legit?
I'm calling this out because this is a question I get asked a lot. There's always a concern as to whether or not sites like Favor GK are legit. I've personally preordered and received statues from them and they are authentic, and as a site, they are are reputable.
To clear any worries you may have, all of the sites I mention on this post are legit and the anime statues they sell are authentic and are from the studios you are looking to purchase from. I can only attest to the anime statues, though, so I can't attest to the legitimacy of the other items, such as figures, art, clothing, etc that may be sold on these sites.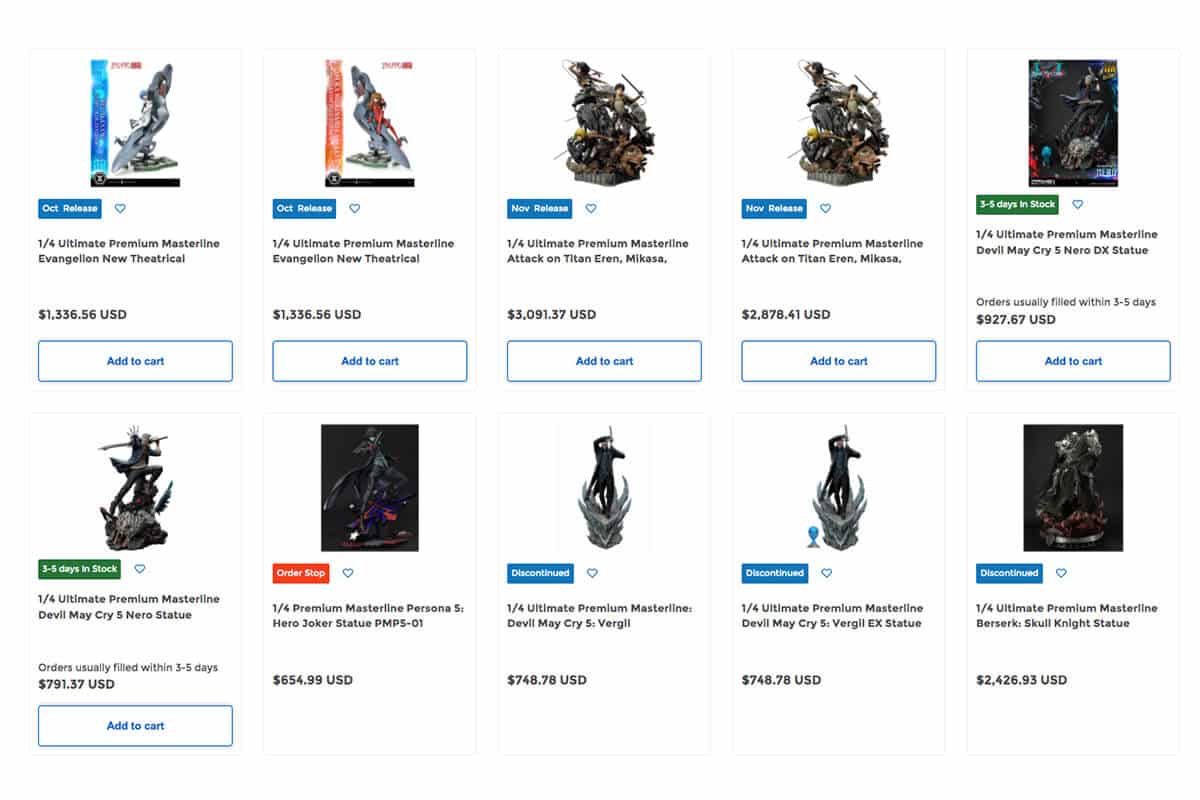 HobbyLink Japan is a site that sells authentic anime figures as well as licensed anime statues, so if you are into collecting both, they are a great site to shop. One benefit to buying from HobbyLink Japan is that they have a private warehouse, where you can safely and securely store your orders until you are ready to ship them. This feature allows you to bulk ship orders or ship them in smaller shipments. The customizability of their shipping is a plus to buying from them. Customer service is a strong suit of theirs also.
One thing I will say, though, is that heavier items are quite costly to ship, especially given that they are shipping out from their warehouse in Japan. That being said, if you are located in the US or Canada, it is cheaper to buy from sites like Spec Fiction or Comic Concepts instead. Depending on your location worldwide, though, they may be a more cost-effective option. HobbyLink Japan's prices on higher-end anime statues tend to be a bit more pricey than their competitors as well.
They require a deposit up front as with most anime statue sites and they do not accept cancellations. Not accepting cancellations on items is a negative to shopping from them, but they do have a nice selection of licensed anime statues to shop if you are in search of a specific statue. I wanted to mention them because they are legit, sell authentic anime statues, and they have good packaging and customer service.
Games Animation Collectibles
One of the few sites, other than Favor GK, that I buy unlicensed anime statues from is Games Animation Collectibles. From what I've seen in groups, they are also one of the sites that I see recommended the most in addition to FavorGK and I've had good experiences when buying from them.
They good great customer service and response times in comparison to others I've purchased from before. Games Animation Collectibles also has a great variety of statues to shop from and their site is one of the easiest to navigate.
Update: Since the time of writing this post, Games Animation Collectibles have had some issues with their system. Usually I don't have issues with them, but something is wrong with their site. They are getting people's addresses and information jumbled, so this is something to keep an eye out.
One time, I actually received someone else's statue shipment from them. Luckily, their phone number was on the package so I could contact them about it and get it sent out to them. If you buy from them, be sure to double-check that they have the correct address on your final invoice and shipment notice.
Comic Concepts
Comic Concepts is a site that only sells licensed pieces and they have anime statues available for preorder or purchase, such as Jimei Palace's Enel The God of Thunder, as well as some from Tsume and Prime 1 Studio. Right now, they only have a select few anime statues available on their site, but this is something that may be expanding in the future. They've actually been amping up the number of anime statues they carry on their site as of late from studios like Figurama and Prime 1 Studio.
When it comes to licensed statues, they have some of the lowest prices even with shipping, especially for Prime 1 Studio statues, I've seen and they have good customer service as well. If you are someone who likes to only buy licensed pieces or someone who is still unsure about buying anime statues, Comic Concepts and Spec Fiction, which is mentioned above, are two sites I highly recommend. Both are official third-party sellers that you can trust.
Sideshow Collectibles are known for selling high-end collectibles like Hot Toys, but they also sell some anime statues and figures as well.
They have a few anime statues for sale from Prime 1 Studio from series like GANTZ:O available for purchase, but as of now, they have the smallest anime statue selection available out of all the places on this list. But they have a wide variety of anime figures to shop from, including some 1/6 scale figures by Threezero of Alphonse Elric & Edward Elric, Guts (Berserker Armor) and more.
Sideshow Collectibles is always a place to keep in mind for licensed anime figures and statues and they also have great payment plans you can look into as well.
Directly from the licensed studio
The final place I recommend buying anime statues from is of course from the licensed studio themselves. Licensed studios, like Figurama Collectors, Tsume, Oniri Creations, and Prime 1 Studio, who just recently announced an upcoming My Hero Academia statue, have online stores to buy from.
One thing to look out for is that shipping from these places can sometimes be more expensive depending on your region than if you were to buy them from sites like Spec Fiction, Sideshow Collectibles, or Comic Concepts, so this is always something to check on before you purchase from the studio directly.
Another benefit to buying from the studio themselves is that they run great payment plans. Other sites I've mentioned above give you the option to pay a deposit at first and then you pay the remaining balance on the statue when it ships. But when you buy directly from some studio's sites, like Figurama Collectors, you have the option to do payment plans where you pay a fixed payment on the statue each month until its paid in full. This is definitely a benefit to buying from them directly.
As always, the main benefit is that you don't have to deal with a middle man but instead are buying directly from the source, which in most cases, helps with customer service and they are usually more responsive and helpful in the event that something were to come wrong or broken; In addition, it's possible that you will get your statue sooner than you would buying it from a third-party site.
Sites to be wary of
There a couple that I would urge you to be very wary of, Anime Collect and Fanatic Anime Store. These are two I personally don't recommend. I have had negative experiences on multiple occasions with both of these anime statue sites, and from what I've seen in Facebook groups, this is a trend and common issue with these two in particular.
Is Fanatic Anime Store legit? Yes, but they have poor customer service with extremely lengthy response times, and if something breaks or goes wrong during shipment, don't hold your breathe getting a response for months if any at all. I never expect anything from a site unless they say or promise that they are going to do something and Fanatic Anime Store unfortunately make promises they don't keep. They'll respond to your questions about purchasing statues but when it comes to actual issues regarding orders you've received, they have been known to ignore those.
I wouldn't recommend buying from these two. Fanatic Anime Store may be okay if you absolutely have to buy from them. But if you are buying an expensive, large statue, I would recommend looking into buying from one of the other sites above, because it's not worth the headache or risk dealing with Fanatic Anime Store's customer service. I am happy with their pricing and their selections, but there's much they need to improve on before I consider buying from them again.
In regards to Anime Collect, though, I personally would never buy from them because there have been a lot of red flags about this site in particular and I have experienced issues with them firsthand.
Final thoughts
Personal experiences can obviously vary, but as of now, these are places that I've had the best experience buying anime statues from.
For unlicensed anime statues, I recommend Favor GK the most. For licensed anime statues, I recommend Spec Fiction, Sideshow Collectibles, and Comic Concepts, but I also recommend buying directly from licensed studios, like Figurama Collectors and Prime 1 Studio, as well.
If you are looking for more information on unlicensed statues, check out our guide to buying unlicensed anime statues! Looking to buy anime figures in addition to anime statues? Check out our guide to buying anime figures in the US!
Also, if you are interested in anime statue unboxings and reviews, be sure to check out my YouTube channel. I unbox and review all of the anime statues I receive on the channel.