I have been watching anime since the 90s, so needless to say, I have watched a lot of anime. It's been amazing to see anime grow to the popularity it has in recent years and how easy it has become to stream our favorite anime series, whether it be from the comfort of our home or on the go. Anime streaming services have made it even easier to access anime, and more often than not, we get to watch anime the same day it releases in Japan thanks to simulcasting.
As it currently stands, Crunchyroll has the largest anime library out there, but is that enough to make it worth it, and how does it stack up to the rest? In this post, I'll take a look at how Crunchyroll compares to the other anime streaming services I've used over the years—I've used all of them by the way—in a number of different areas, including library size, anime exclusives, streaming quality, regions served, and more. I've been been a subscriber to Crunchyroll for over 10 years, so I've seen how the platform has evolved over time and how they've improved or not improved as well.
All of the screenshots in this post were taken from my Crunchyroll account. I have the Crunchyroll app on PS5, Xbox, and Switch. The screenshots I included are taken from the PS5 app unless otherwise noted.
Crunchyroll Pricing and Plans 2023
First, I want to talk about the cost of Crunchyroll. In 2023, Crunchyroll's monthly cost varies depending on the plan you choose. Their current plans are Free, Fan, Mega Fan, or Ultimate Fan. Each plan comes with different perks. All are ad-free, except for their free plan.
You can compare each of Cruncyhroll's plans and their perks in the table below!
| | Free | Fan | Mega Fan | Ultimate Fan |
| --- | --- | --- | --- | --- |
| Ad-free | | | | |
| Access to full library | | | | |
| Offline viewing | | | | |
| Simultaneous streams | 1 | 1 | 4 | 6 |
| Price | — | $7.99/mo | $9.99/mo | $14.99/mo |
| | View Plan | View Plan | View Plan | View Plan |
Crunchyroll compared to other anime streaming services
Crunchyroll has one of the longest free trials you can sign-up for, and it is the longest free trial of the streaming services that are dedicated to anime. You can sign up for a 14-day free trial if you are a new user. As you can see, some streaming services don't have any free trials, like HBO Max and Netflix.
As you can see in the table below as well, they are the only service that has a ad-supported free plan available and their paid plans, which are ad-free, are competitively priced. I added library size on here as well. If not noted by the streaming service themselves, I went into my account and counted the approximate number of anime titles that each had on their platform. For streaming platforms that don't own the license to the anime they are streaming, like Netflix, this number is extremely variable, because anime are arriving and leaving their platform all of the time.
That all being said, here is how Crunchyroll compares to all of the other streaming services that stream anime on their platform, including pricing and free trial size.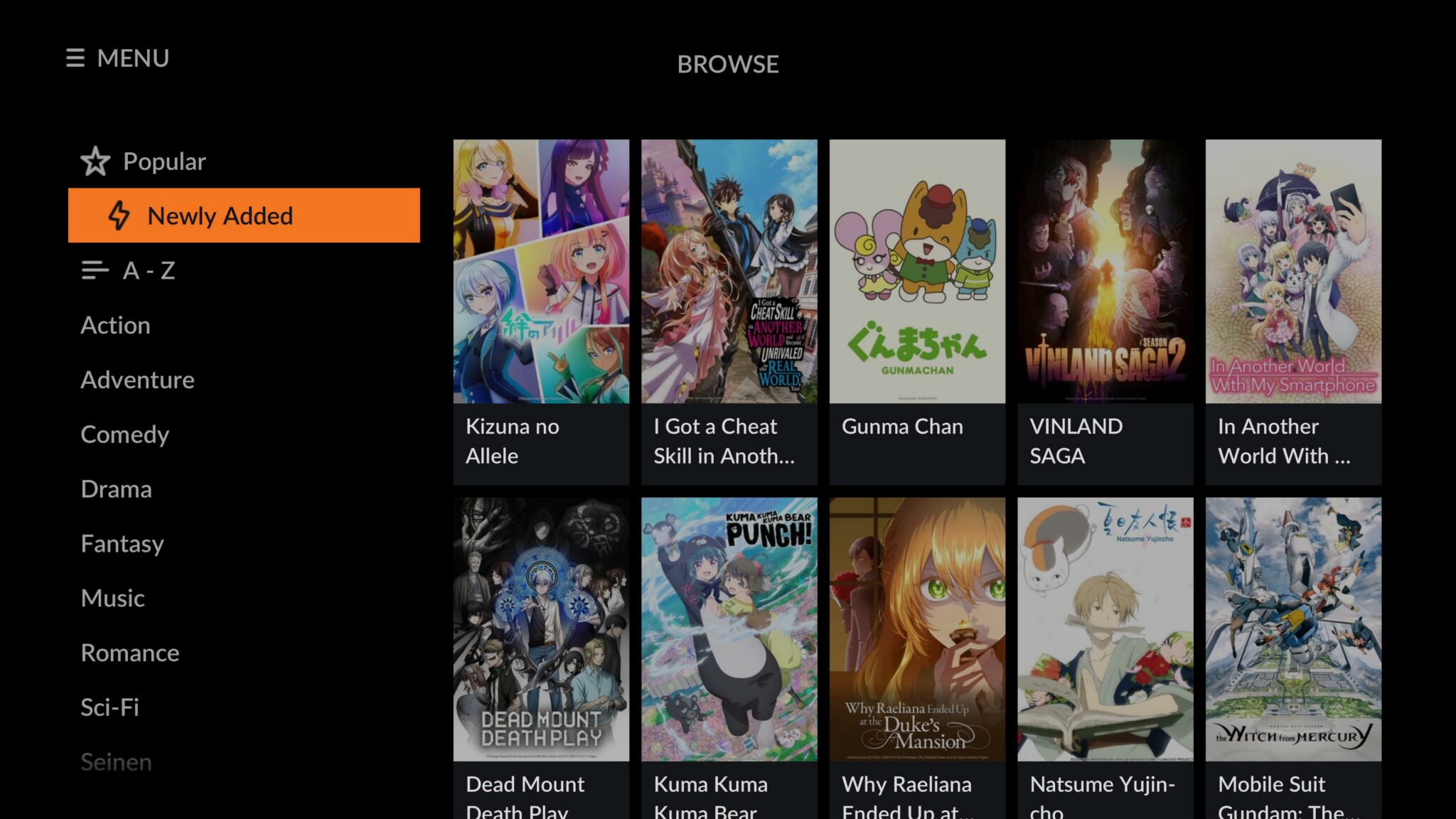 Library and Exclusives
Crunchyroll has over 1,000 anime series and movies on its platform, and this number is constantly growing with the arrival of each new anime season. They have the largest anime library by far. To give you an idea as to just how large their anime library is, the second largest, HIDIVE, has just over 325. In addition to having the largest anime library out there, Crunchyroll gets the most exclusives each season.
I'm going to use the 2022 anime season to compare simulcast titles and exclusives because the 2023 anime season is still being announced. Crunchyroll added 43 new anime to their platform in the Spring 2022 anime season, including Spy x Family, Kaguya-sama Season 3, The Rising of the Shield Hero Season 2, Love After World Domination, and more. They added 31 new anime titles in Summer 2022 as well.
They get the most simulcast anime titles by far and they release each new episode one hour after they air in Japan. Because of this, they are the best place to keep up with new anime releases as well as the best place to watch older or previously released anime series.
To give you an idea as to how they stack up in 2023, Crunchyroll has 44 new anime titles and seasons coming to their platform in the April 2023 anime season. They are Crunchyroll exclusives, but you will see a few popular anime titles, like Chainsaw Man and Spy x Family, come to Hulu's platform from time to time as well.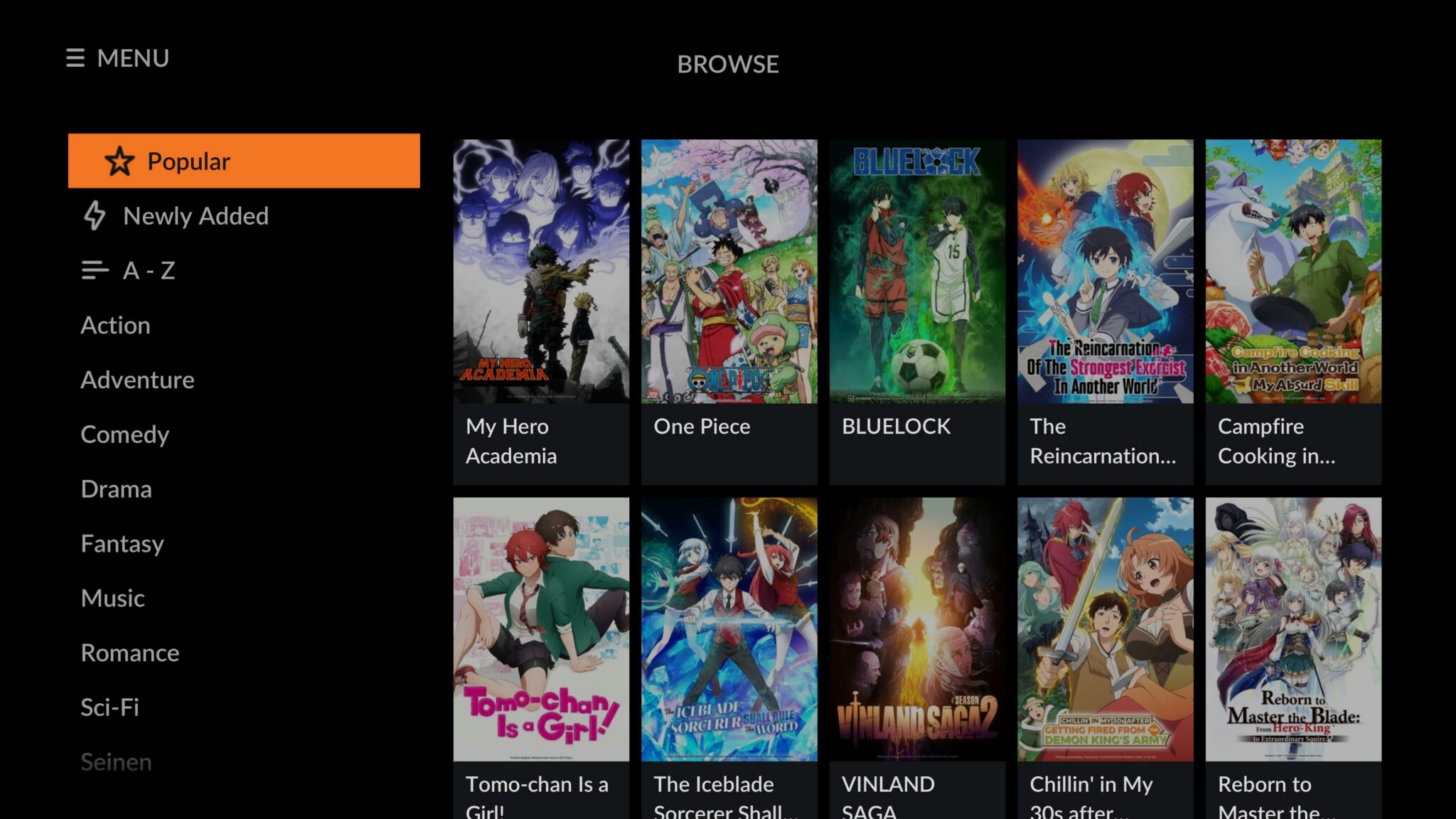 Variety of Anime
As far as their variety goes, Crunchyroll has one of the most diverse anime catalogs. They break genres down more than other anime platforms, so you can find what you are looking for easier when you are browsing their catalog.
Most anime streaming platforms have them broken down by action, comedy, romance, etc., but Crunchyroll breaks them out even further into demographics like shonen anime, seinen anime, and shojo anime as well as more specific genres and themes, like mecha anime, magical girl anime, harem anime, and slice-of-life anime. There's a little bit of something for everyone on Crunchyroll, especially since they have the widest variety of anime genres and anime titles to browse.
Languages Served
Most of Crunchyroll's anime is available to watch in English, Spanish, Portuguese, French, German, Arabic, Italian, and Russian. Crunchyroll dubs anime in more languages than most, which is a positive to using their site or app.
What devices is Crunchyroll available on?
In addition to streaming anime online via your desktop or laptop, you can download the Crunchyroll app on the following devices: Xbox, PS5 & PS4, Nintendo Switch, iOS, and Android devices. You can also stream the anime on Crunchyroll via Roku and Apple TV.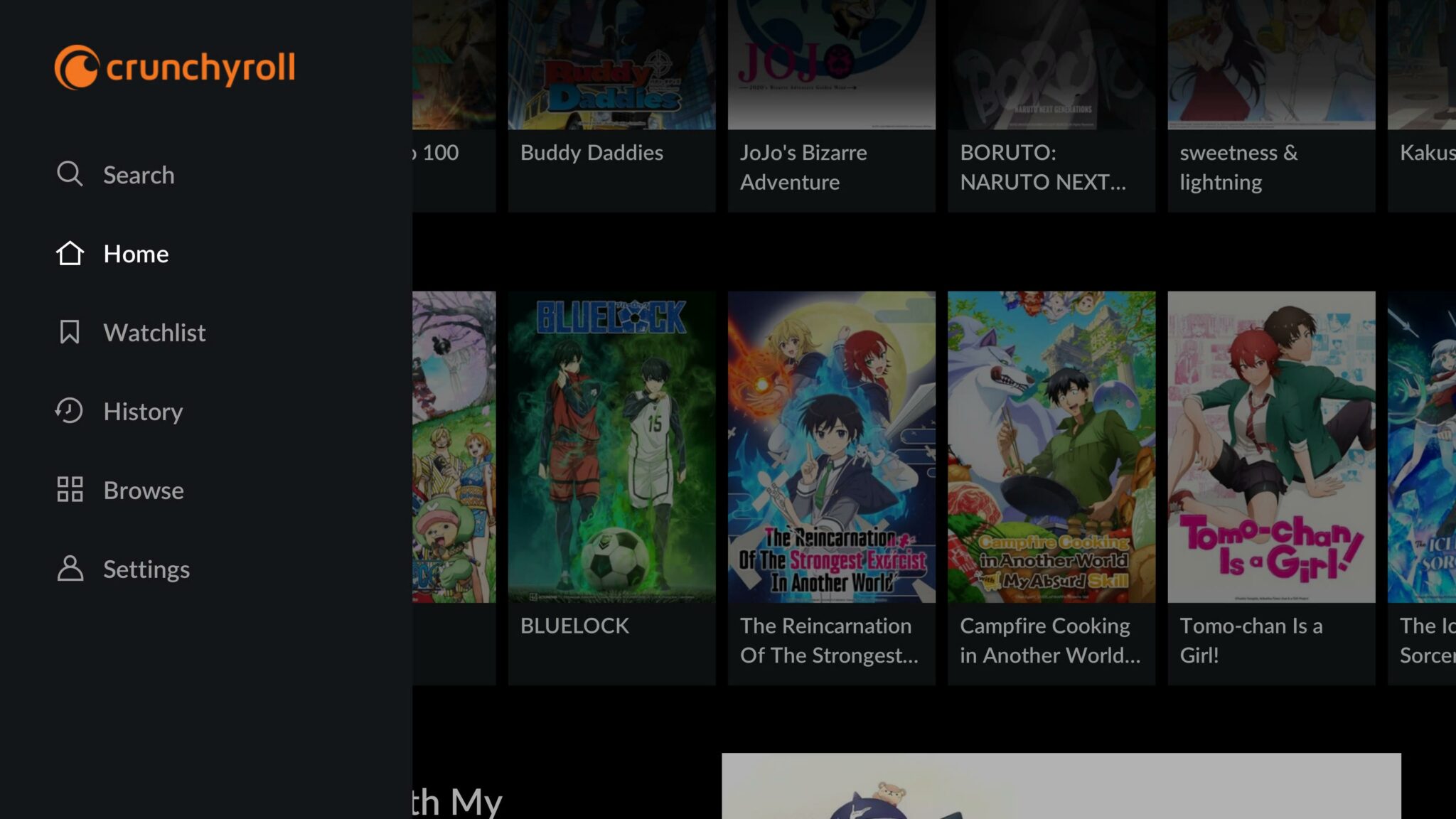 User Experience
Crunchyroll's user experience has definitely improved over the years, but it still could use some improvement. The homepage is relatively simple and uncluttered. You are greeted by popular anime, simulcasts, and new releases when you open up the app. The menu allows you to access your queue, where all of the anime you've started watching as well as those you have saved to your watchlist reside, as well as your history, browse, and settings.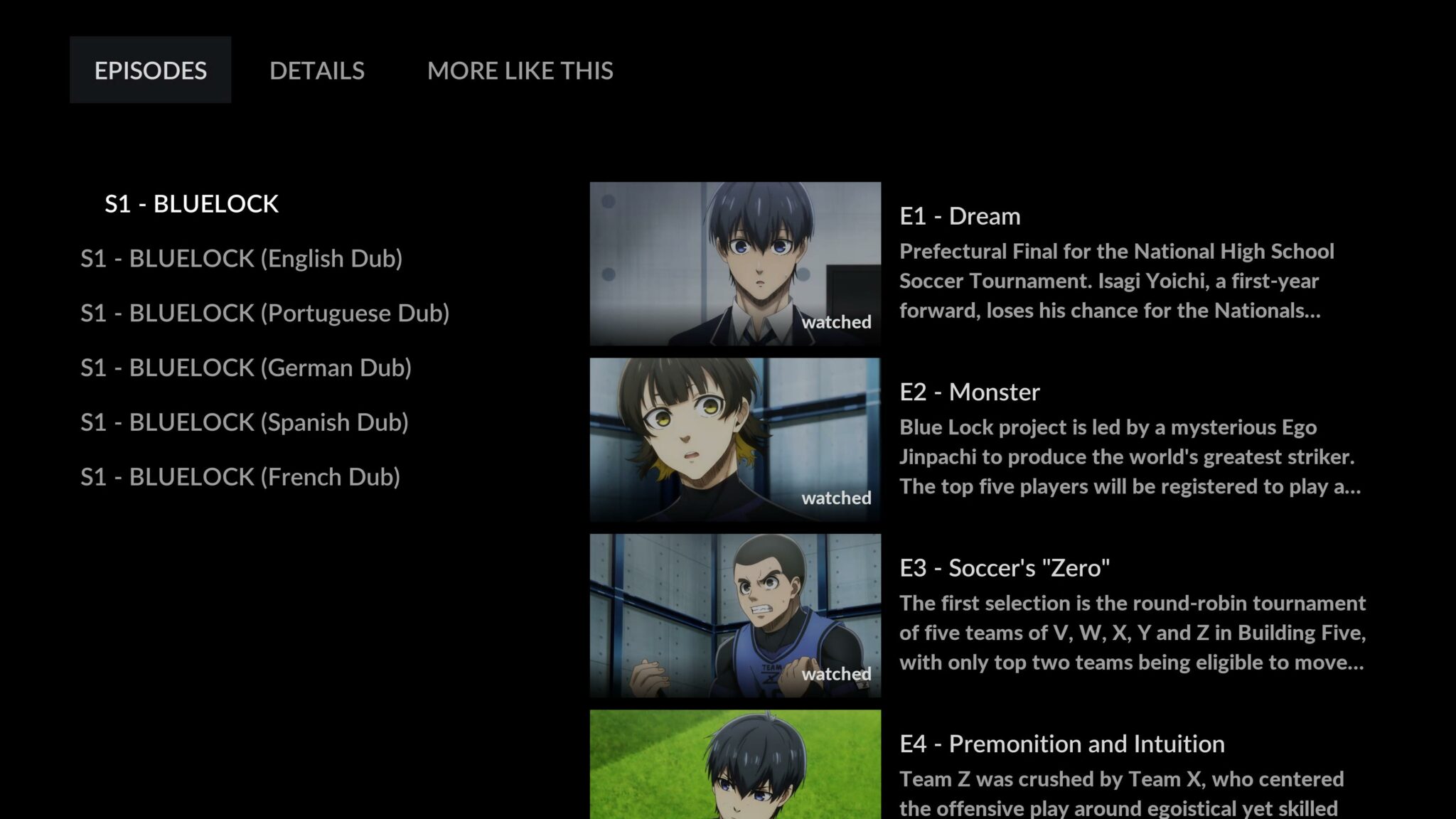 The place they chose to put the different dub options clutters the series page. It can be hard to find the season you are looking for as a result. It would provide a much better user experience if users could either set their preferred language or if they placed them in the video player as Netflix does. They did update where you can choose sub language, though. You can now choose your sub language directly on the video player, whereas in the past you'd have to sort through a list of subs on the series page. This is a welcomed improvement.
One positive of Crunchyroll's app is that they have one of the best browse sections I've seen on an anime streaming site. They break things down by select genres and themes, including action, adventure, comedy, drama, fantasy, harem, historical, idols, isekai, magical girls, mecha, music, mystery, post-apocalyptic, romance, sci-fi, seinen, shojo, shonen, slice-of-life, sports, supernatural, and thriller. They have more genres listed than most, which makes it easier to find what you are looking for.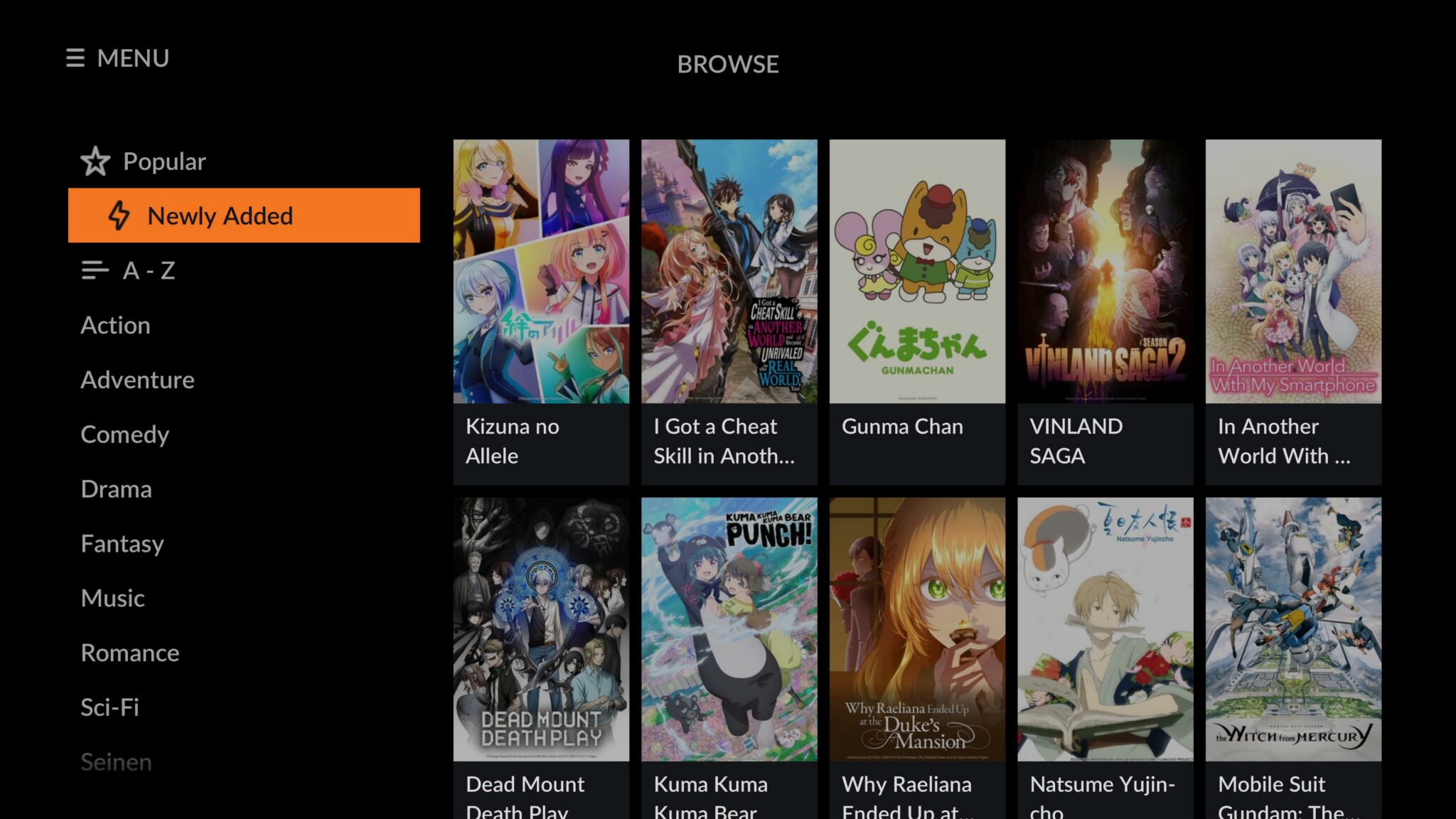 The video player is simple and easy to navigate. In the video player, you can skip ahead or go back in an episode, you can pause or play and can skip forward or back an episode. They mark episodes as watched too once you complete them, which is nice. All pretty standard options for a video player, but theirs has better functionality than most.
All in all, the user experience could be a lot better on Crunchyroll's app, particularly in regards to their series pages and how they categorize and list their dubs, but their app is easy to navigate and use, which is a positive. They have made some improvements over the years, but there is still some room, as with most things, for them to grow.
Video Quality and Buffering
Crunchyroll's videos stream up to 1080p, and while the quality has been there on some occasions, most of the time, I can tell they aren't reaching that level of quality. When there aren't load time or buffering issues, Crunchyroll's videos are some of the crispest and sharp I've watched, though. But, the issues are still there.
Crunchyroll has stopped working and crashed more times than any other streaming service I've ever used. You'll know that Crunchyroll has stopped working when you see the notice, which is pictured in the image below, and I've seen these message more times than I can count. For a frame of reference, I usually see these error messages a couple times a week. Not just on high-streaming days, but also on normal days, and its always on days where all other streaming services are functioning normally as well.
On one particular day, when all other apps were working fine, it took Crunchyroll two minutes to load an episode and it wasn't until past the three-minute mark that it reached full video quality. Consistency is something that Crunchyroll struggles with.
Crunchyroll isn't as consistent as platforms, like Netflix, when it comes to video quality. Load time and buffering is something that is an issue on Crunchyroll as well. I've been using the app for many years and Crunchyroll, aside from HIDIVE, had the most downtime as well as the most issues with buffering out of all the streaming services I use on a daily basis.
In the 10 years I've been on the platform, they have made many improvements, but buffering issues, video quality, and crashes have consistently been a problem on their platform. Even though they have their issues, though, Crunchyroll has become somewhat of a necessity for anime fans, especially now that they acquired both Funimation and VRV.
Final Verdict: Is Crunchyroll Worth It?
Now that we've gone over everything, is Crunchyroll worth it? Yes, it is.
All of my cons for Crunchyroll have to do with its development and user experience. Crunchyroll's video quality is inconsistent and their buffering times will randomly be long. They also tend to have errors on high-streaming days, which is something to consider. Even on non high-streaming days, though, Crunchyroll has had the most downtime and most streaming issues out of any of the streaming services I am subscribed too aside from HIDIVE.
When comparing directly to anime-only streaming services, like HIDIVE, Crunchyroll is better in regards to video quality and user experience, but when compared to streaming services, like Netflix, which has an anime catalog and anime originals, it is way outperformed in video quality and buffering times. I know that Netflix is a much larger platform, but Crunchyroll has 5 million subscribers as of 2021 and it's now owned by one of the world's largest technology companies, Sony.
What ultimately makes Crunchyroll worth it is the fact that they have the biggest anime library out there, get the most simulcasts, and have a wide variety of anime to browse. They simply are the best place to stream anime, because they have the most anime by far to stream. On top of that, they get anime the day it airs in Japan and the size, as well as the variety of their library, makes Crunchyroll a good value for its price. They are the only streaming service on this list that has a free, ad-supported option in addition to their paid ad-free plans, which are competitively priced.
You can check out the pros and cons of Crunchyroll and browse their plans below! If you'd like to give Crunchyroll a shot, they have a 14-day free trial you can sign-up for, which is risk-free because you can cancel at anytime.
Largest anime library with 1000+ anime titles
Most diverse selection of genres to browse
Gets the most simulcasts each season
Simulcast episodes go up one hour after they air in Japan
Wide variety of plans
Serve a lot of languages
Good value for the price
Can cancel any time
Has a 14-day free trial
Video quality is inconsistent
Buffering issues
App goes down and crashes a lot
User experience needs improvement
In other anime news, check out all of the anime that's releasing in 2023 on Crunchyroll and beyond!