The hype is real for Blue Lock by Muneyuki Kaneshiro and Yusuke Nomura, and rightfully so. Not only does it stand out as a distinctive soccer manga, but it has also earned a spot among my top sports manga recommendations. And it's only growing in popularity thanks to its anime, which is one of the best anime of 2022.
Blue Lock follows 300 of the best strikers in Japan as they take on the experimental program, Blue Lock, which is designed to create the ultimate striker that'll lead Japan to win their first-ever World Cup. It's like this survival of the fittest, almost prison-like setting where they are faced with various obstacles and challenges. They are ranked from the very start based on their abilities and while this creates animosity between some of the players, it also fosters growth in our characters by pushing them to be better.
There's more to Blue Lock than initially meets the eye. We don't get the conventional team-building we see in other sports manga, like the all-time great Slam Dunk. Instead, Blue Lock features an incredible sense of camaraderie as well as rivalry, and the teams, while full of strikers, still have to work together to be successful.
As someone who used to play soccer competitively, I found Blue Lock to be a really interesting take. It's unlike any other sports manga I've read before, and I've read a lot of them. With interesting personalities, like Bachira, who's one of my favorites, Isagi, Kunigami, Chigiri, Rin, Nagi, Baro, and Niko to name a few, Blue Lock has an incredible cast of characters.
On top of all that, it's thrilling and adrenaline-inducing, but it's also touching at times as well as you watch these players pool together to navigate this survival of the fittest setting, while at the same discovering their own reasons for playing the sport and further honing their techniques.
There are many reasons why Blue Lock is such a successful series, including those mentioned above, and while there isn't anything quite like it, there are a lot of series that are similar in various ways from their feel and art style to the motivations of their characters and beyond. That all being said, here are the best manga like Blue Lock you need to check out!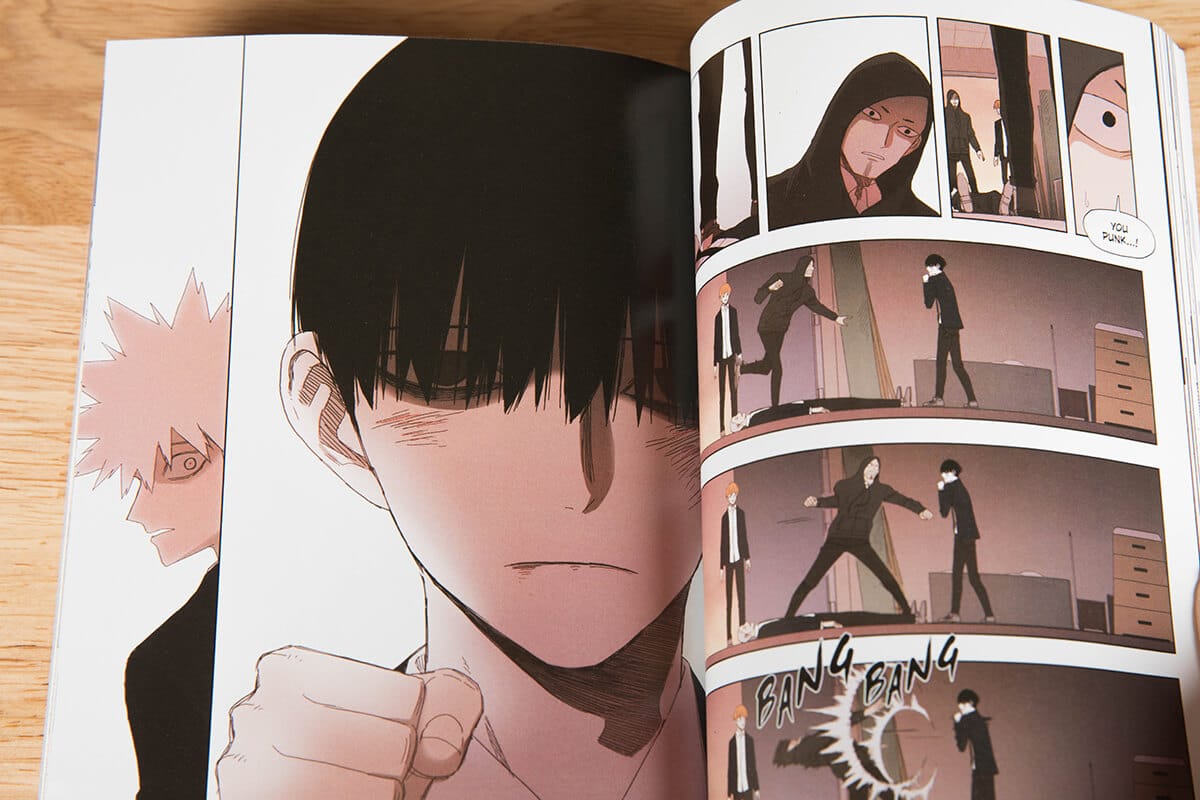 The Boxer is a sports manhwa with a dark tone, so highlights the struggles that come with being a boxer more so than most, but it also delves into deeper topics about life. Like Blue Lock, The Boxer highlights the psychology of the sport it's about and dives into the mind of an athlete, and they each dissect the method behind the madness of its characters. Even further than that, though, they really explore what it means to be human.
The story of The Boxer starts with Coach K, a legendary boxing coach known for training multiple boxing champions, who stumbles across our main character, Yu, as he is being repeatedly punched in the face in an alley by some school bullies. At the beginning of the story, Yu is so apathetic that he can't even be bothered to dodge punches or stick up for himself, even though he's more than capable of doing so. However, K sees something within him and offers to train him if he's interested.
Due to incidents at school, he ends up putting the school's strongest fighter in the hospital with a single punch. After that, he decides to take Coach K up on his offer to train him, and essentially, his life changes forever. He comes across new obstacles and opponents along the way and we get a glimpse into these characters' backstories, which adds even more interest to this story.
In both Blue Lock and The Boxer, we have characters with massive potential, many of them untapped potential. All they need is a push to become the best of the best and this is where the coaches in each story come in. Each series features highly skilled individuals with the resources to achieve their dreams, placing them in a challenging environment that enables them to unlock their full potential.
Like a lot of the characters in Blue Lock, Yu is a talented athlete. Blue Lock features a myriad of personalities all with their strengths and weaknesses. Their moves are all different and each character has something that makes them stand out, whether it be their dribbling skills, their kicking abilities, or an uncanny ability to sniff out a goal, whatever it may be each character shines in their unique ways.
Similarly, on his journey to becoming the world's greatest professional boxer, Yu fights various opponents with unique fighting styles. The Boxer and Blue Lock are both thrilling and exciting reads that are psychological and showcase the journey of their characters, who are world-class athletes in the making, in a unique and fresh way.
Ize Press recently started publishing the series if you'd like to pick it up. Check out my first impressions of The Boxer as well as an inside look at volume 1 in my review on YouTube below!
The Boxer, Volume 1 Review with Inside Look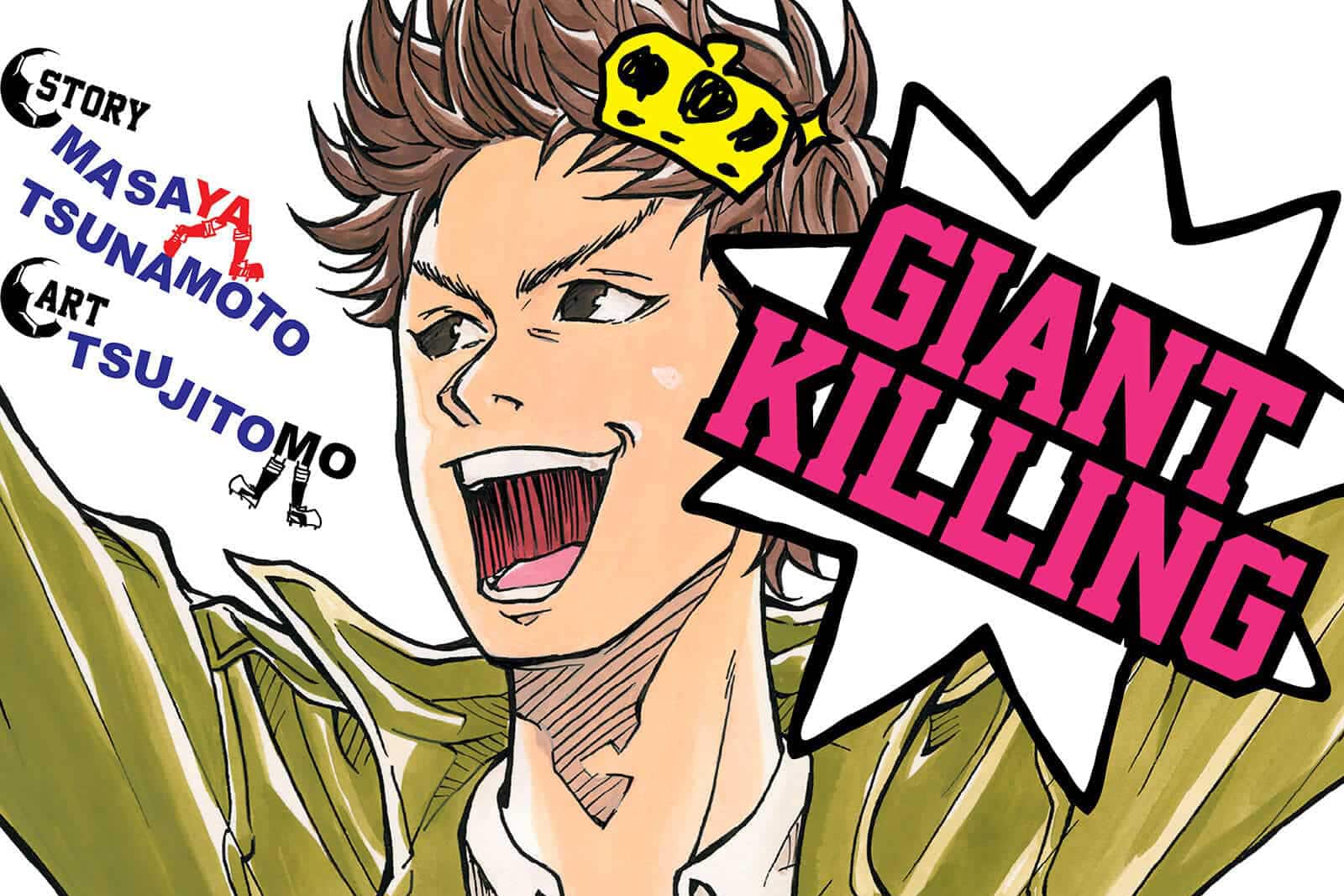 Giant Killing by Masaya Tsunamoto and Tsujitomo
Giant Killing is kind of the opposite of Blue Lock because it follows a group of underdogs, but there are a lot of similarities between the two. Aside from them both being soccer manga, one of our main characters is a Coach named Takeshi Tatsumi and while his personality and methods are a lot different than Jinpachi Ego from Blue Lock, their methods are highly unconventional and you never know what to expect next from them.
Takeshi Tatsumi is a 35-year-old ex-football player, who moved to England to coach before being called back to Japan to coach the team he used to play for. Tatsumi's favorite pastime is giant killing, where he takes an underdog amateur team and coaches them to victory against premier teams. If you love underdog stories, you are going to love this one.
Tatsumi is a guy with unconventional ideas, so he keeps things interesting. As someone who grew up playing soccer, I also have to say it's refreshing to see a coach like Tatsumi that works with his players to further hone and sharpen their individual talents. When you first meet the players of the ETU, they are scattered, lack direction, and feel defeated. But this all changes when Tatsumi comes in and you really see them all come into their own.
A lot of series will focus on the battles the teams have to overcome, but Giant Killing delves into the individual struggles each player has to overcome as well. In Blue Lock, we see the struggles that the players have to overcome, both physical and mental, and this is showcased in Giant Killing also.
What's interesting about this story to is that it follows the underdog team. There's nothing quite as exciting in sports as an upset, and watching this team slay giants that are said to be more talented than they are, is rewarding, to say the least. The characters in Blue Lock aren't what I'd describe as underdogs, but we do have characters that are ranked lower than others, and our main character Isagi is ranked second to last. You really root for him in the beginning to overcome the lofty odds that have been placed before him, much like you root for the team in Giant Killing.
Blue Lock and Giant Killing are complete originals in the world of soccer manga. While there are series with similarities, you will never find another series that's quite like them. Ironically, though, it's their unique approach and their ability to stand out that make them so alike.
Giant Killing has only been released digitally with English translation. I hope it gets a print release one day!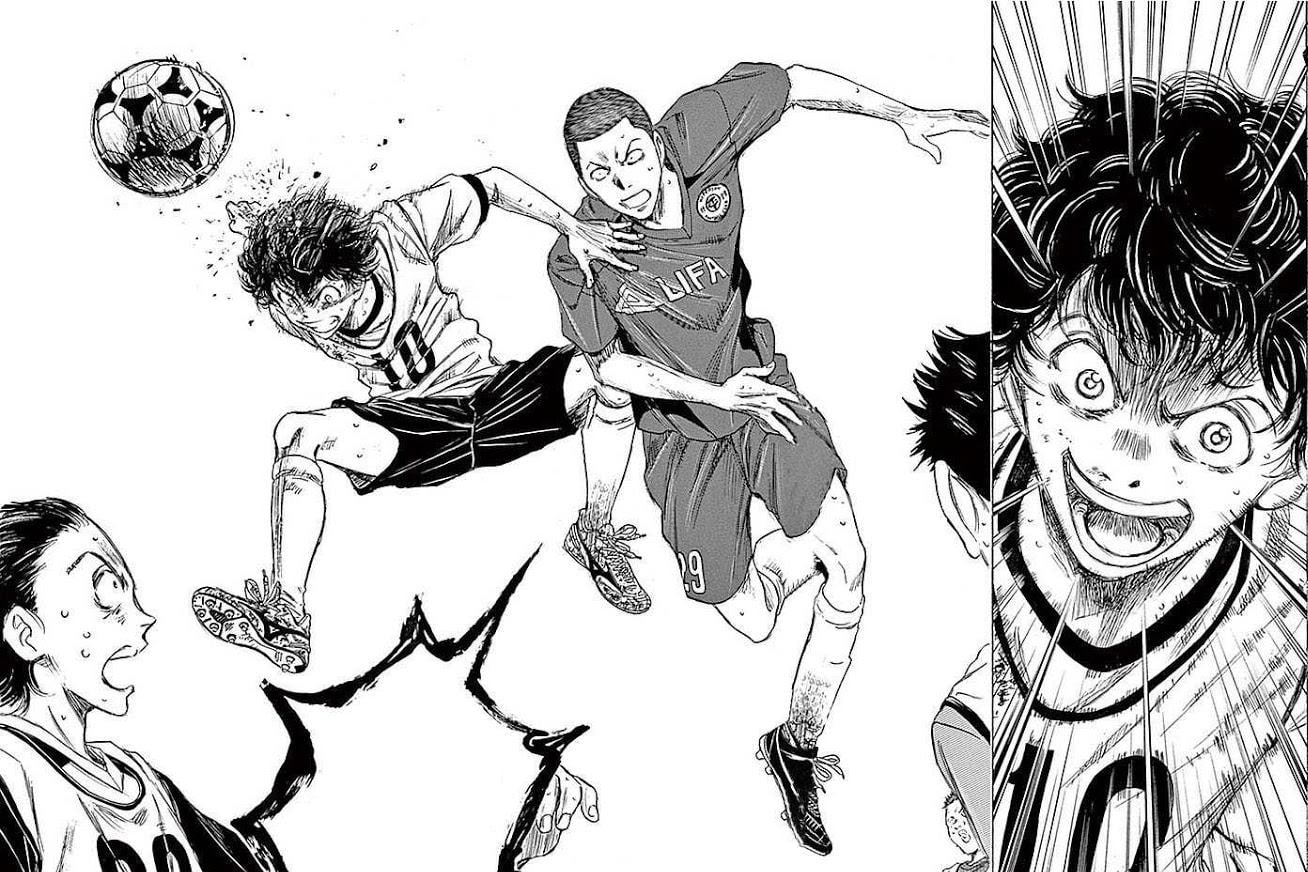 Ao Ashi by Yugo Kobayashi & Naohiko Ueno
I constantly see Ao Ashi and Blue Lock being compared, to the point where people are debating which they should read over the other. Why not both? I love both of these series for completely different reasons, but they are successful in a lot of the same ways too. Ao Ashi is more realistic than Blue Lock because it's set in a real-world situation that many of us can connect to. This is part of the reason it's such a good series, but Blue Lock excels just as well in connecting you with its story and its characters.
Both our main characters are scouted in this series. In Ao Ashi, our MC Ashito Aoi, a third-year in middle school, is recruited by a J Youth League coach named Tatsuya Fukuda. Even though he's still a diamond in the rough, Coach Fukuda notices his potential and invites him to try out for his team in Tokyo. In Blue Lock, our MC, Yoichi Isagi is invited to take part in an experimental program called Blue Lock led by Coach Jinpachi Ego. In both series, our characters are placed in a situation that humbles them or pushes them to rise to the occasion and become better players.
Ashito Aoi is a lot like the players in Blue Lock in the beginning. He's a striker, who doesn't pass or play as a team player. He means well, but he only cares about getting the ball and scoring goals. Since he's from a small, underdog team, they are okay with this, but when he heads out to a larger school with incredible players, his way of doing things isn't received so well. We really see him grow over the course of the series, much like the characters in Blue Lock.
Everything the players learn, experience, and overcome in Ao Ashi is accurate down to the drills, the games, the strategies, and the injuries. Blue Lock explores all of this as well but in a more amped-up, action-packed way. Both explore the passion that the players have for the sport and feature a compelling cast of characters. Along with Giant Killing, Ao Ashi and Blue Lock are my top soccer manga of all time, and I hope you will check them out.
Ao Ashi has only been released digitally with English translation. I hope it gets a print release one day!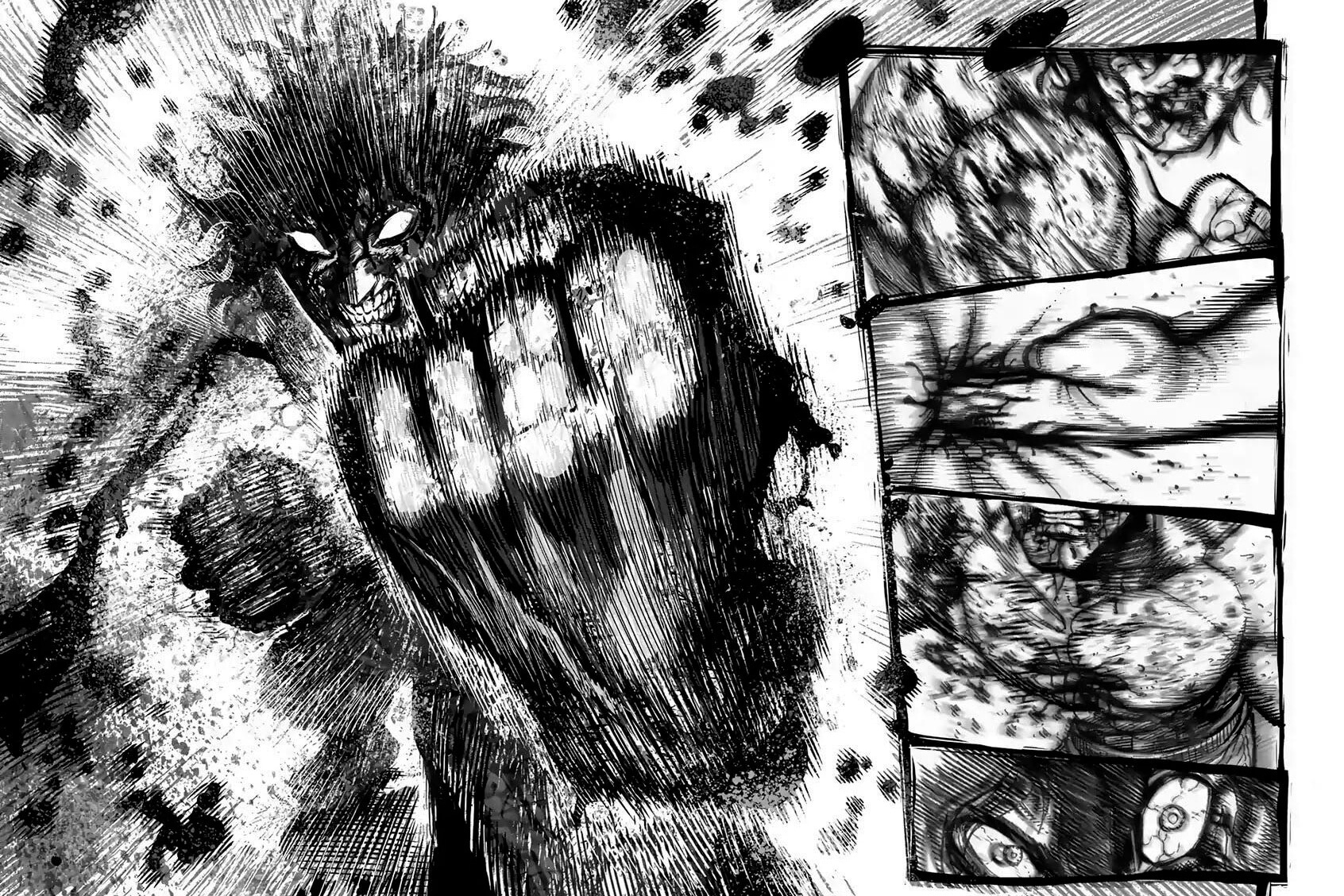 Kengan Ashura by Yabako Sandrovich and Daromeon
In Kengan Ashura something called the Kengan Association, an underground organization made up of influential companies, exists. Whenever they have a conflict, they choose a fighter and battle it out in an underground ring. In his endeavor to become the greatest martial artist, our main character Tokita Ohma becomes the fighter for the Nogi Group.
The story follows him as well as his manager, Kazou Yamashita, as they work together to conquer the brutal world of Kengan. Like Tokita Ohma, our main characters in Blue Lock have to work together to overcome a survival-of-the-fittest program, where they must put everything on the line to win.
The main reason I am including Kengan Ashura in this list is its exceptional artwork. Similar to Blue Lock, the characters' abilities and power are depicted through abstract representations. For example, in one Blue Lock panel, Baro is shown with a lion above him, illustrating his immense power to other players.
In both series, we witness the characters' auras, which reveal their intentions and indicate that they are about to perform an action that demands our full attention. Whether it be already powerful characters like Baro or those experiencing moments of awakening such as Isagi or Nagi, both series masterfully convey the characters' emotions in a way that we can understand not just emotionally, but visually as well.
The fights are exaggerated and over-the-top in Kengan Ashura, which makes them thrilling, but I still found them to be believable. Much in the same way, Blue Lock's matches are flashy but still believable. While still very much rooted in reality, the fighters in Kegan Ashura and the players in Blue Lock are larger-than-life characters that have incredible abilities that make them exciting to watch.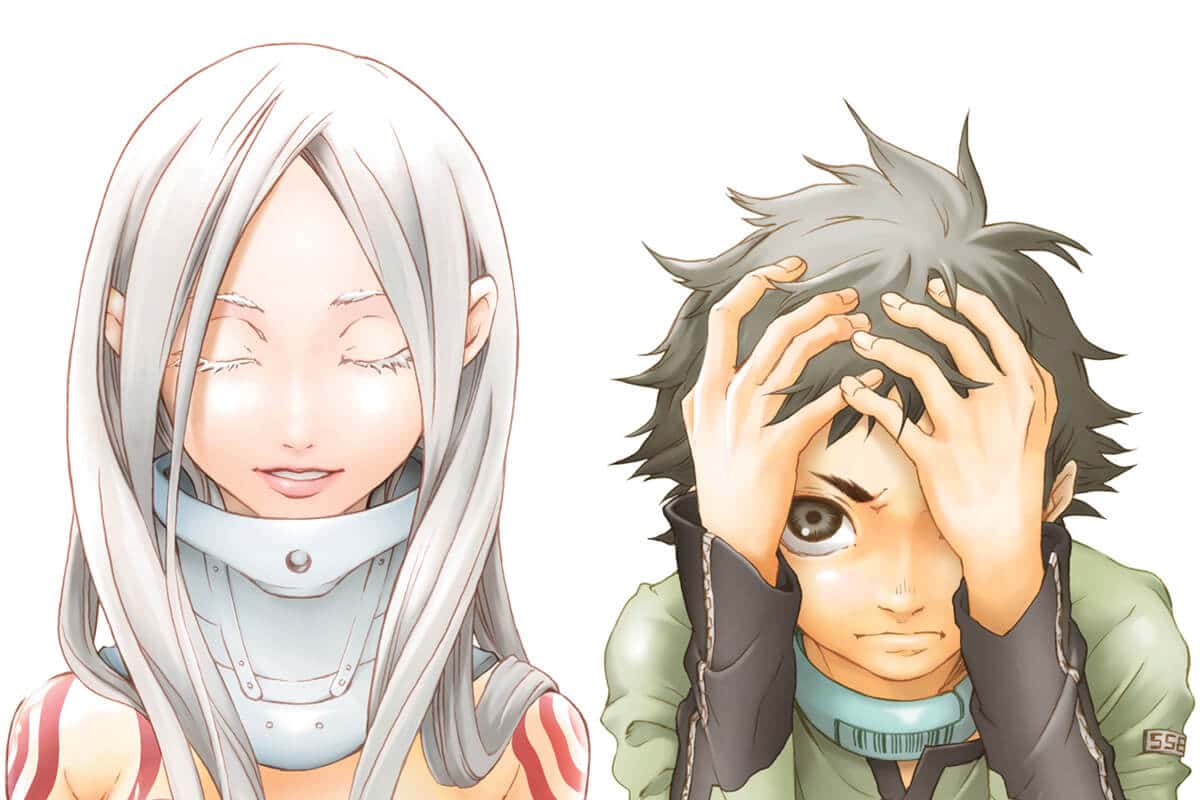 Similar to Blue Lock, Deadman Wonderland is an intense, action-packed manga that will appeal to fans of seinen looking for a more mature shonen series. Known for its graphic content and generous use of gore, Deadman Wonderland stands out among other shonen titles.
The story follows our main character, who is falsely accused of murdering his classmates and sent to Deadman Wonderland, a prison that doubles as a tourist attraction. Inside, he must participate in life-threatening death games against other inmates, all while trying to unravel the mystery behind the Red Man, the true perpetrator of the crime he's been convicted for.
Like Blue Lock, Deadman Wonderland is created by a duo, Jinsei Kataoka and Kazuma Kondou. Their breathtaking character designs and detailed artwork make the series visually stunning, with impactful panels and skillful use of perspective. The suspenseful plot, which is full of twists and turns, will keep you engaged and invested in the story, just as Blue Lock's intense competition and character development keep you on the edge of your seat.
Both are set in a high-stakes situation and while Deadman Wonderland is much more high-stakes than Blue Lock is, both have a similar atmosphere and feel and they are unique entries in their genres.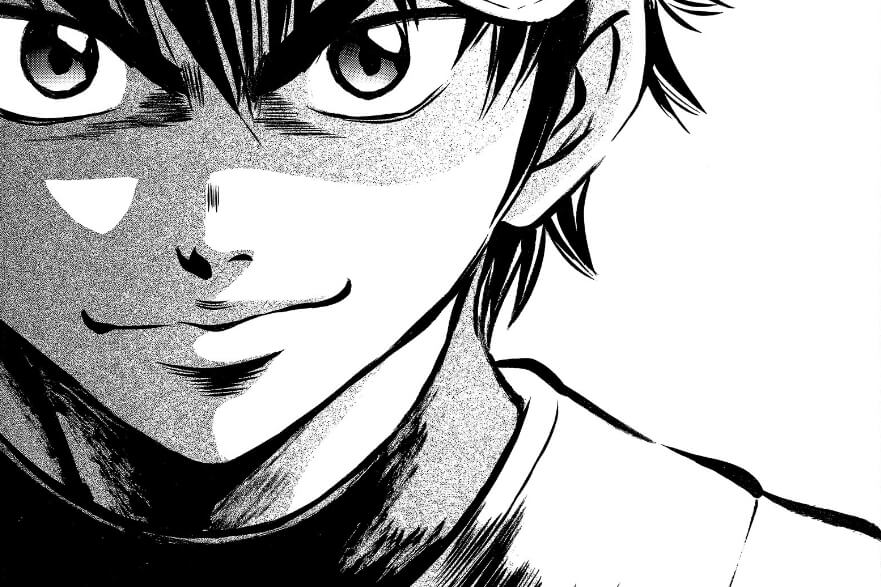 Ace of the Diamond is a top-tier baseball manga that shares similarities with Blue Lock in terms of its character development and themes. The story follows Eijun Sawamura, the pitcher and team captain of his school's baseball team. His journey begins when he messes up a game-winning pitch, leading to a humorous confrontation with the opposing team.
From that moment on, it's hard not to root for Sawamura, and he develops amazingly over the course of the series. Sawamura's path takes an unexpected turn when he receives a scholarship to join Seidou High School, a prestigious institution renowned for its elite baseball team. There, he encounters intense competition, not only from rival teams but also from his own teammates, who are all striving to become the team's "Ace." This competitive atmosphere is reminiscent of Blue Lock, where characters are constantly pushed to their limits and work to better themselves and their skills.
As you follow Sawamura's journey, you'll find yourself deeply invested in his struggles and triumphs, as well as the relationships he forms with his teammates. Yuji Terajima excels at developing each character and the entire cast is relatable and unforgettable. Like Blue Lock, Ace of the Diamond is an exciting sports manga that captures the essence of competition and personal growth as well as the passion that these players have for the sport.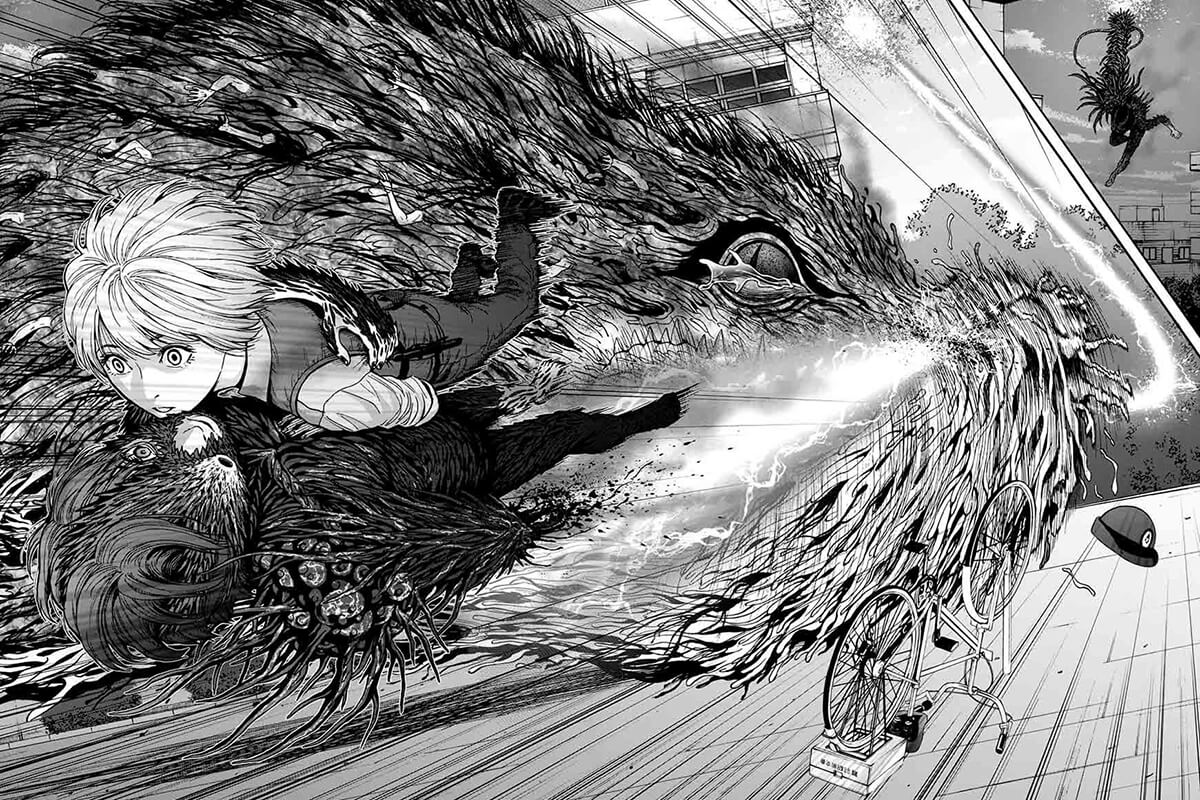 Jagaaan by Muneyuki Kaneshiro & Kensuke Nishida
Jagaaan is one of the best action sci-fi manga I've ever read and it's written by one of the creators of Blue Lock, Muneyuki Kaneshiro. There are currently a lot of manga written by Muneyuki Kaneshiro that I would love to see translated one day, including Bokutachi ga Yarimashita, Kamisama no Iutoori, which is a survival game story, and Billion Dogs.
I want them all, but Jagaaan is my most wanted of the bunch right now and it's the one I recommend most if you love Blue Lock. Aside from being written by the same creator, there is a competition of sorts that occurs in this series that fans of Blue Lock will enjoy.
In Jagaaan, parasitic frogs called Frenzied Frogs morph their hosts into terrifying visions and, once turned, they are appropriately called "fractured humans." The monstrous forms they take on are a representation of their deepest and strongest desires, which is unique. Similarly to manga like Gantz and Parasyte, Jagaaan is graphic in nature. It's bloody, gory, and shocking at times, and it holds nothing back. There's also a great deal of mystery in both too. That being said, if you enjoy manga like these, you'll enjoy Jagaaan!
While Jagaaan is more graphic than Blue Lock, it has a similar style, and the story, which is action-packed and psychological, is similar in some ways as well. We get a lot of character development in Jagaaan too as we do in Blue Lock. Not to mention the fact that it has some of the best art I've ever seen and some of my favorite panels in all of manga. Muneyuki Kaneshiro always teams up with incredible artists, so the stories in both are great, but the art is incredible to witness also.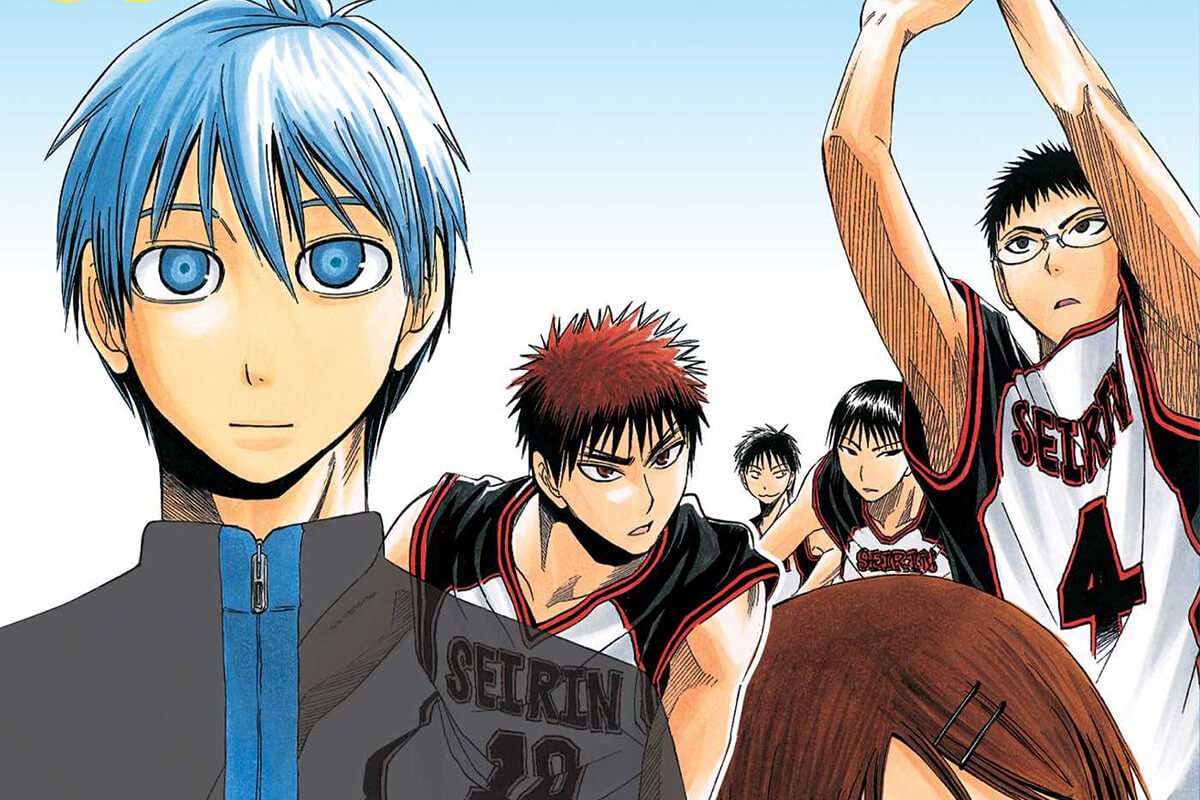 Kuroko's Basketball by Tadatoshi Fujimaki has a reputation for being somewhat unrealistic, but that's actually part of its appeal. Much like Blue Lock, Kuroko's Basketball features flashy and exaggerated action, which makes it an engaging and exciting read. Once you embrace the over-the-top elements of the story, it only adds to its charm.
The manga revolves around a group of basketball prodigies known as the "Generation of Miracles," who possess extraordinary, almost superpower-like abilities. While they're not inhuman, their exceptional skills make them seem otherworldly.
Our main character, Kuroko, is revealed to be the phantom sixth member of the team. He eventually leaves to join another team, showcasing his determination to stand on his own. In this sense, Kuroko's Basketball is similar to Blue Lock because it features characters who have interesting personal journeys.
As you read Kuroko's Basketball, you'll find yourself constantly on edge, eagerly anticipating the next incredible play or feat. The series shares Blue Lock's exciting games and unique premise. If you're a fan of Blue Lock, Kuroko's Basketball is just as thrilling of a read.
One Outs by Shinobu Kaitani
One Outs by Shinobu Kaitani features intense competition and high-stakes games, which make it similar to Blue Lock. Their MCs also have unique talents that make them different than any other player on the field.
Isagi has incredible spatial awareness, which allows him to sniff out the scent of a goal, while Toua Tokuchi, our MC in One Outs, uses strategy to outwit batters. Both series focus on the psychology of the sport they are about and the MCs use their mental skills, in addition to their physical skills, to defeat their opponents.
Both One Outs and Blue Lock break down the plays and strategies of the players, giving you insight into their thought processes and everything that leads up to the show-stopping moment of an incredible pitch or goal.
We often remember the jaw-dropping moments in games, but never the in-between moments that created them, but these two slow things down, take us into the minds of the players and allow us to see these pivotal moments in action. For these reasons and more, One Outs and Blue Lock are some of the most intense and complex sports manga you'll ever read.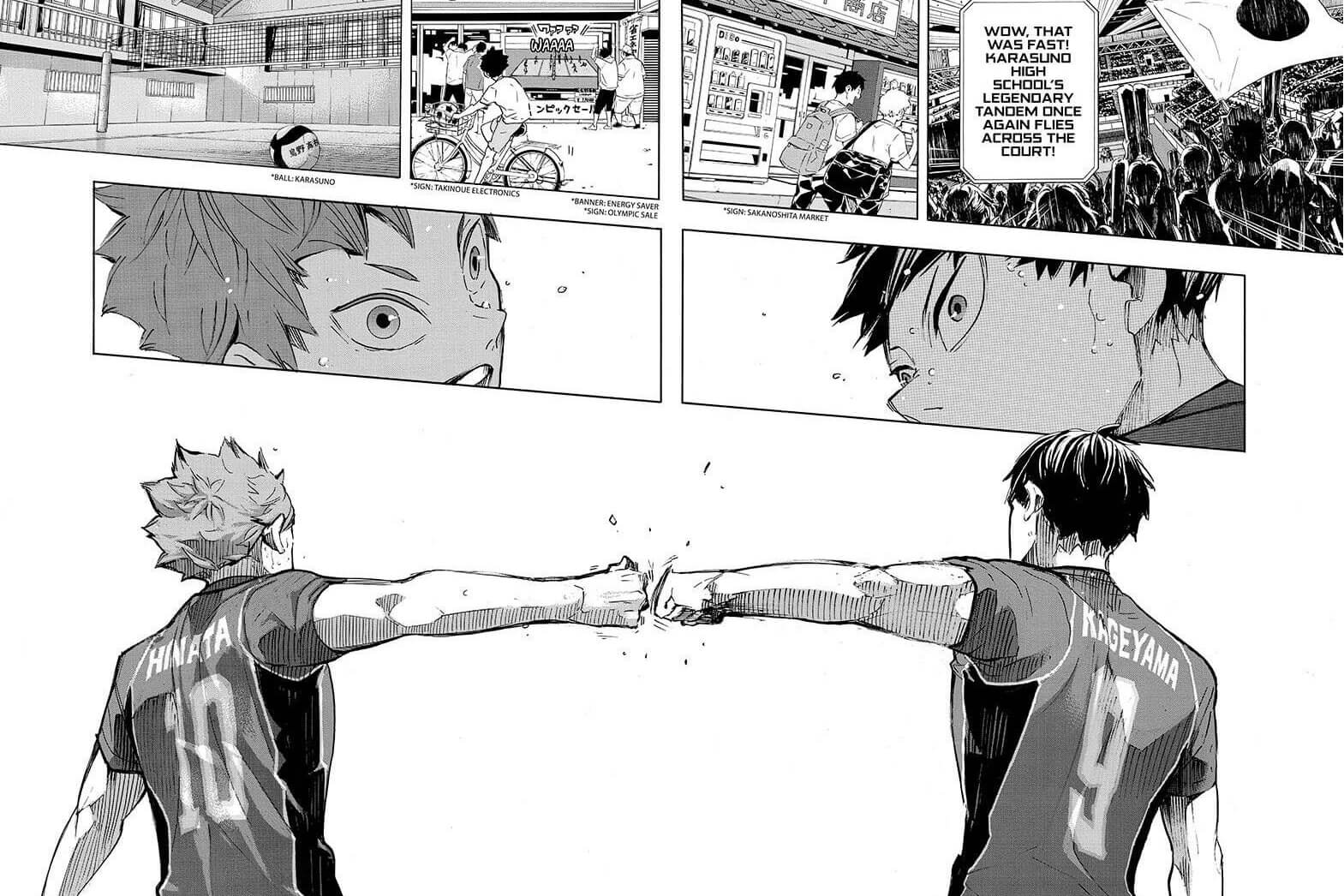 Haikyuu!! by Haruichi Furudate
Haikyuu!! by Haruichi Furudate is not only the best volleyball manga out there, but it's also one of the most popular manga in recent years. Just like Blue Lock, it draws you in emotionally with its captivating story and rich character development. As you read Haikyuu!!, you'll find yourself laughing, crying, celebrating victories, and mourning defeats, along with with the characters in the series.
The characters in Haikyuu!! are incredibly well-developed and Haruichi Furudate gives each of them their moment (or moments) to shine. This level of depth allows readers to form a strong connection with the characters, similar to Blue Lock. The dynamics between the teams and players are also fascinating, as some characters switch teams and former rivals become teammates, which adds an extra layer of intrigue to the story.
Blue Lock highlights the competitive nature that exists between its players also, and it shines a spotlight on the struggles that come with being a member of a team. Blue Lock is a team completely made up of strikers, yes, but it still highlights the conflicts and the beauty that comes with competing against as well as alongside others, while showcasing the various motivations that drive athletes to compete in a unique and exciting way.
Much like Blue Lock, Haikyuu!! serves as an excellent gateway manga for those who aren't usually into sports but want to explore the genre. If you enjoy Blue Lock, Haikyuu!! is an excellent choice, because it is action-packed yet emotional and it has great character development.
Eyeshield 21 by Riichiro Inagaki and Yusuke Murata
When I first discovered Eyeshield 21, an American football manga written by Dr. Stone's Riichiro Inagaki and illustrated by One Punch Man's Yusuke Murata, I knew I was in for a treat. The series spans 37 volumes, and it masterfully combines action and comedy, but it also has an unforgettable underdog story.
The protagonist of Eyeshield 21, Sena Kobayakawa, shares some similarities with Blue Lock's Yoichi Isagi. Sena Kobayakawa often finds himself targeted by bullies. One day, after angering his tormentors, he manages to escape them thanks to his incredible speed. Youichi Hiruma, the quarterback of the Deimon Devil Bats football team, witnesses Sena's talent and recruits him as the team's running back. Little did Sena know that he would soon become their secret weapon. Both Isagi and Sena have incredible spatial awareness and they are exciting to watch.
Riichiro Inagaki's engaging storytelling and Yusuke Murata's exceptional artwork create a powerful reading experience, much like Muneyuki Kaneshiro and Yusuke Nomura in Blue Lock. Murata's mastery of perspective is evident throughout Eyeshield 21, but, much like Blue Lock, it's the unique and vibrant characters that take center stage. The dynamics in both manga series are a true highlight and they are some of the best sports manga to ever release.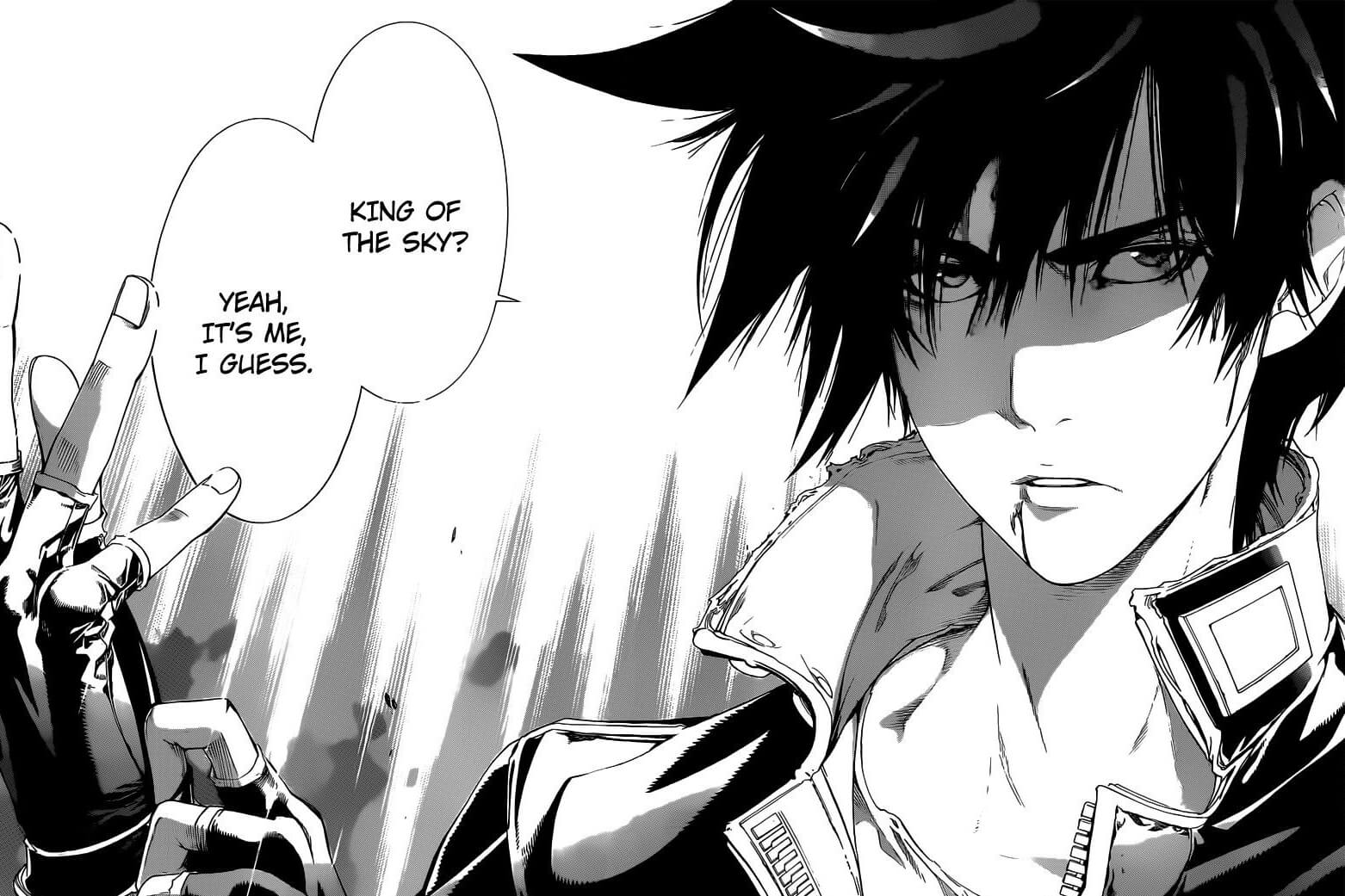 Air Gear by Oh! Great
Air Gear is an anomaly in the world of sports manga and, much like Blue Lock, it's unlike any other series I've read. While not rooted in reality by any means, Air Gear highlights the sport of rollerblading in an over-the-top, absurd in the best way possible type of way, so while it's not necessarily an accurate representation of the sport, it's an exciting read that takes rollerblading to a whole new level with the introduction of futuristic motorized rollerblades called Air Treks.
There are a lot of series that exaggerate a sport or the players' abilities to play said sport to make it feel larger-than-life, and I think Air Gear is just an advanced representation of this. Air Gear and Blue Lock both have a cool cast of characters. You have a wide variety of personality types in this series and they are all entertaining in their own ways. The premise of Air Gear is enticing, but it's the art that truly sets this one apart. Much like Kengan Ashura or Blue Lock, the character's strengths and abilities are conveyed in abstract ways.
The competitions in this series are adrenaline-inducing, as you watch the characters perform gravity-defying stunts and overcome seemingly impossible obstacles. The aggressive nature of the competitions makes this one feel a lot like a battle shonen at times too, much like Blue Lock. Blue Lock and Air Gear both have been questioned for their believability, but it's the fact that they are so unbelievable at times, that makes them such exciting reads.
A lot of the individual volumes of Air Gear are out of print, but some are still available for purchase on select sites while supplies last. Some of the omnibuses are also available for purchase on some sites as well. That being said, it is extremely hard to find most of the volumes, so it may be quicker and more cost-effective to buy the full set on sites like eBay if you are looking to pick it up.
These are the best series to read if you are looking for manga similar to Blue Lock! As more series are released, we will continue to update this post with more recommendations.