Ecchi is one of my favorite genres in manga because it's fun, comedic, and has a sense of whimsy. It's an interesting genre because I've often found that those who are critical of ecchi oftentimes take it too seriously when ironically one of the genre's biggest strong suits is that it doesn't take itself too seriously at all. Despite their racy content, there's more to ecchi manga than meets the eye if you give them a shot, especially those that are featured on this list!
So what is ecchi? Ecchi manga makes strong use of fan service as well as innuendos and intimate themes that are presented in a lighthearted, comedic, or playful way. Many ecchi fall within comedy, so you'll see some of these series on my best comedy manga list as well.
You have series that delve more into these themes, while others just offer a few fan service shots here or there, so the level to which these series take things varies also. I also want to mention that, while some series aren't necessarily defined as ecchi, they have ecchi elements that fans are sure to enjoy.
Ecchi often fall within different genres as well, whether it be romance, comedy, fantasy, action, drama, and more, so there are a lot of interesting series to explore. If you want to pick some of these series up or are looking for more info on where to buy manga, check out our favorite manga sites and bookstores.
That all being said, here are the best ecchi manga you need to check out now!
The Legendary Hero Is Dead! by Subaruichi
The Legendary Hero Is Dead! is an action, adventure, and ecchi manga by Subaruichi that follows Touka, a normal farmer in the village of Cheza, who dreams of becoming a hero. But one day, he accidentally kills the legendary hero Sion. Afraid of the consequences and not knowing what to do, he buries the body to hide the evidence. The next day, he wakes up in Sion's body and finds that his dream of becoming a hero, in a comedic and unexpected way, has come true. It's one of the most well-balanced series on this list and it's set in a rich medieval-like fantasy world that features demons as well.
The Legendary Hero Is Dead! is full of well-written backstories that make you feel for its characters, with a protagonist who is flawed but lovable and ultimately means well in the end. The world-building is incredible, and the story features great villains and conflict. Everything from the main characters to the side characters is fleshed out well and you really connect with the cast as a result. There are a lot of great ecchi moments, which are mainly brought on thanks to our MC's fantasies, but there's a lot more at play here too that will capture your attention.
If you end up enjoying the series, keep an eye out for The Legendary Hero Is Dead! anime that's coming in 2023!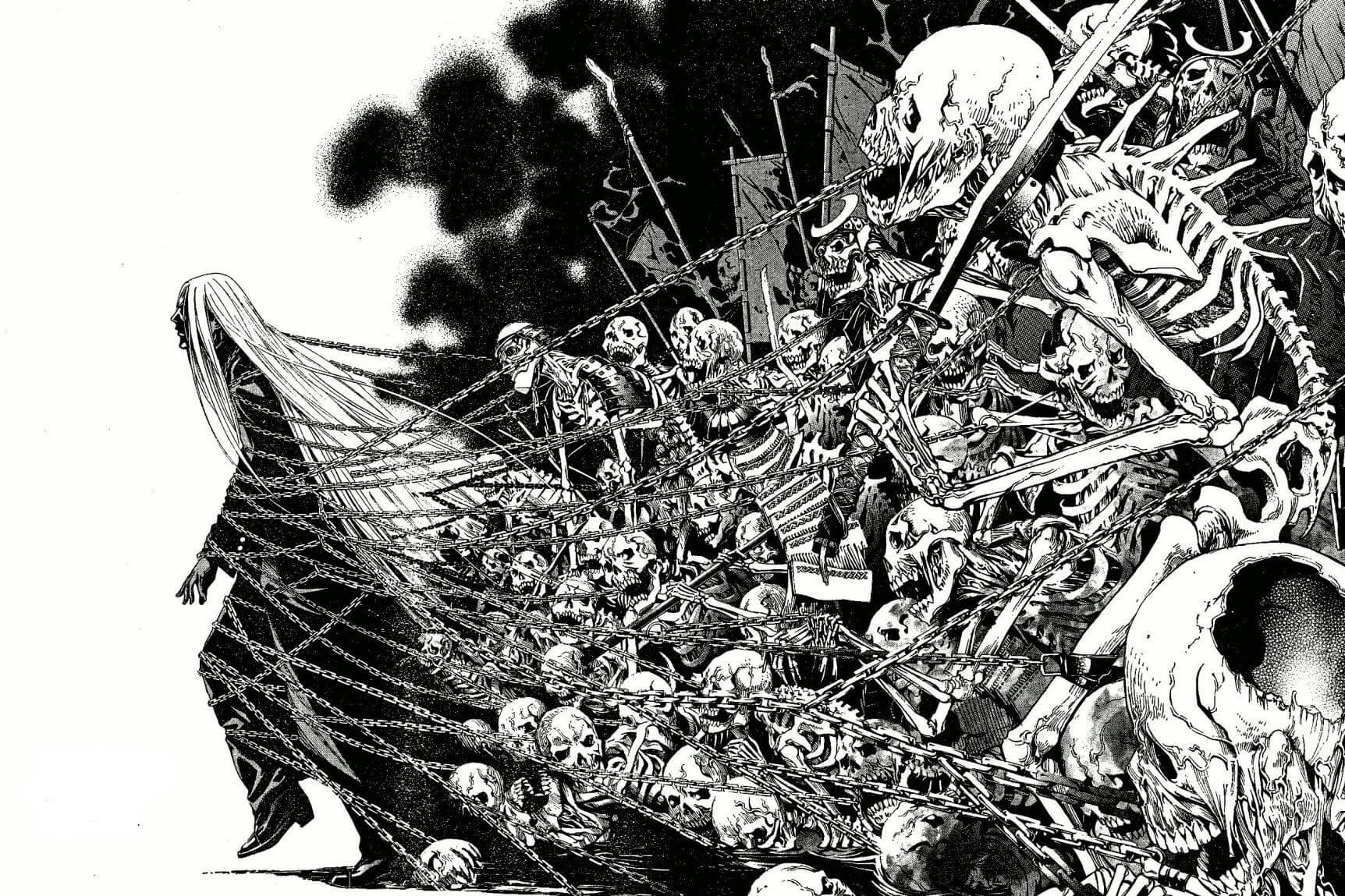 Tenjho Tenge is an ecchi and action manga series that doesn't get enough credit and it is one of Oh! Great's most underrated manga. CMX published Tenjho Tenge with English translation first, but the volumes are now out of print. The license was later transferred to Viz, who published the series in 2-in-1 Full Contact Editions.
Tenjho Tenge is a series I recommend if you love manga that is over-the-top. This is something you can experience in any of Oh! Great's works, but Tenjho Tenge is one of his most extreme with immense amounts of violence, high-octane action, and more ecchi moments than most.
If you are someone who enjoys fighting manga, Tenjho Tenge is sure to be right up your alley. It follows two high school students and childhood best friends Souichiro Nagi and Bob Makihara, who are attending a new school called Toudou Academy.
They had planned to rule over the school by taking down anyone that got in their way, but Toudou Academy isn't your average, everyday school like they've been to in the past. The school was founded to teach and integrate different fighting styles. Some of its students are also gifted with supernatural abilities, like superhuman strength and pyrokinesis, so their path to the top will be anything but easy.
This manga is everything you think it would be and then some. It has some of the best art and well-drawn battles I've ever seen in manga, but its story keeps you invested as well. For these reasons and more, it is one of the best ecchi manga you can read!
Rosario Vampire is not only one of the best ecchi manga, but it's a vampire manga I love as well. Monsters of all types are present in this story, which makes it interesting, but one of our main characters Moka Akashiya is a vampire.
It's set in a unique world where monsters, like vampires, werewolves, and many more exist. A human named Tsukune Aono stumbles into this world and ends up going to school with said monsters, so it's funny but intriguing as well.
Moka, a vampire, takes an interest in him initially because of his sweet blood, but her connection with him grows deeper over the course of the story. Initially, Rosario Vampire feels like a comedy, but as the stakes grow higher, and as the action and battles become more forefront in this story, things take a turn for the serious. It doesn't forget its humorous ways, but there's a lot more to Rosario Vampire than meets the eye.
You can currently collect Rosario Vampire through the singles or the Rosario Vampire Complete Manga Box Set!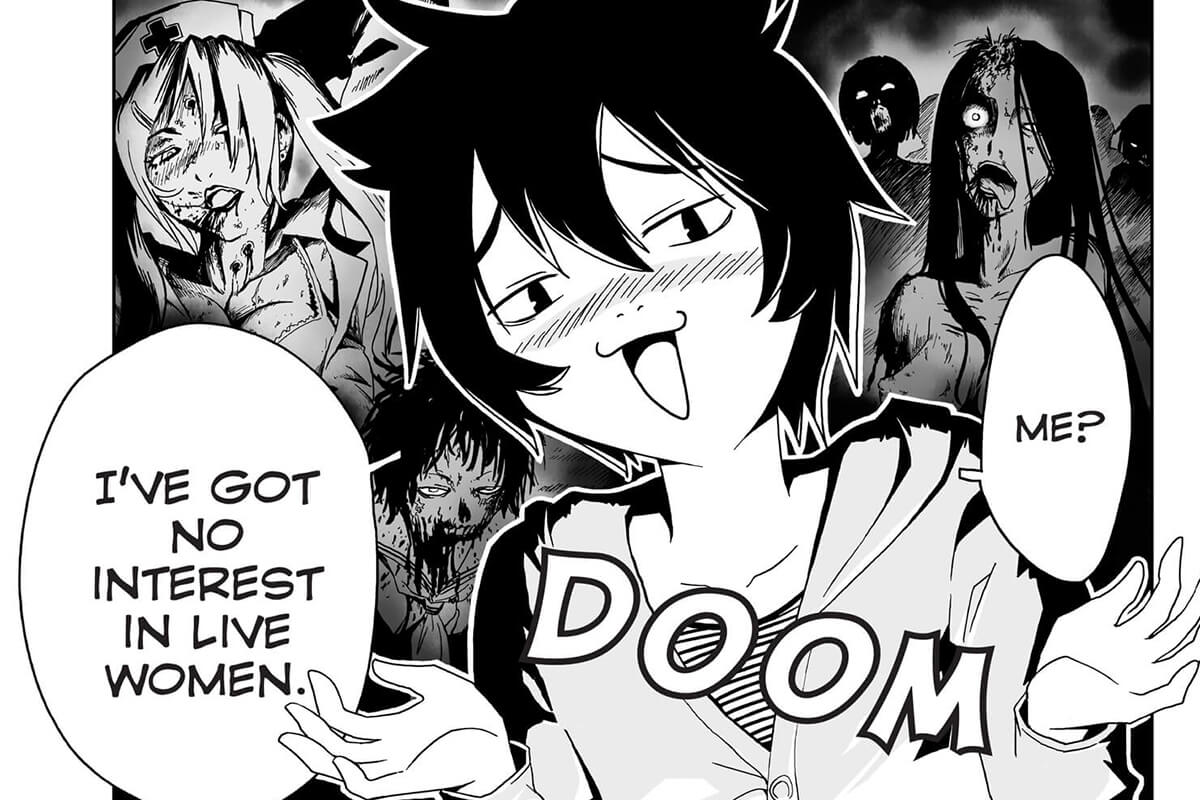 Sankarea Undying Love is a unique entry in the ecchi category because it is one of the few ecchi zombie manga you can get into. The story is about a guy named Chihiro who has been obsessed with zombie movies since he was little. But rather than feeling bad for the people who are trying to survive the zombie apocalypse, he feels bad for the zombie girls they slaughter instead.
When his beloved pet passes away, he decides to brew up a resurrection potion in secret. But he's discovered by popular girl and local heiress Sanka Rea, whose life isn't as perfect as it seems and Furuya jokingly suggests that she could serve as a test subject. With an original and unexpected premise, it stands out on this list.
Aside from that, it's also a romance manga. Despite all of the horrifying elements in this story, the love story in this one is adorable and the interactions between the main characters are sweet. So whether you are a fan of horror or you are a fan of romance, Sankarea Undying Love is one of the best you can read. The ecchi moments in this one are top-notch as well.
Air Gear is a manga series you'll find not just on one, but two of my best manga lists. Not only is it one of my top sports manga to release so far, but it is one of the best ecchi manga you can get into as well. By the way, if you are looking for more ecchi manga, Oh! Great's other works are ones you'll want to look into also.
Air Gear is my favorite of his, but I also love Tenjo Tenge, which is also on this list by the way, and Bakemonogatari. Bakemonogatari isn't an ecchi manga, but it has scenes and moments that give a nod to the genre. Oh! Great is one of the best manga artists with some of the best manga panels and character designs I've ever seen.
Air Gear is action-packed and full of thrilling scenes that make it an exciting read. This is thanks to its premise, which follows Itsuki and his journey into the world of Air Treks, an evolved and more aggressive form of inline skating.
Oh! Great is a creator that doesn't abide by the motto "Less is more". Instead, excess is something that he really leans into; Everything from the fan service to the action in Air Gear is over-the-top, but this makes it exciting. Where Air Gear really captured me the most though is its cast of characters. There are so many unique and colorful personalities in this series that are cool, but lovable as well.
Triage X by the artist of Highschool of the Dead, which is also on this list, is another ecchi manga you don't want to miss. With thrilling action, badass characters, and an arsenal of weapons and motorcycles, Triage X is a manga series that will keep you wanting more even though it already gives you so much.
Much like Highschool of the Dead, Triage X has a lot of fan service in it and it's one of the best-drawn ecchi series on this list. The artwork in Triage X is definitely one of its strong suits. It has some of the most highly detailed and beautiful artwork I've seen, but it has an interesting story as well.
In Triage X, a hospital called Mochizuki General Hospital exists and it boasts some of the most well-trained (and well-endowed) nurses in town. But though these ladies spend much of their day battling sickness, their after-hours are spent fighting a very different sort of disease.
Under the leadership of the hospital chairman, a handful of staff members and local teenagers form a group of mercenary assassins, targeting the "cancers" of society and excising those individuals before their wickedness spreads.
Triage X is action and ecchi at its finest. It may be cheesy at times, but this only adds to its charm. If you are looking for a manga that's entertaining and never lets its foot off the gas, you'll want to check out Triage X!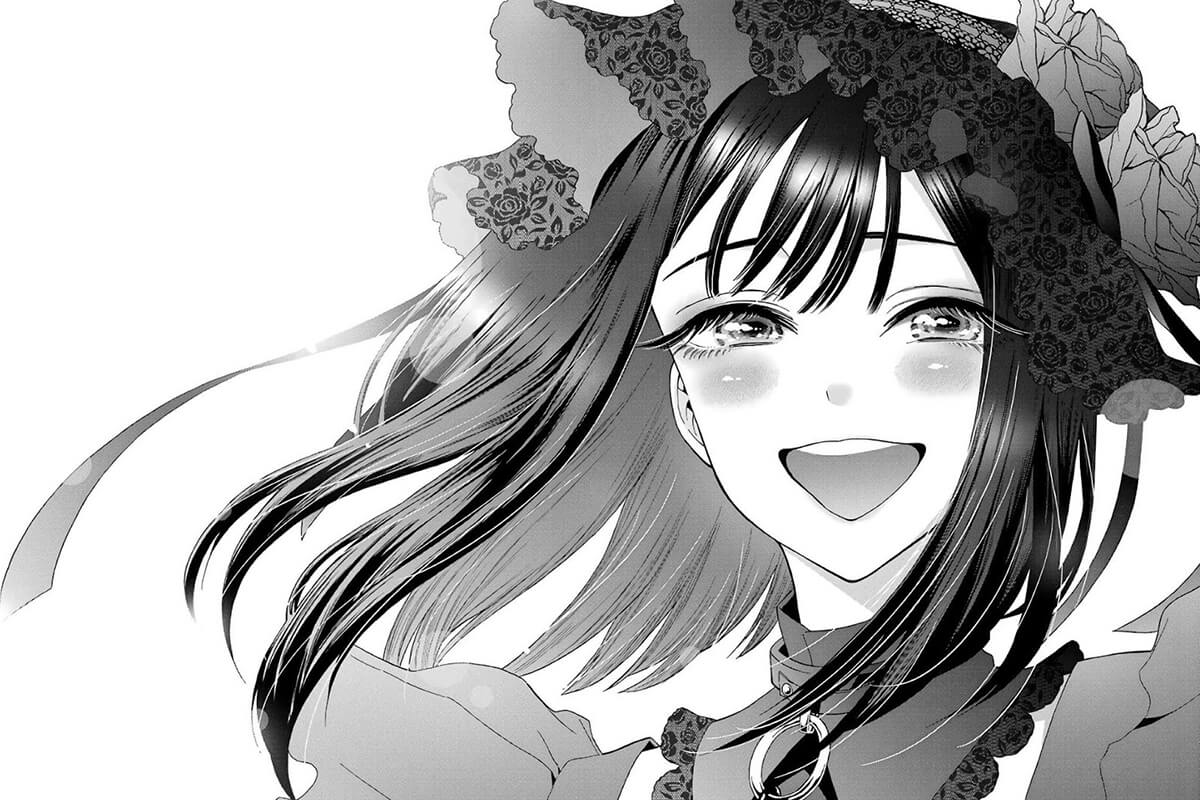 My Dress Up Darling by Shinichi Fukuda isn't a full-fledged ecchi manga, but it has ecchi themes. With My Dress Up Darling's anime adaptation being so successful, sales for the manga have increased a lot, and rightfully so, because it's one of the best manga series to release as of late. The ecchi moments in this series are more tasteful than most. Rather than just being thrown in there for appeal, I feel like they serve a purpose, especially since there's a budding romance present in this story. Because of this, it has the perfect balance of comedic and heart-warming moments.
My Dress Up Darling follows two main characters, Marin Kitagawa, a confident girl who loves to cosplay, and Wakana Gojou, an introverted guy who loves to make hina dolls. Marin finds Gojou in the sewing room at school one day and discovers he has a talent for sewing. She enlists him to make her next cosplay outfit, which pushes him not only out of his comfort zone but his shell as well.
What's most exciting about My Dress Up Darling though is that isn't just about romance. It's about individuals who are passionate about their hobbies and bond over them, and a romance budding out of that connection only feels natural to me. There have been some criticisms of the series, but most are pointed at Marin. Some say she's this idealistic version of what men want or hope for in a girlfriend, but to me, she's just comfortable in her own skin and doesn't care what people think about her or her interests. I found her to be refreshing and I connected with her more than I have with other female characters in anime or manga.
The messages given in My Dress Up Darling are beautiful. It's constantly reminding you to believe in yourself but also to be yourself regardless of what anyone thinks. Because of this and more, it's one of the most wholesome and best ecchi manga series you can check out on this list!
Monster Musume by Okayado follows the story of Kimihito Kurusu, a high school student who is suddenly thrown into a world of monster girls when he becomes a participant in the government exchange program. He hosts a number of different monster girls, including a lamia named Miia, a harpy named Papi, and a centaur named Centorea, all while dealing with his own personal problems and insecurities. While the story is fairly simple in this manga, it is executed well.
Monster Musume is one of the best ecchi harem manga out there right now, because it's unique, mainly because it has a harem of monster girls instead of human girls like most harem series. The series is funny, but it also gets serious at times as well, especially given that it's set in a world where humans and monsters coexist.
In regards to the ecchi moments in Monster Musume, they are tasteful and they are thoughtfully added throughout the chapters. Overall, Monster Musume is an enjoyable read that has great comedic timing, a fun sense of humor, and a wonderful cast of characters!
History's Strongest Disciple Kenichi by Syun Matsuena
If you are into martial arts manga as well as ecchi, you'll want to check out History's Strongest Disciple Kenichi by Syun Matsuena. The story is about Kenichi Shirahama, a kind-hearted boy who is picked on by his classmates. Tired of being bullied, he decides to become stronger, so he joins his school's karate club to do so. But he is targeted yet again by the upperclassmen in the club. Martial artist Miu Furinji steps in and introduces him to Ryozanpaku dojo, where Kenichi meets six masters who take him on as their disciple.
While the premise kind of sounds like every other martial arts manga out there, it's still one of the most entertaining and enjoyable series I've read. And even though it has a main character with a pretty common background, he's relatable and likable, and he's someone you can't help but root for. The ecchi moments in this one are added for comedy, so it's a funny read. Since Kenichi is trained by six different masters, each specializing in a different martial art, it's interesting and exciting as well.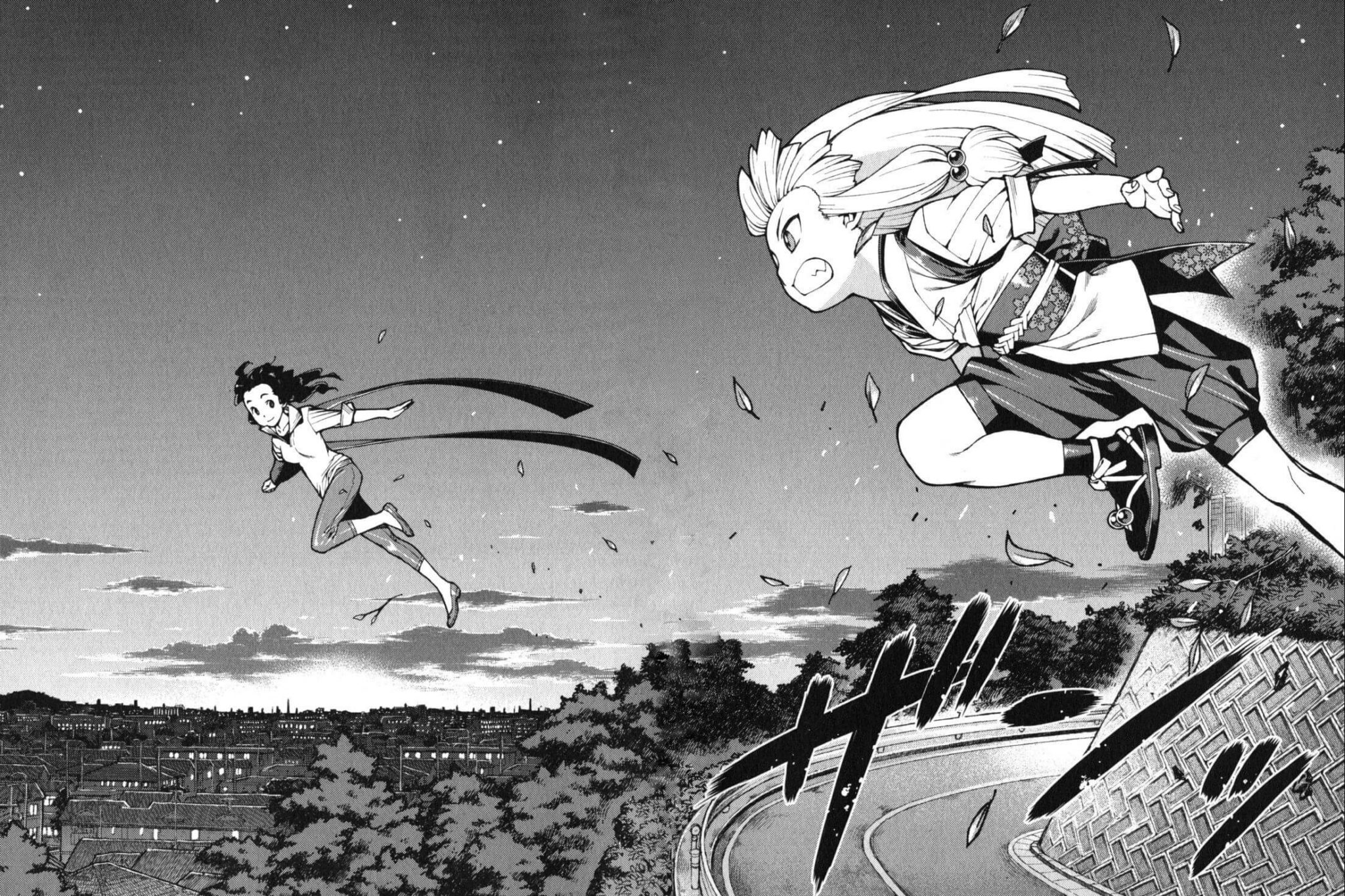 Tsugumomo by Yoshikadu Hamada
Tsugumomo by Yoshikadu Hamada follows Kazuya Kagami, who adores his mother's memento "Fukurobi" more than anything. He meets the beautiful kimono-clad girl Kiriha one day and his life changes forever. For certain reasons, she ends up living with him in his room. There's also Kazuya's childhood friend Chisato, who likes to meddle in his life, and an overprotective older sister as well as a big-breasted priestess and a beautiful sorceress named Kokuyoura, who later come to his house. Kazuya must face a complicated yet fulfilling life surrounded by all of these beautiful girls.
I know this sounds like a really simple, common ecchi premise, but trust me, you are in for a surprise with Tsugumomo. Yes, you get a ton of ecchi moments, which are added for comedy, but you also get so much more. Not only is this manga full of action, but it also has some of the best and most rewarding twists and turns in manga.
The first few volumes of Tsugumomo are somewhat slow, but the later chapters really pick up and the fights are amazing. I only wanted to mention this because it's one that pays off massively if you stick with it. The artwork is great, especially the fight scenes, so this is something to look forward to too. It's one of my favorite ecchi manga series at the moment and it's one you'll definitely want to check out!
To Love Ru by Kentarou Yabuki and Saki Hasemi
To Love Ru is a comedy, romance, ecchi, and harem manga by Kentarou Yabuki (Black Cat, Darling in the Franxx) and Saki Hasemi. If you get into To Love Ru and enjoy it, be sure to check out its continuation To Love Ru Darkness as well!
To Love Ru follows Yuuki Rito, who is your average high school student–awkward, shy, and hopeless when it comes to confessing his feelings to the girl of his dreams. But one day, an alien princess on the run suddenly appears in his bathtub.
When Rito finds himself engaged to the beautiful Lala after a misunderstanding, he becomes embroiled in the chaos of extraterrestrial politics, rival alien suitors, and harem hilarity. The story continues in To Love Ru Darkness, when Lala's younger sister Momo begins her own machinations to marry Rito, but it can only happen if he is coronated as king of their interstellar empire, which would allow him to marry as many women as he wants.
To Love Ru's biggest success is its characters, but it's also one of the most enjoyable, fun reads on this list. On top of all that, it has great comedic timing and a quirky premise that make it one of the best ecchi manga to release to date.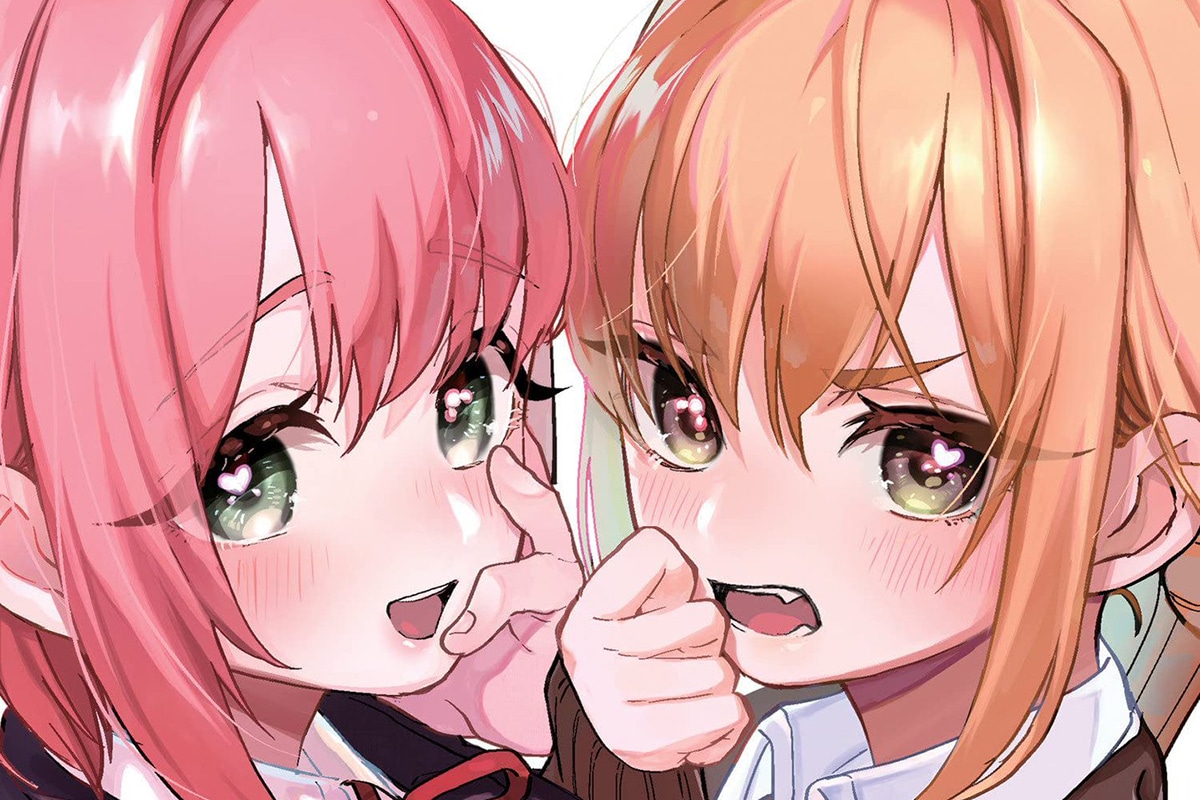 The 100 Girlfriends Who Really, Really, Really, Really, Really Love You is harem manga at its extreme. Not just because our main character, thanks to a God's error, has not 1 but 100 soulmates, but also because it stands out from the pack with its unconventional MC and endearing cast of characters. This isn't your everyday harem manga with ecchi themes; It's so much more than that. It will make you laugh a lot with its out-there and over-the-top humor and situations, but it will make you feel as well thanks to the relatability of its characters.
The girls, in particular, all have insecurities and struggles that I really relate to. I also really enjoy the fact that Rentaro isn't your typical MC. He isn't creepy in any way, and you can tell he really cares for his girlfriends and appreciates them all for who they are. He celebrates what makes them unique and finds them to be beautiful in their own ways, and I really like this about him. Watching him try to maintain harmony between all of these girls proves to be hilarious, but The 100 Girlfriends Who Really, Really, Really, Really, Really Love You is a heartwarming read as well.
It's the interactions between the girls that move me the most, though, because you see them connect with one another and become close friends. A lot of these girls didn't have friends previously, so it's awesome to see them making connections as well as opening up more to the idea that it's okay to let others in.
There are a lot of ecchi and fan service moments sprinkled throughout the volumes, and while there aren't a whole lot in volume 1, they pick up in volume 2 and beyond. They are added for comedy, but somehow, they feel wholesome as well. There are many times throughout this series that you'll ask yourself, "What the hell is going on?," but this is part of The 100 Girlfriends Who Really, Really, Really, Really, Really Love You's undeniable charm.
High School DxD by Ichiei Ishibumi & Hiroji Mishima
High School DxD is the manga adaption of the light novel series. The story follows Issei Hyoudou, a perverted high school student who gets involved with Rias Gremory, a high-class devil whom he inadvertently signs a contract with. From this point forward, Issei's life becomes more complicated, especially now that he's become a pawn in the war between demons, angels, and fallen angels.
High School DxD is one of the best ecchi manga. Even though the manga has some differences and is more rushed than the light novel, I still found it to be a fun and entertaining read. It has a great cast of characters, an interesting plot, where demons, fallen angels, angels, and more are battling out, a great sense of humor, and a well-balanced mix of action and ecchi. The art style and fight scenes in High School DxD are outstanding as well, so I highly recommend checking it out.
Gantz by Hiroya Oku
While Gantz falls more into erotica, it feels very much like an ecchi to me at times. But unlike other ecchi manga, which have a fun, lighthearted tone, Gantz is darker. Much of Gantz's appeal is that it is pure entertainment at its finest. It's in-your-face, relentless, and because of this, it is a fast-paced read.
Because of its fast pace, things sometimes don't get fully fleshed out, but I'm not quite sure they need to. The point of this story is that these characters are in a situation where they don't know when or if they'll be transferred to the Gantz room. Where their lives were moving slowly at first, now they aren't; Almost like a runaway train that's spinning out of control. You never know when something's going to happen next, so it keeps you on the edge of your seat.
When viewing the manga panels in Gantz, I can hear what's happening, like the boom from an explosion, the sound of a giant alien's feet crashing into the ground, the sound of a building collapsing, their guns firing, etc. It's a cinematic experience even though you aren't experiencing it on screen. Out of all the manga I've read, Gantz has the most potential to be a blockbuster hit, and this partially could be because I get the sense that Oku, who we know from interviews is a film buff, is paying homage to all of the movies he loves.
I also want to mention that the fact that Gantz is bloody and gory doesn't mean it doesn't have heart, because it definitely does. While it does just give you an adrenaline rush most of the time, Gantz made me cry many times. It made me laugh sometimes as well, it made me feel awe, and there are some moments between the characters that really touch your heart.
It's one of the best sci-fi manga with ecchi themes that I've ever read! The Gantz singles released by Dark Horse are out of print, but you can pick up the series via the Gantz omnibuses that are releasing now.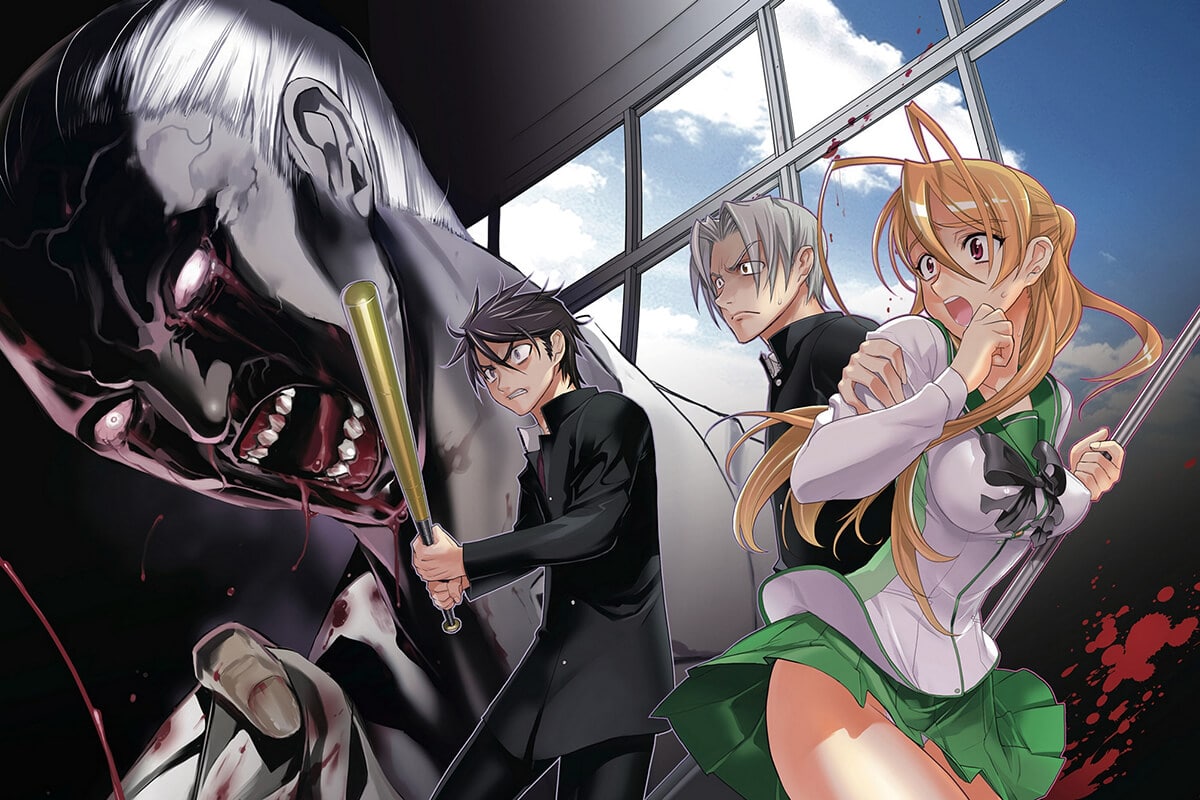 I love zombie manga, but I love ecchi manga as well. Highschool of the Dead is the best of both worlds, bringing together horror and ecchi in a way that feels effortless. Highschool of the Dead was first released with English translation as singles, but the best way to experience Highschool of the Dead, in my opinion, is through the Full Color Editions that were released by Yen Press. There's just something about seeing Shouji Sato's panels, which are full of detail, in full color.
If you are new to Highschool of the Dead, the story is about a group of high schoolers working together to survive the zombie apocalypse and all of the obstacles they have to overcome in their new and scary reality. It really takes a good look at how these teenagers quickly adapt to the circumstances and how this new world shapes them.
Of course, situations like zombies taking over are going to bring out the best and worst in people, and Highschool of the Dead does a great job at showing how it pushes people to either work together to rise out of that darkness or pushes them further into it, but most of all, it explores the gray area that many of these characters reside in.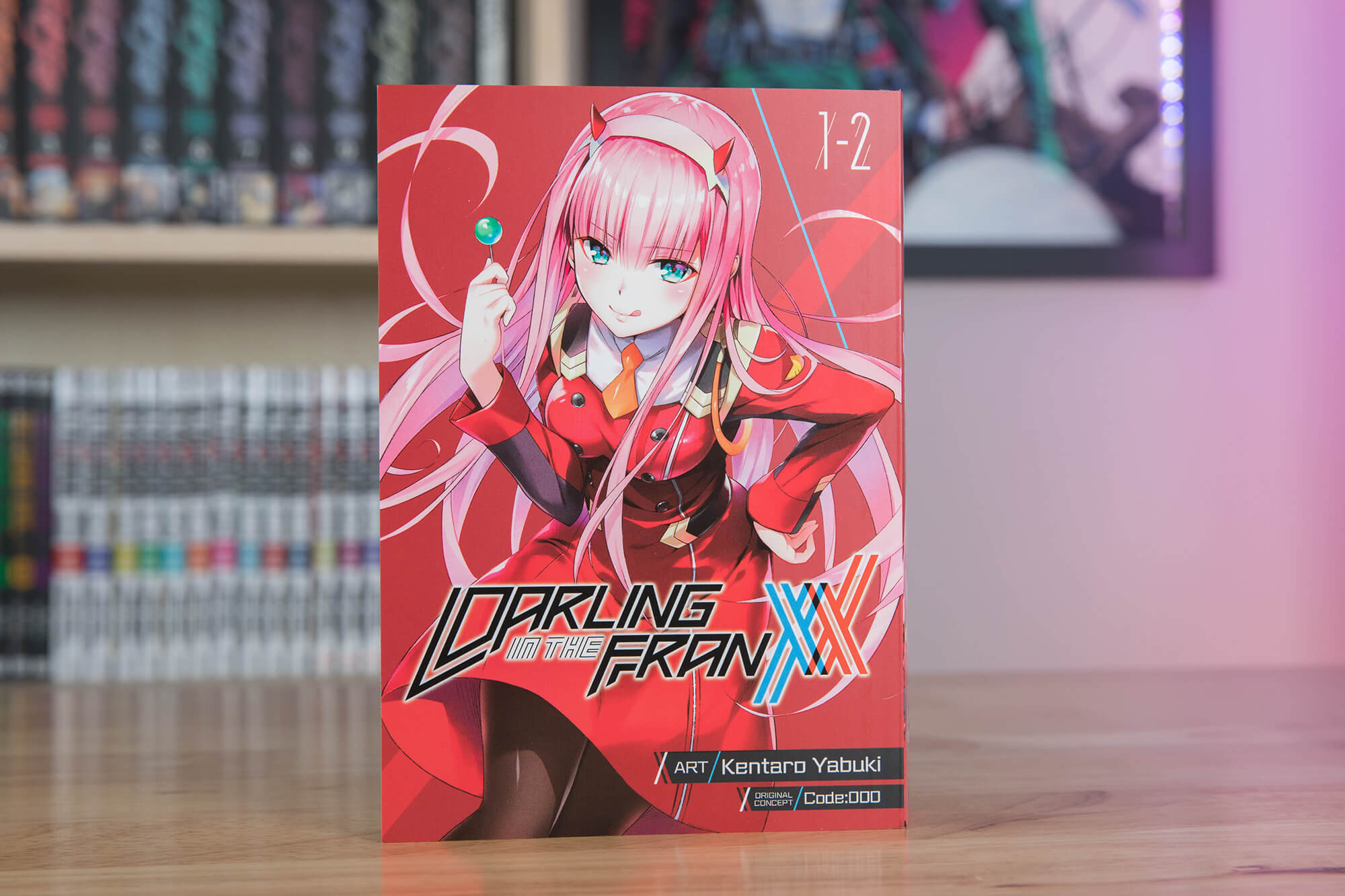 Darling in the Franxx is the manga version of the anime, but it is set in a divergent timeline. It is written by Code:000, who also created the Darling in the Franxx anime, and illustrated by Kentaro Yabuki, who created another favorite ecchi manga of mine, To Love Ru, as well as Black Cat and the upcoming manga Ayakashi Triangle. Needless to say, the manga has an incredible team behind it.
Darling in the Franxx takes place in the distant future in a post-apocalyptic world, where humanity has been forced to live in mobile fortress cities called Plantations. The children are raised outside of "adult" society and protect humanity from mysterious giant lifeforms called Klaxosaurs by piloting humanoid robots called Franxx.
What makes Darling in the Franxx so unique is the fact that it is a mecha manga, but it is an ecchi manga as well. The ecchi moments fit in well with the story; they are not forced and fall naturally within the flow of the events. As expected from Kentaro Yabuki, the ecchi scenes are drawn with detail and they are top-notch.
Darling in the Franxx has some fan service, but it also has a lot of substance. In many mecha series, pilots like those in Darling in the Franxx are used by adults to "protect humanity." Series like Neon Genesis Evangelion and Mobile Suit Gundam: Iron-Blooded Orphans explore similar themes, so if you enjoyed either of these series, you'll most likely enjoy Darling in the Franxx.
Seven Seas recently began releasing Darling in the Franxx in 2-in-1 omnibuses, and you can pick up the first omnibus now! Check out my full review and get an inside look at the first Darling in the Franxx manga omnibus!
Food Wars! Shokugeki no Soma takes the saying foodgasm to a whole other level. Imagine a world where someone's clothes explode off and they are expelled into a world of ecstasy when they taste and enjoy your food. Food Wars is over-the-top, comedic, and fun, but it has a flair for the dramatic as well.
The story follows the students of an elite cooking school, who battle it out in Shokugeki, one-on-one cooking battles, to find out who's the best of the best. What's one way to make cooking exciting for readers? Throw adrenaline-inducing challenges and a tournament-like style formula into the mix.
Food Wars is spicy because it's chock-full of ecchi moments, but it's sweet as well thanks to the interactions and dynamics of the characters. If you're looking to laugh, it's one of the funniest manga I've read and highly recommend it.
Sun-Ken Rock by Boichi
Sun-Ken Rock is a series created by Boichi, who you may already know as the artist of Dr. Stone. He and Riichiro Inagaki, the writer for Dr. Stone and Eyeshield 21, have created a number of different series with others or on their own that you'll want to check out as well. As of now, Sun-Ken Rock has yet to be released in English, but I really hope it gets translated someday because it is one of my favorites.
Sun-Ken Rock follows Ken, who was orphaned at a young age due to his family's affiliation with the Yakuza. He becomes a high school delinquent who likes to pick fights with others. While it would seem like he has no aspirations or dreams he'd like to achieve, there is one thing that still motivates him: His classmate Yumi whom he's fallen for.
When Yumi decides to move to Korea to become a police officer, Ken follows her. Due to unexpected events though, he ends up becoming the head of a local gang, which is renamed to the Sun-Ken Rock Group. He'll have to keep this a secret from Yumi all the while trying to win her affection.
The art and character designs are amazing in Sun-Ken Rock, which is something I've come to expect from Boichi. No matter what genre(s) his stories fall in, he's incredible, but his art comes even further to life in more mature genres like Seinen as seen with Sun-Ken Rock. It's one of the best seinen manga I've ever read, but it's one of the best ecchi manga I've ever read as well.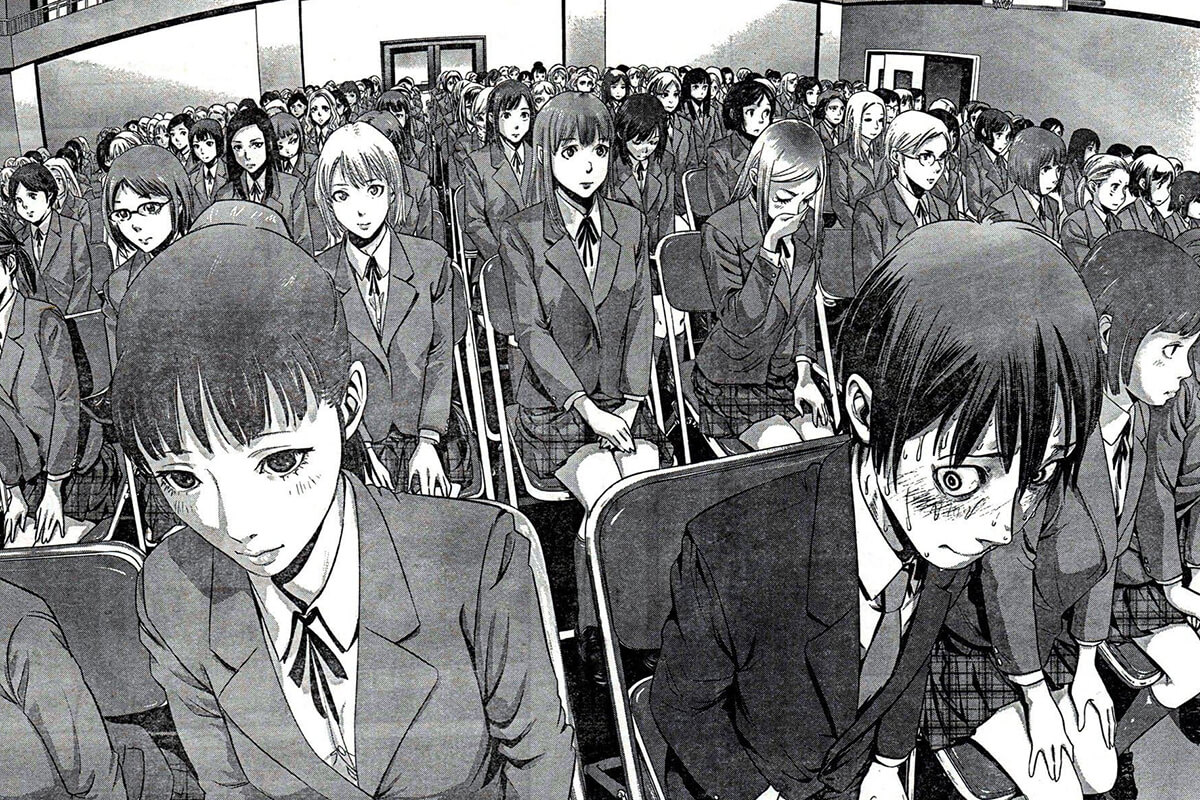 Prison School by Akira Hiramoto is one of those series I can't help but love and it's one of the most hilarious manga I've ever read. It isn't meant to be taken seriously and it is absolutely bonkers at times, in the best way possible. If you go in knowing this, you'll enjoy the series more.
Prison School follows 5 boys who are enrolled in an all-girls boarding school. At first, they are thrilled by this, but things take a turn when they are caught peeping and they are punished for their actions in an unexpected way.
Prison School may be shocking for manga readers who are new to ecchi because it has a more graphic nature than most. But if you are someone who has a great sense of humor, Prison School is one you don't want to sleep on. Not to mention the fact that it's one of the best ecchi manga ever to be released with some of the most amazing art I've ever seen in the ecchi category let alone manga as a whole.
Akira Hiramoto has a realistic and highly detailed art style that makes him one of my favorites. On top of all that, he is a master of comedy and drama. Some may think his series are absurd, but it's the fact that they are absurd that makes me love them so much. Prison School is one of those series that will make you ask "What the hell am I reading?" more times than you can count, but you won't be able to put it down.
Like Prison School? You may also want to check out RaW Hero, which is another ecchi manga by Akira Hiramoto!
GTO or Great Teacher Onizuka by Toru Fujisawa is arguably the best ecchi manga, but even more so than that, it's one of the best manga of all time as well. It's an absolute classic that still holds up to this day and goes toe to toe with new or modern series despite its age. Matter of fact, many series from the '90s have managed to do the same, including Initial D by Shuichi Shigeno.
GTO follows Eikichi Onizuka, a former gang member who's now a teacher. He's rough around the edges and is quite brash, but he is dead set on winning over his class, which is full of delinquents that are hard to teach let alone please. Onizuka really connects with his students on a deeper level and wins them over one by one through his unconventional teaching methods.
GTO is as funny as it is inspiring. More so than that, it's a lesson in how a series with a simple premise and story can be just as, if not more, impactful than one that's complex. What GTO has more so than anything though is heart, so it's one of the most wholesome ecchi manga I've read to date. GTO's singles are out of print, but I hope it gets a reprint someday!
Looking for more ecchi manga to get into? Check out all of the new manga releasing in 2022, including Ayakashi Triangle by To Love Ru's creator!