Bleach is one of those series that has scenes that are just screaming to be made into statues. In addition, it has a unique, gritty style that I really enjoy in comparison to other anime. Luckily, many studios have already created statues from Bleach, including both dioramas of battles from the series and individual character pieces. A variety of characters have already received statues, but there's still so much more that can be made.
Here are my top 5 Bleach statues that have been released or announced so far!
Best Bleach Statues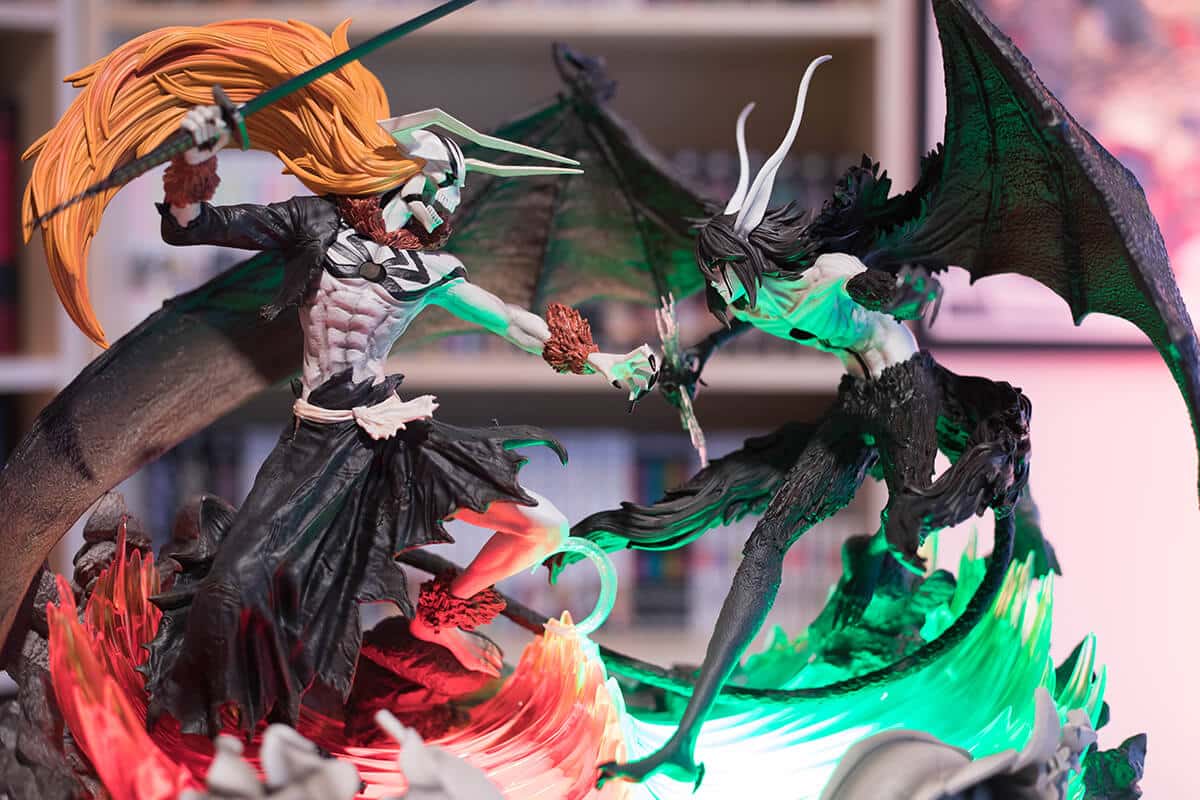 Figurama Collectors Ichigo vs Ulquiorra Bleach Statue
Figurama Collectors' Ichigo vs Ulquiorra statue is one I preordered the minute I saw it. And while I've only seen it in photos and on video, in my opinion, this is going to be the best Bleach statue that has ever released. For those of you who aren't familiar with Figurama, they are a licensed studio and they have the highest attention to detail out of all of the studios I've purchased anime statues from so far.
After seeing an interview with Figurama's CEO Mr. Shanab where he updated us on the upcoming statue, I am even more excited for it to release. Not only is Ichigo's sword Zanpakutō made of die-cast metal, but they decided to make his horns out of die-cast metal as well. Figurama really go the extra mile with their statues, and this is no exception with their Ichigo vs Ulquiorra statue.
This statue is overflowing with energy thanks to the scene that's unfolding atop the LED-lit waves that glow in red and green and are clashing at the center with Ichigo and Ulquiorra. They brought this intense, memorable battle in Bleach to life, and even though this is a statue, it looks like it's in motion with the dynamic poses of Ichigo and Ulquiorra and the overall composition and flow of its pieces. After the incredible job they did on their Devilman vs Amon statue, I knew they'd do the texturing and painting on the wings of Ulquiorra and the more animal-like or demonic-like design of these two characters in their Resurrección: Segunda Etapa and Vasto Lorde forms justice.
Figurama Collectors' Ichigo vs Ulquiorra is the diorama piece I've been dreaming of and, as mentioned above, I have a feeling that this one is going to end up taking my top spot as the best Bleach statue to ever release.
This one is sold out on most sites including Figurama, but at the time of writing this post, it is still available for preorder on Spec Fiction and Favor GK. If you are in the US or Canada, I recommend Speculative Fiction Collectibles, because the overall price is cheaper and shipping is low for these regions.
I've since received this statue and I can attest that it as good as it looks in the promo pictures. You can get a closer look at the statue in my video on YouTube below!
Figurama Collectors Ichigo vs Ulquiorra Gallery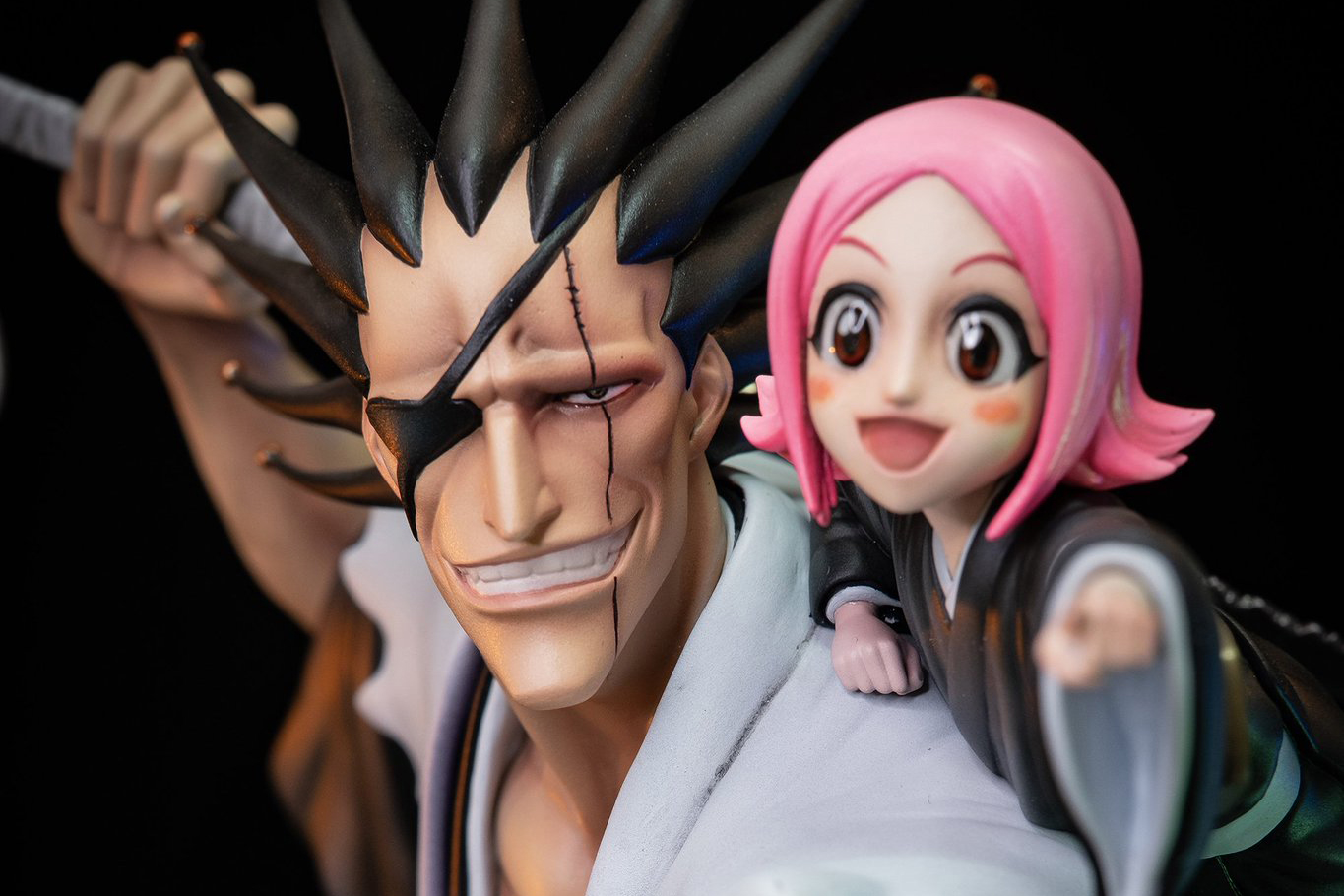 Ryu Studio Kenpachi Zaraki 1/6 Scale Statue
Ryu Studio's Kenpachi Zaraki statue shows him with his signature smirk and with his partner Yachiru Kusajishi attached to his shoulder. This one is more so a character specific piece that is in a museum-like pose, and while it doesn't highlight his full power or his Bankai, it depicts him with two of his greatest strengths, his sword and his relationship with Yachiru. With that said, Ryu Studio captured the likeness and the spirit of Kenpachi perfectly in this statue.
While most studios show Kenpachi in battle, I appreciate the fact that this statue shows a different side of him. This is part of the reason as to why I love this one so much, but it's also one of the highest quality and best looking I've found of him to date. In addition to being one of the best Bleach statues to ever release, it is also one of the best I've seen from a licensed studio. It's a simple statue, so there's not as much to comment on as the rest of the statues on this post, but it's executed extremely well and it is one of my favorites nonetheless.
Ryu Studio's Kenpachi Zaraki 1/6 scale statue is still currently available for purchase on Speculative Fiction Collectibles while supplies last.
Ryu Studio Kenpachi Zaraki 1/6 Scale Statue Gallery
WS Studio Toshiro Hitsugaya 1/8 Scale Statue
WS Studio's Toshiro Hitsugaya statue is unlicensed, but the overall look and concept of the statue, which shows Toshiro about to leap off the ice pillar behind performing his Bankai, made it a must-have. His wings and arms are cast in a clear resin, which has been painted in a gradient of blues that transitions from deep to light blue and ends with a clear finish at the tips of his wings. It makes for a really amazing effect and it is the way that they executed these pieces that make it one of the best. There's a lot of depth to the clear pieces and I really appreciate the time and effort they took to paint them.
I really like the overall look of the landscape around him with the ice pillars that are bursting through the rocky earth and the ice flowers that adorn the ground. The base itself is well done and it really pops with its purple color.
The only criticism I have about this statue is that the wings don't fit flush into the notches that are there to support them. They are supported by the ice pillars, but some of the wing tips don't fit where they are meant to. It's somewhat nerve-wracking that it's not fully supported like it should be, but luckily, the wings seem to be secure enough. Also, a lot of people received theirs with broken pieces, mainly broken flowers, but I was lucky enough to receive one without any issues.
Even though it has its faults, I really appreciate the fact that they went for a more mid-air effect on this statue. It's something that other studios, like Surge Studio have perfected on their Naruto Shippuden statues, and I've really come to prefer the look of these more dynamic character poses.
A 1/6th scale statue of Toshiro by TriEagles Studio, who are a licensed studio, was revealed at Wonder Festival 2020, but only as an unpainted prototype. You can tell that it features a similar pose and scene to this one with his Bankai, but he is standing on the ground unlike WS Studio's which shows him in more of a mid-air pose. It also comes in a larger scale than this one. It remains to be seen if TriEagles' Toshiro statue will take this one's place as my favorite, but I wanted to mention it as a future possibility for those of you who aren't looking to pay aftermarket prices on this piece.
Clouds Studio Ichigo Final Getsuga Tenshou 1/8 Scale Statue
Clouds Studio are one of my favorite studios and they are one I came to know of from their Naruto Shippuden Akatsuki statues. But they also released a statue of Ichigo in his Final Getsuga Tenshou form and he looks truly menacing in it. This statue makes an impact and it's nice to see another well-executed Ichigo statue that isn't of him in his Hollow form.
The way they shaded the bandage-like shell on his torso and the dynamic way his long, black hair is sculpted as if it is blowing in the wind looks absolutely incredible. And then there's the clear resin aura, which came either in red or blue, that rises around him. Everything about it just looks mean. And while I do think a better statue could release of him in this form in the future, this is the best I've seen to date.
As far as negatives go, the only thing I dislike about this statue is the seam in his hair and I do also have to say that as of now, my dream statue of Ichigo has yet to be released.
But even with him just standing there, there's still an intensity and power emitting from this statue that rivals other statues of Ichigo, even those that feature more dynamic poses. And it's one I even prefer over Tsume's statue of Ichigo in this form, which I personally did not like due to the coloring of the base and the overall pose. Sometimes things don't need to be loud or packed full of details to make a statement and Clouds Studio's Ichigo Final Getsuga Tenshou statue is further proof to that.
Clouds Studio Ichigo Final Getsuga Tenshou 1/8 Scale Statue Gallery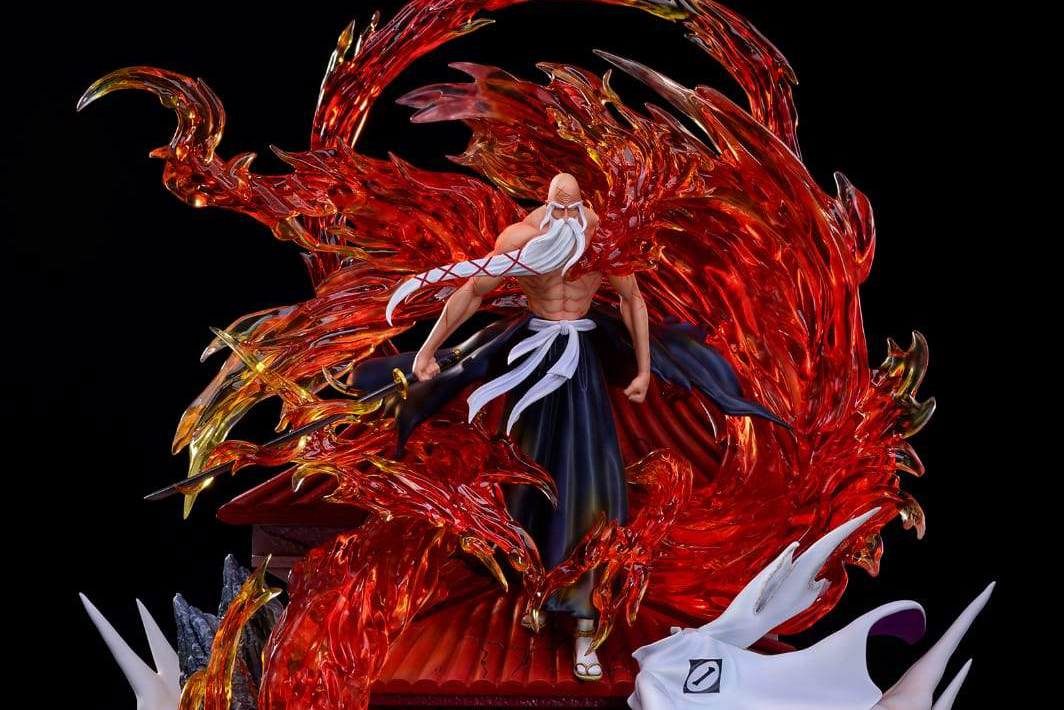 WS Studio Genryūsai Shigekuni Yamamoto Zanka no Tachi 1/8 Scale Statue
Last but certainly not least is the Genryūsai Shigekuni Yamamoto Zanka no Tachi 1/8 scale statue, which is another WS Studio statue that I absolutely love. It is the second statue from this studio to make the list, but for good reason, because it looks fearsome and it makes a statement.
Unlike statues such as Clouds Studio Ichigo, which take a more simple approach, this one leans towards the opposite end of the spectrum. And while it is busy, it doesn't come across as overdone in any way because of the way the pieces are placed and how flawlessly they flow together with one another.
The way in which the flames are moving throughout the statue add movement and make it look dynamic with Genryūsai Shigekuni Yamamoto front and center. The expression on his face and the pose shows him ready for battle and the massive resin flames that are swirling around him make this one monstrous and impressive statue. In terms of powerful looking statues, WS Studio's Genryūsai Shigekuni Yamamoto Zanka no Tachi 1/8 Scale Statue is one of the best and as far as concepts go, this is one of my favorites, if not my absolute favorite, on this list.
You can check out my full review of this statue and get a closer look at all of its details in my unboxing below!
WS Studio Genryūsai Shigekuni Yamamoto Zanka no Tachi 1/8 Scale Statue Gallery
This is definitely subjective and varies from collector to collector, but these are my personal favorite Bleach statues that have been revealed so far! Another notable mention is Ryu Studio's 1/6 Scale Statue of Ichigo, which is another great statue from the series you can check out as well.
In other anime statue news, check out our favorite anime statues that have gone up for preorder in December 2020 so far!