Tokyo Revengers is one of my most anticipated releases of the year. I watched the first season of the anime and enjoyed it, but I have especially been wanting to collect and read Tokyo Revengers. When Seven Seas announced they would be releasing the manga with English translation, I couldn't be happier. It's a compelling and addicting series with amazing characters and a unique premise. If you love manga about delinquents or stories that involve time travel, like I do, you'll want to check this one out!
Seven Seas is releasing the Tokyo Revengers manga by Ken Wakui in an omnibus format, and each omnibus collects 2 volumes of the series. Since Tokyo Revengers is currently still releasing, it is unknown as of now as to how many omnibuses there will be in total, but it has been confirmed that the manga is in its final arc.
After getting and seeing the editions firsthand, I can't wait to pick up more. There are actually two versions of the first omnibus, the standard and Barnes and Noble exclusive versions, that I will be reviewing and showing you guys!
What is Tokyo Revengers about?
If you are new to Tokyo Revengers, the series follows Takemichi, who finds himself suddenly 12 years in the past in the body of his younger self, reliving some moments he cherishes, like the times he spent with his friends and girlfriend, Hina, as well as others he'd like to forget or erase entirely.
Takemichi is a member of the Tokyo Manji Gang also known as Toman and there are many consequences and struggles that result from this. Knowing the future, and the fate that some are going to meet, he challenges destiny and attempts to rewrite time, but challenges and obstacles, twists and turns, and more stand in his way.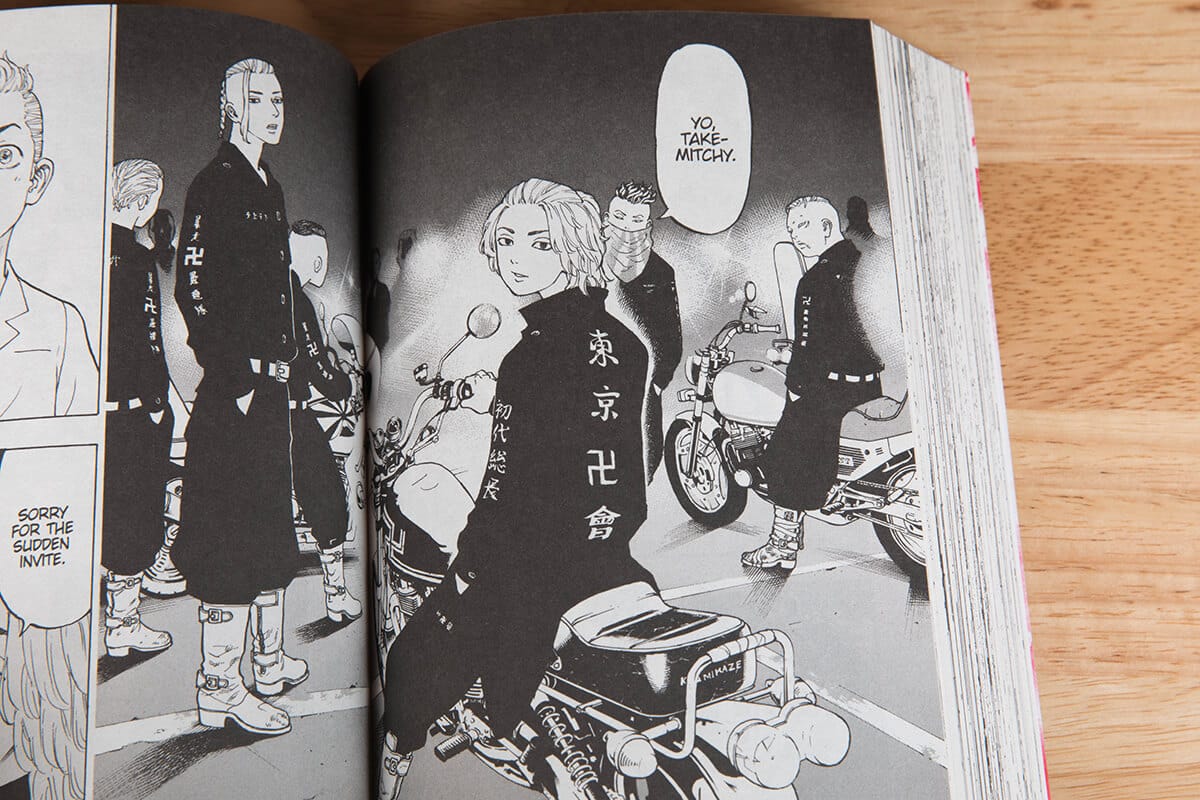 Are the Tokyo Revengers manga omnibuses censored?
The first thing I want to talk about is whether or not there is any censorship, because I know a lot of people were concerned that they would censor the manji symbol in particular. But, I am happy to report that the omnibuses are unedited and the manji symbol is present as they are in the Japanese volumes.
Seven Seas put a note about the meaning of the manji symbol as well as the fact that they left it unedited in the very beginning of the volume, much like Dark Horse did in the Blade of the Immortal Deluxe Editions. To have a manga release of Tokyo Revengers that's uncensored, is an absolute dream.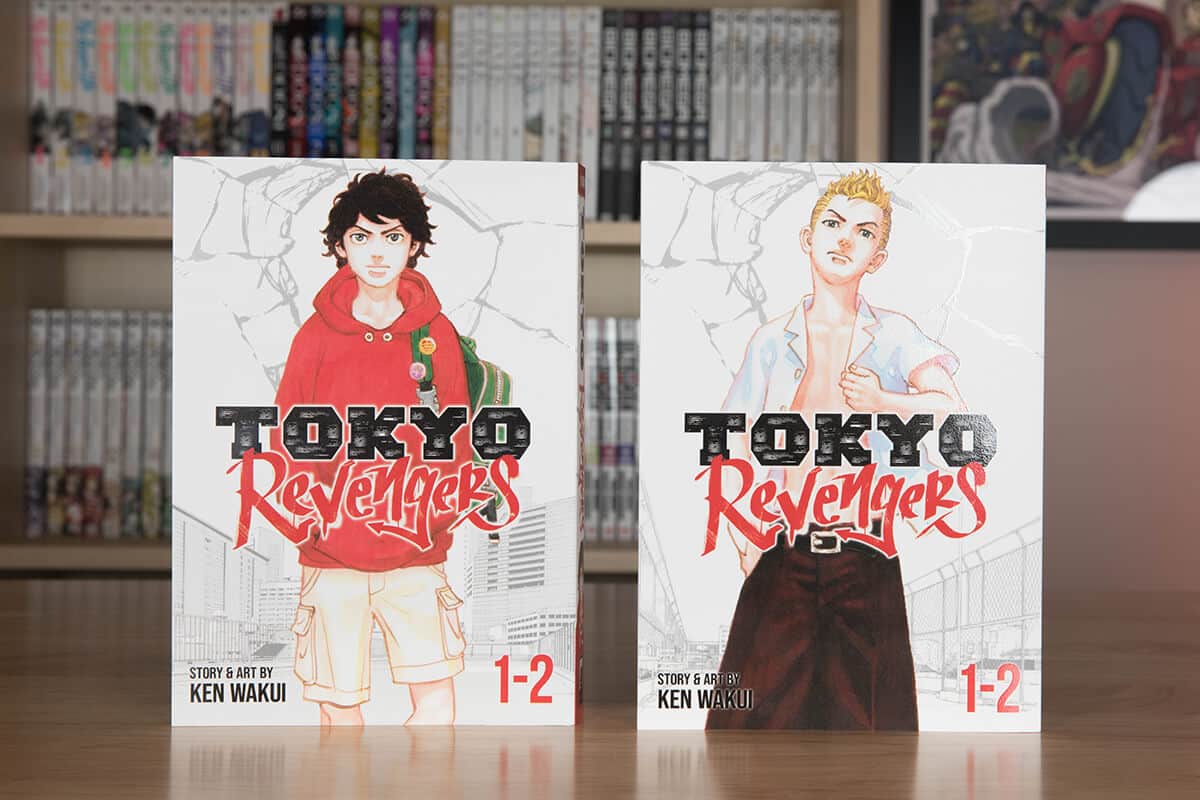 How do the Barnes and Noble and standard versions of the first Tokyo Revengers omnibus differ?
The standard omnibus release, which is available for purchase at all manga retailers, showcases Takemichi in his older appearance with his long hair. You have this shatter effect graphic rippling throughout the front cover as well as some building details in the back that are grayscale and the Tokyo Revengers logo front and center. I actually love the look and feel of these editions. They are matte, but have a nice texture to them, and they have glossy finishes, which pop the artwork out from the background.
The spine has the Tokyo Revengers logo as well as part of the artwork of Takemichi that's seen on the front cover. The back has a really graphic, cool look to it too. They are super high quality and I'm really impressed with these editions.
The Barnes and Noble exclusive of the first Tokyo Revengers omnibus features the same quality and detailing, but it comes with an exclusive variant cover that shows Takemichi in his younger days wearing his white button up and baggy pants. The background is different too, showing a difference in setting and time.
Much like the standard version, the spine features part of the artwork of Takemichi that's present on the front cover. It also comes with an exclusive double-sided fold-out poster in the back; The front features Toman's Takemichi, Mikey, and Draken, and the back features Takemichi and his encounter with Kiyomasa's Gang in the beginning of Volume 1.
Size
In terms of size, both editions are the same size, although with the poster, the B&N exclusive is a tiny bit thicker. The poster is removable though, and once removed, it's the same size all-around as the standard edition.
The Tokyo Revengers omnibuses are taller than those I've seen previously from Seven Seas, like the Darling in the Franxx omnibuses. At 5.8 x 8 x 1.40 inches, these omnibuses are the same height as Sig volumes from Viz or Kodansha and Yen Press' larger volumes, like Dorohedoro or Inuyashiki. They are also similar in size to Udon's Steins;Gate editions if you are looking to get into more time travel manga series.
Print Quality & Readability
When you open each version up, you are greeted by the full artwork seen on the front cover as well as some full color pages that are printed on high-quality, white glossy paper. Then you get into the black and white pages and they are printed on an off-white paper that has an egg-shell like texture. I always expect good print quality with Seven Seas releases, and the Tokyo Revengers manga omnibuses are no exception.
Readability is great too. The margins they've included are nice and nothing is obstructed by the gutter while reading, so I have no issues to report here. The fact that they made these two-volume omnibuses really helped with readability and they are comfortable to read as well.
Do they come with extras?
The Barnes and Noble exclusive comes with a fold out poster as mentioned prior, but both versions come with the full color pages in the front as well as some extras in the back, including some full page black and white illustrations.
Tokyo Revengers manga release schedule
If you are looking to pick these up, the first volume is set to release on July 26, 2022. The Tokyo Revengers B&N exclusive of Omnibus 1 is temporarily out of stock online, so if you are in search of it, I'd definitely check in-store around then!
In terms of release, it looks as of now as if these omnibuses are expected to be released every 3 months. This is based on current release dates for the next few omnibuses, but always keep in mind that estimated arrival dates are subject to change or delay. Omnibus 1 is the only one that has both an exclusive and standard version as of now. The next omnibus, Omnibus 2, features Draken on the cover!
Final Thoughts
All in all, Seven Seas really did a incredible job with these editions. They are beautifully made, I appreciate the fact that they didn't censor the series, and I can't wait to pick up the rest of the volumes as they release. You can shop the Tokyo Revengers manga now via a trusted manga retailer below! Thank you so much to Seven Seas for sending over these editions for review.
Where to Shop
Just now getting into manga collecting and want to learn more about it? Check out my guide to manga collecting. Also, in other Tokyo Revengers news, Tokyo Revengers Season 2 is confirmed! You can also get a closer look at the editions in the video below.
First Look at Tokyo Revengers Manga Omnibus Video
Is Tokyo Revengers manga finished?
The Tokyo Revengers manga is still releasing, so it is not complete as of yet. The manga, however, is in its final arc right now.
Where does the Tokyo Revengers manga start after the anime?
Tokyo Revengers first season ended around Chapter 73 of the manga, which is in Tokyo Revengers, Volume 9.
How many volumes of Tokyo Revengers are there?
As of now, there is an unknown total of volumes for Tokyo Revengers since it is still serializing. We do know, however, that the series has entered its final arc thanks to an announcement in Kodansha's Weekly Shonen Magazine. 28 volumes have released in Japan so far and the 2-in-1 omnibuses releasing from Seven Seas are just now releasing with Omnibus 1 coming out on July 26, 2022.