I just recently received Toshiro Hitsugaya's Nendoroid in the mail from Good Smile Company. For all of you who have yet to purchase yours or are still questioning whether you want to add him to your collection, I wanted to do a review and take some pictures of him in his various poses to give you an idea as to whether or not this one is worth picking up.
This figure was released in 2020, but Good Smile Company have been busy since then. Check out all of the Nendoroids that are coming in 2022 so far!
The only issue I've ever had with Nendoroids is the occasional fit error here and there; In addition, some are finicky to pose. Other than that though I've found their quality to be great, but this can vary from Nendoroid to Nendoroid. With that said, I'll talk about my thoughts on this Nendoroid in the following areas: Accessories, quality, and posing.
Read up on my review of the Toshiro Hitsugaya Bleach Nendoroid below!
Accessories
As far as accessories go, Toshiro's Nendoroid came with a lot of options. Of course, he comes with the standard three face plates, each featuring a different expression (A standard expression, a fearless smiling expression, and an exasperated expression).
Much like the Tanjiro Nendoroid, Good Smile did a great job at capturing the different sides of Toshiro. His serious, mature, and "I can't be bothered" personality really shines through in this Nendoroid. You really feel this when you pose him with his crossed arms and exasperated expression, which looks hilarious when displayed next to Ichigo's Nendoroid.
They even included the parts to recreate Toshiro's Bankai, Daiguren Hyōrinmaru. These parts include icy hands (one of which has the dragon's head), feet, and wings. This form looks great when displayed; However, I wish they would have went just a step further and added the ice flowers that float behind him, which are an important and needed detail for his Bankai. Even if they just included this as a background, it would have been better than them not including these parts at all.
Quality
I have no gripes with Toshiro's Nendoroid in terms of quality. Everything included is made with care and the paint is done well, especially the painting of his eyes, hair, and clothing. I am particularly happy that they were able to pull off the look of the ice in Toshiro's Bankai. These parts are slightly translucent and feature a crisp, light blue color.
The only issue I had with this Nendoroid is that his hair doesn't meet quite flush with his face, so you see a gap between the two. But, this is something I've had to deal with from Nendoroids before; However, this varies from figure to figure. It's important to note that this doesn't bother me much, especially given the overall look and quality of the Nendoroid.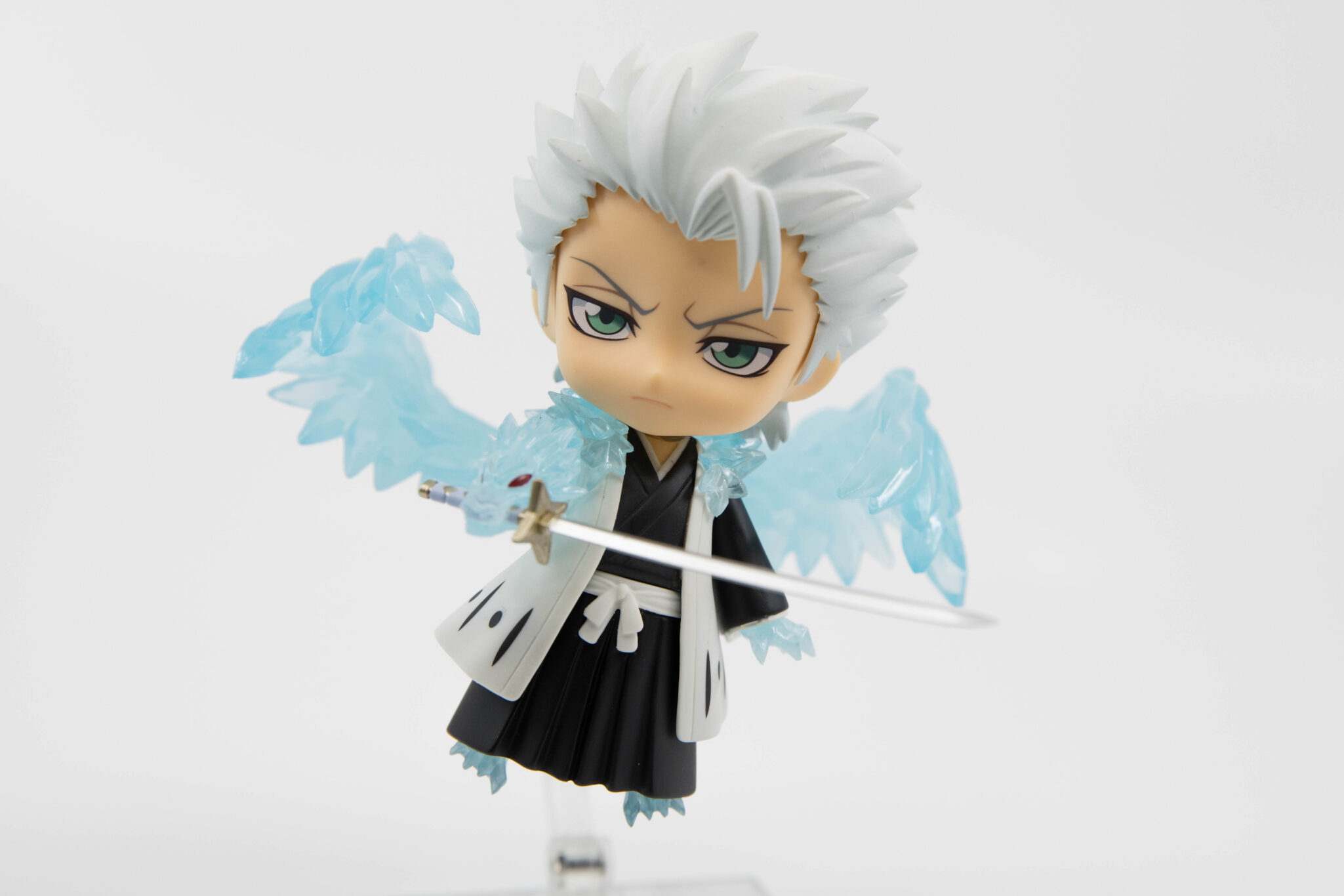 Posing
It was easy to display Toshiro in all of his poses, even his more involved Bankai pose. I personally didn't have any fit issues with any of the pieces, but this can vary from Nendoroid to Nendoroid.
He also looks great when displayed next to Ichigo's Nendoroid, and the two interact well together thanks to the parts and face plates that were included with each of them. You can check out all of Toshiro's different poses and see what he looks like displayed next to Ichigo below!
Toshiro Hitsugaya Nendoroid Gallery
All images were taken by Anime Collective Team. Product credit: Good Smile Company.
Toshiro's Nendoroid went up for preorder on Good Smile US's site, but you can also preorder him on sites like Right Stuf while supplies last!