I grew up playing football and played on teams all throughout high school, so Blue Lock written by Muneyuki Kaneshiro and illustrated by Yusuke Nomura is one that connected with me on a personal level. But, its style and artwork as well as its action-packed scenes, compelling characters, and interesting twists not only captured my attention, but maintained it fully throughout. Like a close football match, Blue Lock's first volume kept my eyes glued to its pages longing to see what happens next.
Some of you may have heard of Blue Lock from Attack on Titan's creator, Hajime Isayama, who recommended the series. Because I love his work and he recommended it, I had a feeling this series was going to be good. Still, I had to see and read it for myself first before making that decision, but man, it is really that good. Not only is this one of the best first volumes I've read in recent years batched with manga like Spy x Family, Chainsaw Man, Hell's Paradise: Jigokuraku, and manhwa like Solo Leveling, but it's also one of the most thrilling and unique new sports manga I've ever read.
Before I get into the full review, I do want to mention that Blue Lock is currently only available to read digitally with English translation as of now. I'm really hoping that Kodansha releases this one in print as well since I would love to physically collect and read the manga, but there's no word as to whether or not they will be doing so as of yet.
I'm suspecting with the praise and love it's receiving from the community that it will, but nothing has been officially confirmed. Fingers crossed, because this is one I'd love to purchase physical copies of in the future. Since the time of writing this post, Kodansha announced that Blue Lock is being printed with English translation in 2022.
I want to first talk about the artwork featured in the series, because the art in Blue Lock is top-notch. Usually, you don't notice how amazing a manga's art is going to be until you get into the fight or action scenes or see those larger full-page panels, but everything in this manga, including the in-between scenes and more dialogue heavy moments are incredibly drawn. With a manga like this one where every panel is exciting to witness, Blue Lock excels in terms of how visually impressive it is.
While I still think creators, like Yusuke Murata's (One Punch Man) art is the best, the art in Blue Lock is up there toe to toe with the best, because of how well-drawn all of the panels are and how dynamic the action scenes are. Also, I have to note that after reading only one volume, I already want to see Blue Lock animated and this is a true testament to just how amazing I think this manga is.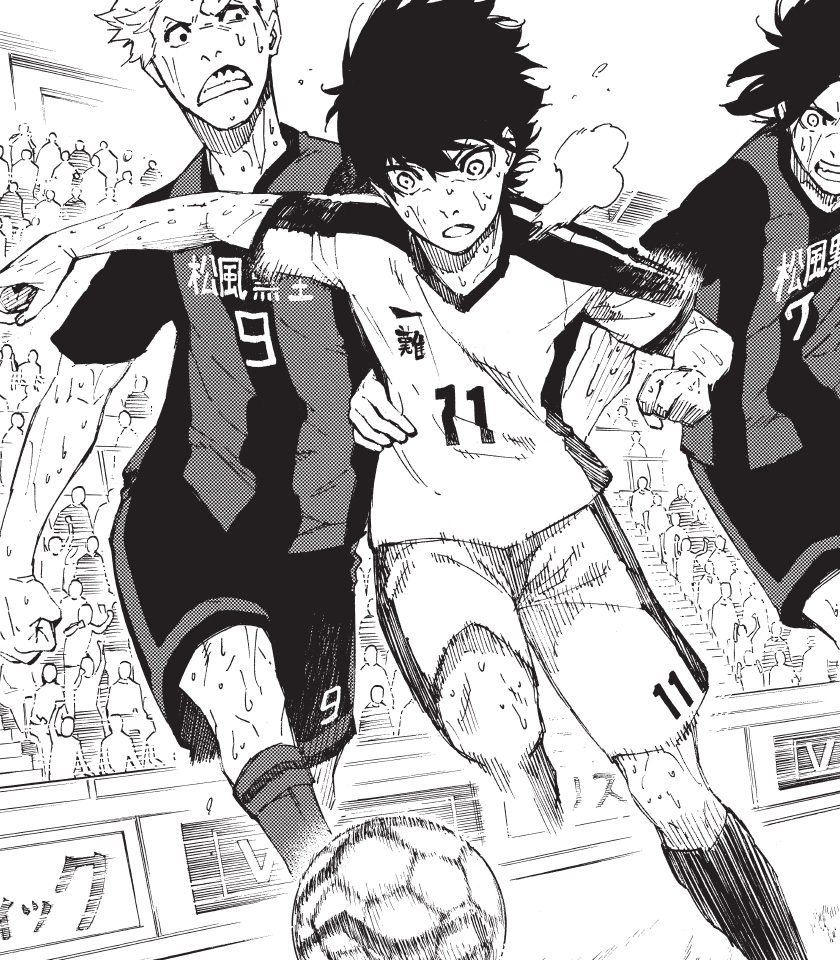 In terms of story, Blue Lock follows main character and high schooler Yoichi Isagi and his journey in an experimental football program called Blue Lock that's designed to create the best striker that will lead Japan to win their first-ever World Cup.
At its core, Blue Lock is like a battle royale of football players, where the last man standing gets to become the top striker of Japan, but to do so you have to beat out 300 other candidates not just in terms of your skills, but most of all, your ego. It is a really cool premise and the challenges that pop up along the way for our characters are uniquely designed and kept me on the edge of my seat.
If you are someone who's not familiar with football and its rules, the manga does a great job of explaining things and leaving reference notes, so you don't have to know a whole lot about football to enjoy this manga; However, if you are someone who watches, plays, or is into football, this series is accurate in terms of how it portrays the game and the industry that surrounds it and you are sure to enjoy its humor and dialogue even more so than most.
In regards to its characters, Blue Lock has a lot of interesting personalities both in terms of the players and those who are in charge of running Blue Lock. I really love Anri Teieri, Japan Football Union's new hire who believes that Japan can win the World Cup by producing players who can lead the country to victory. And then there's Coach Jinpachi Ego. For some reason, when I see him I picture Kotaro Tatsumi from Zombie Land Saga. They have a similar energy about them, and while they are brash, over-the-top characters who yell a lot, they are still likable because it comes across in a humorous way.
Then there's the football players who are taking part in Blue Lock. Of course, you have main character Yoichi Isagi, who is an underdog, but you can tell that he's a star thanks to his tenacity and drive. He's extremely likable and easy to root for. I also really liked Meguru Bachira, who's a bit crazy, but in a really lovable way. He adds interest to the story, because he is really unpredictable and I never know what he's going to do next. I know I'll love other characters as they introduce more along the way, but for now, these are the ones that stood out to me in the first volume.
With its artwork, premise, and characters, Blue Lock is setting itself up to be the next great sports manga. And on top of all that, because of its dialogue, it is just as exciting to read as it is to look at. Even if you aren't a fan of sports or sports manga, it's one I implore you to check out, because when it comes down to it, it is so much more than that and I believe it's one that everyone can enjoy in some form or another.
If you're looking for other manga like Blue Lock, we've created a diverse list for you to dive into next!
Where to buy Blue Lock Volume 1