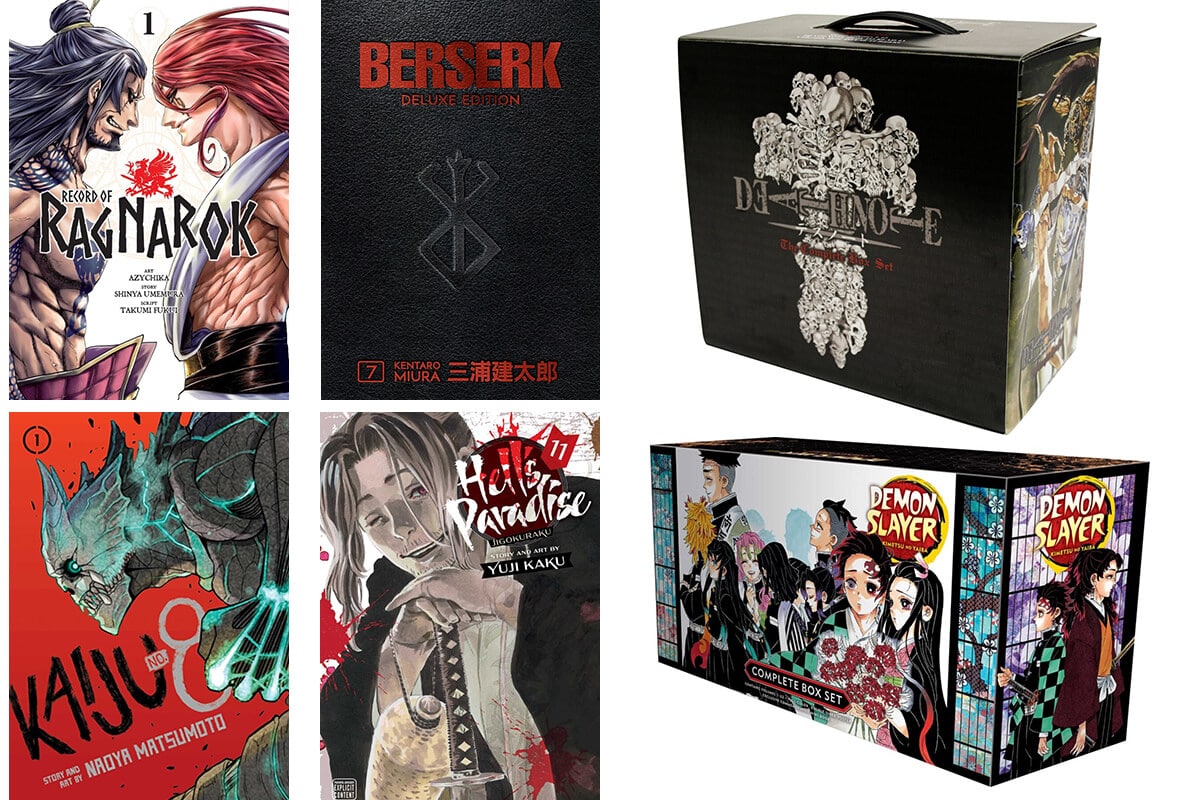 Best Places to Buy Manga
Anime Collective is reader-supported. When you buy through some links on our site, we may earn a small commission at no extra cost to you.
I buy a lot of manga, so I am always looking for the best deals. Not only that, but I'm also always on the lookout for new sites to buy from. I've collected manga for years so I've bought from many sites and stores that sell manga, but the following are my favorites!
Right Stuf
Right Stuf is my favorite site to buy manga on, because they are constantly running sales and specials and they have some of the lowest everyday prices.
I will say though that Right Stuf really is only worth it if you are able to reach their free shipping threshold. If you are based in the US, free shipping is unlocked at $75 USD. If you are based in Canada, free shipping is unlocked at $250 USD.
One downside though is that Right Stuf exclude certain items from free shipping. In my experience, figures as well as anything that's heavier, like manga box sets, are typically excluded from free shipping. With that said, if you are looking to buy manga box sets, I have other recommendations below. But, if you are looking to buy individual volumes, Right Stuf is definitely the way to go, because they have usually have the lowest prices for manga.
What really gets me into trouble though is their sales. Not only do they run weekly specials, but they also have larger yearly sales, like the Right Stuf Birthday Sale. To give you an idea as to what kind of sales they run, check out all of the manga they had on sale during their Birthday Sale in July 2021.
Also, I want to mention that if an item is out of stock, expecting more on their site, you can still place an order for that item. They will charge you immediately for the purchase though even though they don't have it in stock at the moment and they also charge you immediately for preorders as well.
When you go to check out, make sure you uncheck their shipping insurance if you don't want it and make sure that free shipping is selected if you reached the threshold, because ground shipping, which costs a bit of money, sometimes gets automatically selected for some reason.
Another thing they have is the Got Anime? Membership which gives you an additional discount of up to 10% off their prices and access to members-only special promotions. It costs $18 USD a year, and after using it for a year, it definitely pays for itself and then some if you buy a lot of manga.Pros
Pros
They have the best sales on manga
They run weekly specials
They have some of the cheapest prices
Cons
They charge you immediately for preorders
Exclude certain items, like manga box sets, from free shipping
Free shipping isn't unlocked until $75 USD
Amazon
Amazon is a great place to buy manga on, especially if you already have a membership with them. They are just super convenient, I've found their shipping to be the fastest, and they have easy returns in the event that something comes damaged.
Since Right Stuf usually excludes heavier items, like box sets, from their free shipping discount, Amazon usually has the best deals on manga box sets when they go on discount or sale. They also run discounts on manga editions, like the Berserk Deluxe Editions, as well as individual volumes from time to time.
One benefit to buying from Amazon is that when you preorder a manga they have usually have a preorder price guarantee. Amazon had the following to say about their preorder price guarantee policy on their site: "Whenever you pre-order a physical item displaying the "Pre-order Price Guarantee" message on the product detail page, the price we charge when we ship it to you will be the lowest price offered by Amazon between the time you placed your order and the end of the day of the release date."
Another benefit is that unlike Right Stuf, who charge you for preorders immediately, Amazon won't charge you until release day. So if you don't want to be out the money immediately for manga preorders, Amazon is a good way to go.
Pros
Usually have the best prices and discounts on manga box sets
They are convenient to buy from

Some items have a preorder price guarantee

Don't charge you for preorders until release day
Quick shipping
Easy returns
Cons
Packaging needs improvement
Bookstores Like Barnes and Noble and Books-A-Million
When they aren't running sales or coupons, Barnes and Noble and Books-A-Million are typically the most expensive places to buy manga from, because they commonly price their manga at full cover price. Right Stuf always has lower prices than these stores when it comes to normal everyday prices. But with manga constantly going out of stock nowadays, they are still good places to search for and buy manga.
Both stores don't run nearly as many sales as sites like Right Stuf but they do run some, including Buy 2, Get 1 Free manga sales, that you can keep an eye out for as well.
Another great thing about buying from BAM and B&N is that you can chose the quality of the manga volumes you buy when you shop in-store, whereas you can't when you buy online. So if quality is something you care about, this is something you may want to consider.
Barnes & Noble has a membership that gives you 10% off in store and free shipping on all orders for $25 USD a year. Books-A-Million has a membership that gives you 10% off in store and free shipping on all orders for $25 USD a year as well.
Both Barnes and Noble and Books-A-Million get exclusive manga releases also. For instance, Barnes and Noble released the Toyko Ghoul Monster Editions and they also have an exclusive hardcover of the Steins;Gate: The Complete Manga releasing in October 2021.
Pros
Can buy in-store or online
They have exclusive manga releases
Run Buy 2, Get 1 Free sales on manga from time to time
Cons
Tend to have the highest prices on manga
Some items don't qualify for free shipping
If something arrives damaged, they don't refund you the shipping you paid on the item
Used Bookstores Like Half Price Books and 2nd & Charles
Used book stores are awesome places to find manga often for half off cover price for newer releases. But, they are also good places to find rare or out of print manga as well. If you'd like to learn more about out of print manga and where to purchase it, check out our Out of Print Manga Guide. I also talk about the things you should look out for when buying from used book stores in that post as well, like quality, prices, etc.
I always find shopping used book stores, like Half Price Books and 2nd & Charles, to be really rewarding, because often times, you will find something you didn't expect to find.
Pros
Great places to find rare or out of print manga
Can find manga for cheap prices
Cons
They overprice some manga
The quality of the manga sometimes isn't all that great
InStockTrades
InStockTrades have everyday prices that are comparable to Right Stuf, so they have low prices. Another benefit to buying from them is that their free shipping threshold is only $50 USD.
I've also found that they have some of the best prices for Dark Horse manga, especially the Deluxe Editions, which are often listed at a 42% discount. The only thing about buying from them is that they tend to sell out of volumes decently fast, so you'll want to get your order in as soon as possible if you are looking to preorder an item. Another thing is that shipping tends to take quite a bit longer than other sites, so this is something to keep in mind as well.
They also sell graphic novels, so if you are someone who collects those in addition to manga, you may want to give InStockTrades a shot.
Pros
Cons
Shipping can take awhile
They sell out of their stock fast
Your Local Comic Book Shops
I've often found that a lot of people don't know that some comic book shops carry manga, but they are great places to check. I've found that a lot of them in particular sell manga from Dark Horse, but some sell manga from other publishers as well.
The only thing I'll say about comic book stores is that you have to make sure their prices are fair, especially for out of print manga. There have been many occasions where I saw them selling a volume for way more than it's worth, so that's something to keep in mind.
Pros
Sometimes have rare manga
Great places to find Dark Horse manga in particular
You support a local business
Cons
Have a tendency to overprice some manga
Depending on the store, the selection can be small
These are the sites that I've loved buying from over the years. Since we are based in the US, a lot of these stores are location specific. But, if you are located outside of the US definitely check out Book Depository. They are a site I've seen recommended a lot!