TokyoTreat is a monthly Japanese candy and snack box that's delivered straight to your home, and with worldwide shipping, they are one of the most accessible in the market. As someone who is a lover and purchaser of Japanese snacks and treats, I was looking forward to trying out their boxes.
TokyoTreat are well-known for their unique and fun themes as well as their limited edition and exclusive Japanese snack offerings, but how do they stack up against other Japanese candy and snack subscription boxes? In order to find out, I received and tried out the Moon Festival Munchies TokyoTreat box to give you guys an honest review! All images in this post were taken by me, so you can see the quality of the box as well as its contents firsthand.
What to expect with TokyoTreat
Each TokyoTreat box has a new theme
Each monthly TokyoTreat box has a new theme. This time around, it's the Moon Festival Munchies theme, which features snacks and treats celebrating Tsukimi, the Moon Festival, a time in which the people in Japan celebrate the harvest moon!
These new themes really keep things fresh and exciting and allow you to experience as well as celebrate different regions, customs, flavors, and seasons in Japan. Past boxes have allowed us to explore Shibuya, Japan's summer festivals, Japanese convenience stores and much more! They also have member perks you can sign-up for, including giveaways and a reward program, which allows you to stack up reward points to spend on prizes, like plushies, treats, and figures.
15-20 full-size snacks and a culture guide are included in each box
In addition to new monthly themes, TokyoTreat offers one of the biggest snack boxes out there. You get 15-20 full-size Japanese snacks in each box, including both savory and sweet snacks, like ramen, drinks, limited and rare KitKats, candy, cookies, chips, etc. They include allergen information as well as a 24-page culture guide in each box that help you learn more about the treats as well as the culture in Japan. I felt like I was getting more for my money with Toyko Treat, because it offers an experience as well.
TokyoTreat Review
Now that you know what to expect with TokyoTreat, let's get into the review! I take a look at how these boxes compare in terms of contents, shipping and customer service, and value for the cost.
Shipping and Customer Service
My experience with TokyoTreat in regards to their customer service and shipping have been nothing but positive so far. The boxes they send the treats in are sturdy and they package the items well, so all snacks arrived intact. All items arrived in perfect condition and the box arrived to my location in the US quickly, so no complaints here.
Shipping may be a bit on the expensive side for some, but it's important to note, that their boxes ship out from their warehouse in Japan. This is why the shipping rates are a bit higher and this is something you'll experience with other subscription boxes of this kind as well. They have affordable rates though and various shipping options to choose from. If you are someone, who is an anime figure collector, like me, you may already be familiar with some of the mail couriers and have an idea as to what to expect in regards to shipping time.
Estimated shipping time is different for each courier, so this is something to keep in mind. If you want your box to arrive sooner than later, you may want to select one of the quicker shipping options. If you want to save some money and don't mind waiting, there are cheaper options, but they have longer shipping times. Shipping options may vary depending on your location, though, so this is another thing to consider.
All in all, Toyko Treat's shipping rates from Japan are competitive and well-priced and they have great packaging too.
Contents
When you first open up your TokyoTreat box, you are greeted by a culture guide, which outlines all of the snacks you got in your box, facts about them (allergen information included) and how they are typically enjoyed, as well as information about the Moon Festival, which is the theme of this month's box. These guides are amazing additions and are one of the biggest reasons as to why TokyoTreat's boxes are so exciting to experience. Not only do you get to enjoy the flavors and treats of Japan, but you learn about the culture through their boxes as well.
And then you have the treats, which are packed thoughtfully in the box. TokyoTreat's boxes contain a variety of different Japanese candy and snacks in them. They include both savory and sweet options in their boxes, so there's something for everyone. As someone who doesn't typically like sweets, I was surprised by how many of the sweets in this box appealed to me. I do find myself enjoying Japanese candy, though, more often than others, because they taste naturally sweet and have subtle, fruity flavors. The savory and salty options they included were great as well, featuring flavors such as curry and cheese, which I love.
After trying all of the snacks, my favorites in the Moon Festival Munchies box were definitely the Salt Lemon KitKats, the Mikan Mochi, Ume Soda, Hello Kitty Star Milk Bread, and Pandaro Melon Cookie! All of the snacks were eaten, though, which is unheard of for a snack subscription box. Usually, I will only find one or two things I enjoy with subscription boxes, but I would re-buy most of the items, especially the sweets, in this box. I think that's a real tell-tale sign as to whether or not these boxes are worth it, would you rebuy the items in the boxes they sent you? And if the answer is yes, as in this case, I stick around and subscribe for more.
TokyoTreat do a great job at including a number of different items and flavors, so that there's something for everyone in their boxes. More so than anything, though, their variety allows you to experience new items and discover new treats that you enjoy.
Vegetarian-friendly options
It's important noting that there are some vegetarian-friendly options in TokyoTreat's boxes. Even more exciting was the fact that they listed which items were suitable for vegetarians in the booklet that came within the box.
In the Moon Festival Munchies box I received, out of the 15 items that came in the box, only three of them were not vegetarian friendly. TokyoTreat offers a lot of vegetarian-friendly options in comparison to its competitors. Although, it is important to note that with the boxes changing each month, the number of vegetarian options could vary from month to month.
Something that TokyoTreat may want to consider is a vegetarian-only option. Right now, they only have boxes that contain a blend of non-vegetarian friendly and vegetarian-friendly options, which is something that may prevent some individuals from subscribing to their boxes.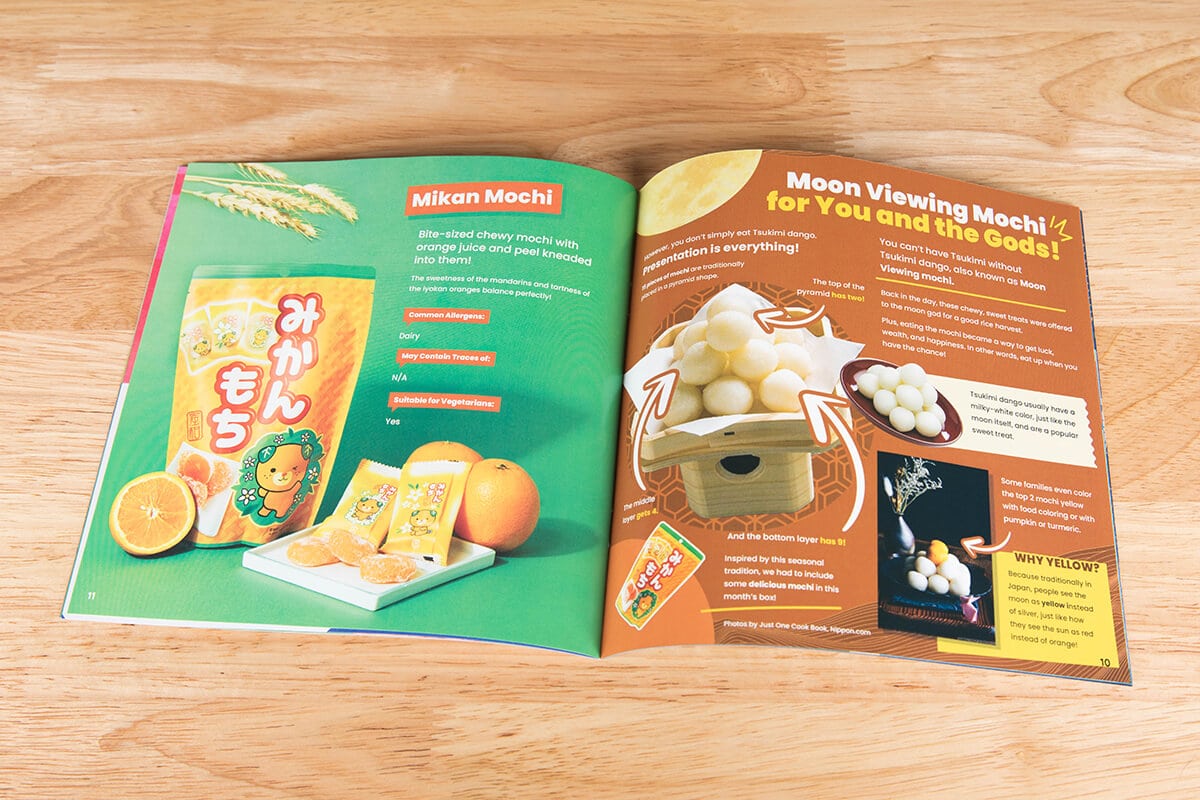 Value for the cost
In terms of value for the cost, TokyoTreat, at their most expensive plan (their month to month plan), will run you $37.50 a month plus the shipping cost of the box. Their most cost-effective plan is their 12-month plan. With this plan, you save $60 over the course of the year. All of their plans have been outlined in the FAQ below if you'd like to check it out! In comparison to other Japanese snack and subscription boxes, they are priced really well.
TokyoTreat is worth the price to me, because it is difficult, if not near impossible, to get most of the treats that come in their boxes, especially if you live in the US like I do. They send out limited and sometimes even exclusive items too, which adds even more value to their boxes, especially when you factor in all of the work that went into the making of their cultural guides and the fact that you get 15-20 full size Japanese snacks in each box, making it one of the biggest subscription boxes out there.
I'm going to determine the value here based on the most expensive month to month plan. I received 15 snacks in the Moon Festival Munchies box, so each snack, in this specific box and with this specific plan, would cost you $2.50. You do have to factor in the cost of shipping to your location here as well. Given that information, TokyoTreat offers great value for their price, especially after trying and seeing the quality of the treats they send!
Final Thoughts: Is TokyoTreat worth it?
Yes, TokyoTreat is worth it. Out of all the Japanese candy and snack subscription boxes, they are my favorite I've tried so far. They offer limited and exclusive items and, on average, I like their offerings more than other boxes.
In addition to having an incredible selection and variety, TokyoTreat's boxes are fun to experience, whether you are trying it out on your own or with others. Their subscription boxes are a great way to find and try new Japanese snacks, drinks, candy and more that you wouldn't have discovered, or perhaps even tried, on your own and they are themed, so they take you on a journey and allow you to explore Japanese culture more so than other boxes do. Their helpful guides also really add to the experience since they describe the origins and flavors of the snacks you are trying.
Is there room for improvement, though? As with anything, there almost always is. With TokyoTreat, the only thing I would recommend is potentially looking into a vegetarian-friendly only subscription box, so that they are accessible to more fans. The vegetarian-friendly options, and the number of them in their boxes, are incredible, though, which is really appreciated. I was surprised to see how many options there were for vegetarians, and since they already include them in their boxes, I think this would be a successful addition to their already existing subscription services.
My experience with TokyoTreat has been nothing but positive. A lot of times, snack boxes tend to be novelty gift items that I don't keep up with all that long, but the themes and contents of TokyoTreat's boxes make them well-worth it and they are one of the best subscription boxes in the market. They are fun to experience, but the snacks they send out in their boxes are actually yummy as well.
Give TokyoTreat a try
How much does TokyoTreat cost?
The cost of TokyoTreat depends on the plan you choose. When you sign-up for multiple months at a time, you save money from month to month. You save the most ($60 USD) with their 12-month plan, which costs $32.50 per month. Their most popular plan, the 6-month plan, costs $33.50 per month. Their 3-month plan costs $35.50 per month. In addition to their monthly bundle plans, you can also get boxes on a month to month basis for $37.50 per month. It is important to note that there is a shipping fee that's charged with the shipment of each box. The price of shipping varies depending on your location.