Oshi no Ko is created by the dynamic duo of Aka Akasaka, the creator of Kaguya-sama: Love Is War, and Mengo Yokoyari, the creator of Scum's Wish. As a fan of these two and their individual works, I was excited to see what they would create together with Aka Akasaka's storytelling and Mengo Yokoyari's illustrations. I had a feeling what they'd create together would be amazing, but they far exceeded my expectations with Oshi no Ko, and it's one of my favorite new manga releases of 2023.
The series first began releasing with English translation digitally on Manga Plus, so you may have already checked it out. I couldn't wait to read it, so I kept up the chapters on manga plus as well. Knowing what's coming and the twists and turns this one contains and just how hooked I was from the jump, I couldn't wait to own it in the collection and read it again physically when Yen Press announced a print release at Anime Expo 2022. An anime adaptation of Oshi no Ko is coming in 2023 that you'll want to keep an eye out for as well.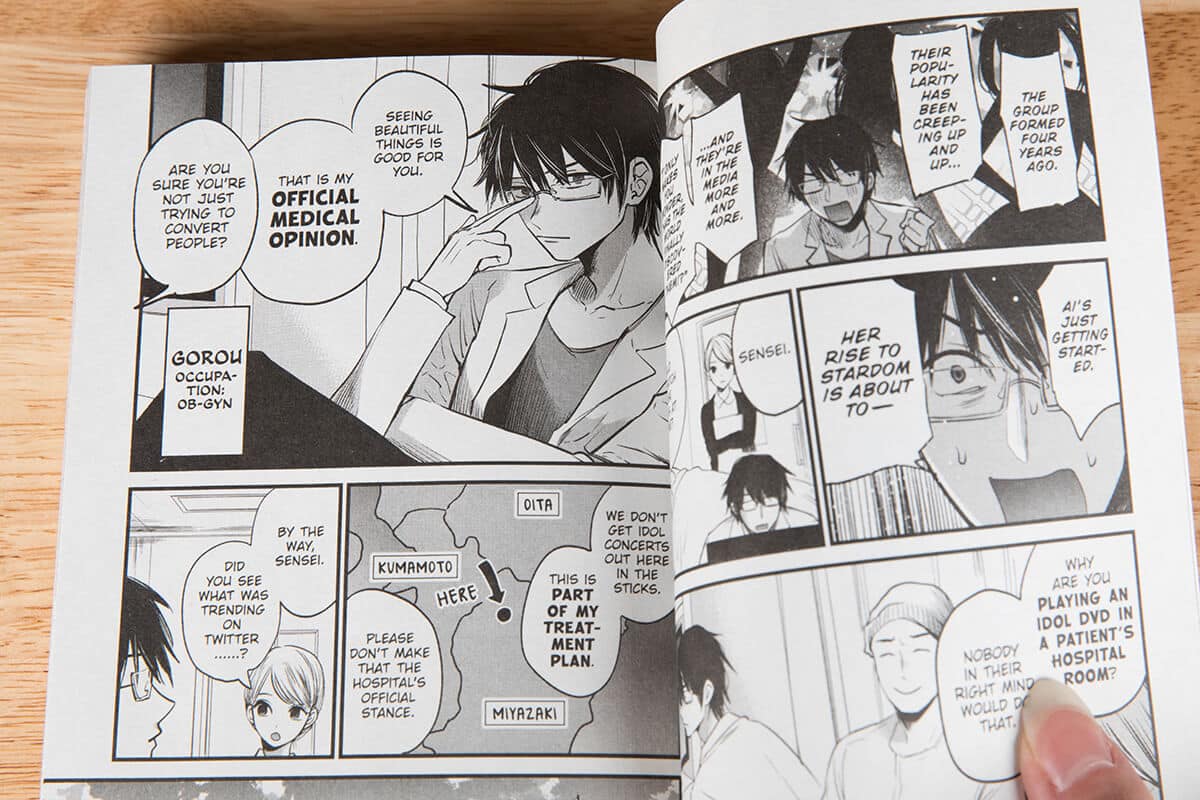 Oshi no Ko gives us a unique look into the world of showbiz and offers a new perspective on what it means to be famous or to be an idol. It follows Goro, an OB-GYN in the countryside that lives a life far removed from stardom, who meets his favorite idol, Ai Hoshino, one day in unexpected circumstances.
Ai, who had just begun her climb to fame, is pregnant, and in order to stay out of the eyes of the press, came to his clinic to have her babies. One thing leads to another, though, and their fates end up becoming intertwined in interesting as well as shocking ways. Goro is killed and reincarnated as her baby son. It's quite a quirky as well as out there premise, but it works so incredibly well.
Oshi no Ko highlights the darkness that comes with being in showbiz, whether it be an actor or an idol. Ai's twins grow up and follow in her footsteps, so we also see through them the joys and struggles that come with being in the spotlight. There's a warmth to this series thanks to the character's interactions as well as its great comedic timing throughout, but it's also quite a heavy read too, given what these characters go through and the various traumas they face.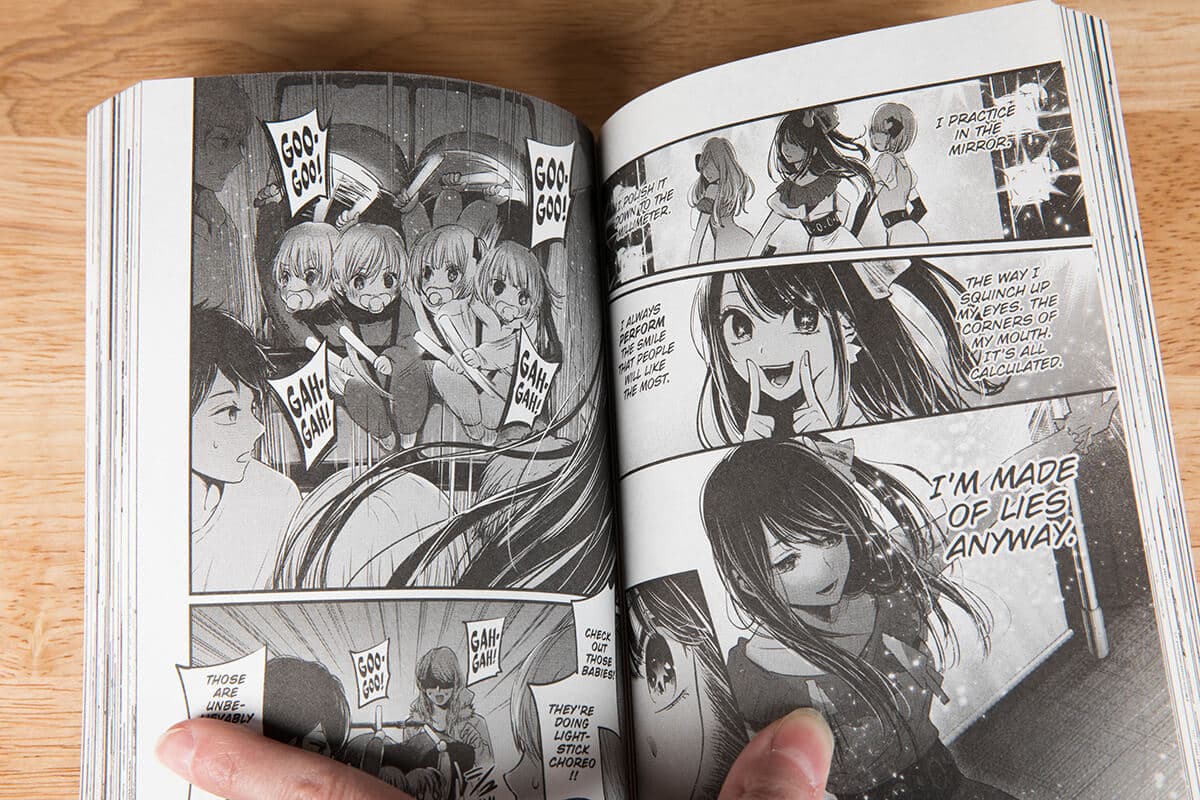 To me, what Oshi no Ko is really trying to say is that your passion must overcome the obstacles that stand in front of you, whether that be a stalking fan, internet trolls, the media spinning negative and false stories about you, losing the part you wanted most, or not being accepted into the world you are trying to break into.. It also goes over at some point what it feels like to be forgotten, to lose the career that you have worked so hard for, and also, endured so much for.
Story-wise, Oshi no Ko is incredible, and it develops in unexpected ways as expected for Aka Akasaka. He has a knack for creating extremely well-rounded stories that are immersive, but are full of drama and comedy as well. They have an incredible balance of moments that will make you laugh, but moments that will touch you too, and this is present in Oshi no Ko. The artwork is beautiful also, especially the character designs and the settings, including the sets that these characters commonly work on. 
It's the character's expressions though, and how Mengo Yokoyari was so perfectly able to capture their innermost emotions, even those that the characters are trying to hide from the world, that impressed me most. There's a lot you can derive, especially from the character's eyes in this one. They say the eyes are the window to the soul, and in Oshi no Ko, this is truly the case. We often put a forced smile on our faces, but the eyes reveal it all, especially when it comes to the Hoshino family.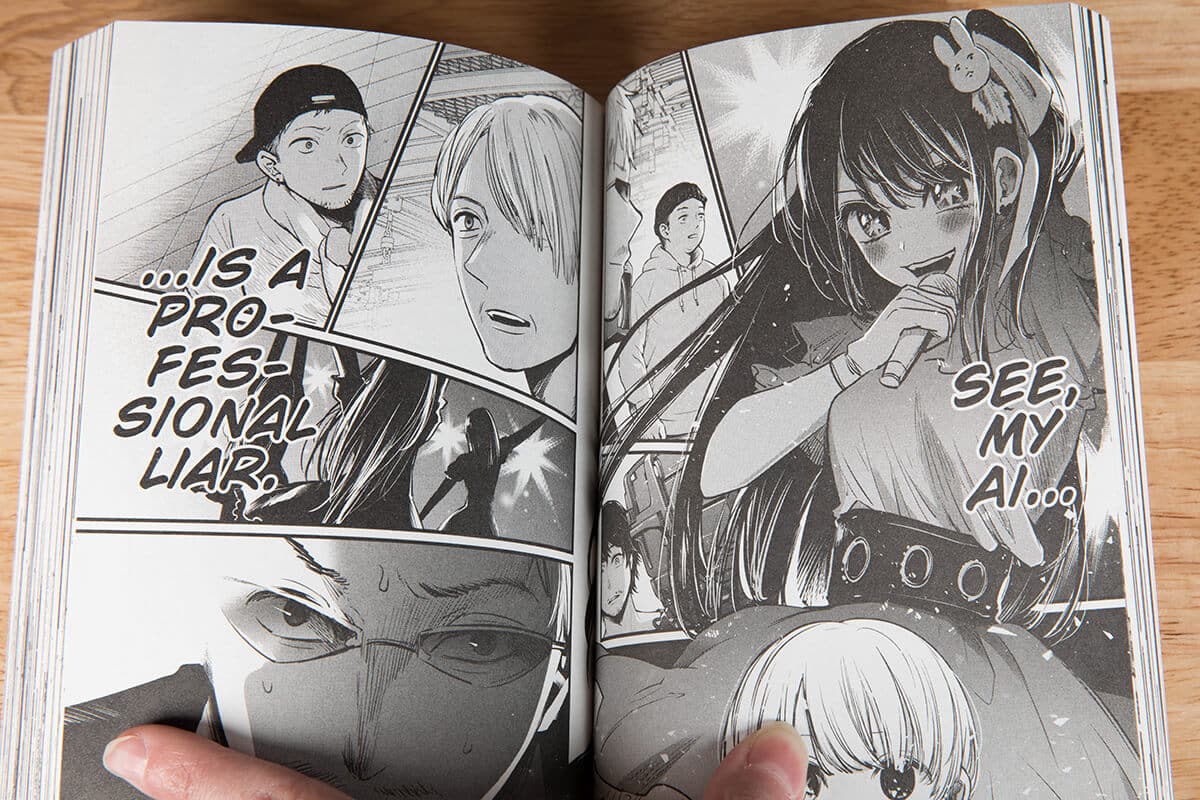 Oshi no Ko also has an amazing cast of characters, which you'll meet over the course of the chapters. You have Ai, who is endearing and relatable. Ai's two twins, Aqua, who is calm, cool and collected, but is also kind or generous, and Ruby, who is humorous and mischievous but also hard-working, and Kana, who is also humorous and has an extremely likable personality. 
There are a lot more characters that make this series enjoyable and there are so many amazing personalities in this one. New characters pop up over the course of the series. They are all dealing with their own demons, but it's their dynamic that makes this one hit all the right notes.
There's mystery, comedy, drama, and it mixes serious and lighthearted moments together well. Most importantly, it brings us into the world of those in the entertainment industry and puts us in the shoes of these characters while at the same time keeping you on the edge of your seat and guessing with a number of plot twists. 
I couldn't recommend this one more and it's one that is on my must-read list of 2023. If you are looking to pick this one up, Oshi no Ko, Volume 1 is releasing on January 17, 2023 and you can pick up now at one of the trusted manga retailers below!
Want a more in-depth and inside look of the first volume? Feel free to check out my review on YouTube below as well!
Oshi no Ko, Volume 1 Review Video
In other manga news, check out all of the new manga that are releasing in 2023!