As someone who primarily collects and plays RPGs, especially JRPGs, I know just how expensive it can be to collect these games firsthand. When it comes to high-priced Nintendo DS and 3DS video games, RPGs, particularly JRPGs, are one of the most notorious when it comes to their aftermarket prices with some reaching into the hundreds, and they've become even more pricey to collect with the closure of the 3DS and Wii U eShops on March 27, 2023.
I'm including DS games here as well because many of them are playable on the 3DS. Just make sure you search and verify that they are compatible before picking any of them up.
Prices are changing constantly due to supply and demand, sellers competitively pricing their listings with others, etc. I will do my best to keep these prices up-to-date with currently sold listings and in line with fair market value.
All of these prices have been sourced from recently sold listings. I've taken an average of those prices, so you can get an idea as to what these RPGs are commonly selling for on aftermarket sites. You can also shop these games at secondhand video game stores that are located near you. Some notable ones in the US are Disc Replay, The Exchange, Half Price Books, 2nd & Charles, and BOOKOFF.
As always, these games usually will command higher prices if they are complete in the box, and even more if they are sealed. If they are missing any items, like manuals, they should command less, and if they don't come with a box at all, they should go for even lower prices. You can pick up just the cartridges if you'd like to buy any of these games at a lower cost.
I'm including the complete-in-box prices because they are the most sold listings on eBay and represent the average cost of the games, while the out-of-box cartridges represent the lowest prices and the sealed listings represent the highest prices.
That all said, here are the most expensive RPGs on Nintendo 3DS and DS!
Radiant Historia: Perfect Chronology (3DS)
Price: Around $90 for Standard, $100 USD for Launch Edition
Radiant Historia: Perfect Chronology for the 3DS is far more than just your average JRPG. Personally, it's my go-to game amidst the plethora of titles available for the console. Yes, the $90 price tag might make you think twice, but believe me when I say the immersive experience it offers is worth every cent. If you are looking to get the game, keep in mind that there is a Launch Edition, which comes with an art book, sticker sheet, and a collector's box, in addition to the Standard Edition release that you can pick up.
In Radiant Historia: Perfect Chronology, you're not just revisiting the original game—you're experiencing it anew. Picture reimagined character art, fresh voice-overs, and a stunning opening animation crafted by the renowned A-1 Pictures, among other enhancements. But that's not where the journey ends. As you step into the shoes of Stocke, you'll come across a mysterious character named Nemesia. She offers deeper insights into the lore of your world and unravels a third timeline, opening up a universe of episodic 'what-if' scenarios that reveal the far-reaching effects of your actions.
Fast-forwarding six years from the original 2011 release, we find ourselves returning to Vainqueur, ready to unlock the time-traveling prowess of the White Chronicle once again in Radiant Historia: Perfect Chronology. This isn't just a 3DS port of the original game—It's a comprehensive extension of the original adventure. Expect a wealth of additional gameplay/story content, revamped visuals, and novel ways to immerse yourself in the journey.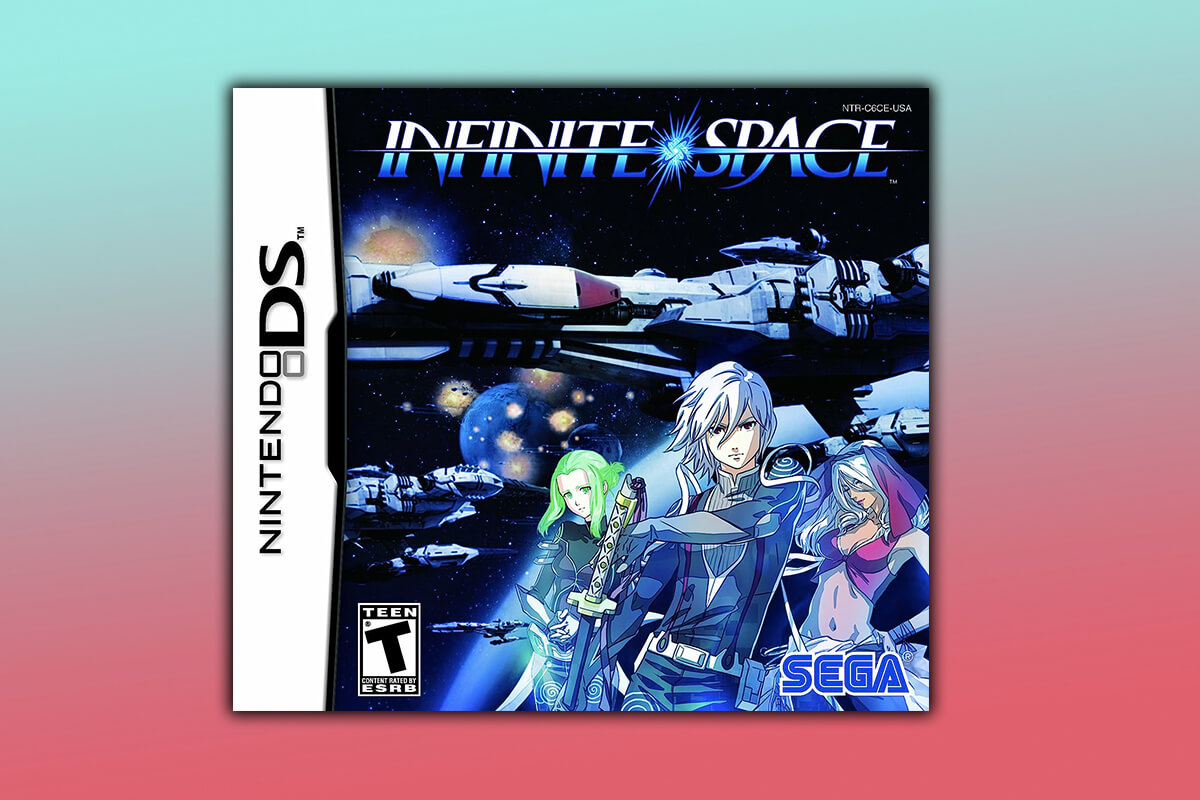 Infinite Space (DS)
Price: Around $104 USD
Brought to life by the innovative partnership of PlatinumGames and Nude Maker, Infinite Space is more than just a sci-fi RPG—it's a standout experience with a battle system that's truly one of a kind. You'll embark on a thrilling space adventure as Yuri, a young and intrepid space explorer. Commanding a diverse fleet of spaceships, you're ready to face a range of foes, each more challenging than the last. While it might fetch a hefty price tag of around $104 USD on the Nintendo DS these days, the immersive gameplay and captivating narrative make it well worth the investment.
Across a galaxy teetering on the edge of war, you'll encounter everything from iron-fisted tyrants to ruthless space pirates. Your mission? To scour the universe in search of a legendary epitaph rumored to have the power to shape the world itself. No small feat, that's for sure.
Infinite Space is far from your run-of-the-mill RPG. It's an engrossing saga that charts Yuri's growth from an unassuming explorer to a powerful leader capable of averting wars and, potentially, preventing the complete annihilation of the universe. This game offers an exhilarating journey through the cosmos and secures its place as one of the most distinct RPGs around, particularly with its compelling sci-fi setting.
Dragon Quest VI: Realms of Revelation (DS)
Price: Around $107 USD
Dragon Quest VI: Realms of Revelation is the thrilling conclusion to the Zenithian Saga and the sequel to Dragon Quest IV and Dragon Quest V. Dragon Quest VI: Realms of Revelation joins a long list of Dragon Quest games that are highly-priced. Although, this one is one of the more affordable higher priced Dragon Quest games, selling at around $107 USD for a complete-in-box copy.
If you're looking for a journey that will transport you to different dimensions, Dragon Quest VI: Realms of Revelation is the perfect game to delve into. Imagine taking a dive into the palpable reality of the Real world, sailing through the surreal landscapes of the Dream world, and piercing through the enigmatic veil of the Dread Realm. And what's the purpose of this multidimensional journey? You're tasked with confronting the havoc unleashed by the malevolent Murdaw, and there's no shortage of other formidable challenges waiting to test your mettle.
At the beginning of this journey, you're presented with a choice of nine compelling classes. But the excitement doesn't stop there. As you make your way back to Alltrades Abbey, you'll have the opportunity to unlock a multitude of other thrilling classes, each one bringing new spells and abilities that expand as you advance in your journey. Your squad of companions won't just be expanding in size, but also in diversity. Prepare to welcome some unconventional—and slightly monstrous—allies to your ranks and head out on an exciting journey.
Yo-Kai Watch 2: Psychic Specters (3DS)
Price: Around $130+ USD
Not one, but two Yo-Kai Watch games have made the list of the most expensive 3DS games. Yo-Kai Watch 2: Psychic Specters was released on Nintendo 3DS not all that long ago in 2017, but it has since risen in price and it has become one of the most expensive 3DS games you can buy right now.
In Yo-kai Watch 2: Psychic Specters, the Yo-kai are back and they've dragged you along on a whirlwind time-traveling adventure. Along with Wicked Yo-kai that you can befriend, this version comes with exclusive special quests. On top of that, you will discover new areas and explore uncharted territories and you can experience the overhauled Blasters action co-op mode, which comes with new boss battles. I've always found the Yo-Kai Watch games to be fun, but Yo-Kai Watch 2 is one of my favorites.
Out of the three versions, Bony Spirits, Fleshy Souls, and Psychic Specters that have been released for Yo-Kai Watch 2, Psychic Specters is the one I recommend most because it has the best as well as most exclusives.
Dokapon Journey (DS)
Price: Around $148 USD
Atlus' Dokapon Journey for Nintendo DS is next on this list with a complete-in-box, pre-owned copy selling for around $120-197 in recently sold listings. A number of Dokapon games have been released in Japan, but few have been released in the US. Because it's one of the only Dokapon released in the US, it's a harder-to-find Atlus game, and the Nintendo eShop closed down, Dokapon Journey, much to many's surprise, shot up in price.
Dokapon Journey is a unique entry from Atlus because it mixes everything that's enjoyable about RPGs and board games into one game. In the game, you're not just trying to save a kingdom—you're out to claim the throne, hoard treasure, and outshine your pals in the process. I found this game to be fun to play because it marries the party game genre with role-playing and strategic board game elements.
On your journey, you'll cross paths with eccentric characters, hunt for elusive items, and explore a captivating kingdom. You can even heat up the competition by racing against up to three other players for the coveted crown, in addition, you can take part in a number of mini-games and multiple play modes. Dokapon Journey is just an entertaining game that's enjoyable, especially if you enjoy party and board games in addition to RPGs.
Dragon Quest V: Hand of the Heavenly Bride (DS)
Price: Around $150+ USD
As a massive fan of the Dragon Quest series, I've played a whole lot of its games on both the Nintendo DS and 3DS. Trust me, these are some of the best titles you could possibly get your hands on. But among these gems, Dragon Quest V: Hand of the Heavenly Bride holds a special place, despite being one of the priciest titles to add to your collection.
Dragon Quest V, the second part of the celebrated Zenithia Trilogy, finally docked on North American shores with its DS release. What's special about this one? You're plunged into a grand story that covers three generations of a fascinating family saga and it's not your run-of-the-mill RPG. This game is a real innovation, teeming with new ideas. From a vast array of lands waiting for your footsteps, to multiple storylines promising countless hours of replay, and let's not forget the army of adorable Dragon Quest monsters—it's unbelievably fun to play thanks to its incredible gameplay and story.
What sets this game apart in the series is its introduction of the monster recruitment system, which was a pretty big deal at the time. Crafted by the brilliant trio—Yuji Horii, Akira Toriyama, and Koichi Sugiyama—this game is an unforgettable RPG journey you don't want to skip. Now, you might be wondering why this game is so expensive. Dragon Quest V was launched as an exclusive DS title and hasn't seen a re-release yet. And let's face it, any Dragon Quest title tends to come with a hefty price tag once they go out of print.
Mega Man Star Force 3 Red Joker (DS)
Price: Around $150 USD
Mega Man Star Force 3 Red Joker is a treasured 2009 release from Capcom for Nintendo DS that plunges you into a world teetering on the brink of chaos, beset by a disruptive "noise" corrupting the EM digital realm. Geo, our courageous protagonist, harnesses his bond with the extraterrestrial being, Omega, to morph into the revered Mega Man, embarking on a quest to unravel the enigma of the noise and safeguard Earth. It has since become one of the best, but also one of the most expensive games you can buy on the Nintendo DS, selling anywhere from $140-185 USD for a complete-in-box copy.
Throughout this fast-paced adventure, Geo must navigate the formidable Mega Man transformations of Black Ace and Red Joker, racing against time to avert the impending doom. The game's battles unfold in a third-person perspective on a 3×5 grid, which puts you in the middle of the action. With the potential to master a whopping 100 Noise Change transformations and over 360 diverse battle card abilities awaiting discovery, this game has so much to offer.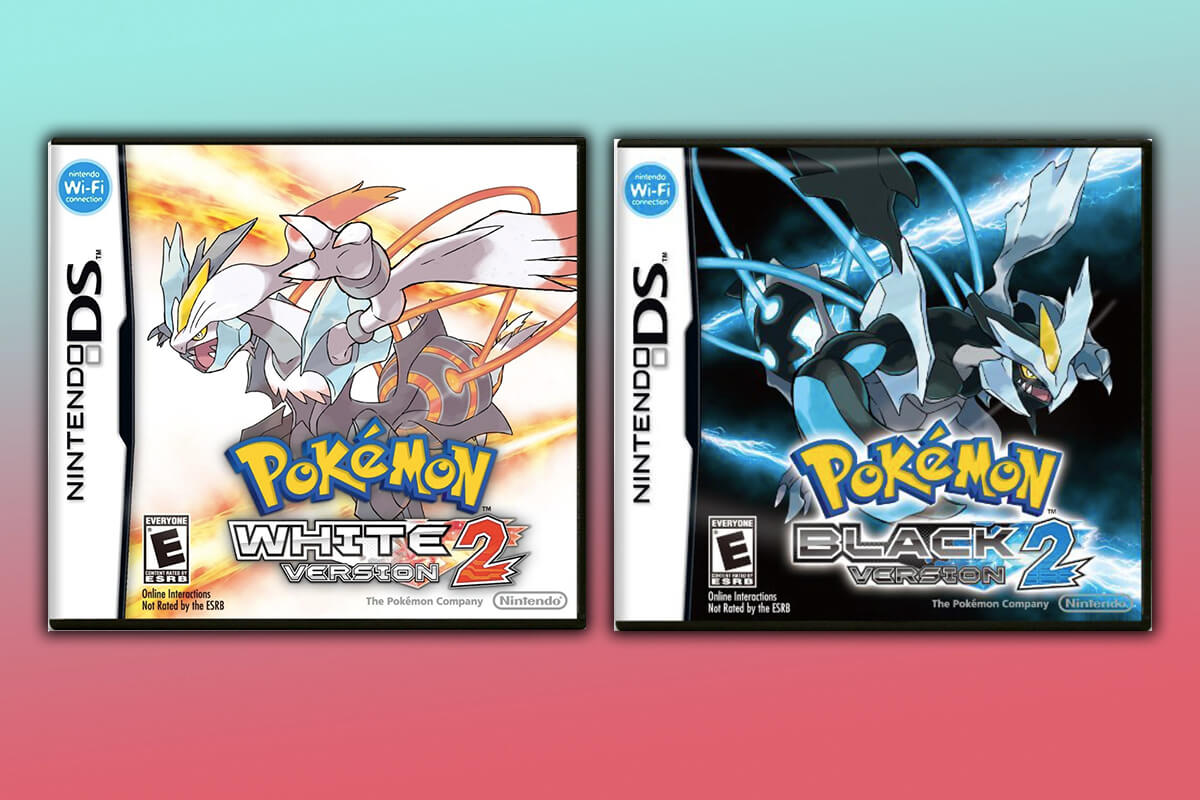 Pokemon: White Version 2 & Pokemon: Black Version 2 (DS)
Price: Around $157 USD for Pokemon: White Version 2, $143 USD for Pokemon: Black Version 2
Pokemon: White Version 2 and Pokemon: Black Version 2 are direct sequels to the Pokémon White Version and Pokémon Black Version games that were released prior. They are two of the most expensive DS games, with Pokemon: White Version 2 selling for around $157 and Pokemon: Black Version 2 selling for around $143 USD.
Pokémon White Version 2 for Nintendo DS is the direct sequel to the fan-favorite Pokémon White Version from 2010. Now, you're stepping back into the shoes of a Pokémon Trainer, returning to the ever-changing Unova region. Your mission? Unravel the mystery that's Black Kyurem and White Kyurem. The story pulls you in and throws familiar faces like Gym Leaders at you, while also introducing new characters ready to challenge you. Switching gears to Pokémon Black Version 2. The storyline picks up from the 2010 bestseller, Pokémon Black Version, bringing you back to Unova two years after the original game's events.
Going back to Unova, two years after the events of Pokémon Black Version and Pokémon White Version, is like a class reunion, and it's the first time in the core Pokémon video game series that you're able to continue your adventure from one game to the next. With Pokémon Black Version 2 and Pokémon White Version 2, you're not just revisiting old places; you're exploring new areas, meeting new Gym Leaders, and seeing how time has changed the region. Plus, there's the excitement of being able to catch Pokémon that eluded you in the original versions and the thrill of battling your favorite opponents from earlier games.
Pokemon HeartGold Version & Pokemon SoulSilver Version (DS)
Price: Around $157 USD for HeartGold, $143 USD for SoulSilver
It's no surprise that Pokémon HeartGold Version and Pokémon SoulSilver Version have made this list. Not only are they some of the best Pokémon games I've ever played, but they are some of the most highly sought-after by collectors as well.
Pokémon HeartGold Version and Pokémon SoulSilver Version take you back picturesque region of Johto, first unveiled in the iconic original Pokémon Gold and Silver games released ten years prior. They've given the time-honored Pokémon Gold and Silver journey a modern makeover for the Nintendo DS, enhancing the graphics and sound, while throwing in new touch-screen functionalities and more. The revitalized HeartGold and SoulSilver versions bring numerous Pokémon stars back to center stage, so you can chase, train, and duel with your favorite Pokémon characters.
If you are a Pokémon fan, Pokémon HeartGold Version and Pokémon SoulSilver Version are games you don't want to miss. The differences between the games are their Pokémon exclusives, so I recommend picking up whichever one has the most Pokémon you like. SoulSilver often sells for a little bit less than HeartGold, so this is something to consider as well.
Another thing to note is that this game originally came with a Pokéwalker accessory. When the games come with the Pokéwalker, they command a higher cost. Without it, HeartGold sells on average for around $157 USD and SoulSilver for $143 USD.
Etrian Odyssey III: The Drowned City (DS)
Price: Around $190 USD
Atlus games can become quite pricey when they are no longer available, as we've seen with other titles on this list, and Etrian Odyssey III: The Drowned City on Nintendo DS is no exception, selling for around $190 USD on recently sold listings.
Etrian Odyssey III: The Drowned City is an incredible game that's full of adventure and discovery. It transports you into a luminous, oceanic utopia brimming with immersive dungeons to explore and boundless seas to navigate.
The game features a roster of 10 new character classes as well as an array of unique skills to choose from. On top of all that, it has new naval expeditions and they added local multiplayer content. There's a lot to explore and experience in Etrian Odyssey III: The Drowned City and it's a good JRPG you can play on the DS. Despite its high price, I still highly recommend checking it out!
Yo-kai Watch 3 (3DS)
Price: Around $300+ USD
Yo-kai Watch 3 is a Nintendo 3DS JRPG that is surprisingly expensive, selling for upwards of $300 USD or more depending on if the copy is pre-owned or sealed on aftermarket sites, like eBay. But why is Yo-kai Watch 3 so expensive? It all boils down to the fact that not that many copies were released, so there aren't a lot of copies in circulation in comparison to other 3DS games.
Pair that with the eShop closing down, a lack of supply, and an increase in demand, and Yo-kai Watch 3 has become one of the most expensive Nintendo 3DS games to collect. Yo-kai Watch 3 is one I highly recommend trying to pick up on bids. I've seen some people pick a copy of Yo-kai Watch 3 for under what it's commonly going for because they were able to win it on bids for a lower price.
Luckily, if you are wanting to get into the series, the first game titled Yo-kai Watch is affordably priced at around $20 USD. Yo-kai Watch is one of those franchises that have a lot of games to get into, especially since Level-5 games released a lot of games back to back, but Yo-kai Watch 3 is one of the all-time best, so I highly recommend picking it up despite its lofty price tag if you end up enjoying the first few games in the series.
It's one that's beloved by fans of Yo-kai Watch but is still highly underrated to this day despite it being one of the best gems on the 3DS. If a game centered around befriending Yo-kai sounds like your thing, you'll definitely want to check this one out.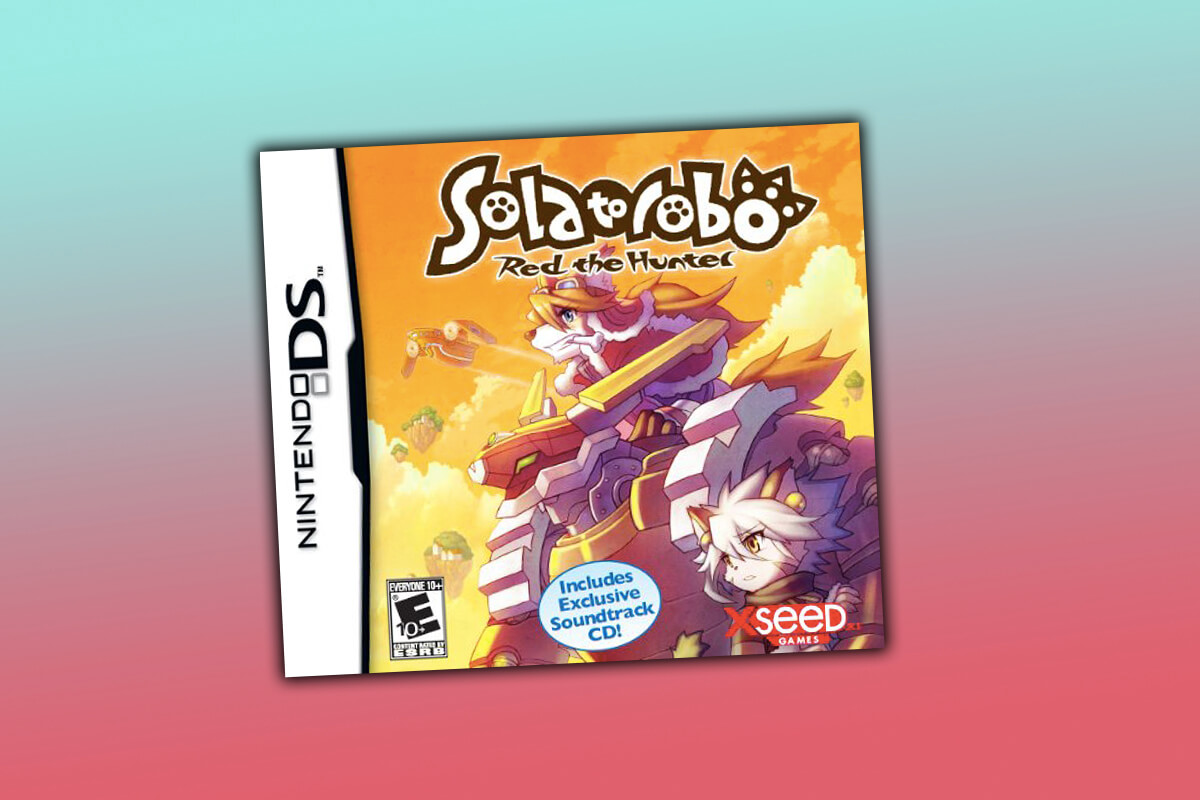 Solatorobo: Red the Hunter (DS)
Price: Around $380 USD
As it currently stands, the most expensive game you can collect on the DS is CyberConnect2's Solatorobo: Red the Hunter, which is selling for upwards of $380 USD for a complete copy on sites like eBay.
If you are new to the game, Solatorobo: Red the Hunter tells the gripping saga of Red Savarin, an anthropomorphic canine of 17 years, navigating the fantastical realm of the Shepherd Republic, a nation of floating islands. As a jack-of-all-trades, Red and his sister Chocolat take on an array of tasks using their unique robot, Dahak, earning their living amidst the high-flying islands. A routine job takes an unexpected turn as they encounter Elh, a mysterious boy, and a peculiar medallion that plunges them into an intricate web of intrigue far greater than their everyday exploits.
As the story progresses, you navigate Red and his robot Dahak through this aerial world, taking on a variety of challenges, from combatting monsters to outsmarting sky pirates and malicious robots. The game intricately blends action and role-playing elements, with Dahak's capabilities serving as a core mechanic. Whether it's lifting heavy objects and enemies, returning projectiles, soaring through the skies, or monster fishing, the gameplay is immersive.
With over 70 quests to tackle, you will gather the necessary resources to upgrade Dahak, preparing for the ultimate battle against an imminent evil threatening their world. It's a tale of destiny that is beautifully presented, with stunning visuals as well as animated cut-scenes, which comes as no surprise given that they were done by one of my favorite animation studios, Madhouse, who've worked on Hunter x Hunter, Perfect Blue, Redline, Monster, and Death Note to name a few, and an enthralling soundtrack. For these reasons and more, I highly recommend picking it up despite its high price tag.
These are the most expensive DS and 3DS games you can buy right now. I will continue to update this post with new prices or games as needed!
In other news, check out all of the upcoming JRPGs you have to look forward to! And if you are looking for good video game deals, be sure to check out the best gaming sales happening right now.