Back during their expo, Kotobukiya announced some new products that will be coming in the near future. In those announcements, they revealed that two new characters, Arthur Boyle and Benimaru Shinmon, from Fire Force are be joining their ARTFX J line. Both of which have since released!
These new Fire Force figures join the two they've previously released of Shinra Kusakabe and Tamaki Kotatsu. Shinra and Tamaki's figures were later re-released by Kotobukiya for a second run and I was able to pick both of those up as well, in addition to Arthur and Benimaru's figures.
All of the Kotobukiya Fire Force figures come in 1/8 scale. The Fire Force ARTFX J boxes are really pleasing to look at. I love the way that Atsushi Ohkubo, the creator of Fire Force, designs his covers and the bold look they have with that red and white color combo, which you see replicated on the boxes. On the side of each box, you have text that reads Fire Force Company 8 and a clear window that's in the shape of Special Fire Force Company 8's emblem.
That all being said, let's take a look at each figure! I purchased all of Kotobukiya's Fire Force figures that have released so far as well as their special bonus items, including Tamaki's Nekomata parts and more, so I'll show them off as well! I plan on collecting all of the Kotobukiya Fire Force figures, and if more are released, I will update this post. I took all of the images in this post, so you can these anime figures and their quality firsthand.
Kotobukiya Fire Force Figure Reviews
Kotobukiya ARTFX J Shinra Kusakabe Figure Review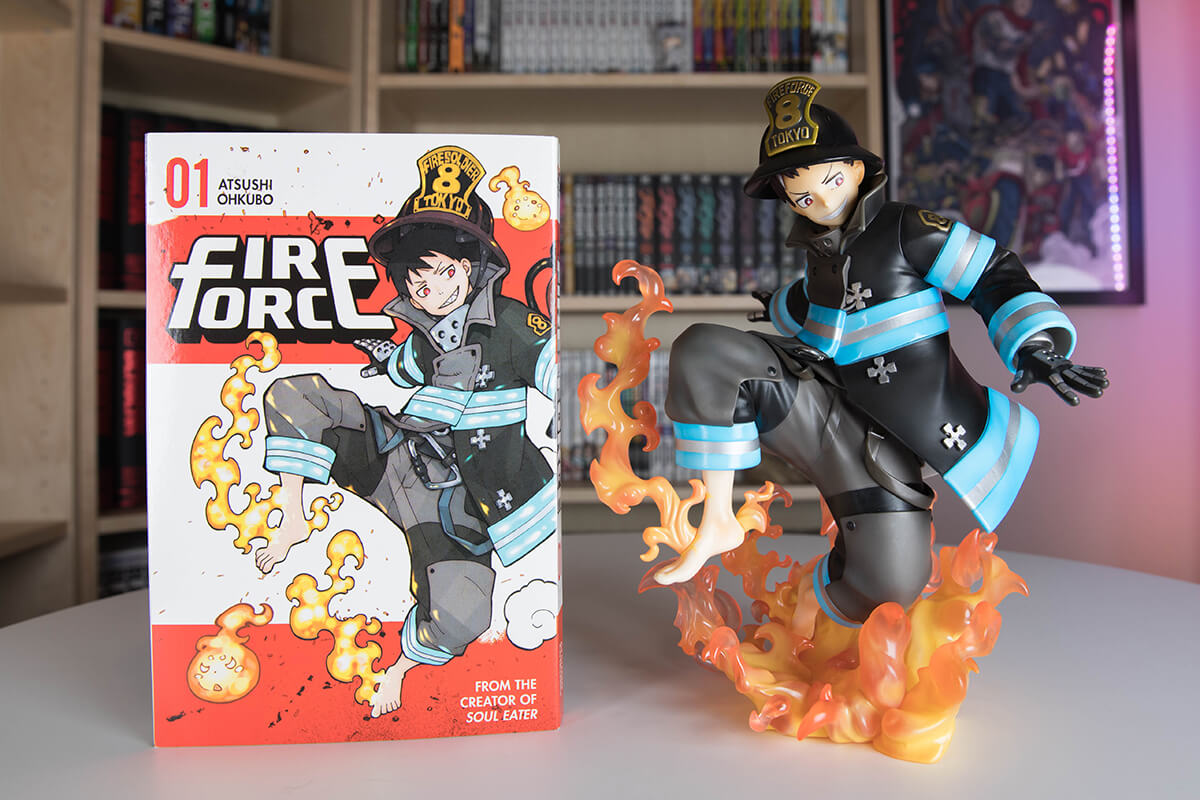 The Shinra Kusakabe figure is based on the cover art that's seen on Volume 1. He is leaping up in the same action-ready pose with flames on both of his feet. He has the effect as if he is actually mid-air thanks to the way that he keys into the base.
Shinra is held into the base via two points, his foot in the back, which keys into the base, and his knee, which has a section where a notch fits into. It took a little bit of time to get his foot fully in so that his knee was in the right orientation to fit into the notch. Be careful you don't too much force on him while doing so, because it's a tight fit.
The portrait that comes with this figure shows him with his helmet on and with his characteristic wide, devilish grin. You can see they achieved the jagged, almost shark-like look of his teeth. His eyes are well done also with little highlight bubbles and various colors of red that make them stand out. The only thing I noticed that's a potential negative is that his forehead is a tad bit too tall on this portrait.
The helmet looks really nice, though, and it is painted over with a glossy finish to give it a more realistic look. They added the Fire Force Company 8 emblem on his helmet too, which has raised text on it that's painted in a metallic gold color.
Where Kotobukiya did some of their best work is on his bunker gear. By the way, this figure is painted with fluorescent pain in certain areas, including the flames and his bunker gear. They also added silver metallic details from the cross buttons on his jacket to the detailing on his protective gloves.
I like that none of the ARTFX J Fire Force figures have traditional bases, but instead have bases that are made to look like part of the environment they are in or fire. In Shinra's case, his base is made up of fire that looks like it's billowing up from under him. It is translucent and is painted in oranges and yellows that glow in the dark when charged under a black light.
The bonus part that came with the set I ordered is an extra portrait. It shows him without his helmet on and with a closed-mouth, serious expression on his face. The issue I had with the first portrait with his forehead being too tall, isn't happening here. His forehead looks more accurate here, which is interesting.
Kotobukiya ARTFX J Tamaki Kotatsu Figure Review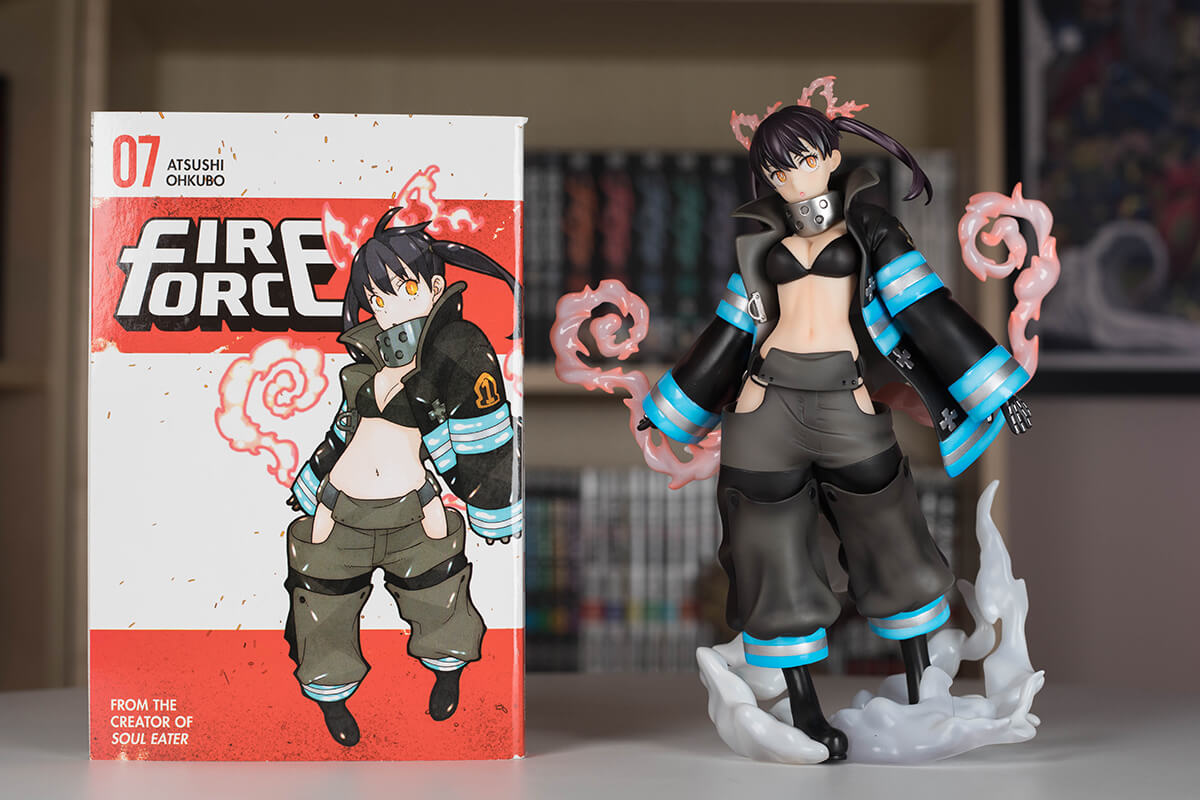 The Tamaki Kotatsu figure is inspired by her cover on Volume 7, which shows her using her Nekomata ability. The standard figure comes without her Nekomata parts, but they are included with the bonus set. She has the same coy expression on her face and her pigtails are flowing outwards as if they are moving in the wind.
The pose and her bunker gear is recreated well too. One thing they added is the smoke that's rising up around her feet. This smoke also serves as her base. I really love what they did with her figure and she looks really cute yet fearsome at the same time.
Tamaki's bonus parts, as mentioned prior, are her Nekomata parts, which are painted to look like pink flames. These pink flames take on the shape of cat ears and two forked tails.
Kotobukiya ARTFX J Arthur Boyle Figure Review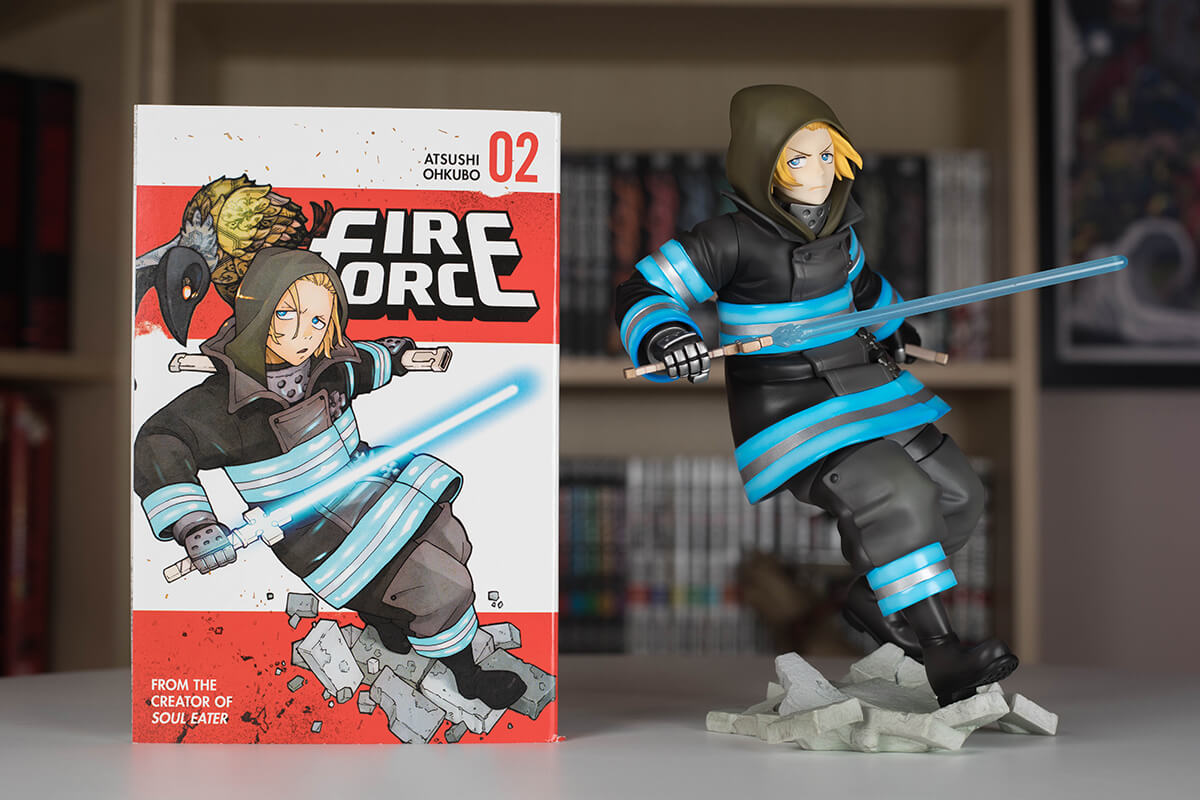 The Arthur Boyle figure is inspired by his cover on Volume 2. He is in a backward-leaning action pose with Excalibur in his hand and the ground is breaking up underneath his feet. In my opinion, Arthur's figure is the best in terms of likeness. It looks just like him and I like the way he looks here with his hood up. Despite the fact that he is leaning backward, this figure is still really well-balanced. If you move it, he wobbles, but he stays put when on display.
Another cool feature of these figures is that some areas, such as Arthur's eyes, "Excalibur's" blade, and the blue stripes of his uniform, are painted with fluorescent paint that glows when shined with a blacklight. These added paint details look absolutely amazing.
The bonus part I got for Arthur is an extra head sculpt that shows him without his hood up and with a different smirking expression. I'm going to be displaying him with his hood up though, because I like the overall look and his expression more so on that one!
Kotobukiya ARTFX J Benimaru Shinmon Figure Review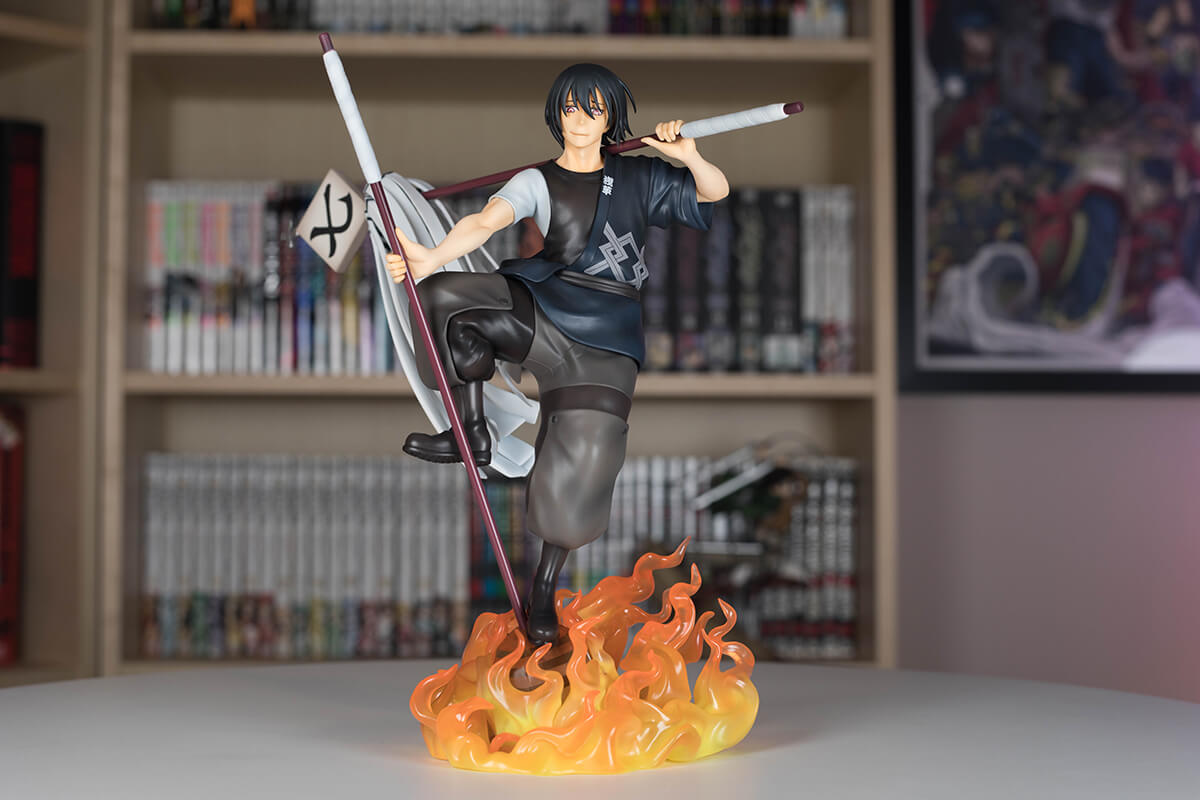 Benimaru is one of my favorite characters in Fire Force, so I of course had to get him as well. He looks awesome in this pose, which shows him standing on his brigade's matoi, seemingly flying up in the sky amongst flames. He also has this slightly unhinged yet composed expression on his face, which is very characteristic of him.
He has a powerful presence and I really love the look of this figure. The only thing I noticed about Benimaru's figure is the fact that the streamers of the matoi, which are supposed to fit into this notch, do not fit in like they are supposed to, so I had to rest it to the side instead. Benimaru's eyes and the flames on his base are painted with fluorescent paint, which glows when shined with a blacklight. His eyes in particular look incredible when charged with a blacklight.
The bonus part I got for Benimaru is an extra portrait, which shows him with a smirk on his face. It's nice having different display options, but I do prefer the portrait that comes with the standard release.
Final Thoughts: Are the Kotobukiya Fire Force figures worth it?
Yes, they definitely are. Their sculpt, paint, and details are top-notch and they are a good value for their price. All of these figures look amazing when on display together too. With their different bases, and the various poses they are in, it really looks like they are in action, which is really cool.
See where you can order the Kotobukiya Fire Force Figures now and check out photos of each figure in the gallery below! Keep in mind that some of these figures may be out of stock since the time of writing this post, but keep an eye out for a re-run of these figures, because Kotobukiya have been known to re-release their anime figures from time to time.
Where to Shop Kotobukiya Fire Force Figures
Read up on the pros and cons to buying from each of these anime figure retailers!
In other anime figure news, check out Kotobukiya's ARTFX J figure of Yuji Itadori from Jujutsu Kaisen!