2019 was a great year for anime with new series debuting, like Given and Vinland Saga, and others releasing continuing seasons, like Attack on Titan. All in all, it was a really strong year with some of the best anime showings of all time.
With so many great titles releasing in 2019, it was hard to narrow down my favorites, but out of all the series I watched that year, 11 really stood out in the pack. If you are looking for more anime recommendations, be sure to check out the best anime of 2020 as well.
Here are the 11 best anime of 2019 (listed in no particular order) below!
Given
Given's anime is one of the most touching and emotional series I've ever watched, and as a result, it has had a lasting impact on me, even still to this day. And it's easy to see why, especially given that this anime is mainly about overcoming loss and discovering one's self.
Given's main characters are brought together by music, and it is through this medium that they grow together as a unit, but also as individuals. As a result, you'll learn things about music, and you'll get to hear some amazing rock instrumentals as well. This overarching theme that drives the series really hits home for me, because they did a beautiful job at showcasing music's power to heal.
With Given being a BL and romance, I find that it has flown under some people's radar or ignored simply because of the genres it falls under. At first, I was worried Given would just be another stereotypical romance, but the relationships are much more deep and complex than most. Not to mention, the character development is some of the best I've seen, so you'll really become invested in their stories.
Given is original, phenomenal, and its story is profound. I honestly don't have anything negative to say about it, which is rare. As of now, there is only one season of Given, but there is a movie coming out on August 22, 2020 as well. If you haven't given it a chance, definitely do so, because you won't regret it.
Still need convincing? Read up more on why Given's anime is worth watching!
Where to watch Given: Crunchyroll (Sub only)
Dororo
Because his land is dying, Lord Daigo makes a pact with the 12 demons. But, every request must come with a sacrifice. Because of his father's greediness, parts of Hyakkimaru's body are sacrificed to the demons. The boy is is alive, but he is forced to live a life with no limbs, nose, eyes, ears, or skin.
Hyakkimaru is sent out on the river to be forgotten, but he is saved by a medicine man, who makes him prosthetics; Two of which are arms outfitted with swords so that he can protect himself.
It's a really heart-wrenching story, but Hyakkimaru will embark on a journey to take back what's rightfully his. He has to fight physical demons, but he will have to fight mental demons of his own also, and this makes for a story that's not just full of action, but emotion as well.
The theme of discovering oneself is really what drives Dororo's anime. It's just a beautiful anime, because you will witness Hyakkimaru become more and more human as fights to take his body back. But, it's the people he meets along the way, mainly young child Dororo and his interactions with them, that are the most moving to witness. For a boy who's lived in the dark his whole life and is fueled by anger, Dororo shows him the light bit by bit, and it gives him something more to live for.
The story alone is amazing, but Dororo's animation and character development are also done well. Every character has a backstory that pulls you in. But, the best thing about this anime is that nothing feels forced and every episode has a purpose. It's an overall well-rounded series that you should definitely check out if you haven't yet! On top of being one of the best anime 2019, it also had one of the best anime openings of 2019 as well.
It's also our top pick if you are looking for anime like Demon Slayer!
Where to watch Dororo: Amazon Prime Video (Sub only)
Vinland Saga
Vinland Saga can sometimes feel like, as its name would suggest, a saga, but it serves the show well, because it's a story about Vikings and it is told realistically. I've always said if you are a fan of the History Channel's show, Vikings, you'll love this anime. If you are not a fan of this kind of thing, Vinland Saga probably isn't for you, but you may be surprised, so I still think you should give it a chance.
Some people think of Thorfinn, like they do Sasuke: A brooding, moody boy who is out for revenge. But, I personally like characters like these, because they are unpredictable and they show immense amount of growth as the series develops. There's also something to be said about the emotion that's stirring within these characters; Underneath all that anger is sadness, and this is what makes Thorfinn a strong character.
There are a lot of characters in Vinland Saga with strong motivations that make them interesting. So, while it is a story about Vikings with plenty of blood and gore, it's full of substance as well. The fight scenes are some of the best I've witnessed, but for me, it is really Thorfinn, who is being torn between two worlds that made the series for me.
You'll see him hell-bent on avenging his father's death, but his father gave up being a Viking and vowed to never kill again, so he has that running through his head as well. It is this struggle within him that really gives this series some weight.
Since it's a historical anime about Vikings and the time they lived in, you'll see the Vikings pillage villages and kill whoever stands in their way, but you'll get so much more than that, especially with Askeladd, who's craftiness is entertaining to watch. And if that wasn't enough to convince you, the animation, especially of the scenery, and sound production are first-class. It's hands down one of the best anime of 2019.
Since the time of writing this post, Vinland Saga Season 2 was confirmed!
Where to watch Vinland Saga: Amazon Prime Video (Sub only)
Demon Slayer: Kimetsu no Yaiba
Demon Slayer: Kimetsu no Yaiba is the only anime I've ever claimed to be better than its manga counterpart. And there's something to be said for that, because I never feel this way.
The anime as an adaptation is one of the best, and they've done an amazing job at celebrating Demon Slayer's distinct and bold art style. Apart from it being visually-appealing and animated well, Demon Slayer's first season has a gripping story that while dark, is also full of light thanks to characters, like Tanjiro, who's gentle and kind heart is warming to watch.
The characters are one of Demon Slayer's biggest strengths; Both the heroes and villains of the series have interesting stories and personalities. As a result, the dialogue and fights between the two are really exciting to witness. But, it's the relationships in Demon Slayer that I find to be the most endearing.
Tanjiro and Nezuko are forced out of their quaint and quiet life after losing everything at the hands of a demon. You'll experience every emotion as you follow them on their journey and experience the joys and troubles they'll meet along the way. Animation-wise, it's one of the best, but the story-telling in Demon Slayer is really what makes it one of the best anime of 2019.
Looking for more anime like Demon Slayer? Check out our favorite anime that are similar to Demon Slayer!
Where to watch Demon Slayer: Kimetsu no Yaiba: Funimation (Sub only), Hulu (Sub only)
Attack on Titan, Season 3 (Part 2)
I tried my best not to put any continuing series on this list, because it's hard to compare a series that's already in the thick of things to one that's just getting started; However, Attack on Titan, Season 3 (Part 2) has to be an exception. It's flawless, and it deserves to be on this list.
With that said, I can't say much as to why it's so amazing since I won't spoil anything for those of you who have yet to see it. But, you definitely have much to look forward to in Season 3 as a whole. Season 3 is the best season to be released so far from Attack on Titan, but its second part is a true masterpiece through and through.
The shroud of mystery surrounding AOT's world is beginning to unravel in Attack on Titan, Season 3 (Part 2). With twists and reveals, its story is one of the most thrilling you'll experience in all of anime, let alone Attack on Titan. Everything about it is just epic, and you'll be left with chills on numerous occasions as you watch everything unfold. I still get goosebumps thinking about it.
If you haven't caught up on Attack on Titan yet, I highly recommend you do so! We are coming up on the final season of Attack on Titan, which is slated to release in Fall 2020. Recently we learned that the final season of Attack on Titan is actually being split up into 3 parts instead of 2. And if you are interested in reading the series, here are the best ways you can collect the Attack on Titan manga!
Where to watch Attack on Titan: Funimation (Sub and dub), Hulu (Sub and dub), Netflix (1 season, Sub only)
Beastars
Beastars is a wonderfully strange and highly-addicting anime where carnivores and herbivores coexist. But, while everything appears to be peaceful, you find out in the first episode, that it's anything but.
The world of Beastars is interesting and thought-provoking, but it's moving as well as you watch characters, like gentle and shy wolf, Legoshi, struggle to overcome their predatory urges. He'll meet Haru, a rabbit, who'll change his life forever, and this is where Beastars really starts to shine.
Apart from its story, Beastars' animation is impeccably done with impactful scenes and stunning visuals. I've talked about this before, but this anime single-handedly changed my mind about CGI. It really sets the standard here, but it's the micro-expressions you see on the characters faces that prove to be the animation's biggest success. All in all, there's something visceral about experiencing it in this format.
It's one I binged in two days, and for me, that is really testament to just how good this series is. Its odd, but in a way you'll truly love. Beastars is currently only on its first season, but the second season is slated to release in January 2021.
Where to watch Beastars: Netflix
The Rising of the Shield Hero 
The Rising of the Shield Hero's take on isekai feels fresh and exciting. You are transported, along with Naofumi, into this new world. But, unlike most isekai that feel like an actual video game, The Rising of the Shield Hero feels more rooted in reality. Even though it's a medieval fantasy, you really get the feel that this is a real place with real stakes.
The Rising of the Shield Hero really excels at world-building. Because of this, you're immersed in not just the story, but the setting as well. There's also a lot of substance as well since it tackles issues, like slavery and discrimination, which you'll see through the eyes of Raphtalia and Naofumi.
Naofumi has a hard exterior, but rightfully so, because of his treatment by the Kingdom. But, he is a truly kind soul, and you see this through his treatment of the people around him. With the abuse and enslavement of demi-humans, like Raphtalia, there are of course terrible people in this series that you will hate with a vengeance.
There's no in-between with the characters since they are either extremely likable or utterly despicable. I don't mind this though, because you see the stark difference that exists between those who are good and bad in this world. All in all, in this series, you'll see not just the worst, but also the best humanity has to offer.
I personally think people were a little too harsh on it for some of the themes and issues it explores. I really feel for Naofumi, because even in this society, he gets hate for no reason. If you are looking for an isekai that's full of heart, you should definitely check this one out. Not only is it one of the best isekai to come out in recent years, it's one of the best releases of 2019 as well.
Where to watch Rising of the Shield Hero: Funimation (Sub and dub), Crunchyroll (Sub and dub)
Read up on our full review of The Rising of the Shield Hero Season 1! The Rising of the Shield Hero Season 2 is also releasing as part of the Spring 2022 anime season!
The Promised Neverland
Much like Demon Slayer, The Promised Neverland has an aesthetic that is in a world of its own. It's unusual and eerie, but that's part of its charm. The story is one full of mystery, and you quickly learn that the picturesque setting the orphans of Grace Field House live in isn't quite what it seems.
I always enjoy a story where kids come together to unravel a mystery or escape unsurmountable odds, and The Promised Neverland is just that. You'll really root for these characters, and their interactions together as they scheme in the shadows is really fun to watch. But, be prepared, because while it's thrilling, it's extremely heartbreaking as well.
With some pretty ghastly scenes, it is a difficult watch at times, but it really keeps you on the edge of your seat. You never know what's going to happen next, and it's this fear of the unknown that makes The Promised Neverland so effective. It's one of 2019's best not just because of its strange atmosphere, but because it's a well-developed anime that keeps you wanting more.
They are currently only on Season 1, but the second season of The Promised Neverland is slated to release sometime in January 2021.
Where to watch The Promised Neverland: Funimation (Sub and dub), Crunchyroll (Sub only), Hulu (Sub and dub), Netflix (Only in US and Canada)
The Promised Neverland is one of our favorite anime streaming on Netflix right now!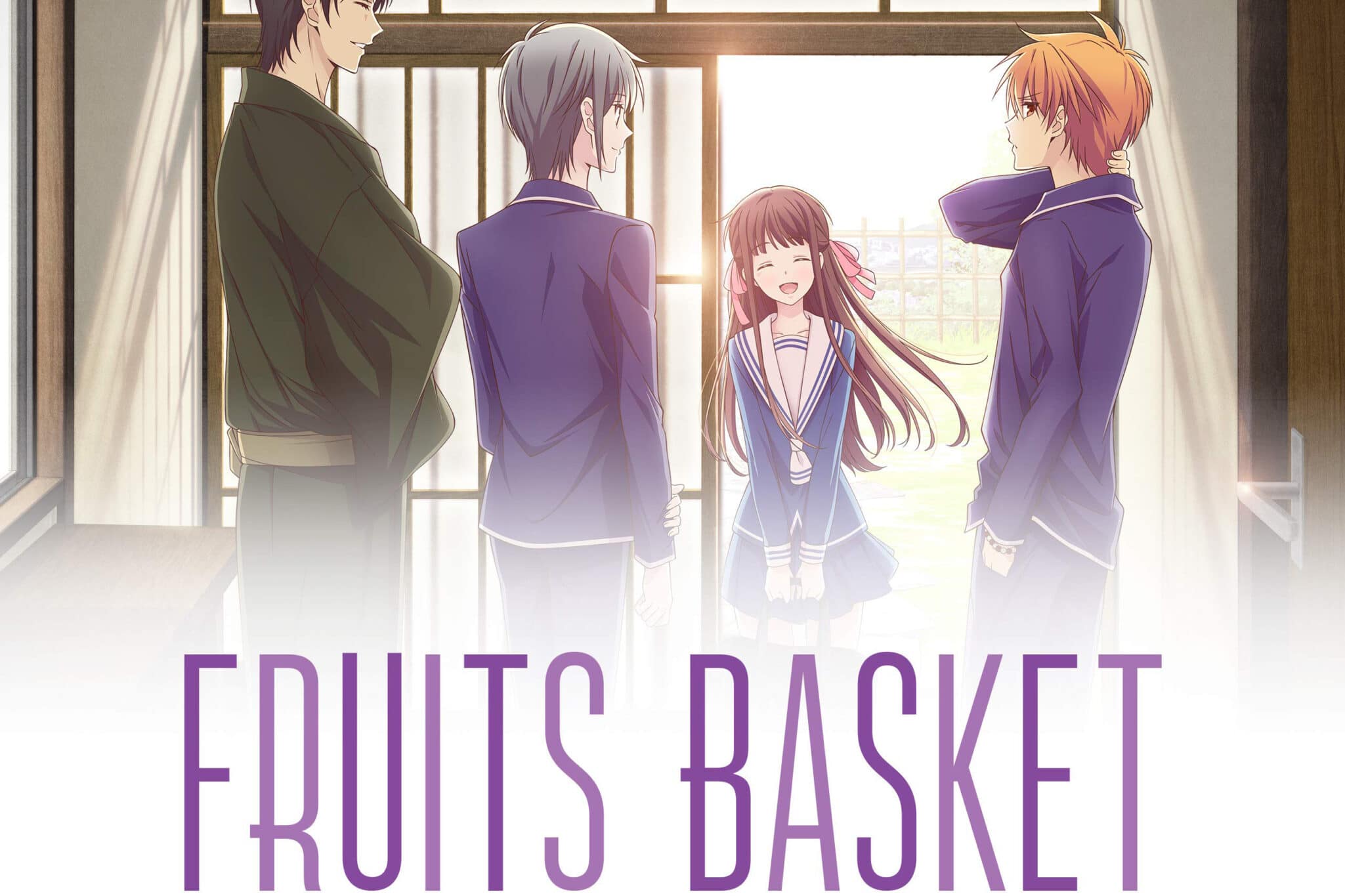 Fruits Basket
Fruits Basket is an anime that expertly conveys emotion, sets tone and mood, and develops its characters. It takes a lot for an anime to keep me around and fully interested when it has 25 episodes, but I never once felt bored while watching the first season. That is a feat in itself. They included everything in a way that allowed the humorous, light-hearted moments to shine, but they really gave those emotional moments time to shine as well. Because of this, it is one of the most, if not the most, well-balanced series on this list.
Each character is celebrated and given a proper backstory, which makes you gravitate towards them all. The cast and team really did a great job bringing this one to life on screen and it is without a shadow of a doubt one of the best anime of 2019.
Where to watch Fruits Basket: Funimation (Sub and dub), Hulu (Dub only)
Fire Force
Fire Force deserves more credit than it has been given. Since it is another adaptation of Atsushi Ōkubo's work, it received a lot of attention, but criticism as well. It was, and is, still getting compared to Soul Eater, which he also created, but I personally don't think that's fair. Fire Force is an amazing anime, and while it's not as good as Soul Eater as of yet, that doesn't discount the fact that its flame is bright as well.
Animation-wise, Fire Force is one of the best on this list. The animation is crisp and the colors are bold, so they really pop on the screen. The fight scenes are dynamic and the motion of the characters is fluid.
The visuals they've included are truly incredible, but it's their use of highlights and shadows that really set it apart for me. Since the characters use fire, you get these amazing scenes where they are lit up in the dark by nothing but their flames. It's details like these that make it a true joy to watch.
The sound in Fire Force is also done really well. You get these big booms and explosions coming through your speakers that resonate through the room, especially if you have a sound system. When you pair this with Fire Force's stunning visuals, this anime really provides the ultimate viewing experience and sets a high-standard for those that come after it.
Read up more on why Fire Force is worth watching!
Where to watch Fire Force: Funimation (Sub and dub), Crunchyroll (Sub only), Hulu (1 season, Dub only)
Kaguya-sama Love is War
Kaguya-sama: Love is War is a light-hearted and entertaining anime. You'll witness Kaguya and Shirogane battle it out to try and convince the other to confess their love. It's like witnessing a chess match between two highly talented and intelligent individuals.
I personally enjoy the series because it's humorous to watch, and you have to love the irony of the whole series. For Kaguya and Shirogane, admitting their love for one another would be like admitting defeat to the other, but in reality, they'd both win in the end. But, it's their stubbornness and unwillingness to admit their feelings that give the show its purpose, and this only adds further humor to its premise.
The thing I appreciate about Kaguya-sama: Love is War is that it feels like a complete original. With it being a romance, it could have very easily fallen into the same tropes that other series commonly do, but it doesn't feel rehashed in any way. And it's mainly their unique take on love that keeps this series feeling fresh.
Anime like Kaguya-sama: Love is War are needed, even though they aren't doing anything necessarily profound in the story department like others on this list. It's not meant to be taken seriously and is all in good fun, and I really appreciate this about it.
In addition, out of all the anime released in 2019, Kaguya-sama: Love is War's is one of the best in terms of animation. It's a visually-appealing anime, but it's much more than that thanks to its likable characters and amusing story.
Where to watch Kaguya-sama: Love is War: Funimation (Season 1 (Sub only), Season 2 (Sub and dub)), Crunchyroll (1 season, Sub only), Hulu (1 season, Dub only)
Kaguya-sama Love is War is one of our favorite anime you can watch on Hulu right now!
2019 overall was an amazing year for anime, but these are my personal 11 best anime that came out that year. Keep an eye out for an upcoming post, including the best anime of 2020!