Anime Key Labs is an incredible shop that makes artisan anime keycaps. To give you an idea as to what you are in store for and the kind of quality you can expect from Anime Key Labs, I wanted to give you guys a look at and review their keycap releases, which feature Bulbasaur, Squirtle, Charmander, and more from Pokémon, Pochita from Chainsaw Man, Bond from Spy x Family, and more. Spoiler alert, it's an exciting look at what's to come!
More artisan keycaps as well as resin desk cubes are on the way from Anime Key Labs, so you'll want to keep an eye out on their shop for more. Until then, here's a look at some of the anime keycaps they've released so far!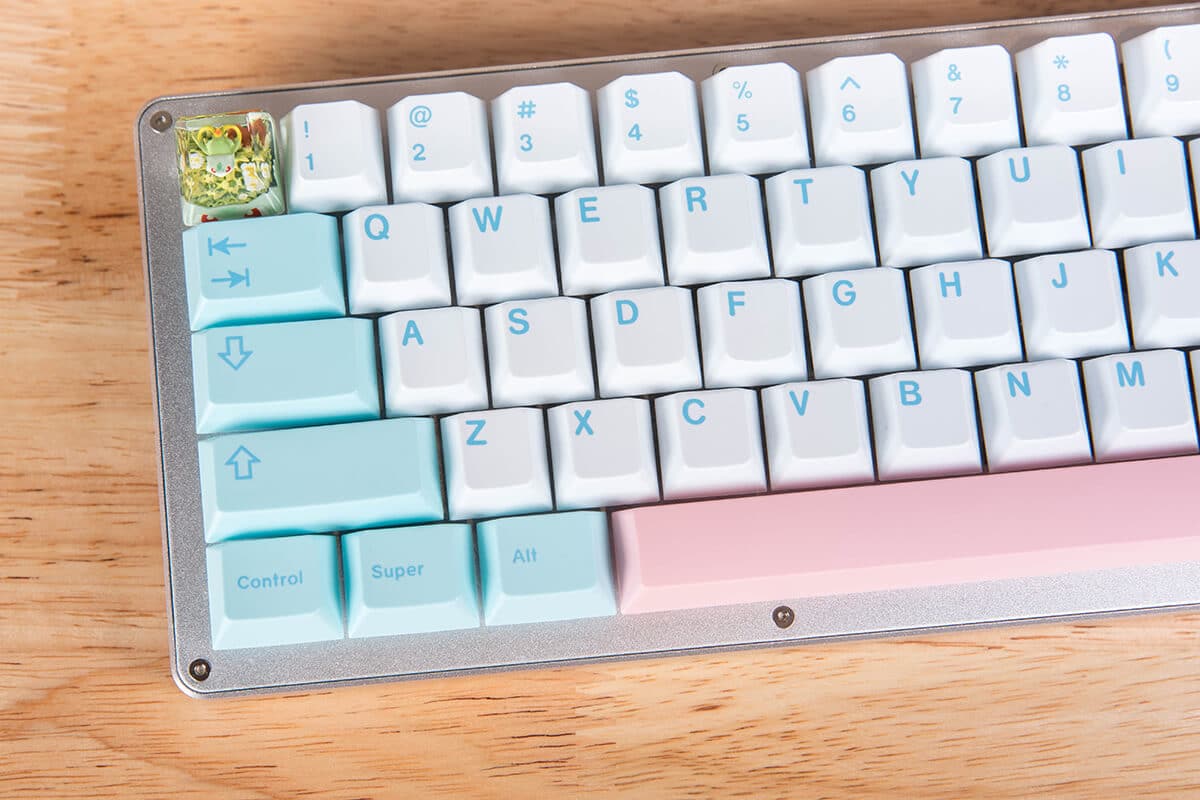 Anime Key Labs' keycaps have an SA R1 profile and MX stems, so they will fit any keyboard with MX-compatible switches. I personally have a WhiteFox Mechanical Keyboard with Cherry MX Clear switches. I have opted to swap out their keycaps for the GMK Noel base set, which has a pastel blue and pink color palette. The Anime Key Labs Bulbasaur keycap is an adorable custom edition to my keyboard—and a number of other keyboards for that matter.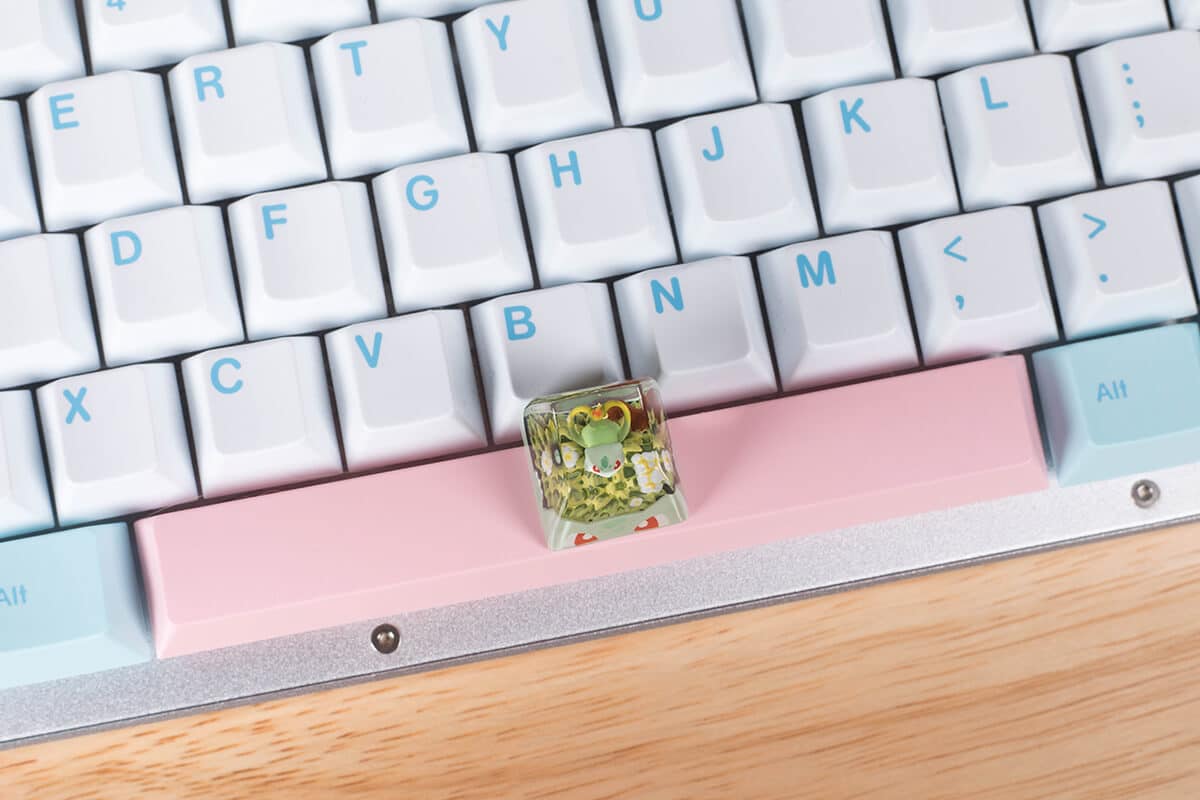 Their keycaps are made out of resin and they are handmade and hand-painted with care. They ship their keycaps quickly and securely in sturdy as well as branded cardboard boxes that have foam inserts in them, which safely house your keycap and protect them during shipment. All of the tiny details they include on their keycaps are incredible and I can't believe how accurate and tidy the paintwork is.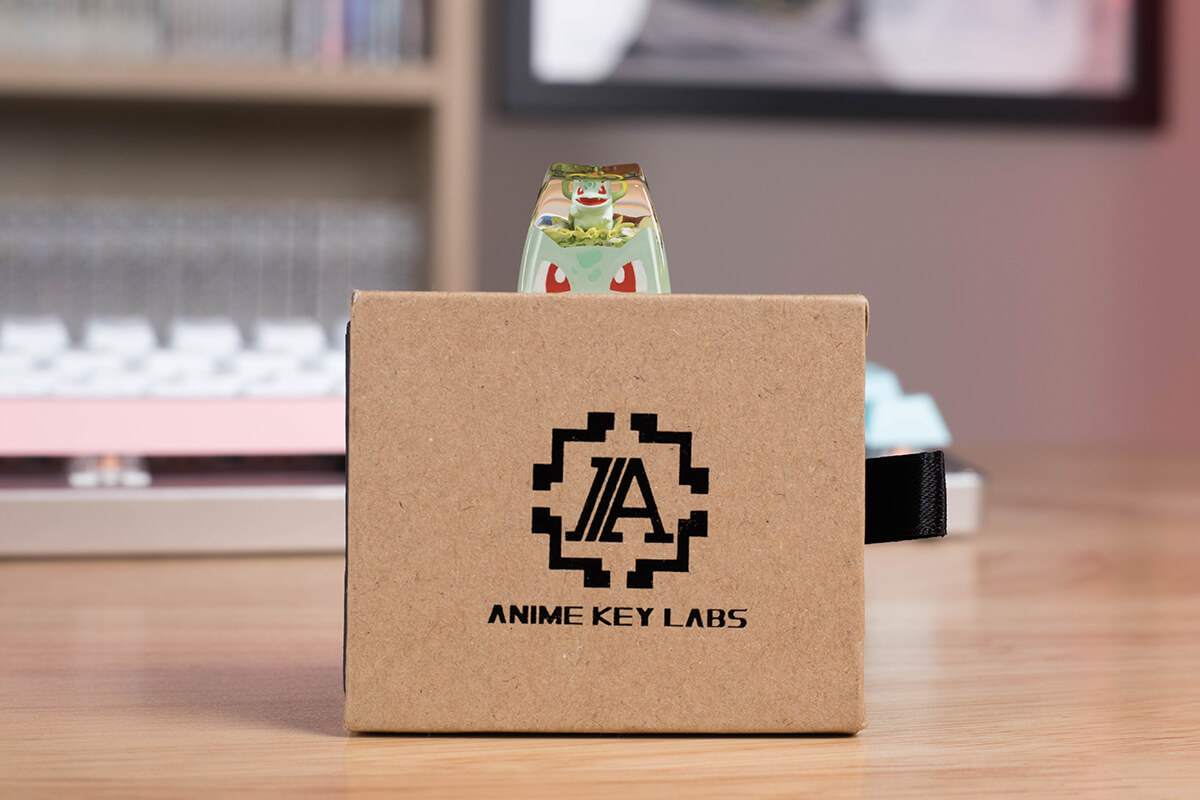 With their Bulbasur keycap, they managed to pack a lot in such a small area, but they practiced restraint as well. I appreciate the fact that they added only the necessary elements to bring this lively and vibrant scene to life.
Bulbasaur has a cute expression on his face and his details, such as his red eyes, green plant bulb, and tentacle-like vines, and his colors—His characteristic reds, blue-greens, and greens—are all accurate. They even added his tiny pointed teeth, which are visible when he opens his mouth. I also love the Bulbasaur graphic that surrounds the bottom of the keycap as well. It looks like he is peeking up at you, which is absolutely adorable.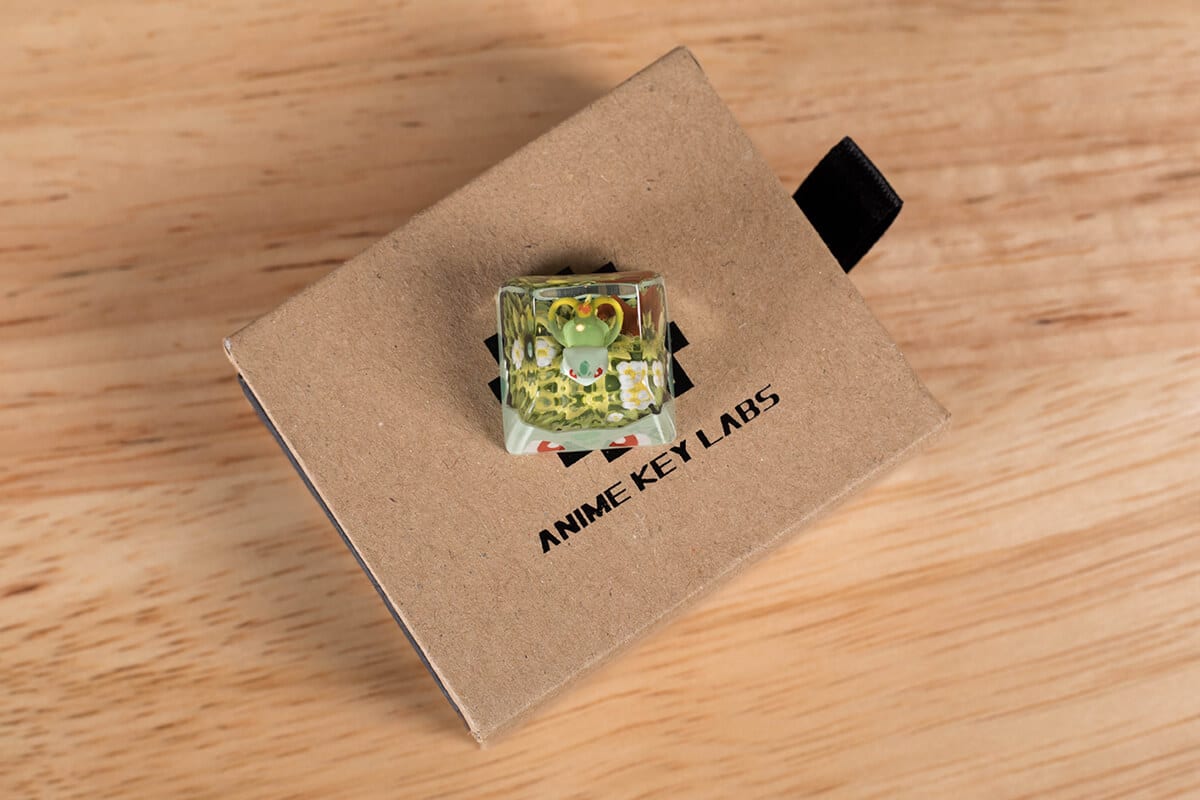 The overall scene, which is encapsulated in clear resin, is just amazing and fun to look at and it adds a lot of personality to your keyboard setup. They really thought everything through from the overall setting to the look and personality of Bulbasaur, so the accuracy is there, but I'm most amazed by Anime Key Labs' attention to detail.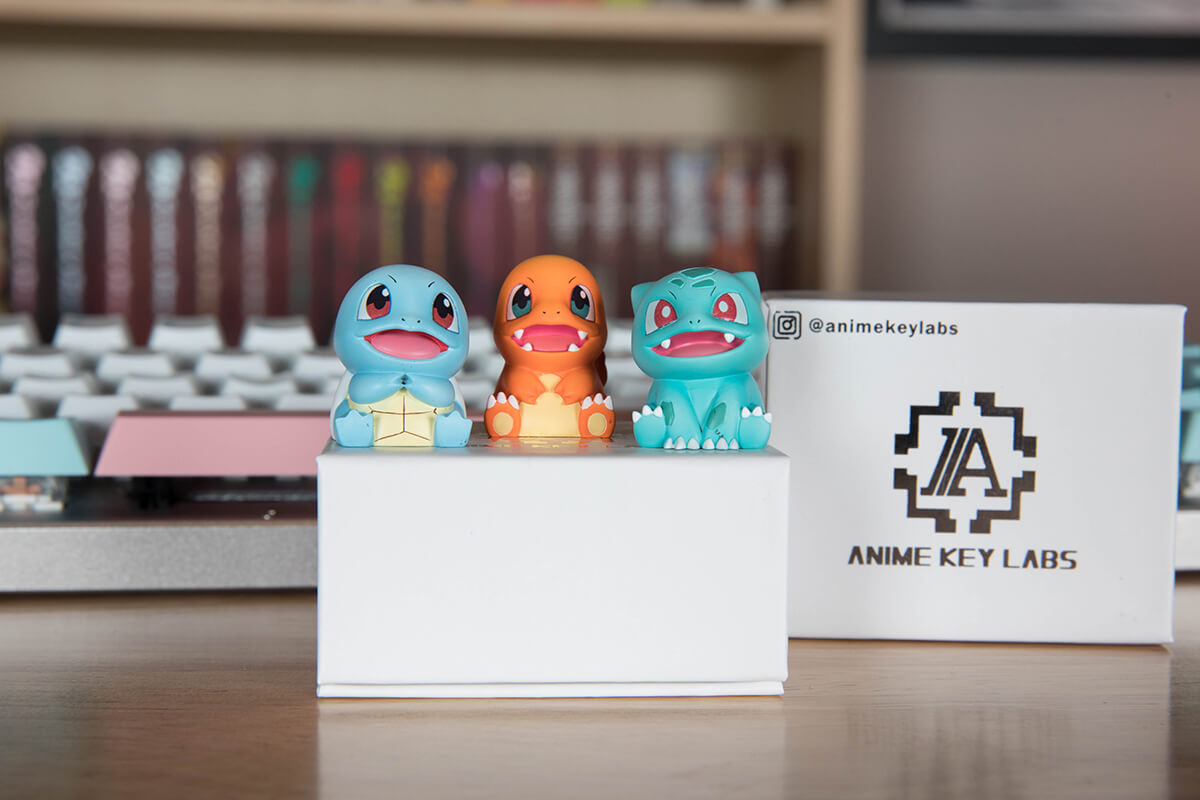 Since the release of Anime Key Labs' Bulbasaur keycap, they've released many more anime keycaps that feature the same high level of quality and attention to detail that I've come to expect from them. In addition to Bulbasaur, they now have keycaps of Squirtle, Charmander, Mew, and Gengar as well.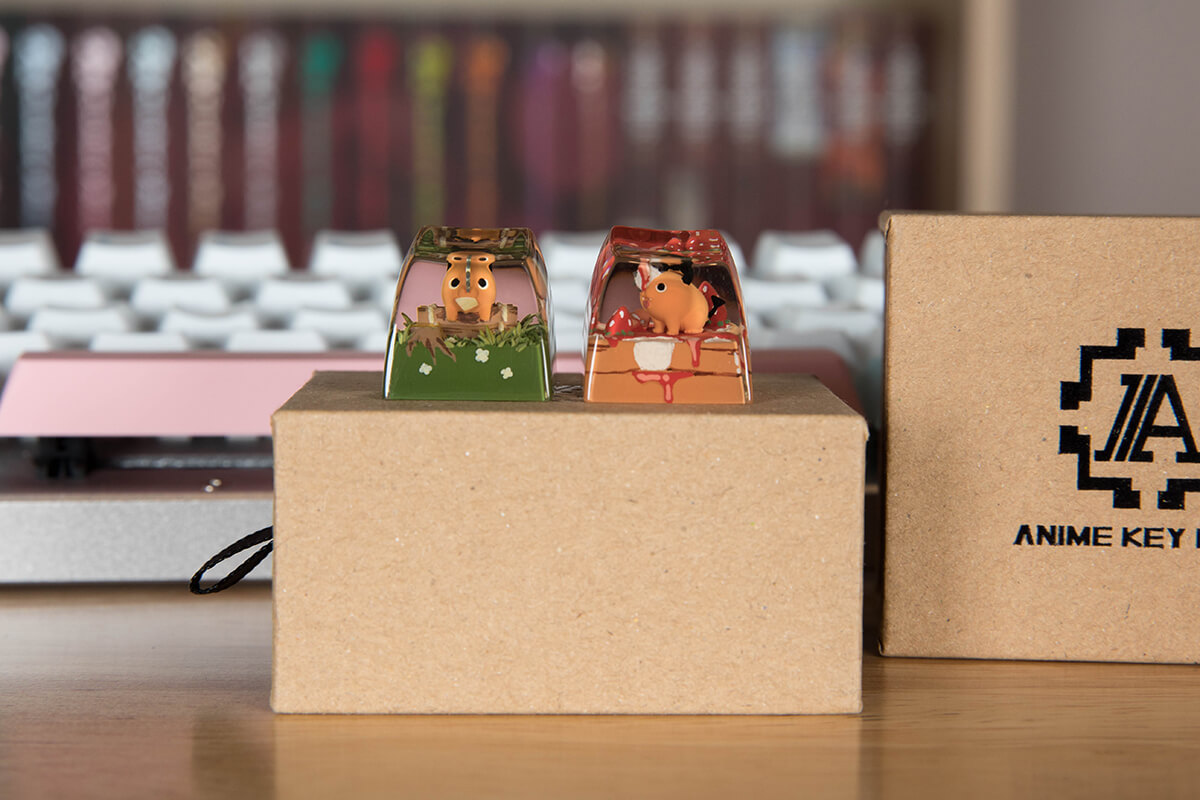 They have also expanded into creating keycaps inspired by popular anime series, including Chainsaw Man and Spy x Family with keycaps featuring characters such as Pochita, Anya, and Bond. They actually released two Chainsaw Man keycaps of Pochita, one that shows Pochita with an adorable expression on his face and bread in his mouth and another that is a bloody variant.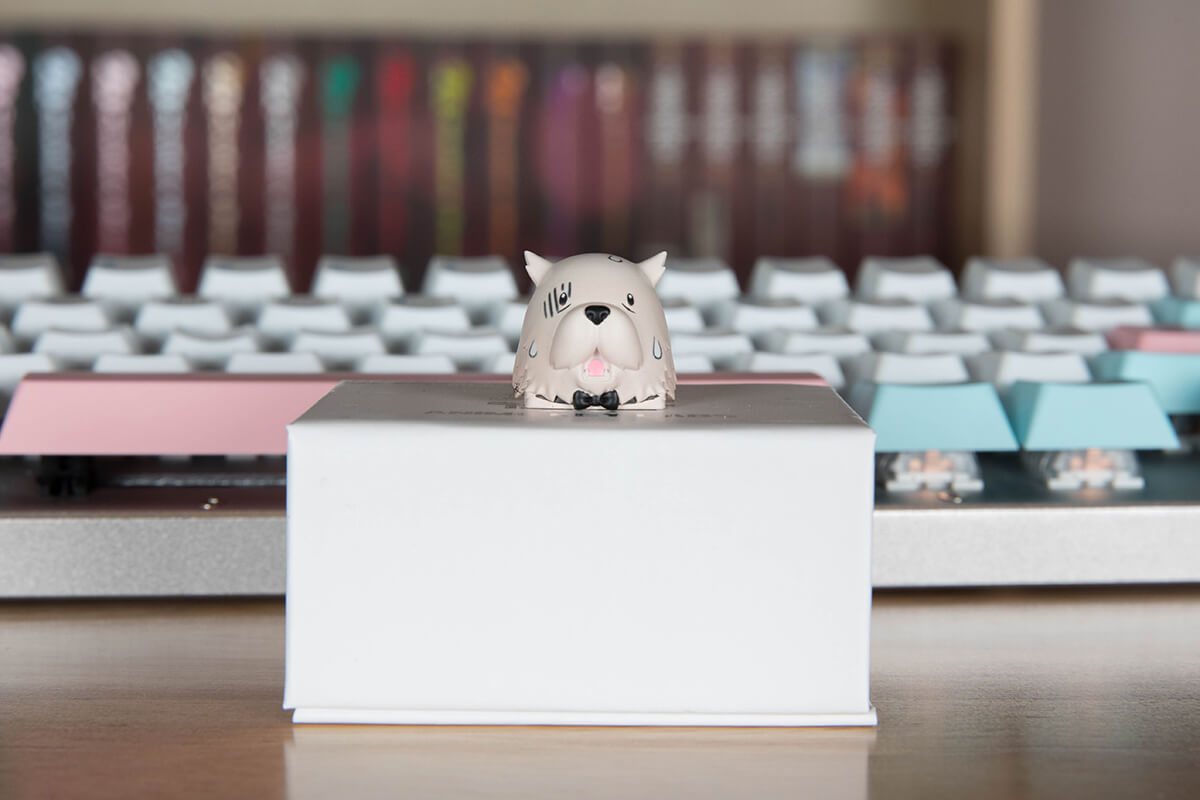 Some of Anime Key Labs' keycaps, like their Pochita keycaps, are transparent dioramas, while others are sculpted character keycaps, including their Bond keycap and some of their Pokémon keycaps. The acrylic dioramas feature tiny and beautiful details and they tell a story, while their 3D resin keycaps are larger and highlight the character. It all depends on what style you are going for with your build, but all of their keycaps have tidy paintwork and are beautifully made, so you can't go wrong either way.
All in all, I've been continuously impressed by all of the keycaps that have been released from Anime Key Labs so far. If you are looking for anime keycaps, they make some of the highest-quality anime keycaps I've purchased to date. I'm anxiously awaiting the release of future keycaps and can't wait to see what they have in store for us in the future. We will update you guys on any future releases from Anime Key Labs, so stay tuned.
You can shop Anime Key Labs anime keycaps now at one of the links below!
Shop Anime Keycaps at Anime Key Labs