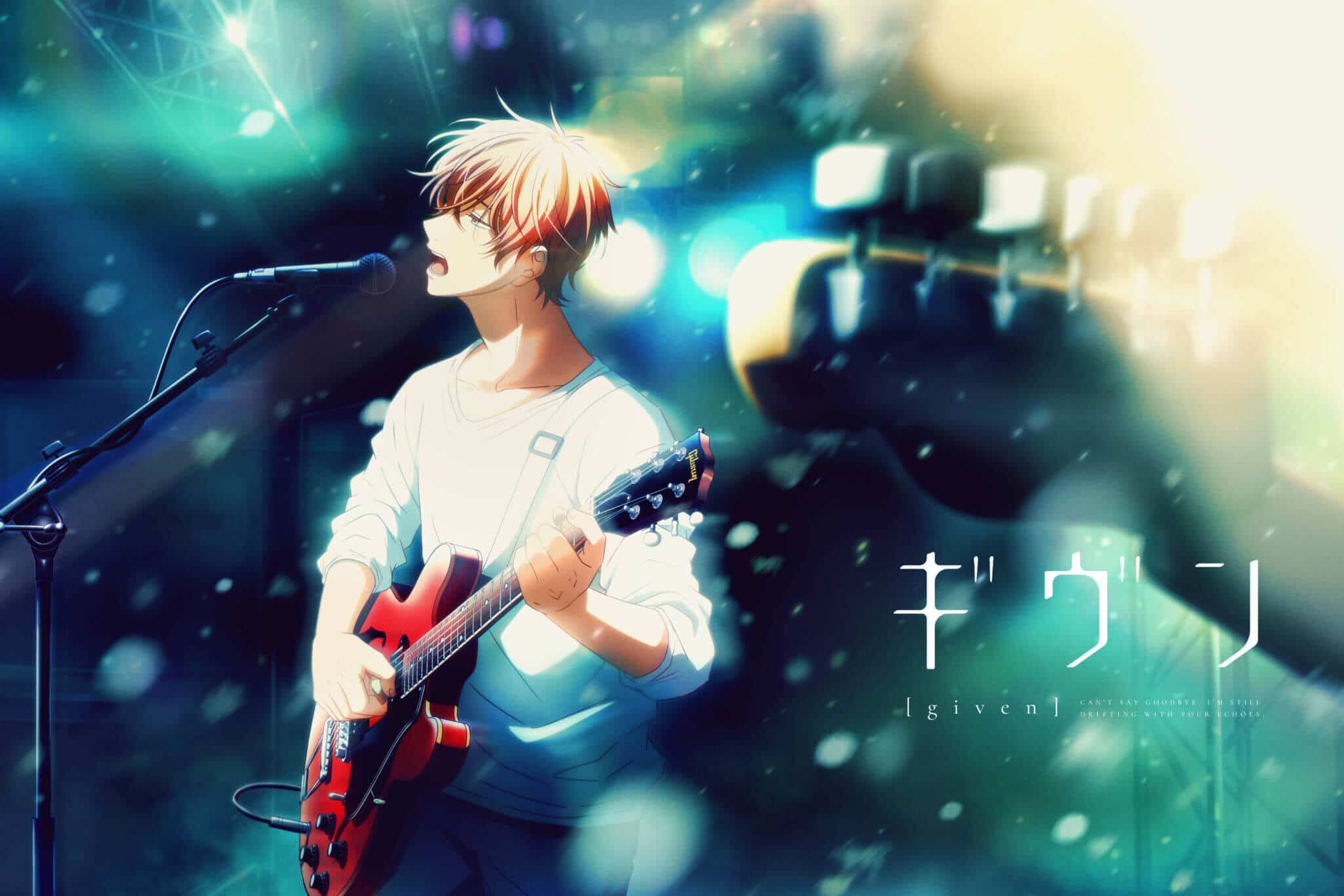 Why Everyone Should Watch Given
Given only just released its first season last year, and it has already launched itself into my growing top anime of all time list. Without giving away too much, Given is an anime about finding the light in the darkness. It's also very much so an anime about discovering oneself, and the way the characters do that in this series is through music.
While it falls within the Shounen Ai, slice of life, romance, and drama genres, I believe that every anime fan, no matter which genres their a fan of, should give Given a chance. Aside from the amazing musicianship displayed by the characters and the original music within the series, Given has so much to give in terms of its storyline, and its characters and their lives are ones you'll truly become invested in. But, before I get into the why, I want to first touch on its premise.
Overview
Given starts out with Mafuyu Satou, who is napping on a staircase alongside his Gibson guitar. Ritsuka Uenoyama, a fellow student and guitarist, finds Mafuyu in his normal napping spot. In this first encounter, Uenoyama gets on Mafuyu for allowing his guitar strings to get in a sad state, which cause them to break.
Noticing how much Uenoyama knows about the instrument, Mafuyu begs him to fix the strings and teach him how to play. Uenoyama turns him down, but eventually gives in due to Mafuyu's repeated pleas, and finally invites him to meet his other band mates, bassist Haruki Nakayama and drummer Akihiko Kaji, at their next practice.
Eventually, Uenoyama hears Mafuyu sing, and is stricken by the beauty of his voice. It inspires him to ask Mafuyu to be the lead singer of the band, but he is rejected. The tables turn and Uenoyama has to work to get Mafuyu to accept his invitation. Mafuyu is greeted by a friend from his past, which pushes him to finally become the lead of the band. Without knowing how to fully play guitar still, he has a lot of work to do, but its the mysterious circumstances that led him to be its owner, that are the biggest thing he'll have to overcome.
Why you should watch Given
I've been known to stay away from shows because they look too sappy, and while that wasn't the case with Given, I must admit that I was worried this would be just another run-of-the-mill romance. As someone who typically doesn't give anime like this one a chance, I quickly learned that I'm missing out on some phenonmenal series after finishing its first season.
As I mentioned earlier, Given is an anime about finding the light in the darkness. But, it's also very much so an anime about finding oneself, and the way the characters do that in this series is through music. The music in this show, even though it's mostly instrumental, is some of the best I've ever heard. Over the course of the season, you'll hear Mafuyu humming a melody, and he does it so much so that it will be stuck in your head. The moments associated with this melody are some of the best scenes in all of the show. But, the best scene comes when they have their first show together as a band. That moment, in particular, is really one to behold. I don't want to give away too much, so you'll have to watch it to understand why.
If you are into music, Given really digs deep into what it means to be a musician in a band and even more so, how you would get started as one. For instance, Uenoyama takes Mafuyu to a music shop to buy his first pedal. Over the course of the season, you'll learn things about music and the instruments they play. Given accurately follows how someone would start off as a musician in the real world and the struggles they face. With characters that show off their amazing musicianship, Given is as fun as it is touching to watch.
You'll watch the band's relationship build, while at the same time watching their romantic relationships grow. Music has the power to connect us, and even more so, the power to heal, and Given's portrayal of this makes it hit all the right notes. As you learn more about Mafuyu and his connection to the guitar, you'll find out why this anime is so profound. As he falls in love with music, he falls in love with life again, which in turn, allows him to connect with himself and others, and it's a truly beautiful thing to witness.
Yeah, Given is a Shounen Ai, slice of life, romance, and drama, and while that might not be something you think you're into, you most likely have it all wrong. Given will change your mind and you should give it a chance. Still need more convincing? Watch Given Season 1's trailer below!
Where to watch Given: Given is currently streaming on Crunchyroll. They are currently only on Season 1. A movie was supposed to come out this Spring, but its release has been postponed until further notice due to COVID-19.
Tags: Given