Since the time of writing this post, a Hell's Paradise: Jigokuraku anime was officially confirmed, but you can still read up on why we are looking forward to seeing this one adapted below!
Last time around, I shone the spotlight on the manga I want to see adapted into an anime the most, Chainsaw Man. But very close behind that is Hell's Paradise: Jigokuraku by Yuji Kaku. For me, these two in particular would be on the same level of Jujutsu Kaisen if they were to be adapted. They have a similar charm to them with characters you want to get behind, action-packed scenes, and a unique art style that would look great animated.
For those of you who have yet to read Hell's Paradise: Jigokuraku, I highly recommend it. The story follows Gabimaru, who is one of the most vicious assassins from the ninja village of Iwagakure and has been given the name Gabimaru the Hollow. He is betrayed by his clan, which results in him being handed a death sentence. But he is offered a second chance at freedom if he travels to a long-hidden island called Shinsenkyo, a place where its hard to tell the difference between heaven and hell. There, he will have to successfully retrieve an elixir that will make the shogun immortal, but first he'll have to survive in order to return.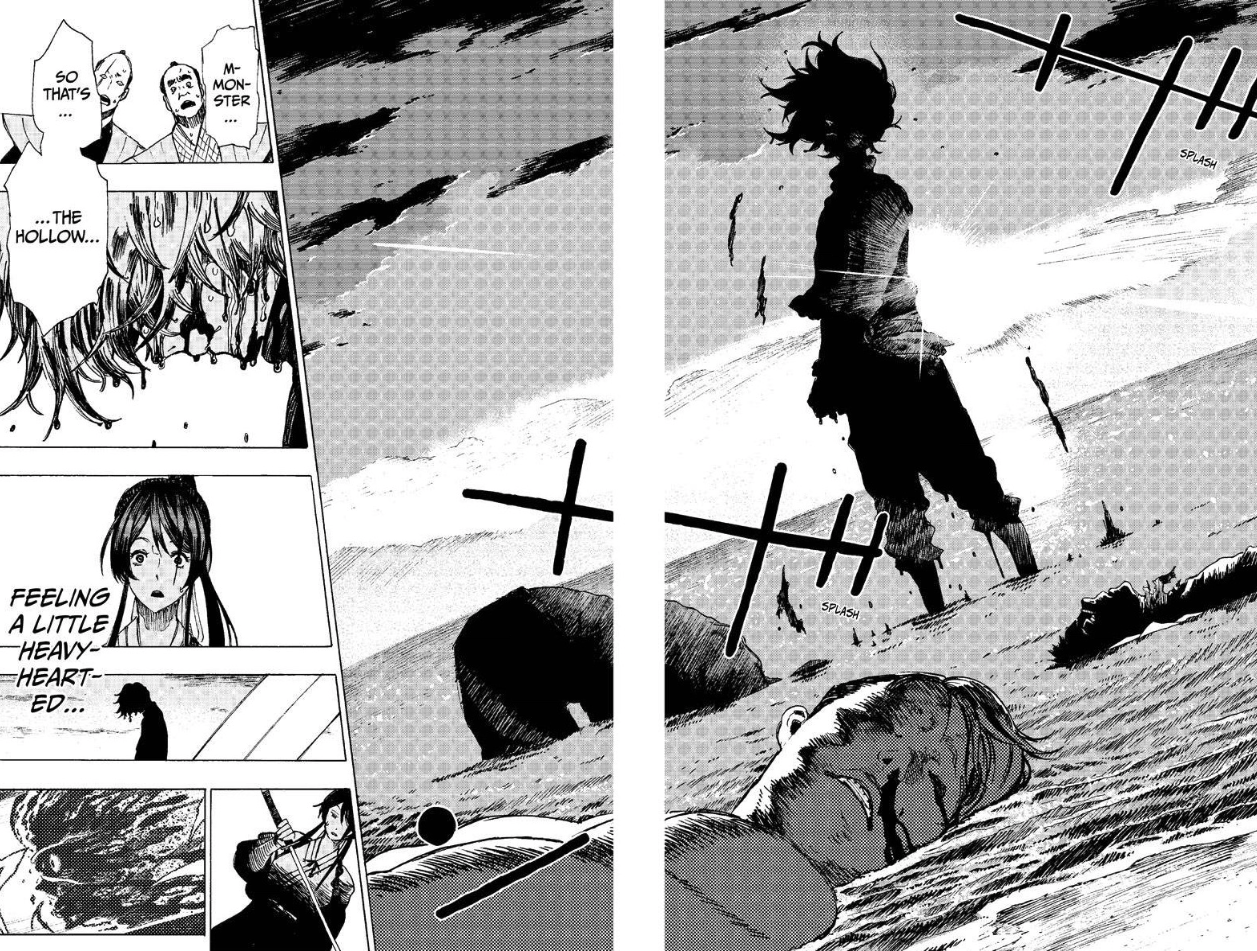 Hell's Paradise: Jigokuraku stands apart from other series because the story takes place in an interesting and unique world full of hellish creatures and strong characters. It's the island of Shinsenkyo that I want to see animated the most, because while you feel how dangerous it is in the manga, exploring this world in vivid color and seeing it come to life will allow us to not only see, but hear and feel just how horrifying the environment truly is.
The horror in this series is a massive part of its appeal. Danger is always present, but apart from the monsters, which have this Attack on Titan mixed with Junji Ito-like appearance to them, the terror is more so lurking in the shadows and this is only further amplified by your fear of the unknown. This chilling atmosphere is one that has been perfected by other anime series, such as The Promised Neverland, but if given the chance, Hell's Paradise: Jigokuraku would excel in this area as well.
I also have to commend the pacing in this series; Every moment feels needed, and because of this, the story never lulls. If it were to be adapted with no filler added, there will be very few, if any, episodes that will struggle to capture your attention.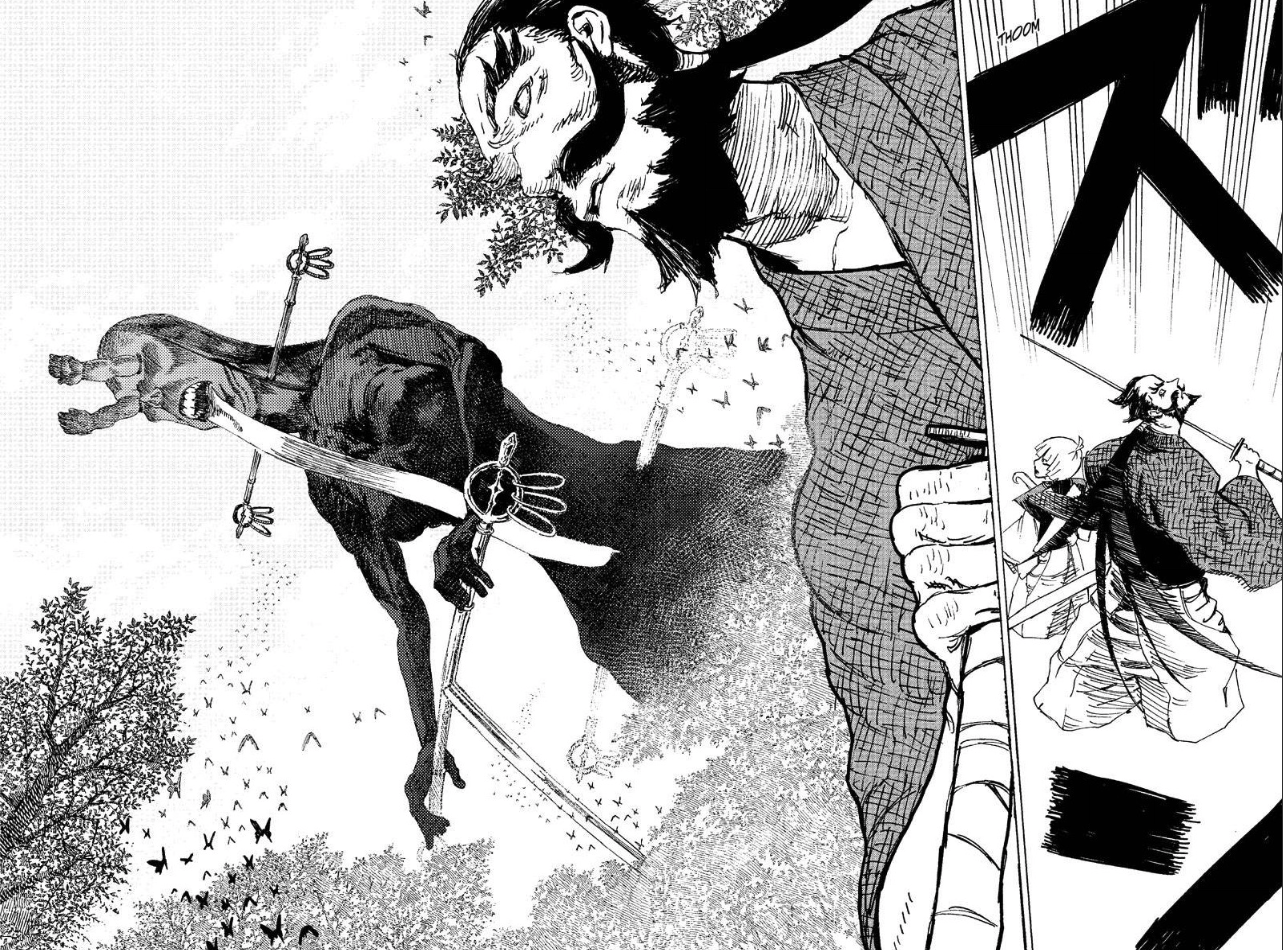 The characters and their development are extremely well done. There are emotional moments that make you gravitate towards certain characters, especially with the criminals as you learn how each of them were lead astray. The story has a lot of depth, but so does its characters. Gabimaru, Sagiri, and Chōbē are a few that I want to see in action in an adaptation. But its the interactions they have together that deserve time on the screen, especially with the unique dynamic that exists between Gabimaru and Sagiri. These two really make the series, but you'll meet many other characters along the way that will intrigue you as well.
As they come together and backstab one another on their journey to find the elixir, there's obviously a lot of fighting that occurs between the criminals and with monsters on the island. As a result, there's a lot of action, and brutal, gruesome action at that. Much like Chainsaw Man, Hell's Paradise: Jigokuraku holds nothing back. It's graphic and bloody, which makes it a fun series to read, but these scenes would be even more fun to witness on screen. Just seeing the savage yet calculated way in which Gabimaru fights would be amazing in itself.
With so many fight scenes and characters with unique sets of abilities, I have a feeling MAPPA would be well-suited to animate this series, especially with anime like Dorohedoro, Dororo, Jujutsu Kaisen, and Attack on Titan: The Final Season under their belt. The key here though would be to keep the violent nature of this series, because it really is an essential element to Hell's Paradise: Jigokuraku success. My biggest fear is that they will censor some of the content or tone down some of violence to make it more generally accessible to the public.
Characters like Gabimaru were trained to kill, and there's a strong juxtaposition between his ruthless nature in combat, and the person he is deep down inside. It needs to be shown so you can see just how much he changes throughout the series. The world he lives in, as well as the world he is sent to to find the elixir, is not for the faint of heart, and neither is the series. I hope they'll stay true to the manga in the event that it does receive an anime. There's so much carnage that ensues in Hell's Paradise: Jigokuraku, but there is a ton of substance to the characters and its story as well.
With incredible art and a gripping story set in a mysterious world, Hell's Paradise: Jigokuraku is primed and ready to be animated, and with 120 chapters being released with English translation at the time of writing this post, it has enough content to be considered. With Jump Festa 2021's online event kicking off on December 19th, our fingers are crossed for some new anime announcements. Until then, we are hopeful that this one will eventually make the cut. Hell's Paradise: Jigokuraku is an amazing series and out of all the manga that has yet to be adapted, this is one that I'm looking forward to the most.
You can learn more about Hell's Paradise: Jigokuraku on Viz's site here! In other news, check out review of Hell's Paradise: Jigokuraku, Vol. 1.