Colorless by KENT is a stunning new noir-punk manga with a unique style and world, and it's releasing for the first time with English translation by Seven Seas. If you are someone who also collects anime statues, like me, you may already be familiar with KENT from his work as a concept artist for Prime 1 Studio, but Colorless is KENT's first manga to be published. Colorless is one of my most anticipated new manga releases of 2022, and after reading the first volume, I think it's one of the best new sci-fi manga to release as of late
Colorless' first volume has one of the most aesthetically-pleasing designs I've ever seen. The artwork on the front cover of Avidia and Chie is amazing and I love the graphic look of it. The cover itself is matte, but the details are glossy. They have a clean, but also bold look to them and they are high-quality too.
When you open up the volume, you have a few red color pages, which foreshadow the events to come, but then it flashbacks to the start of the story. Colorless is set in a world, where a giant solar flare called Mercy Pulse, wiped the world of its color and mutated the human race. Avidia aka Avi, a lone wolf investigator, takes on a number of different jobs. His main goal though is to uncover the mystery of the Iodopsy Cult, who worship the lost color as their deity, and he track down the remaining remnants of color.
To those on the outside, the cult's main goal is to revive the once vivid world. But color is a powerful new energy source that holds unlimited potential in society, a power they wish to have to themselves. A job leads him into a chance encounter with a special girl that may hold the secret to bringing back what the world has lost.
To summarize, we have cults, we have a dystopian society, advanced tech, and a cool setting. Colorless has everything I could ever want in a manga and then some. It's cyberpunk, but its also noir, so it's full of action and intrigue, but it's full of danger and has a cynical nature as well.
This series may be called Colorless, but this story, the world it's set in, and the characters that are in it are so colorful and vibrant. The way the characters act and interact remind me a lot of Dorohedoro, especially since both are set in dark worlds yet are still so full of life, and it's very much in the vein of cyberpunk manga, like No Guns Life, too, so if you enjoyed any of these series you'll enjoy Colorless.
In some ways, it also reminds me a lot of The Dark Knight. It's still unlike anything I've read before, but I wanted to mention these similarities in hopes that it may connect with you on some level. I also wanted to mention how cool it was that Hideo Kojima, who's known for Death Stranding, Metal Gear Solid, and more, posted on Twitter that he picked the first two volumes of Colorless because he liked the art style.
This is definitely one of the main reasons I decided to pick it up too. KENT's art style is similar to two of my all time favorite manga creators, Q Hayashida, the creator of Dorohedoro and Dai Dark, and Tsutomu Nihei, the creator of Blame!, Knights of Sidonia, Biomega, and more, but it's also very unique and distinctive as well. In a lot of ways too, his art is very reminiscent of what's seen in some American comics and graphic novels.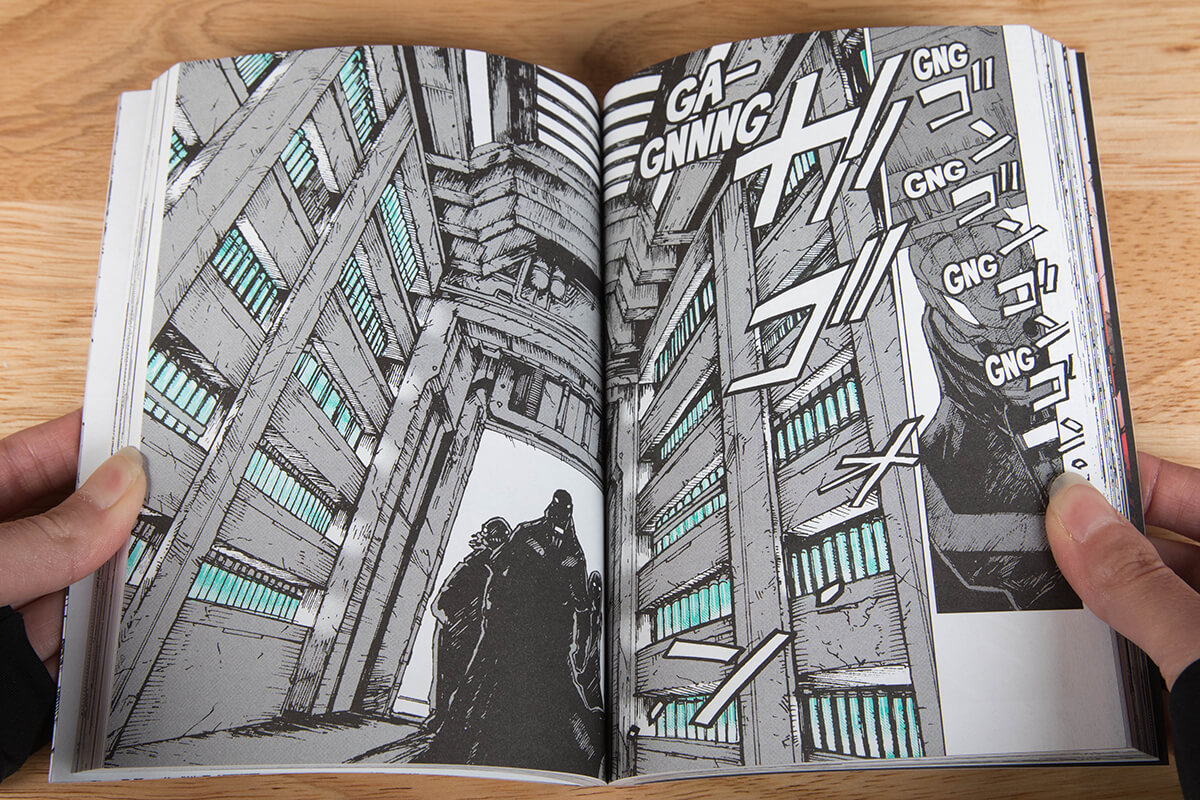 The art is monochromatic, but there are hints of color that are added throughout. Because of this, it's one of the most visually-striking series I've read. Color is a big thing in this world, and something that I often don't think to be grateful for, so when these pops of color appear in the panels, I find myself appreciating them even more in Colorless than I would while reading other manga that have color in them.
Everything from the mechanical designs to the organic elements are drawn with detail and care. The moody landscapes and the technology in this series further hone in the futuristic setting, and they add believability to this world. The outfit and character designs are incredible too. I'm big into techwear, so while reading cyberpunk series like these, I always catch myself thinking I'd love to own certain outfits or pieces I see various characters wearing.
KENT did a phenomenal job with the overall designs, especially in regards to the clothing, which looks functional but also stylish. Items, like Kaneda's jacket in Akira for instance, are iconic and details like these matter a lot more in sci-fi manga, especially when they are set in dystopian societies. That being said, I really appreciate all of the added details KENT included, because they bring the world in Colorless even further to life. World-building is one of Colorless' biggest strong suits, so if you enjoy rich and well-thought-out worlds, you'll enjoy this one.
The story itself is full of mystery, which makes it intriguing, but it's also action-packed as well. We follow Avi on his journey to uncover the secrets behind the cult and the events that brought about this new world, but it's the interactions between the characters that make this one a truly special read. You can feel a bond between them, especially Avi and Chie, even though it's just forming, and I am looking forward to seeing how their relationship develops in the volumes to come.
Make sure you stick around for the side stories at the end of each volume! They are more lighthearted entries, like those seen at the end of Dorohedoro, and they are fun reads. Some sketches and concept illustrations of Avidia's gun and the ASP-90, which are fighting machines used by the order, were also included in the back too. These add more context, so they are great additions as well. All in all, Colorless is one of the most exciting manga as well as one of the best sci-fi manga I've read as of late, and I'm looking forward to picking up more volumes.
In addition to Colorless, KENT created a one-shot titled Destronaut that's set in outer space that you may want to check out as well! You can pick up Colorless now at one of the trusted manga retailers below.
Where to Buy Colorless Manga
With releases like Colorless, the Darling in the Franxx omnibuses and more, Seven Seas are hitting it out of the park this year. Want more new manga to get into? Check out my top manga recommendations!