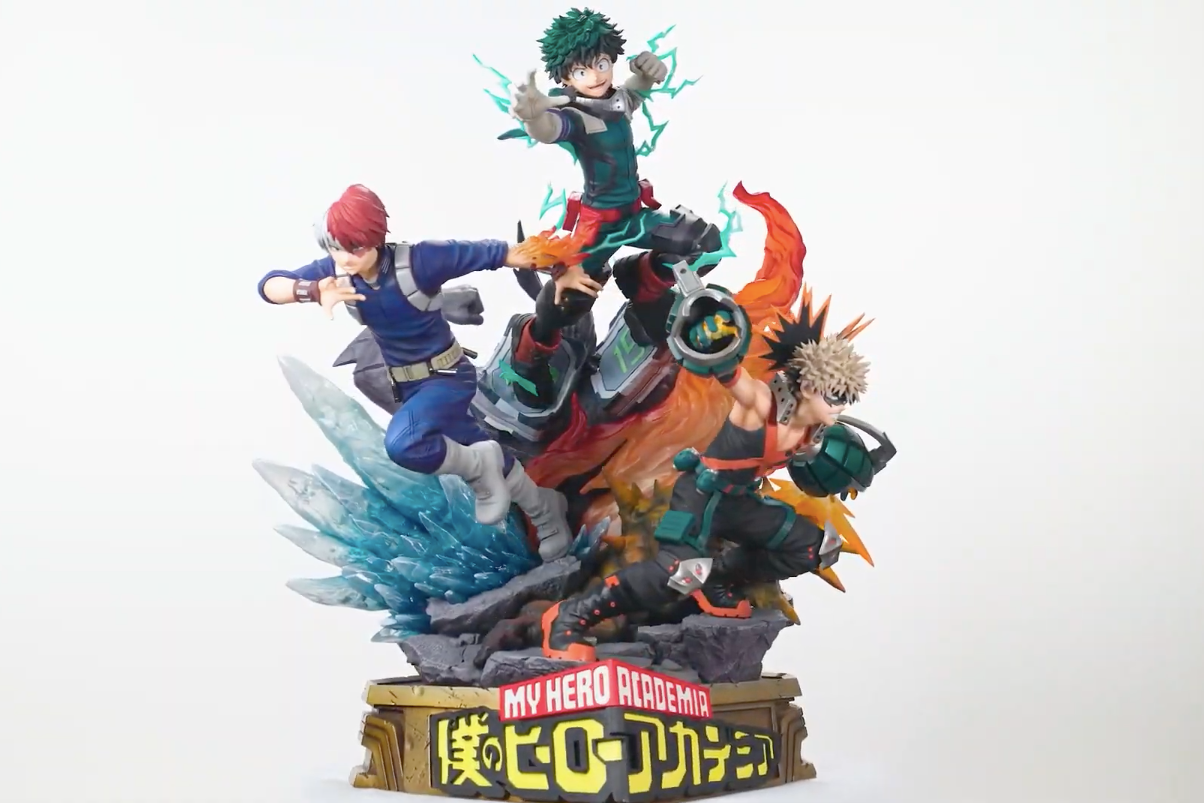 Prime 1 Studio just revealed an upcoming 1/4 scale Premium Masterline My Hero Academia statue that features a diorama of Izuku Midoriya (Deku), Katsuki Bakugo, and Shoto Todoroki fighting together and leaping into action. They showed off the new statue during their Phase 1 Showcase on Youtube. It joins the other reveals, such as their Berserk Guts Ultimate Premium Masterline Bersker Armor "Unleash" and Bersker Armor "Rage" statues, they announced back in September during their Next Level 2020 Showcase.
Each of their quirks are highlighted in the statue via effects parts and the base, which has fire and ice rising out of and above the rocky earth. The base also features the My Hero Academia logo front and center and it is painted in a gold finish. Behind the three, is a sculpture of All Might that adorns the back of the base. The dimensions of the statue are approximately H68.8cm x W56.9cm x D54.6cm.
As of now, a preorder date for Prime 1 Studio's upcoming My Hero Academia statue has yet to be revealed, but according to their announcement, more information is coming soon.
You can check out screenshots of the statue in the gallery below! When official photos are released, we will update this post.
Prime 1 Studio My Hero Academia Ultimate Premium Masterline 1/4 Scale Statue Gallery
You can check out more from Prime 1 Studio on their site here and you can catch up on all that was unveiled in their Phase 1 Showcase below!