With new anime releases like Jujutsu Kaisen and Higurashi: When They Cry and continuing seasons like Haikyu!!: To the Top, The Irregular at Magic High School: Visitor Arc, and Is It Wrong to Try to Pick Up Girls in a Dungeon? III, Fall 2020 has a stacked lineup.
In this post though, I'm only going to focus on completely new anime series that debuted this Fall, but wanted to briefly mention these continuing anime because their first episodes are some of my favorites this October.
While some of the anime I included on this list show promise for what's to come, others came out strong right out of the gate. With that said, these series had my favorite premieres of the Fall 2020 anime season so far!
Best Anime Premieres of Fall 2020 So Far
Jujutsu Kaisen
I did a full review of Jujutsu Kaisen's first episode, and in it I talked about how its premiere primed it to become not only my favorite anime of Fall 2020, but the breakout anime of the year. I've long-awaited a series like this one to come out and as someone who's familiar with the manga by Gege Akutami, I couldn't be happier with what was presented so far in Jujutsu Kaisen's debut.
Jujutsu Kaisen is packed full of action with dynamic fight scenes, but it's its storyline and characters that initially pulled me in. Characters like Yuji Itadori are ones I always root for and love to watch, because they are truly kind, and while his gentle nature reminds me of characters like Tanjiro from Demon Slayer, he has a brazen, outgoing attitude that's also a lot like Naruto. The one thing he has in common with any good main character in anime is that he lives his life helping others and he always protects his friends no matter the cost, and as a result, he always jumps into a fight or problem headfirst without thinking.
It's really easy to get behind Jujutsu Kaisen's characters like Yuji Itadori, Megumi Fushiguro, and Satoru Gojo. Of course, more likable personalities will join the story as it goes on, but for now, these are a few we met in the first episode, even if Satoru Gojo was only shown in that brief scene in the beginning. For me, it has a core storyline and characters that are reminiscent of any successful shounen, but its done in a completely unique way in a more horror-filled and supernatural realm. While these themes are not necessarily new, Jujutsu Kaisen is unique because I feel it's one that fans of both shounen and seinen will enjoy.
It really balances between these two worlds for me and even though it's not near, or even close to as graphic as seinen get, it definitely has its moments of bloodshed. I'm not saying its the ultimate gore fest, because it's not, but its horror inspiration is just enough that it leads someone like me, who's both a fan of series like My Hero Academia and Berserk, to love it. With fights like the one we saw in the first episode, I'm excited to see the battles to come and witness more of MAPPA's animation, which was incredible in the debut. Episode 1 of Jujutsu Kaisen was my favorite premiere so far, and I'm excited to see the scenes I love from manga come to further life in the adaptation.
To read more about what we thought about Jujutsu Kaisen, check out our Top 10 Best Anime of 2020 post!
Higurashi: When They Cry
Like Jujutsu Kaisen, Higurashi: When They Cry is one of my most anticipated releases of Fall 2020. After seeing its premiere on Funimation on October 1st, I became even more excited for the rest of the season.
While the first episode is just getting started and setting up the whole scene for what's to come, it paints the picture of this picturesque, quaint, and quiet village called Hinamizawa, where main character Keiichi Maebara just moved to. In this way, it's very similar to another anime I love, Another, where the main character moves to a remote location and we find out that everything isn't quite as it seems. Although, unlike Another, which gives you this feeling from the very get-go, upon first glance, the friends he makes and the village he moves to seem perfectly normal and fine with nothing out of the ordinary. That is, until the dam construction site gets brought up and the girls eerily transform from sweethearts to the stuff of nightmares every time he brings the subject up.
There's just an overall mystery that keeps you hooked in Episode 1, and you find yourself wanting to discover the truth, and because of this, I already find Higurashi: When They Cry addicting. Even more so, there's an air of terror lurking in this episode and hiding behind all the fun that Keiichi is having with his new friends, Rena Ryuuguu, Mion Sonozaki, Satoko Houjou, and Rika Furude. And with such unassuming characters, it comes across even creepier when you get those brief glimpses of their dark side.
I also have to say that Higurashi: When They Cry's release comes with perfect timing, because I'm always just a bit more excited to watch psychological thriller and horror-leaning anime. Even so, this is one I'd be interested to watch year-round, and I felt that it's first episode did a better job at setting the stage than most anime that have already premiered this season and I can't wait to see what twists and turns await around the corner.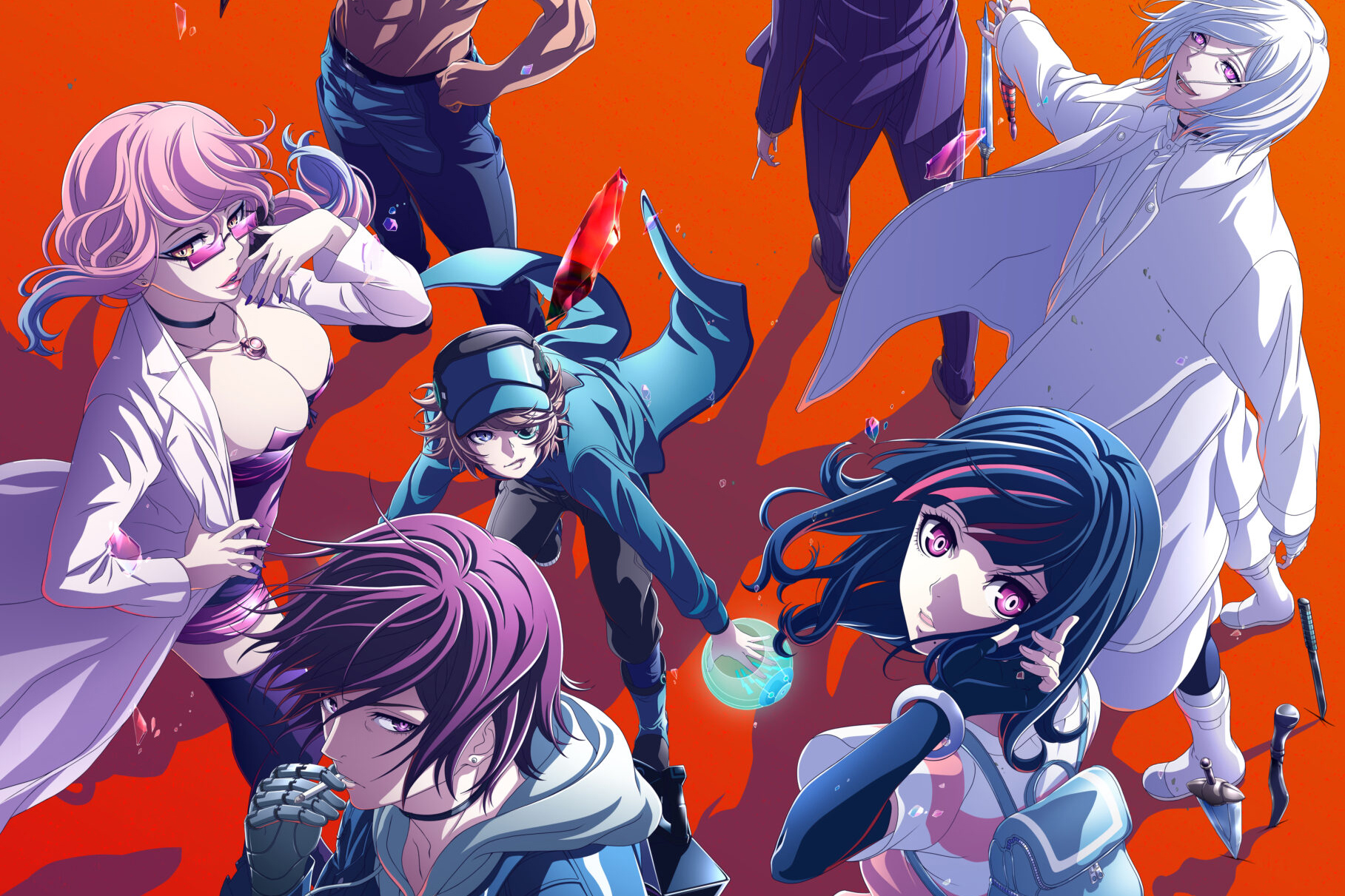 Akudama Drive
Akudama Drive's first episode was a wild ride both literally and figuratively thanks to Courier and his bike, and it had one of the most action-packed premieres this Fall. Since this anime falls within the sci-fi genre, I knew it would be visually-striking, but even after seeing the promo videos, I still wasn't prepared for just how bold and vivid all the colors in this anime would be.
While I had a feeling this series would be amazing, especially given that it is a collaboration with Danganronpa's character artist and head writer, I was still slightly worried, because Studio Pierrot is the studio behind Akudama Drive. Luckily, these worries have since faded away, because they did a phenomenal job with Episode 1.
I enjoyed the visuals of Akudama Drive, but I enjoyed its world and characters as well. There's a hierarchy that exists within the Akudama that I find interesting, and you could tell that these characters wear their sentences and rankings with pride. They fight and compete to become the top dog of the criminal world, and I find this element of Akudama Drive to be extremely interesting. I also have to say that there's something very familiar here to Suicide Squad, especially towards the end of its debut. Mix that in with the cyberpunk, futuristic atmosphere and setting of anime like Psycho-Pass, and this is where Akudama Drive resides.
Akudama Drive had one of my top premieres so far this season, because it had me interested in the entire series as a whole from the get-go. It didn't waste time getting into the thick of things, and really went full pedal to the metal in its first episode.
Talentless Nana
Talentless Nana is one I went into without any previous knowledge, and even after seeing the visuals and watching the promo videos, it is clear that had absolutely no idea what I was in store for. But, I think that's by design, because there is a twist that happens at the end of Episode 1. I was only slightly interested in Talentless Nana when I first heard about it, but after its debut, I'm completely invested in its characters and plot.
The world of Talentless Nana is much darker than it appears, and I must say that the whole classroom setting and premise so far gave me Assassination Classroom vibes, so if you are a fan of that series you will most likely be interested in this one. I was most interested, however, by the fact that anyone and everyone could be a monster in disguise. It really makes you question the identity and intentions of all the characters, and this created an air of suspense throughout the episode, which is only bound to grow stronger throughout the rest of the season. I am really anxious to see how characters, like Nanao Nakajima, who I must say totally reminds me of a Deku type, Kyouya Onodera, and Nana Hiiragi develop as more episodes air.
Talentless Nana's first episode did an amazing job at foreshadowing what's to come and really hooked my attention, and for those reasons, it is one of my favorite premieres that has been released this Fall so far.
I'm Standing on a Million Lives
With any isekai, I'm always searching for an element that makes a series in this genre stand out as unique, and I think we're getting something completely new with I'm Standing on a Million Lives so far. And I think it's because the quests start off easy with killing a few goblins and then things escalate quickly with the introduction of that massive and terrifying troll.
Because of this, you know that each quest is going to have an intense jump in difficulty and our main characters are going to have to overcome insurmountable odds to achieve victory in this world. I will say that the one thing I'm Standing on a Million Lives does somewhat differently is that most of the characters aren't strong when you first meet them, like characters in other isekai, such as Kirito in Sword Art Online. Even though Yusuke Yotsuya is a gamer and has knowledge that can help him excel in this world, when you first meet him he has no strong weapons or skills, and of all things, receives the role of farmer.
I must say though that the whole farmer thing hooked me, because I really want to see him rise to become a strong character and after seeing that ending with his menacing smirk showing he lives for this type of danger, I new this was going to be good. I see potential in these characters, but I see even more potential in the way the quests and this world are setup. But the thing I love most about it? It got really dark by the end, and I have a feeling its only going to get darker. I'm Standing on a Million Lives had one of my favorite premieres this Fall, and it definitely has the makings to become one of the best releases this October.
Burn the Witch
Burn the Witch is a unique release, because it was originally aired as a film in Japan, but was broken up into a series of three episodes by Crunchyroll. It's really designed to be watched in succession, because the first episode is more of a setup, whereas the other two get into the action. For those of you who aren't aware, Burn the Witch is created by Tite Kubo and it exists within the same universe as Bleach.
Burn the Witch takes place in the West Branch, which has a completely different society than the East Branch of the Soul Society, where Bleach takes place. This made watching it feel new, but also very much familiar at the same time. I found myself interested in the problems and issues that the people in Burn the Witch face and I liked that it touched on issues that I personally have yet to see in other anime, like stardom and how easy it is to lose yourself in the pursuit of it as seen with Macy.
The characters I was most interested in learning more about, however, were Noel, Ninny, Balgo, and Bruno, who all had different personalities, but were all likable in their own ways. Balgo, in particular, was fun and hilarious to watch, especially with Osushi, who's absolutely adorable. There's always something endearing about a completely clueless character, who is unbelievably strong. Although, I must say that watching Macy's connection with Elly was the most heartwarming, but also heartbreaking, thing to watch out of all the episodes.
Even though there's still a lot to be revealed in Burn the Witch and it only had three episodes, it had me wanting more by its end and as of now, it seems that there will be a while before that happens since Tite Kubo just recently teased Season 2 of the manga. Regardless, it was one of my favorite releases to debut this Fall and it had one of the best premieres so far.
Ikebukuro West Gate Park
In any anime that involves gangs, I tend to to be in search of something with more substance like Banana Fish, and while I know that Ikebukuro West Gate Park isn't similar, I appreciate the fact that this new series is heading in a direction that proves it's going to be much more than your average slugfest or turf war. While it's going to be thrilling at times with mystery and crime involved and violent at others, it's going to have significance as well, especially with Makoto Majima as the story's lead.
I'm excited about Ikebukuro West Gate Park, because it puts a highlight on the more sophisticated, clever members of gangs more so than the brawny grunts that follow their order, but I'm mainly interested in Makoto's story, because while he is part of the G Boys world as their leader Takashi Ando's friend, he's still seen as an outsider since he's not a full-fledged member. You can tell from the first episode that aside from having good style, he's a caring guy that's willing to help out anyone, even strangers, in need. Even more endearing is the fact that he doesn't judge a person based on their affiliation as you can see from his friendship with people both in the police and the G Boys.
After the first episode, it really feels like the calm before the storm, even though that calm had its fair share of waves, and you just know that violence and bloodshed is on the horizon. The synopsis mentions that Makoto loses a loved one at some point, so the series is sure take a turn in the continuing episodes. I'm already emotionally invested in the fact that Makoto exists between two worlds and his story as a whole, but with the mention of a strong shadow organization behind the drug market, there's bound to be chaos at any moment.
Hypnosis Mic: Division Rap Battle – Rhyme Anima
Hypnosis Mic: Division Rap Battle – Rhyme Anima's first episode was absolutely bonkers, and I loved every second of it. At many points during its debut, I asked myself "What the hell is happening?", but many of the anime I love to this day also had me asking the exact same question. If you go in watching Hypnosis Mic, just go in with an open-mind, because even though its premise is somewhat odd, it had one of the most entertaining premieres this Fall.
The first episode's main focus was introducing you to the four main rap teams in the series, the Buster Bros!!!, MAD TRIGGER CREW, Fling Posse, and Matenrō, and as far as the music goes in the series, I am happy to say that it was much, much better than I thought it was going to be. So far, there are some groups that I'm more interested in than others, like the Buster Bros!!!, but I'm sure I'll grow to like more of them as the season continues.
You'll know quickly after watching the first episode if Hypnosis Mic: Division Rap Battle – Rhyme Anima is for you, but it's definitely not one that everyone will enjoy. Even so, I personally enjoyed it more than I initially thought I would and it had one of the more captivating premieres of Fall 2020 so far. To say the least, it has me intrigued, and any first episode that manages to capture my attention deserves a mention.
By the Grace of the Gods
Usually every season there's a series I enjoy watching because it's a feel good show, and this Fall that anime is By the Grace of the Gods. With isekai though, anything can happen, so who knows where this story is going to lead. For now, it's really heartwarming to watch overworked and lonely Ryoma Takebayashi, who lived a previous life full of struggles and hardships, finally relax and do things he enjoys even though he's been reincarnated as an 11-year-old boy. And what does he choose to do with his new life? Research slimes.
This one is going to be more of your slice-of-life, adventure isekai, where Ryoma eventually ventures out of his little world to meet new people and share in new experiences. And while it's not full of intense battles, I find it touching to watch, because you see Ryoma get a second chance at a life as a child, an extremely overpowered, magically-gifted child at that. As the story moves away from his isolated home in the forest, Ryoma is sure to have more struggles and joys that are going to hook me more into his story. As it stands, I'm only intrigued By the Grace of the Gods, but I personally think it has strong potential.
Noblesse
Like Tower of God and The God of High School, the manhwa Noblesse was picked up by Crunchyroll for an adaptation. And while I enjoyed watching both of those anime, I will say that I am skeptical for Noblesse, because they have a tendency to rush these series. So far though, I like the pacing of Noblesse and have high hopes for the season.
Animation-wise, Noblesse is one of my favorites to debut this Fall. I'm not surprised about this at all, because Production I.G, who've worked on one of my favorite anime of all-time, Psycho-Pass, is the studio behind this series. Everything is so crisp and the fight sequences are fluid and dynamic, so in this way, Noblesse really excels.
As someone who has yet to read the manhwa written by Son Jae Ho and illustrated by Lee Gwang Su, I came in without any previous knowledge about this anime, but I'm already captivated by the whole human experimentation aspect that was highlighted in the first episode as well as the secret society named the Union. They are already on Raizel's heels, and while I'm not quite sure what his deal is as of yet, I can tell he's a character I'm really going to like. Watching him discover this new world after awakening from an 820-year slumber was funny to watch, but we have yet to see him unleash his power.
And rightfully so, because he has yet to have a reason to do so. But, after watching the first episode, it's clear that's about to change. Right now, the threat of the Union and the fact that Raizel has yet to awaken his true form is keeping me invested in Noblesse, but I'm excited to see more!
As I watch more anime premieres this Fall, I will continue to update this list with my favorites. I'm really pleased with how the Fall anime season is shaping up so far, and by its end, I think it's going to have some of the best releases of 2020!
To see the full Fall 2020 anime release schedule, check out this post here!