The Winter 2021 anime season is coming off the heels of the successful Fall 2020 season, which saw the debut of anime like Jujutsu Kaisen, Dorohedoro, and Akudama Drive.
But this year is off to a strong start with incredible premieres kicking off last week and more to come this week from series like Sk8 the Infinity, Kemono Jihen, The Promised Neverland, Season 2 and more. And of course, we can't forget the final season of Attack of Titan, which was the first to release this season!
Check out our favorite Winter 2021 anime premieres below!
Sk8 the Infinity
Sk8 the Infinity had my favorite Winter 2021 premiere so far aside from continuing seasons like Attack on Titan: The Final Season and The Promised Neverland, Season 2. It really set things up in a way that made me excited for the episodes to come, and with Bones (Bungo Stray Dogs, Eureka Seven, My Hero Academia, Blast of Tempest) behind the series, it featured some of the best animation we've seen this season. In all reality, an anime about a dangerous downhill skateboarding race called "S" is going to have a hard time disappointing me, but I wasn't prepared for just how impressive this one would be right out of the gate.
Apart from its amazing visuals, Sk8 the Infinity's first episode introduced us to a number of interesting characters, such as Reki, Langa, Cherry Blossom, and Shadow. Their personalities really shine through in the races and they each have a unique skating style that makes the competition between them fun to watch. I'm particularly interested in Langa since he comes from a snowboarding background and seeing his relationship grow even more with Reki in the episodes to come.
The biggest highlight of the first episode, however, were the races themselves, which were incredibly animated, exhilarating to witness, and had some of the most memorable scenes I've seen in a Winter 2021 anime premiere. I was already looking forward to watching Sk8 the Infinity, but I'm even more excited for what's to come after that debut. And I know it's a little early to be saying this, but there's a strong chance it's going to end up being one of my favorite anime of the year.
Where to watch Sk8 the Infinity: Funimation
Kemono Jihen
As far as new series go, Kemono Jihen had my second favorite premiere of the Winter 2021 anime season so far. Aside from having a premise I'm interested in, this series really hooked me with its characters and world, where supernatural creatures live in secret amongst humanity. As someone who's not familiar with the manga, the only characters that have hooked me so far are Inugami and Kabane. Their interactions together is the main reason as to why this episode was so great, but there's a dark tone and distinct style to this series that has me invested as well.
Kemono Jihen has characters and elements that make it similar in ways to other series I absolutely love, such as Tokyo Ghoul and Demon Slayer: Kimetsu no Yaiba. Whether it will have just as dark of a tone as these two do, I have yet to discover, but my first impression of this series is leading me to believe that it will. Like Sk8 the Infinity, Kemono Jihen didn't waste time getting into the thick of things and it's first episode set it up in a way that makes me believe it's going to be one of this year's biggest surprises.
Where to watch Kemono Jihen: Funimation
Bottom-tier Character Tomozaki
Bottom-tier Character Tomozaki had me emotionally invested in its characters by the end of its first episode. You have two characters, Tomozaki, who's gifted at gaming but not so much at the game of life, and Hinami, who's skilled at both. 
Tomozaki dislikes gamers who blame the game for their failures rather than their performance, but as Hinami points out, he is a hypocrite, because he has this very same attitude towards the game of life. Now she's going to teach him how to become a top-tier character through a series of game-like challenges that will help him level up IRL. This is sure to provide for a lot of humorous moments, but also some touching ones as well.
The first episode is just warming things up, but Bottom-tier Character Tomozaki's premiere entertained me more so than most. I really love the characters, and while they are somewhat typical at times in terms of their traits, the whole video game angle makes it feel fresh.
Where to watch Bottom-tier Character Tomozaki: Funimation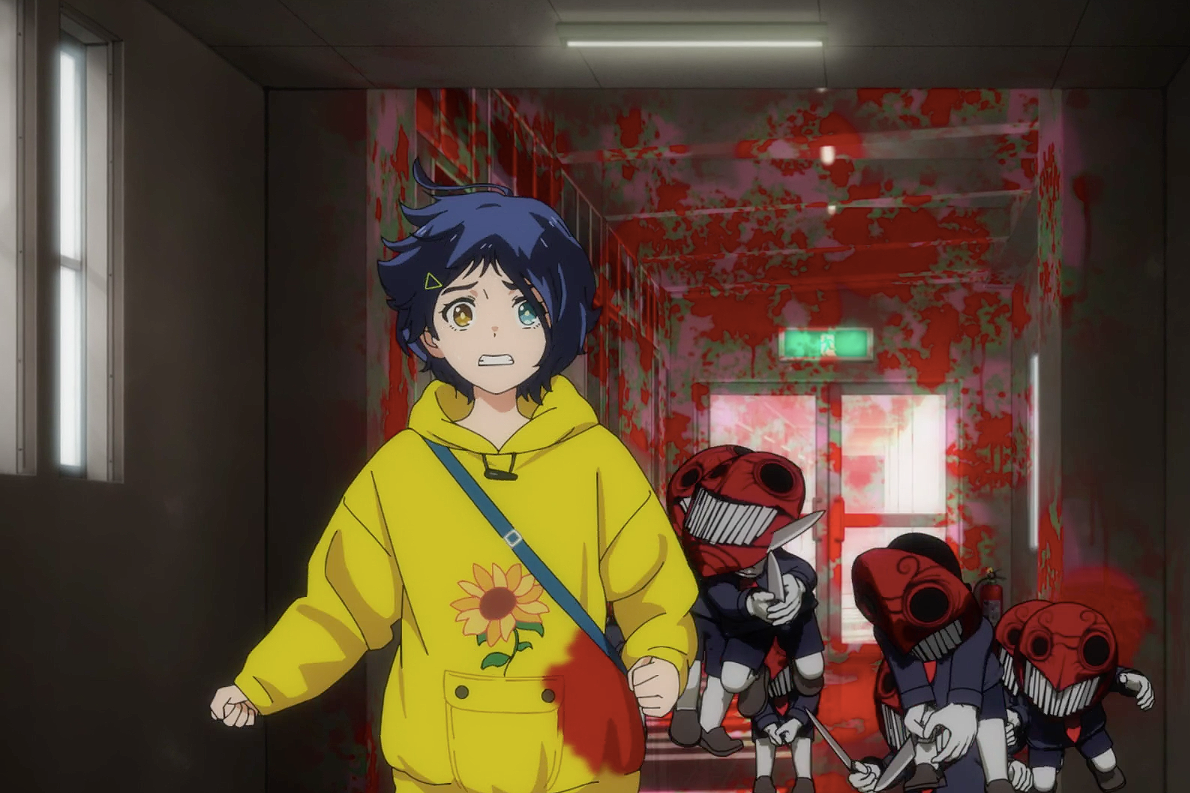 Wonder Egg Priority
Wonder Egg Priority is a CloverWorks original that I originally thought was going to be one thing, but it ended up being something else entirely. At first, it came across as a slice of life series, but it completely surprised me when it went seemingly left field and entered a more thrilling and horror-filled realm.
Its first episode was absolutely mad and bonkers, and in all honesty, slightly confusing, but I'm completely invested in this series and its characters and I'm genuinely interested in seeing how this one develops. The mystery of the series keeps me tuned in, but it's a joy to watch because it's brilliantly animated as well. After that premiere, it's clear this season is going to be a wild yet fun ride and I'm excited to delve more into its crazy and wacky world.
Where to watch Wonder Egg Priority: Funimation
Horimiya
Horimiya's first episode did an amazing job at bringing the characters to life and maintaining the look and style of the manga. Apart from having an interesting premise that sees two individuals bonding over their secret selves, Horimiya has some of the best animation I've seen so far this year thanks to CloverWorks, who are also the studio behind another one of my favorites this Winter, The Promised Neverland, Season 2 and one of my top anime of 2020, The Millionaire Detective Balance: Unlimited.
Horimiya differs from other rom-com anime with its unique sense of humor and take on love. In a genre where themes and storylines can come across as stale and overdone, I'm excited to add this one to the list of series, along with other anime like Kaguya-sama: Love Is War, that stand out from the rest.
Where to watch Horimiya: Funimation, Hulu (They have a month-long free trial you can start if you aren't already a member)
Attack on Titan: The Final Season
Attack on Titan is one of my favorite anime series of all-time, and while it's bittersweet that the anime is ending, I'm hopeful that this final season will wrap things up in a way that sends it out with a colossal bang. MAPPA, who've been crushing it lately, have done a top-notch job on this season's animation so far. While I've always enjoyed the visuals and animation of the series, they've made Attack on Titan look the best it ever has on screen and this was very apparent from the get-go with the first episode.
They made it clear from the opening and its premiere that this is going to be an Attack on Titan season like we've never seen before, and all in all, it was a truly grand opening for the grand finale of a series that's been such a strong force in my life for so many years.
Where to watch Attack on Titan: The Final Season: Funimation, Crunchyroll
The Promised Neverland, Season 2
After the shocking events that occurred in Season 1 of The Promised Neverland, my anticipation for the second season was already strong. The wait for this one was long, but Episode 1 proved it was well worth the delay.
Season 2 sees the orphans of Grace Field House venturing outside of the walls and trying their best to keep their freedom and survive in this new, unfamiliar world. This season also sees the entrance of new characters, such as Mujika and Sonju. The Promised Neverland has always excelled thanks to its uncanny ability to create atmosphere and mood. You never know what's lurking in the shadows in this series, and while Season 1 definitely was a thrilling and chilling watch, Season 2 presents a whole new set of threats and fears to overcome.
The Promised Neverland, Season 2 had one of the most suspenseful premieres of the Winter 2021 anime season and it was one that kept me on the edge of my seat the entire time. Not to mention, the animation by CloverWorks was incredible as expected, but even more so with this one since it took place mostly in the dark.
Where to watch The Promised Neverland, Season 2: Funimation, Hulu (They have a month-long free trial you can start if you aren't already a member)
Mushoku Tensei: Jobless Reincarnation
Mushoku Tensei: Jobless Reincarnation is a series that was on my radar, but it wasn't one of my most anticipated of the year. The first episode surprised me though and it ended up becoming the first new isekai to hook me since The Rising of The Shield Hero.
There's something so humorous about an adult man being reincarnated as a baby, and while its humor gets raunchy at times and the main character is quite perverse, I think this is setting him up in a way so that he can grow as a person. I'm not familiar with the manga or the light novels of this series, but it seems like this is the direction the story is headed in. This whole second chance thing is nothing new for isekai, but it is done in a way that I find to be more entertaining than most.
Overall, I'm curious about this series and the magical fantasy world it takes place in. And on top of that, it's beautifully animated with bright visuals and fascinating landscapes. I'm still slightly skeptical about Mushoku Tensei: Jobless Reincarnation, but I'm hopeful this one will continue to surprise me over the course of the season.
Where to watch Mushoku Tensei: Jobless Reincarnation: Funimation, Hulu (They have a month-long free trial you can start if you aren't already a member)
Back Arrow
Back Arrow is a collaboration between director Gorō Taniguchi (Code Geass) and writer Kazuki Nakashima (Gurren Lagann, Kill la Kill, Promare). The thing that excited me most about Back Arrow is the formidable team behind the series, but after watching the first episode, what ended up exciting me the most about it is the mecha. The mecha, which they call Briheight, manifests itself in a way that matches the user's "Conviction" through the use of bracelets called Bind Warpers. Because of this, much of the mecha in this series is unique to the individual and this makes for interesting designs and fights.
As of now, not much has been revealed about the people in this series. The opening of the series seemed to be more about introducing this world and the mecha more so than the characters, but I like what I've seen of Back Arrow's personality so far. After watching the first episode, I have a feeling that Back Arrow is going to be a humorous and inspiring watch, but it's the mystery that surrounds this one that keeps me watching.
Where to watch Back Arrow: Funimation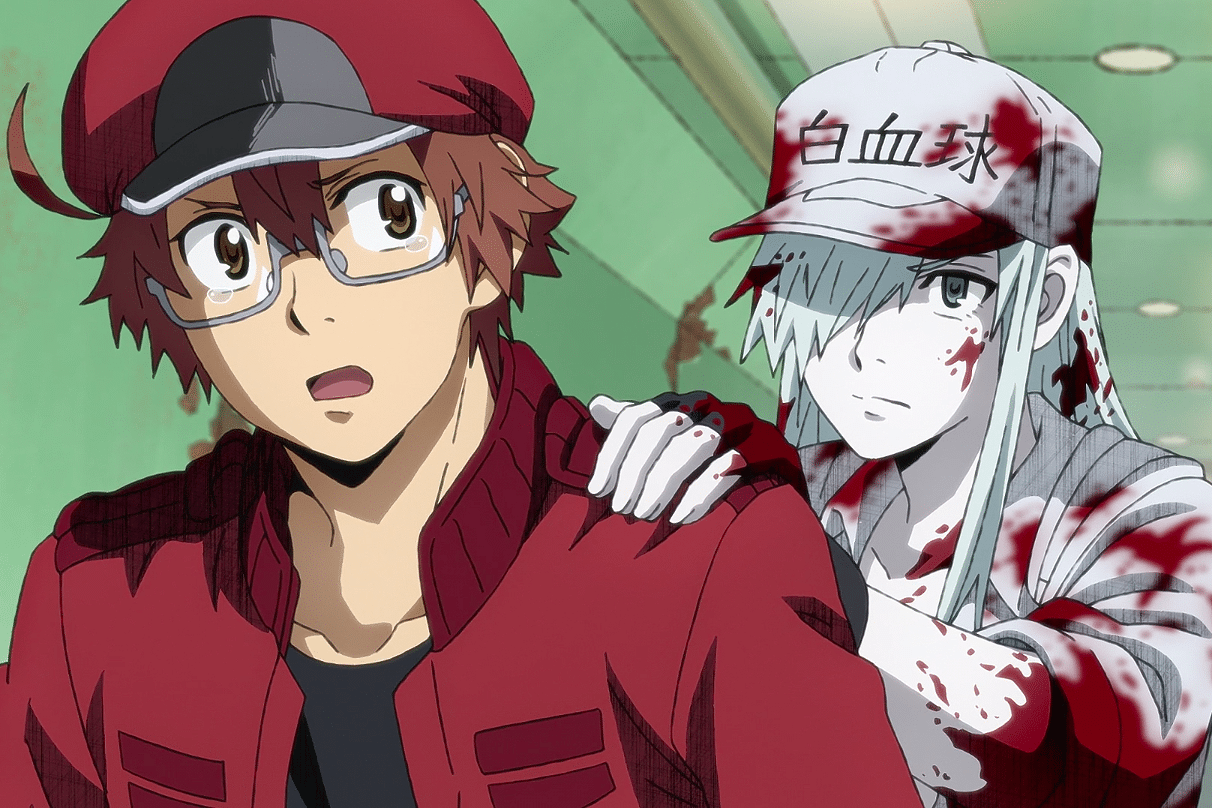 Cells at Work! Code Black
Things can get pretty difficult for the characters in Cells at Work!, but Cells at Work! Code Black, which takes place in a struggling and unhealthy body, takes it to a whole other level and sees the cells working harder than ever before with a constant barrage of issues and threats to overcome. After watching the first episode, it's clear this one is going to keep your on your toes, and this part of the reason as to why I'm excited to see more.
Since these characters live in harsh conditions, there's a unique set of issues that are explored in Cells at Work! Code Black in comparison to the original Cells at Work! series. A lot feels very similar here, but it's a new take that has a darker and more grim tone. I'm interested to see how this story and its characters develop in the trials to come!
Where to watch Cells at Work! Code Black: Funimation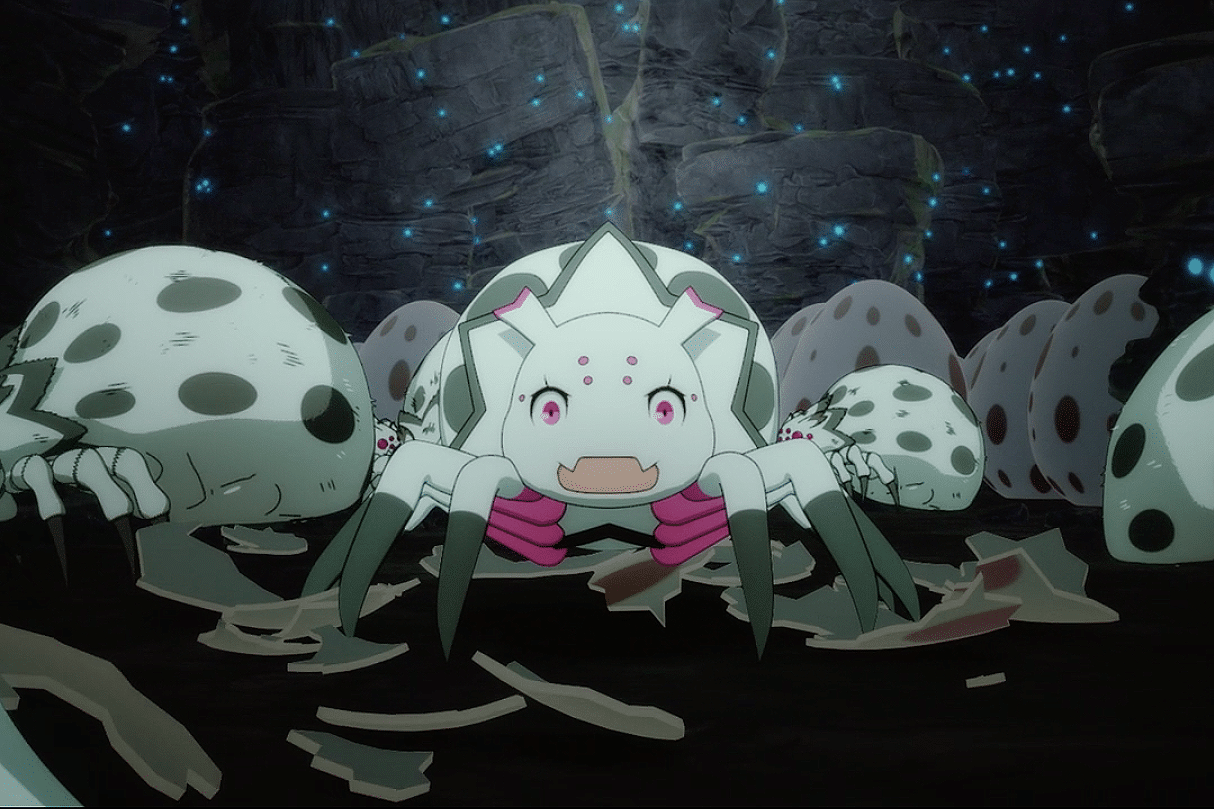 So I'm A Spider, So What?
So I'm A Spider, So What? is another series that surprised me this Winter. It was more humorous than I thought it would be and the first episode did a good job at introducing this new world where Kumoko has been reincarnated as a spider.
I'm assuming the rest of the characters that were introduced were also reincarnated from the brief introduction we got in the beginning and the tragedy that befell that classroom of students. From the way they were talking together, it appeared that they knew each other in a previous life, but since I've yet to read the light novels, this slipped by me at first.
With that said, things could have been explained a bit better, but this rushing of storyline events and assuming people know what's going on is something that has become somewhat of a common issue for Crunchyroll Originals. Even though it could have been handled slightly better, I still think this one did a better job than most of their other series.
It had one of my favorite opening songs this Winter, and while I'm still wary with how this one is going to turn out overall, I still enjoyed the content and the events featured in the first episode.
Where to watch So I'm A Spider, So What?: Funimation
As more series premiere in the Winter 2021 anime season, we will continue to update this post!
In other anime news, check out all of the anime that's releasing in 2021!