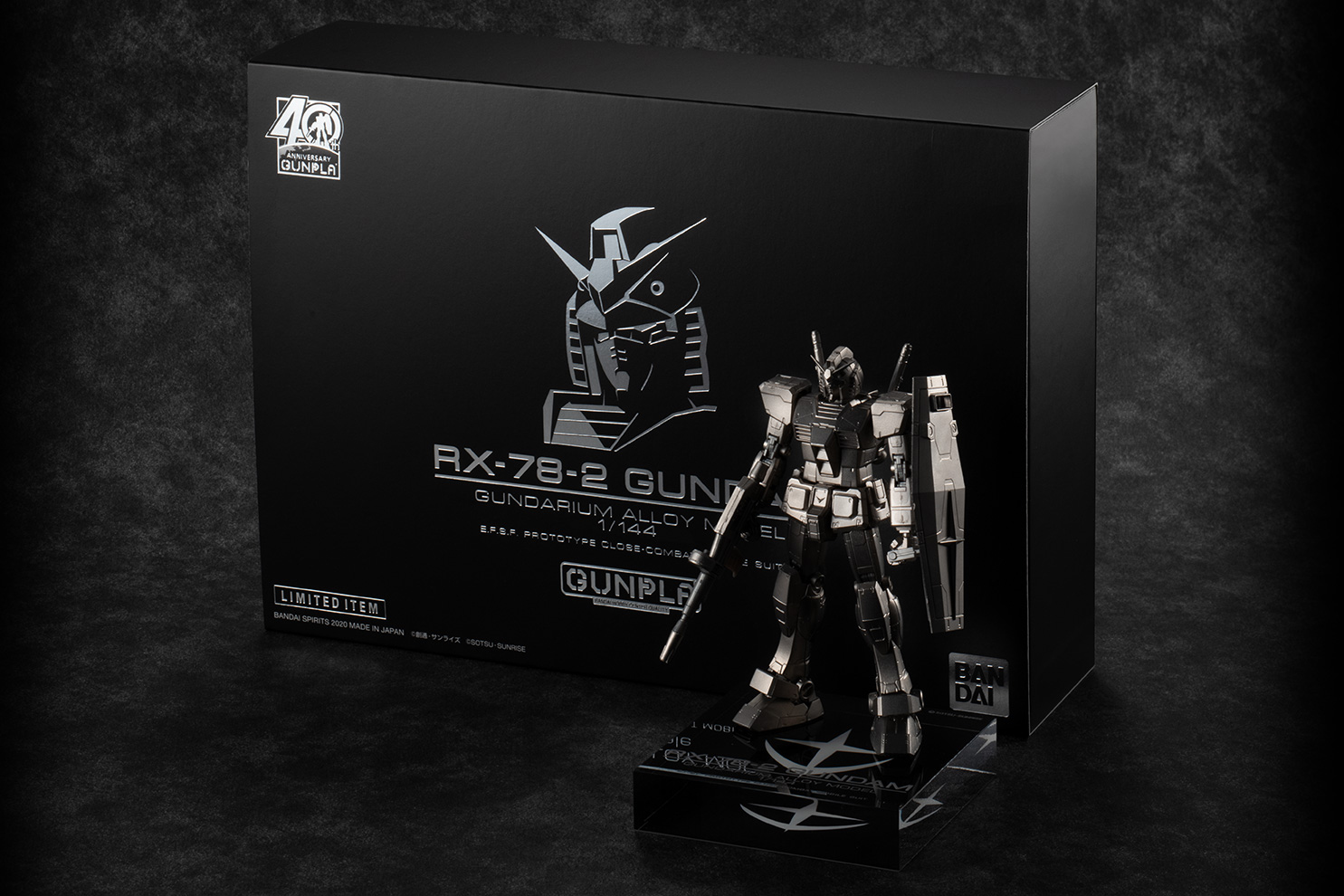 Bandai Crafts RX-78-2 Gundam Gundarium Alloy Model Kit
Bandai released a special site dedicated to their new kit of the RX-78-2 Gundam. What makes this kit special from the rest? It is crafted out of Gundarium alloy. Premium Bandai also revealed aPG 1/60 RX-78-2 Gundam Unleashed 2.0 kit at the 40th anniversary celebration of Gundam.
As you may know, Gundarium alloy is the material used to construct the RX-78-2 Gundam in the series Mobile Suit Gundam. For a strong yet lightweight suit, they used a titanium-based alloy that they refined on the lunar surface.
This once fictional material was brought to life by Bandai Spirits using the latest in metal technology. To make the alloy, they used a combination of titanium, aluminum, and rare earth yttria. The final results displaying both a weight and texture never seen in a kit before, let alone a 1/144 kit.
This reveal is exciting enough, but most exciting is the fact that this kit hints at a new future where chemistry and craftmanship come together to create a new era of gunpla.
The kit comes with a guarantee card to prove that it is an original product managed and manufactured by BANDAI HOBBY CENTER. The premium packaging it comes in features a matte black finish with silver foil lettering and images.
The display base included is laser engraved on the top with the Earth Federation Forces mark designed on the bottom. You can view the full contents of The RX-78-2 Gundam Gundarium Alloy Model 1/144 kit below!
RX-78-2 Gundam Gundarium Alloy Model 1/144 Kit Contents
Set Content
Gundarium alloy model 1/144 RX-78-2 Gundam
Acrylic pedestal
Guarantee card
Instruction manual (commentary)
Construction manual (assembly manual)
Attached Armament
The newRX-78-2 Gundam Gundarium Alloy Model Kit comes in at the lofty price of $2,250 USD. You can preorder the RX-78-2 Gundam P-Bandai's website. They also revealed new promo images that you can check out below!
RX-78-2 Gundam Gundarium Alloy Model 1/144 Kit Gallery
All images in this post are credited to P-Bandai.
If you're new to hobby, be sure to head over to my Beginner's Guide to Gundam Modeling for an in-depth look at all of the basics!
Tags: Gunpla, Mobile Suit Gundam